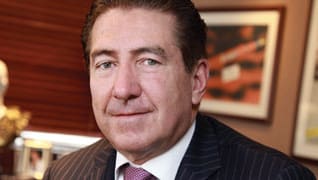 Photo by: Luigi Ciuffetelli
Blue-Collar Ethics
Hard work—and a knack for presentation—make Raymond Gill Jr. a courtroom powerhouse
Published in 2012 New Jersey Super Lawyers magazine
By Timothy Harper on March 16, 2012
Raymond Gill Jr. occasionally stands at the window of his spacious corner office, contemplating the view from the Woodbridge office building that bears his name. It reminds him of his blue-collar upbringing, and the work ethic that has made him one of New Jersey's top lawyers.
The view is of a sprawling cemetery.
Gill's grandfather, an immigrant from Italy, made many of the thousands of tombstones and monuments in that cemetery and others in the area. From the time he was big enough to swing a hammer at a chunk of marble, Gill worked with his grandfather. Hefting stone, breaking it, shaping it, carving names and epitaphs, installing tombstones over graves—Ray Gill the boy believed he owed it to his grandfather, to the mourners, and to the departed to do the best job he could.
During his 3 ½ decades in practice, Gill's clients have netted hundreds of millions in damages—mostly in negligence, malpractice and products liability claims—and his 17-lawyer firm, Gill & Chamas, has become a powerhouse in tort litigation. While many plaintiff's attorneys only dream of a six-figure result, Gill has notched 47 verdicts and settlements of $1 million or more. From September 2008 to September 2009 alone, he recovered five of the 20 top personal injury awards in New Jersey, winning nearly $50 million in those five cases. His two most recent cases were resolved for a total of $8 million.
Known for his restless intellect, faith-based philanthropy, love of sports and sports cars, and devotion to friends and family, Gill is happy to talk about his rough-and-tumble childhood. "If you forget your past," he says, "you can lose yourself in the future."
As a kid, Gill was a nerd. He all but wore out his bicycle riding to the library for books, especially ones about history and science fiction. But he was a lousy test-taker—and his grades showed it.
Gill's father, who was from Florida, married the Italian stonecutter's daughter and worked for years in the Woodbridge tombstone business. But in the early 1970s, when Gill was a teenager, his parents announced they were moving. His father was tired of the stonecutting business, and wanted to start over in his native Florida. Gill, a senior at Woodbridge High School, and his sister, a junior, insisted on staying put. Their parents took Gill's younger brother, and Gill and his sister moved in with their grandparents. He became more self-reliant, exploring the poetry clubs and coffeehouses of Greenwich Village, and joining enough Vietnam anti-war protests to get arrested a couple of times. He says he had "miserable" SAT scores, but he got into Rider College. He paid his way by continuing to work for his grandfather and washing delivery trucks at night. He plunged into his political science major, and set his sights on law school as a gateway to a career in state Democratic politics—either working on campaigns or as a candidate himself.
Gill graduated summa cum laude from Rider in 1974 but scored so poorly on the LSAT that he was rejected by all 15 law schools to which he applied. His fallback was grad school in history at the University of Miami, and he had his VW Beetle packed and his surfboard strapped to the roof when he got a call from the University of Richmond School of Law. A spot had opened up. Gill took the surfboard off the car and headed to Virginia, where he worked as a waiter and tutored football players so he could eat in the athletes' cafeteria. He devoted a great deal of time and energy to the Legal Aid program, often helping young gay men suffering from some mysterious, as-yet unidentified illness.
Home from his first year of law school, Gill made his way up and down the short section of Woodbridge's Main Street known as Lawyers Row. Robert Dato, of Dato & Kracht, which was known for its connections to Democratic officeholders, offered him an unpaid summer job, and Gill began literally carrying Dato's bags. After graduating from law school in 1977, Gill joined Dato & Kracht, with an annual salary of $13,500. Over the next few years, he learned how to manage cases.
His first cases were "real dogs" that no other lawyer at the firm wanted. "You'd be given a case and told you were going to try it on Monday; you'd open the file, and it would bark at you," Gill says. In one early case, a landlord had refused to put a regulator on an apartment building's hot-water system. Gill's plaintiff, an epileptic young man, was seriously scalded in the shower, but it didn't seem like a big-money case. On the stand, the landlord came off as arrogant and dismissive under Gill's questioning, and the jury awarded Gill's client $275,000—significant damages in the 1970s. That case was the dog that hunted. Suddenly, Gill was a hot young plaintiff's attorney. Other lawyers, including his bosses, looked at him differently. Within two years, he had become a partner. By 1983 his contingency-based negligence practice had outgrown Dato, Kracht & Gill, and he left to start his own firm. Peter Chamas, who began working with him as a summer associate, joined the firm in 1990.
In recent years, Gill has won $10 million or more each for: a Monmouth County contractor who fell off a roof, a Springfield man injured when a metal railing gave way, and a Middlesex County truck driver who got a staph infection after slipping on the workplace floor. Perhaps Gill's best-known verdict was for the estate of a construction worker killed when a backhoe reversed and crushed him against a forklift. Gill took the case on contingency, as he always does, and spent more than $500,000 upfront. Much of that expense went to renting the same model of backhoe and proving that its rearview mirrors were faulty.
Gill has become renowned for his use of technology and for his level of preparation. His office building includes a mock courtroom, where he and his staff rehearse testimony with their witnesses. Sometimes Gill uses mock jurors, often recruiting unemployed men hanging around the Woodbridge train station.
Gill is known for his impassioned closing arguments—he once fell to his knees, weeping, begging jurors to help his client (they returned a multimillion-dollar verdict), but he also knows the power of visual evidence. He keeps direct examinations to a half-hour and makes sure to break them up every few minutes with a visual display, such as videos, to keep the jury's interest.
"Jurors remember 80 percent of what they see and 20 percent of what they hear," he says. "The more you can integrate visuals into your presentation, the better the chance the jurors are going to recall what happened." He recently installed a digital recording studio in his building, and he hires film producers to make sure the videos look professional. During trials, his staff videotapes every witness. Instead of asking for transcripts to be read back at trial, Gill frequently interrupts his summations by clicking a remote control for video replays of pertinent testimony. But he says lawyers who credit his success to technology are missing the point. "This is not rocket science," he says. "It's just preparation. Preparation and imagination and the drive to succeed."
Gill likes New Jersey's limits on lawyer contingency fees, and its requirement for court approval of fees when damages exceed $2 million. He sharply criticizes lawyers who land a good case, then don't expend the time and money to get the maximum result for the client. Too many, he says, do too little, and are too willing to accept settlement offers.
"There are lots of good lawyers out there, but Ray is a great lawyer," says George Avery with the Morristown firm McElroy, Deutsch, Mulvaney & Carpenter. Avery, who has opposed Gill in several cases, calls him the hardest-working lawyer he's seen. "He's the James Brown of New Jersey law," Avery says. "If you don't work as hard as he does, he will steamroll you."
Mark Epstein, a retired judge who has acted as a mediator in cases brought by Gill, says, "Ray is among the most prepared and talented lawyers I have ever encountered. He puts his heart and soul into all his cases and spends unlimited time and energy and money to maximize their value. He is extraordinarily persuasive, probably because he believes so strongly in each client's case."
Rosemarie Ruggiero Williams, a retired superior court judge who now handles arbitrations and mediation, has gotten to know Gill since leaving the bench. "Ray Gill would probably not want this to be widely known, but he is a nice guy," she confides. She also notes that he is willing to settle for damages—if they're fair. "But make sure none of his adversaries read this," she quips, "or they might think he has gone soft."
Not much chance of that. It doesn't take much to get Gill to launch into a minirant—measured and soft-spoken, but a minirant nonetheless—against insurance companies that slot cases into predefined "boxes" without considering the victim's particular losses. He suggests there is a special place in hell for auto insurance companies that use slick advertising to promise lower premiums—but never tell new customers that the new policy is cheaper because it offers less coverage.
Abbott Brown, with Bendit Weinstock of West Orange, has worked with Gill on many cases. "I have never met any lawyer who does a better job demonstrating damages to a jury," says Brown. "Ray simply possesses an extraordinarily creative mind when it comes to telling the story of a person and a case."
Gill still sees clients for free. If you call and ask for him, you'll see him. If he's going to refer your case to an associate, he'll tell you that. He won't promise to take your case, then assign the work to someone else.
On a typical day, Gill rises at his oceanside condo in Sea Bright by 4:30 a.m. He's usually at the gym by 5:30 a.m., then catches a 7 a.m. mass before heading into the office. He's given up his over-40 ice hockey league, but still loves his fast cars. His first was a Datsun 280-Z in law school, and since then, he's had many sports cars, including 10 Porsche 911s that he once drove in rallies and races. Today his cars are a Mercedes 600 CL, a Porsche Cayenne and a shiny new red Ferrari.
Gill spends weekends and holidays with his teenage son, Hayden; daughter, Emma; and his 24-year son, Raymond Gill III, who followed his dad to the University of Richmond. Gill wants to keep practicing until his older son, now applying to law schools, joins the firm. When he does retire, Gill plans to devote more time to his philanthropic work, including Holidays for the Homeless, a charity supporting summer camps and holiday gifts for children in homeless families.
He also wants to spend more time teaching. He's an adjunct lecturer at Seton Hall Law School—one of the schools that rejected him—teaching a course called "Persuasion and Advocacy." But teaching is not good preparation for retirement. "Every time I teach that course," he says, "I get jazzed up to try a case."
Today, Gill's only real complaint seems to be that his reputation prevents him from going to trial. Defense attorneys would rather settle than face him in court. Consequently, he says, he's become something of a "diplomat" at Gill & Chamas, lending his expertise—and his name—to colleagues to help them settle their cases, too. But Gill says he prepares every case, no matter how strong, as though it were going to trial. And if it does, so much the better. "I enjoy the thrill of being a trial lawyer," Gill says. "There's no rush, no thrill, that can compare to a favorable jury verdict, when those six people think your cause is just."
Search attorney feature articles