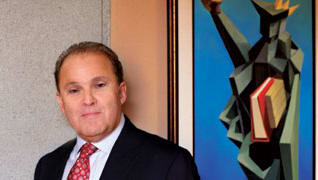 Photo by: Luigi Ciuffetelli
Bob Peckar Builds Harmony
The construction lawyer tames a rough-and-tumble industry
Published in 2011 New Jersey Super Lawyers magazine
By Patrick Pawling on March 16, 2011
A smile. A joke. A story or three. Soon you're nodding your head. Five minutes in, you understand why Bob Peckar is such a success.
In a world where alpha lawyers eat raw meat for breakfast, expert witnesses for brunch and would-be partners for dinner, Peckar is … well, much like a quiet samurai. He prefers the path of peace, but could take you apart with efficiency.
Conflict avoidance has worked well for Peckar, who learned early on that nice guys can finish first. He owes that, in part, to the U.S. Army.
It's one of his favorite stories. Here, he says, is a chubby, Jewish law student from New Jersey with an easily mispronounced last name (it's peh-KAR). He opposes the war in Vietnam but wants to do the honorable thing, so he enters the National Guard—and winds up at boot camp in South Carolina. Minutes after he gets off the bus, a drill instructor takes one look at the letters on his chest and says, "Your name is WHAT?"
Things go downhill fast until fate intervenes: Another group of recruits comes in from Puerto Rico, and nobody can get them into the mess hall for kitchen duty. Either they don't know English or they're pretending they don't. So a frustrated sergeant looks at Peckar's group and asks, "Any of you college kids know Spanish?" Peckar does. The sergeant, who knows about the trouble Peckar is having, tells him, "Get these guys into the building and I'll make sure you get into my platoon and away from your drill instructor."
Peckar walks up to the new recruits and says, in perfect Spanish, "Hey, guys—if you go into that building over there, I will give each of you $5."
Under his new drill instructor, he goes on to lose 45 pounds and earn the title Outstanding Trainee. Perhaps not surprising for someone who would later found a firm—Peckar & Abramson—that would become globally recognized for its work in construction law. The firm employs 88 attorneys and has eight offices in the United States and affiliate offices in London, Mexico City and Lima, Peru.
"In the Army, I learned about people from all over," says Peckar. "It was quite a life experience, and I believe it was a very important part of my formation."
Peckar already knew a lot about navigating disparate worlds, thanks to his father. A construction engineer who helped build multiple landmarks in the New York area—the Albany mall, federal office buildings and parts of John F. Kennedy International Airport and West Point—Peckar's father would take him along on jobs. The son learned that getting the job done on time sometimes required a hard-hat attitude, and sometimes something more subtle.
"I like construction people," Peckar says. "They are a tough crowd. But I grew up with them. I can relate to them and they can relate to me. Putting steel hundreds of feet in the air—are you kidding me? It is mind-boggling what they do every day."
They like him right back, mostly because he helps them save money while getting big jobs finished on time. 
"Most construction lawyers never did the work—Bob started on the ground and worked his way up," says Peter Davoren, who also started on the ground, as a civil engineer, before working his way into the CEO's office at Turner Construction Co. Peckar, a legal adviser to Turner for 25 years, keeps the company out of fights, Davoren says. That means jobs get finished faster and on budget—critical to a business where margins can be thin.
"To his credit, he spends more time on the preventive side," says Davoren. "He doesn't want to see you get in trouble—and that is a financial sacrifice for him. That's what he does for me."
Peckar does the same for a lot of organizations. Last year, his work took him to Israel, Peru, India, Serbia, Germany, Spain, Mexico and back to Israel.
The work in Israel is particularly interesting to him because it's partly philanthropic. Peckar is the national chairman of a nonprofit, nonpolitical group called Project Interchange. Like his law practice, the organization tries to promote understanding and peace. It encourages leaders in various fields—from business to religion to journalism—to travel to Israel from around the world to learn about the religions, cultures and history.
"My idea is to show them the real Israel, not propaganda; expose them to all sides," says Peckar. "People come back with a different view of Israel and the world."
The right chemistry
It wasn't a calling that brought Peckar to the law. It was organic chemistry. By the time he landed at Rutgers University, he had decided to go to dental school. Then came a badly flunked organic chemistry exam. When he asked the professor if he could take it again, the reply changed his life: "If you're doing a heart operation and you cut a coronary artery and the patient dies, do you get a do-over? You're wasting your time in medicine. Try law."
He switched to art history—a natural move, since he had always loved drawing and had shown considerable talent. He rode his resuscitated grades right into Columbia Law School.
There wasn't any question about what practice area he would enter. Having grown up in a family where construction was the topic at breakfast, lunch and dinner, he dove into writing construction contracts, at a time when the business was changing. Increased emphasis on environmental law, compliance and security made every contract more complicated. More than ever, preventing trouble seemed more appealing than engaging in three-year court fights. By 1978 he was heading out on his own.
Along the way, he has helped shape construction law in New Jersey and nationally. Conforti & Eisele Inc. v. John C. Morris Associates, decided in 1980, was a landmark ruling. It enabled a contractor to bring an action against a design professional for errors even though there was no contract. The result of a 26-day trial, the ruling was appealed and affirmed by the state Appellate Division, and is often cited today.
The peacemaker
For many years, Peckar has worked to persuade construction law practitioners across the country to embrace a kinder and more pragmatic approach. First, avoid conflict. If that doesn't work, avoid the expensive and bloody courtroom battle.
"When Bob began practicing, the vast majority of problematic construction disputes were resolved by way of litigation," says Steve Charney, co-managing partner at the firm. "Bob, however, was an early and strident champion of alternative dispute. … He played a leading role in bringing these alternative approaches into the lexicon of the construction world."
Peckar helped move the construction bar, as well as the industry, toward alternative dispute resolution. At times, he delivered peace when battle seemed inevitable. Example: One of his clients, a general contractor, was finishing a major addition to a big New York City hospital when the hospital notified the contractor it was being fired. The medical facility was going to try to get the surety company to finish the job. It was such a serious situation that the hospital could have been facing financial ruin. Though the hospital was anticipating litigation, it got something very different. Peckar called its attorney and calmly asked what the heck was going on. It turned out the hospital had learned it wasn't going to get a significant part of the federal money it had been expecting to pay for the project. Peckar suggested the hospital and his client make their case to the feds together, rather than as adversaries, and it worked.
"Everybody lived happily ever after," says Peckar. "That's what happens when you look for solutions.
"We do the litigation and we do it well, but we are about keeping the client out of trouble from day one. It's much cheaper to engage a knowledgeable expert to keep you out of trouble than it is to fight a three-year battle that could have been avoided."
Construction attorney Bruce D. Meller started working for Peckar in the mid-'70s, filing liens and handling other clerical work while in law school, and has watched his ascent closely. From his perspective, Peckar is the complete package: savvy, driven, personable, team-oriented and remarkably ego-free.
"On a person-to-person level, I have never seen him boast, which is unique for a trial lawyer because trial lawyers have egos," says Meller. "I never heard him say 'my client.' It's always 'our client.' He is very inclusive."
And creative.
"To be a successful trial lawyer, you have to be smart, but you also have to be clever," says Meller. "Clever meaning being able to think outside the box, being able to get from A to B different ways. That's Bob."
Meller is now a partner at Peckar & Abramson, where he has worked more than 35 years. That, Meller says, indicates a lot about Peckar's leadership style.
"Special personalities are few and far between," says Meller. "Bob is a great leader, and he treats everyone with respect and dignity. He will treat the president of a construction company and a subordinate with the same respect."
The art of living
Eating a chef's salad at his corner office desk in River Edge, Peckar manages to quiet his BlackBerry long enough to sketch a visitor's face on a yellow legal pad. Doodling is a lifelong habit—a form of meditation.
Growing up in Bergenfield, he was an incessant doodler, partly due to the talent of his mother and others in his family. For years as he practiced law, he drew during depositions, at trial and during phone conferences, capturing faces and designs in his cubist style. Though the BlackBerry and the laptop have cut back on his sketching, he still paints—he's been at it seriously since 1977—and sells his work.
Tellingly, his paintings never start with a plan. When Bob Peckar starts sketching, his only goal is to remain open to the possibilities. Soon enough, in both art and law, the right path emerges.
Search attorney feature articles
Helpful links
Other featured articles
How Tara Knight and Hugh Keefe became Connecticut's criminal law power couple
Genevieve Jenkins came to housing law through her work on South Africa's Constitutional Court
Neel Chatterjee's offbeat recipe for Silicon Valley success
View more articles featuring lawyers
Find top lawyers with confidence
The Super Lawyers patented selection process is peer influenced and research driven, selecting the top 5% of attorneys to the Super Lawyers lists each year. We know lawyers and make it easy to connect with them.
Find a lawyer near you