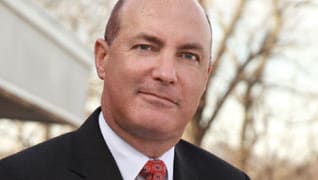 Photo by: Luigi Ciuffetelli
Domenick Carmagnola's Recipe for Success
It's nothing fancy—just a lifetime's worth of lessons learned at his family's restaurant
Published in 2012 New Jersey Super Lawyers magazine
By G. Patrick Pawling on March 16, 2012
When Domenick Carmagnola was in high school at Morris Catholic in Denville, N.J., a fellow student said hi as they passed in the hall. Carmagnola said hello back. Apparently this was an extraordinary event. "What, you can talk?" the student asked.
It's hard to believe now, but Carmagnola was a quiet, shy kid.
He does pretty well in the talking department these days. Carmagnola, who practices employment defense law at his Morristown boutique firm, Carmagnola & Ritardi, has been racking up honors since winning the state bar's Young Lawyer of the Year Professional Achievement Award in 1998.
How did he shed his shyness? Pizza.
From his teenage years through law school and beyond, he put in considerable time working the counter and throwing pizzas at Anthony's in Rockaway, a restaurant still owned by his family.
"Working in the restaurant business was very good for me," he says. "It taught me how to engage with people. I had to come out of my shell. And it was very helpful for me when I was finally trying cases."
The recipe for courtroom success is no mystery: Preparation, experience and confidence—seasoned with humor—are essential. It helps if you're good at improvising, because in the courtroom as well as the kitchen, the right ingredients aren't always within reach. But for Carmagnola, there is one indispensible ingredient: truth.
"I have found that if somebody tries to lie to a jury, they will know it," he says. "That is probably the worst thing anybody can do. Jurors really know what is going on."
In addition to litigating, Carmagnola counsels in cases ranging from discrimination and sexual-harassment claims to whistle-blower issues to trade-secret matters to business torts. He also provides advice on company policies, trains employees and performs internal corporate investigations.
With an eye for detail, Carmagnola's greatest skill may be cross-examination. He is known for asking questions that cut like a paring knife.
He needed all those skills during a trial earlier in his career involving a religious discrimination case. The facts were not in doubt, and they didn't bode well for Carmagnola and his client. An employee had asked for two days off for Rosh Hashanah. Her company asked around, confirmed that many companies offered only one day, and told her that's what she could have. She took two, came in Monday and was promptly fired. That brought a lawsuit, a demand for lots of money and a large headache for Carmagnola's client.
At trial, the plaintiff brought in a well-known rabbi as an expert. He was articulate, knowledgeable and likeable. And yes, he testified that Rosh Hashanah required two days of observance.
Carmagnola couldn't attack the rabbi, because his facts were correct and the jury liked him. So he decided to try to borrow some of the rabbi's likeability. He asked what town his congregation was in. The answer was familiar to Carmagnola.
"Yes, my family has a pizza place near there, Anthony's, and I used to deliver pizza to your place," he told the rabbi.
The rabbi smiled. "I love that restaurant; I go there all the time. Your father is a good man."
The mention of delivering pizza was no accident. It served to let the jury know that Carmagnola wasn't a "fancy lawyer"; that this was a guy who worked his way through college just like a lot of the people in the jury box.
Then Carmagnola asked the rabbi how many were in his congregation. The answer: maybe 700 or so. Out came the paring knife: "And how many would you say go to temple both days?"
With that, the rabbi relaunched into an explanation of why Rosh Hashanah lasts two days. He explained everything—except how many in his congregation go both days. By then, Carmagnola was standing near the jury box. He lowered his voice for drama.
"Sir, I am a Roman Catholic. I am obligated to go to church every Sunday. I am ashamed to admit to you, a man of the cloth, that I don't make it there every Sunday, but that is the truth. So I ask you again sir, does all of your congregation go both days of Rosh Hashanah?"
At that point the rabbi knew he had to provide an answer that strengthened Carmagnola's case: Few go both days. Against what might be considered difficult odds, Carmagnola won.
He kept winning.
"Ten years ago we had some legal issues, and Dom came to us highly recommended," says Andy Mermelstein, president of Pinnacle Telecom Group, a nationwide telecom consulting company based in Cedar Knolls, N.J. "He didn't hit a home run; he hit a grand slam.
"He has been doing work for us ever since. To keep somebody for more than a decade is a high compliment—and I am certainly not easy to work with. He makes you feel like he is your uncle taking care of you. I know he has a lot of clients, but when he is with you, he is 100 percent dedicated to your cause—even the little stuff. His range of knowledge just blows me away."
He is also as tough as he needs to be.
"I've had fights with Dom and I have kissed Dom, and I think that is the beauty of Dom Carmagnola," says Ralph Lamparello, managing partner at Chasan Leyner & Lamparello. "He is like a lot of us: from a humble background. And he really represents the paradigm of a complete lawyer—smart, personable and an advocate in the most professional sense of the word. Yet he has a sense of humor, and he realizes he has to give back to the trade."
Lamparello is referring to Carmagnola's active role in the legal community, including serving as past president of the Essex County Bar Association, and past editor-in-chief and managing editor of the state bar's Labor and Employment Law Quarterly.
In addition, Carmagnola helped found the Sidney Reitman Labor and Employment Law American Inn of Court, serving as its president from 2001 to 2007. "No jury trial I have had was as difficult as Inn of Courts," he says. "If you are not prepared, they will know it."
Of course, Lamparello and Carmagnola haven't gotten along every moment. Lamparello recalls a time, during a difficult and sometimes contentious deposition, when everybody was asked to clear the room so he and Carmagnola could have … a little talk, off the record. What was said isn't entirely publishable. But when everybody filed back into the room, the two attorneys got down to business.
Carmagnola smiles thinking about it. "We almost came to blows," he says. "I was a young guy and he was testing me … and then we became friends and started working on cases together."
However, Lamparello says he still has one beef with Carmagnola: "[He's] an insufferable Jets and Yankees fan."
Carmagnola's entry into labor and employment law, he says, was "a total fluke."
First, a firm he applied to accidentally sent him letters from two hiring partners, one saying "no, thanks" and the other inviting him in for an interview. He chose to go with the latter.
"The guy who interviewed me," says Carmagnola, "said later that he saw my family-business background and just had a gut feeling." He then directed Carmagnola to Wayne Positan, the partner handling labor law at the firm now called Lum, Drasco & Positan, saying, "Maybe you might want to have this kid in your department."
By chance, the firm's associate who handled employment and labor matters left just as Carmagnola was about to start, so he ended up handling that lawyer's caseload.
"I would say I got the equivalent of three years' experience in my first year—partly because of the caseload I inherited and partly because the partner I was working for also gained confidence in me. It was a good fit—[Positan] was an excellent mentor and we worked well together."
In 2005, Carmagnola teamed up with a close friend, Steven Ritardi, to do something he'd always wanted to do: start his own firm.
"It might have had something to do with my family-business background," he says. "I just wanted to create a model and pave my own way. It was a new challenge. It was really putting [into place] the missing puzzle piece. My wife played a significant role in that. She knew it had always been a dream of mine, and you know how dreams go: They can get sidetracked because you have so much else going on."
When it's time to relax, Carmagnola likes to spend time coaching soccer teams for his sons (ages 6 and 9) or fishing—either at the lake by his house or further afield, in places like Key West, Fla. or Montana. He once caught an estimated 90-pound tarpon with a fly rod.
Indoors, he still loves the kitchen. Once, early in his career, when he was helping at the restaurant, an administrative assistant he had just hired came in for pizza. She looked at her new boss tossing pizzas, hesitated, then asked, "Is there something you want to tell me about the practice?"
There wasn't. But it's not always as easy as Carmagnola makes it look. He is not one of those attorneys who will tell you trial work gets easier with time. "You don't sleep," he says. "The trouble is, no matter how well you prepare, no matter how thoroughly you prep your witnesses, no matter how many times your team looks at every angle, the human element mucks things up."
He smiles as he remembers the time a wise opposing attorney "pulled a move on me." While they were interviewing prospective jurors, one made it clear he was self-employed. He was plenty willing to serve, even though it would be a financial sacrifice. This was an opportunity the opposing attorney couldn't resist. "Judge, why don't we let this gentleman go home and provide for his family?"
"It was a good move," says Carmagnola. "It taught me that the second you walk in the courtroom, the game is on."
Search attorney feature articles