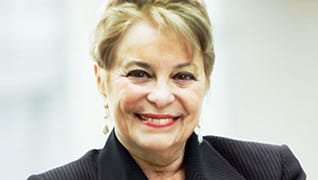 Photo by: Michael Paras
Noto Bene
Take note—criminal defense attorney Maria DelGaizo Noto is one tough cookie. Don't believe us? Ask the U.S. government
Published in 2014 New Jersey Super Lawyers magazine
By Patrick Pawling on March 13, 2014
"Who's the broad?"
The setting: a North Jersey banquet room filled with Italian food, cigarette smoke and about 20 gold-wearing, highly amped men, allegedly from the Lucchese crime family.
It was a natural question under the circumstances. The men were meeting the team that would defend them against a massive federal indictment that included racketeering and drug sales. Everybody there, clients and attorneys, was male, except for the person wearing Passion and a businesslike tailored suit.
The men stared. The woman pretended like she didn't notice.
True, Maria DelGaizo Noto was nervous, but it wasn't because of the wise guys. It was the other men in the room—the lawyers, some of the best criminal defense attorneys in New Jersey. Like a relative unknown suddenly being offered a spot on the Yankees roster, she had been invited to join the defense team. She had entered private practice only a year before—and had never tried a federal case.
It was a warm night in September 1985. The murmuring defendants made for an interesting mix of running suits, cologne, testosterone and the kind of adrenaline that accompanies a blockbuster federal indictment, which listed 77 counts of loan-sharking, gambling, drug dealing and credit card fraud. One government tape allegedly had a defendant saying, "We own New Jersey."
The case, United States v. Accetturo—which took its name from the lead defendant, Anthony "Tumac" Accetturo, alleged boss of the New Jersey faction of the Lucchese crime family—lasted almost two years, making it the longest federal trial in U.S. history. Nobody in the room knew what a death march it would become, but they knew it would be a war. This woman, the only female in the room not serving food—who the hell was this broad?
The moment a visitor enters her office, out come the cookies.
"I'm Italian," she says. "When you come, you eat."
She laughs. And tells stories. And tries to give you another cookie. She is a product of her environment—a very proud and, to this day, very accented product of Brooklyn.
She grew up with three siblings in a cold-water railroad flat tenement near the Naval Yard, a daughter of an American-Italian father—born in this country when his parents were on vacation from Italy—and a strong Italian mother who worked against the wishes of her husband. Growing up, Noto had two dresses, a single pair of shoes and one real career choice: teacher.
Noto didn't always get along so well at St. Francis Xavier Academy for Young Ladies. Something about her habit of rolling her skirt up an inch or two. "There were a lot of rules and I had a very independent streak," she says. Her mother could afford to send her there, barely, thanks to her job in a clothing factory. Despite some minor tangles with some teachers, Noto succeeded and decided to become a teacher. It didn't take long until she grew bored teaching the same subject every year in the classroom.
While listening to her husband, an attorney, discuss cases, she realized it sounded interesting, and like something she could do. That led her to start law school at Seton Hall University in 1976 while she was still nursing her second baby. She switched after the first year to night school and taught part time, juggled babies, studied, attended classes and worked part time at the Essex County Office of the Public Defenders writing appellate briefs.
After working a prestigious clerkship with Monmouth County Assignment Judge Thomas F. Shebell Jr., she found a home with the Essex County Public Defenders office, falling into a talented, hard-working and hard-partying office. Noto went at her cases Brooklyn style—all out—which delighted clients and on occasion irked judges.
During a cross-examination in one case that others might have considered insignificant, she picked at every inconsistency of the police officer's testimony, at one point saying, "It seems like you are not very observant, are you?" The judge went ballistic and called for recess, stomping into his chambers trailing words that sounded a lot like, "Don't you ever …" As Noto sat beating herself up, an attorney walked over to her. "Listen," he said. "What you did was maybe not technically correct, but it was very effective. You go back in there and fight."
It was Mike Critchley, who would eventually lead the defense in the Accetturo trial, and who would hand-pick Noto to be part of the team.
She took Critchley's advice and won that case.
Her stay at the Essex County PD's office, from 1981 to 1985, was educational and interesting. One year, two of the water coolers were loaded with red and white wine. People commented about the taste of the water at the courthouse for weeks. Noto, meanwhile, established a record that drew admiring whispers. Of her first 10 cases she won eight, and was soon handling murders.
Carl D. Poplar, co-founder of the Association of Criminal Defense Lawyers of New Jersey and a 40-year trial veteran, recalls that news of Noto's work traveled fast.
"When I was a young lawyer in South Jersey, there was this rumor about these three women in the public defender system up north—people were saying they were winning one murder case after another," he says. "It was like some kind of mythology among criminal defense lawyers. Eventually I got to meet all three, and they were all sensational." (The other two were Cathy L. Waldor, United States magistrate judge for the District of New Jersey, and State Sen. Nia H. Gill.)
"Maria has great trial skills—real presence," Poplar says. "She has the ability to present herself as a neighborly person and communicates well with juries. Who could not like her?"
Her client in the Accetturo trial, Danny "Bobo" Ricciardi, liked her well enough, but he didn't always listen. One time he snuck a mini TV past security so he could watch the soaps during trial.
How long did the trial last? During the course of it, one of the lead attorneys died, Noto tried four other cases during breaks while also getting divorced, married again and separated. Many of the defendants and attorneys came to the wedding, along with the Essex County prosecutors and detectives. It wasn't a problem, really—there were no arrests and no fights—but her new husband did pull her aside to ask if it was necessary to have the entire alleged Lucchese organized crime family at the reception.
When United States v. Accetturo was finally over, the long-suffering jury's verdict was not guilty on all counts, for all the defendants, including Ricciardi, who had been charged with a racketeering conspiracy and drug dealing. He tore out of the courtroom screaming, "I'm a free man!" The government's chief prosecuting attorney had never lost a case; the government was stunned.
Some say it was the length of the trial that hurt the government. Others believe it was its reliance on witnesses who had done things that were as bad or worse than the defendants. There's also a theory that if the jury was anonymous, it might have voted differently. But observers also noted that the jury seemed to bond more with the defense and defendants, who were more entertaining and funnier.
While Noto's competitiveness was on display during Accetturo, she recalls an earlier case with particular pride.
In 1983 a reggae singer named Densie Gordon was shot three times, once in the back, by a police officer who claimed Gordon pointed a gun at him.
"I swear I didn't have no gun," he told Noto in the hospital, where he lay cuffed to a bed and attached to machines keeping him alive. She believed him—and soon showed that the gun Gordon supposedly carried had the police officer's name carved in it. The officer claimed he etched his name in the gun and the clip so they could be accurately logged into evidence—something evidence experts had never heard of. The jury, noting that the officer didn't preserve fingerprints on the weapon or clip, didn't buy it and found Gordon not guilty on weapons and assault charges. The civil action, again with Noto at the wheel, resulted in $750,000 for Gordon.
"Accetturo was good for my career, but in terms of righting a wrong, that case had the most emotional impact on me," Noto says. "During my opening on the civil part one of my associates just started crying—loud. It was very emotional case and I think very important.
"People like Densie need me," Noto explains. "Many people are not as guilty as they are charged—a lot of times people are over-charged. I saved some people from spending their lives in jail. I wanted to help."
Michele Grazul, a former chief investigator for the Essex County Office of the Public Defenders who is now a licensed private investigator, adds, "Maria tries the hell out of a case, no matter how long it takes and how much of a loser somebody might think it is."
The two worked on and won several murder cases, knocking on doors in sketchy neighborhoods to track down witnesses. "She tends to get consumed," says Grazul.
During a mob trial in Toms River in 1993, she got the opportunity to cross Philly wise guy Phil Leonetti, who, this time, was a cooperating witness. "He was so good-looking, it seemed like every woman in the courthouse came in to watch," Noto says. When she got up to cross him, her co-counsel tried to hold her back, fearing Noto might not be able to handle Leonetti. He was wrong. Leonetti was genteel and entertaining, and gave her every answer she wanted, even when Noto asked if the nuns in his Catholic school ever told him murder was a mortal sin. Her client, who was Irish, was the only defendant found not guilty—maybe in part because Noto got Leonetti to say that you had to be Italian to be a part of the organization.
"Trial work—that's where the fun is," Noto says.
Search attorney feature articles