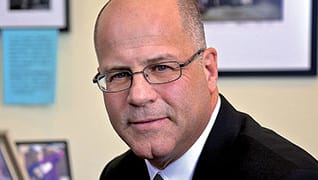 Photo by: Luigi Ciuffetelli
Promise Keeper
Kevin H. Marino, involved in the Bridgegate and Flash Boys trials, doesn't believe juries believe 'innocent until proven guilty'
Published in 2015 New Jersey Super Lawyers magazine
By Timothy Harper on March 13, 2015
Federal prosecutors had spent four days presenting their case last autumn against James Quinn, a British pharmacist, in U.S. District Court in Virginia. Quinn, 73, was accused of exporting non-FDA-approved drugs to the United States, and faced years in prison.
Quinn's attorney, Kevin H. Marino, fought the prosecution's case over those four days, cross-examining government witnesses to show that Quinn was innocent and had been tricked by an unlicensed American importer. Now it was his turn to call defense witnesses.
But instead, he motioned for a judgment of acquittal for insufficient evidence under Rule 29—a motion that is rarely successful in federal criminal cases. In effect, he asked Judge Liam O'Grady for a directed verdict: to stop the trial, vacate the charges, dismiss the jury and declare Quinn a free man. Rule 29 motions are often submitted in writing, after a guilty verdict, not the way Marino did it: on the spot, mid-trial.
It was pure courtroom drama. Marino's argument, with his characteristic mix of professionalism and passion, drilled home legal precedents. He itemized holes in the government case. When Judge O'Grady asked whether Marino had finished arguing his motion, he said, "No."
"All right," the judge said. "What else you got?"
But before he offered more, Marino paused, took a deep breath, and asked the judge: "Is it over?"
The judge, surprised at such a direct, personal appeal, was flummoxed.
"Is it over?" Marino repeated.
O'Grady paused. "Yeah," he told Marino. "It's over."
The judge explained that he agreed with Marino—the prosecution had not presented evidence that Quinn knew he was doing anything illegal. All charges were dismissed. Quinn was free.
Marino's gamble—and the payoff—is among many highlights in a long career. His five-lawyer boutique firm, Marino, Tortorella & Boyle, which is based in Chatham but often handles cases with national and international implications, is known for its unusual tag-team structure. Marino's cases are often in the news, and he is not shy about speaking truth to power, including calling out Goldman Sachs in a recent trade-secrets criminal case and Gov. Chris Christie in the "Bridgegate" scandal.
"You'll never hear me say to a jury or client or judge that the government has to prove you're guilty beyond a reasonable doubt," Marino says. "No one believes it. Nothing is more settled in American jurisprudence than the presumption of guilt."
In his opening statements, Marino promises the judge and jury he will show how his client is innocent; in his closing arguments, he recounts how he kept his promises. "If I am going to trial with the United States government—and I have had the good fortune of succeeding in federal criminal trials—I'm not hoping and praying the government can't meet its burden. I am going to prove you're innocent."
Eric Grossman, the CLO of Morgan Stanley and a frequent Marino client, recalls meeting Marino when he was on the other side of the table. "He was representing someone adverse to Morgan Stanley, and as a result of seeing how effective he was for that person, I decided that I wanted him to represent us on our side of the table," says Grossman. He quickly hired Marino for another matter. In a roomful of lawyers representing big-name financial institutions, "He out-lawyered every one of those lawyers from big firms," Grossman remembers. "I promised myself that in the future I would always have him on my side of the table, and never across the table."
Marino, 57, grew up in an Italian-German-Irish middle-class New Jersey household. Marino says his dad's work ethic—holding down as many as three jobs at a time—taught him to work hard as a lawyer. After graduating from Seton Hall Law School in 1984, Marino clerked for Maryanne Trump Barry, then appointed to the U.S. District Court in New Jersey and now a senior judge on the Third Circuit U.S. Court of Appeals. Marino believes the federal clerkship was the best training that any lawyer doing litigation could get. "The most significant legal issues come across your desk," he says. "You learn firsthand how to present a dispute to the court in a way that is actually helpful to the court, and ultimately therefore helpful to your client." The other four lawyers in his firm are former federal clerks, too.
After clerking, Marino joined the 20-lawyer Newark litigation firm Robinson, Wayne, Levin, Riccio & La Sala. A partner, he left after 10 years, in 1996, to start his own shop in Newark. In 2006, Marino moved his firm to Chatham, which allowed him to spend more time at home in Westfield, only a few miles away, with his wife, Rita, his high school sweetheart who is a court-appointed special advocate for troubled children. They have two sons: Harry, 24, and Steve, 22.
Marino wasn't interested in growth, or making piles of money. (His hourly fee is $875, though he often charges less.) He was interested in practicing his kind of law, his way. The firm's other lawyers—John Tortorella, John Boyle, Roseann Bassler Dal Pra and Erez Davy—work with Marino on every case. They help outline depositions, draft motions and briefs, set negotiating strategies and prepare courtroom questions and arguments.
Mariellen Dugan, general counsel of the New Jersey Resources Corp., has engaged the firm to handle almost all of the corporation's litigation for nine years. She says she has been in court on numerous occasions when judges have complimented Marino for his briefs and oral arguments. "We have enjoyed extraordinary outcomes with Kevin and his firm," she says. "I attribute such results to Kevin's purposive approach to litigation and his fresh, creative approach to problem-solving."
Marino says a common thread connects the relatively few cases the firm handles: "They are the kind of cases that give you the opportunity to do what I became a lawyer to do—take someone else's problems off their shoulders and put them on my shoulders."
In the case of Sergey Aleynikov, a Russian-born computer whiz who had been making $600,000 a year programming code for Goldman Sachs' high-frequency trading platform, Marino had the chance to do just that. The FBI arrested Aleynikov in 2009 amid accusations by Goldman Sachs that he had stolen trade secrets; Aleynikov said he downloaded source code to examine it in a more stable environment, and that he never intended to use that source code—which Goldman Sachs now considered proprietary—to harm Goldman Sachs. He was convicted in federal court and sentenced to eight years in prison in a trial that, as Vanity Fair noted in a story by Michael Lewis (which ultimately led to Lewis' best-selling book Flash Boys), was remarkable for the absence of people in the courtroom who actually seemed to understand computer programming.
Aleynikov spent a year behind bars before Marino could argue an appeal in 2012. That same evening, in an unexpected victory for Marino, the appeals court overturned the conviction. Aleynikov was released the next day. But his freedom was short-lived. A few months later, Aleynikov was arrested again for the same alleged activity, this time by the Manhattan district attorney. Marino accused Goldman Sachs of using its political clout to keep the case alive, and rejected a plea deal that would have meant no more time in jail for Aleynikov. The case is still pending.
Since then, Marino has been in court trying to get Goldman Sachs to pay Aleynikov's millions in legal fees. Goldman insists that the programmer was not a "corporate officer" eligible for legal fees. "We are at war with Goldman Sachs," Marino says, jutting out his cleft chin, a street-fighter gesture that his clients know well. Peter Ax, a prominent Arizona-based venture capitalist who has used Marino for "thousands of hours" of legal work over 14 years, says, "I've not met a more honorable, hard-working man who reaches deep into his heart and soul to support his clients and friends."
Marino also represented Bill Stepien in the fallout from Bridgegate, the scandal involving the Christie administration's 2013 shutdown of George Washington Bridge traffic lanes, allegedly as retribution for the Fort Lee mayor's refusal to support Christie's re-election. Stepien, who managed Christie's 2009 and 2013 campaigns, became the fall guy when Christie very publicly cut ties with him.
Stepien hired Marino to defend a subpoena from a legislative committee investigating Bridgegate. Marino argued in Mercer County Superior Court that the demand of Bridgegate documents—without knowing whether any documents even existed—violated Stepien's constitutional protections against self-incrimination and unreasonable searches and seizures. The court tossed the subpoena. Marino wasn't finished. He told reporters Christie should make amends. Marino didn't expect the governor to apologize, but he felt he had to speak up for "an innocent man."
Classic Marino, pushing for his client. Here's another example: In the Quinn trial, Marino was stunned when O'Grady granted the Rule 29. But he barely paused before pressing for more. He asked that Quinn's $250,000 cash bond and his confiscated passport be returned within the next 15 minutes. "All right," the judge said.
Search attorney feature articles