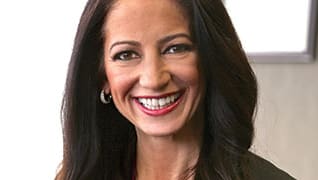 Photo by: Luigi Ciuffetelli
Split Screen
Remi Spencer doesn't just play a lawyer on TV
Published in 2016 New Jersey Super Lawyers magazine
By Timothy Harper on March 11, 2016
It's a typical weekend for Remi Spencer. She works late Friday on several criminal cases at the new digs she designed herself in West Orange. At home on Saturday, she plays with her dogs, hits the gym, dresses up, and then a limo from a television network whisks her into its Manhattan studios. Stylists primp her hair and makeup, and she appears on a talk show that covers the presidential campaign. "Remi Spencer is the Heidi Klum of the courtroom," someone tweets during her appearance.
On Sunday, Spencer reads case files, works out again and cooks—just a small dinner party for eight, including her parents. Come Monday morning, it's back to the grind.
Spencer, 40, is an anomaly in American legal practice. She runs a small firm with a few associates, and recently interviewed lawyers to join her at Spencer & Associates, Counselors at Law. She is one of the relatively few women lawyers specializing in criminal defense work in New Jersey. And while many attorneys maintain a low profile, Spencer has a glamorous second life as a TV personality.
But none of it—law, criminal defense, TV, running a business with her name on the door—was part of a grand plan.
Spencer grew up in a close-knit Iranian-American family in Livingston, New Jersey. Remi, born five minutes before her twin brother, Ryan, was the first child for Iradj Salahi, a surgeon, and Melinda, who runs a medical billings company. They later had another set of twins: Elyse and Jordan, both of whom now work for their mom's company.
The family's big house had a pool and a tennis court, and young Spencer was nationally ranked on the junior tennis circuit. She spent a year of high school at the same Florida tennis academy as Venus and Serena Williams. (She never hit with either Williams.) Spencer might have turned pro eventually, but her competitive career ended while she was still in her teens due to shoulder and ankle injuries that she blames on her aggressive serve-and-volley game.
Entering Emerson College in 1994, she envisioned becoming a broadcast journalist. But when she tried out for the school TV program, she was told to audition as a weather girl—and flunked. They said she didn't look good enough or speak well enough.
She took stock. What was she good at? Reading. Writing. Arguing with her twin brother. "I won the arguments," she says. "Then he'd beat me up." She decided it was a good skill set for a lawyer.
Spencer's twin, Ryan, laughs at her recollections. He remembers winning some arguments, and beating her up only occasionally. "She always did have a knack for arguing her point, even as a kid," he concedes. "But the one thing about her even back then was how hard she worked—school, sports, everything. She was driven. She still works 16-hour days."
Spencer's family, medical people, gave cautious support to her law school plans. "I had to promise I would never defend an insurance company," she says. "I have kept that promise."
She transferred to Boston College for pre-law and English, and volunteered to tutor jail inmates in reading, arithmetic and other basic skills. The experience planted seeds for the kind of law she practices. "I got to make a difference in their lives," she recalls. In 1998, she looked for an up-close view of lawyers before committing to law school, and worked as a secretary at Franklin, Weinrib, Rudell & Vassallo in New York. "Within about a month I realized I could do what they were doing," Spencer says. "I saw them make their clients' lives better. I figured I could do that. I wanted to do that."
At Seton Hall University School of Law she won moot court her first year, and studied in Italy and France for a summer. She taught at Seton Hall, too. "Remi epitomizes the best of Seton Hall Law alumni," says Dean Kathleen Boozang. "She is very active in our alumni council, and occasionally represents students who require professional assistance."
After a year-and-a-half stint with Wilentz, Goldman & Spitzer in Woodbridge, and seeking courtroom experience, Spencer joined the Union County District Attorney's Office in Elizabeth. One of her first trials was a headline-grabbing case nobody thought she'd win: The defendant went to prison for eight years for armed robbery of a gas station, even though only $15 worth of gas was stolen and police never found a gun.
Then she was hired away by an elderly Middle Eastern entrepreneur involved in an international lawsuit promising settlements or judgments for hundreds of millions; but suddenly the client dropped the lawsuit, after deciding against spending his final years in litigation. So once again, Spencer took stock.
She maxed out a couple of credit cards to open her solo practice, and invited 400 people to a party—anyone she thought might refer clients. Gradually, referrals trickled in: drunk driving, theft, carjacking, domestic violence. Spencer's practice now ranges across local, state and federal courts, from entering pleas to arguing appeals.
"She's the real deal," says Joseph Hayden Jr. of Roseland-based Walder Hayden. "She can handle everything from municipal court to felonies to complex appeals. She is never unprepared."
Michael Baldassare of Newark-based Baldassare & Mara tried a case with her in 2011. He has sent her dozens of clients. "She's the one you want to engage when you want to gracefully take a flamethrower to someone," he says. "Other lawyers refer family members to her. That's the ultimate compliment."
Spencer had the flamethrower out on behalf of her client, a retired New York City police officer, in 2009. He was charged with drunk driving, resisting arrest, possession of an illegal handgun and illegal hollow-point bullets, and multiple counts of assault by auto after his car collided with a group of teenagers on their way home from church camp. The teens were all injured, and one of them, a 16-year-old girl, had a fractured pelvis.
The most serious charge against her client, second-degree assault, carried a mandatory five- to 10-year prison term. That charge was based on the fracture; it had long been presumed in New Jersey law that a broken pelvis met the statutory requirement for second-degree assault: "bodily injury which creates a substantial risk of death or which causes serious, permanent disfigurement or the impairment of any bodily member or organ."
Spencer urged her client to let her hire an expert witness, but he refused. "He had to sell his boat to pay my trial fee, and he was unwilling to spend any more money," Spencer recalls. So Spencer enticed her twin brother Ryan, a surgical resident at the time, to split a pizza and talk fractured pelvises. By 3 a.m., she was ready to cross-examine the prosecution's two expert-witness doctors.
The doctors gave routine direct testimony to the prosecutors. Spencer liked that the prosecutors seemed to think the case was a slam-dunk. Then she started asking questions about the teenager's broken pelvis, and how it had been treated. Slowly, she used what her brother had told her to talk to the doctor like another doctor, not like an opposing lawyer.
It became clear that the girl had never been at risk of death; her treatment was bed rest. She had no serious or permanent disfigurement, and there was no impairment of any bodily organ. Spencer got the doctor to agree that the broken pelvis would not necessarily prevent her from carrying a child someday.
Spencer moved to downgrade the second-degree assault charge because it did not meet the standard required by law. Winning such a motion is rare in New Jersey, but the judge stunned the courtroom by granting it. The trial broke for lunch, and when it resumed, a more senior prosecutor was standing, and the gallery was full of young assistant prosecutors, watching. The prosecution made an impassioned, emotional argument for reconsideration. "I was smart enough to keep my mouth shut," Spencer says. The judge upheld the decision. 
The jury split the verdict, and he wound up with four years of probation. "At the outset, it was a dead-dog loser of a case," Spencer says. "He was going to lose his freedom. Instead, he only lost his boat."
That trial, Spencer says, was about lawyering. "It was the creativity and fearlessness of the arguments that led to the win." She grins. "And Ryan."
Spencer's other newsworthy cases include representing the wife of a doctor accused of drugging and sexually molesting an office worker. Prosecutors tried to get the wife to testify, arguing that she was implicated in the crime. Spencer, citing the spousal privilege allowing one spouse to refuse to testify against another, lost at trial. She then argued the case up to the New Jersey Supreme Court in 2011.
"The greatest thrill of my career," Spencer says. "Mom and Dad came to watch with all the lawyers and clients. It was a full house." She won.
"Remi has internalized the concept of total commitment to the client's cause," says Kevin Marino of Chatham-based Marino, Tortorella & Boyle. He says she's equally effective addressing witnesses, judges or juries.
She has little time for questions about being a woman criminal defense lawyer. "It's the same for everybody," she insists. "It's trial work. Trial work is hard. It doesn't matter if you're a man or a woman."
Fox News called in 2007, when the bomb squad was called to Wayne Valley High School after police discovered explosives in student lockers. She did well on camera, and was asked back. "I had this flashback to Emerson College where they told me I didn't look good and I didn't sound good," she says.
She has been good enough to make more than 500 appearances talking law and politics on FOX, CBS, NBC, ABC, CNN, MSNBC and others. The appearances raised her profile, but her growing caseload has led her to cut back to a handful of appearances a month.
She no longer appears on The O'Reilly Factor, though she used to quite regularly, since she was asked to speak about mandatory minimums. "I wouldn't agree, as a blanket rule, that they're good in every case. I would only say in certain cases. So, after that, I was never asked to come back on to his show," she says. On the other hand, she enjoys Greg Gutfeld, Neil Cavuto and Tucker Carlson. "Their opinions, I don't agree with most of the time," she says, "but they're good people."
Though many of the programs she appears on are political in nature, and Spencer is a registered Independent, she credits another title as being the most relevant to her TV persona. "I'm a criminal defense attorney, so I believe in fairness and honesty and ethics—that's the truth."
On a recent "TV day," Spencer was called in to talk about a young man who had apparently jumped bail in a notorious drunk driving case. But while she was waiting to go on, news came in that there was a hung jury in the first of a series of trials in Baltimore of police officers charged in the death of Freddie Gray. A Fox News producer pulled Spencer out of the wings and under the lights she went, joining Shepard Smith to talk hung juries, of which she's had four.
"To a defense attorney, there is almost nothing worse than having to try a case a second time," she said.
As often happens, the host encouraged her to go beyond law and she did, commenting on the relatively quiet streets in Baltimore after the verdict, as opposed to violent protests in Ferguson, Missouri and elsewhere in the aftermath of other legal proceedings that failed to convict police officers.
"Perhaps people are being smarter," Spencer allowed. "People are being safer. Perhaps people are being more reasonable. Hopefully the recent events in this country are teaching us that there are better ways to react, and that's why we're not seeing violence or riots. I'd like to think we're learning from the mistakes of the recent past."
Away from law and TV, Spencer works with One Kind Step, a charity matching volunteers with organizations that need help.
Meantime, she's working her way through another week defending clients: a woman accused of stealing $300,000 from her employer; a male Montclair State student accused of sexually assaulting a female student on a train platform after a fraternity party.
"I feel lucky," she says "I couldn't have charted this path. But every year seems to get better than the last."
Search attorney feature articles