'Straight Love, No Chaser'
From judges to book clubs, Paulette Brown, the incoming president of the American Bar Association, tells it like it is
Published in 2015 New Jersey Super Lawyers magazine

on March 13, 2015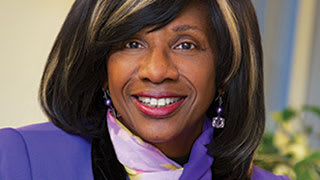 From the outside it seems so simple. You put one foot in front of the other and put your shoulder into it. Eventually, even the heaviest doors swing open.
They have for Paulette Brown. Multiple doors, multiple times.
This summer, it's another door. Paulette Brown will become the first African-American woman to head the American Bar Association, which banned blacks until 1943.
"Being first carries a responsibility," she says. "I want to get this right."
As Brown sits down in her office at Morristown's Locke Lord Edwards—the product of a 2015 merger between Locke Lord and Edwards Wildman—she rests feet that have already logged 10,000 steps for the day. That's five miles, and, today, five rainy ones. When she walks, she doesn't listen to music. It's just her and her steps. She's done five 60-mile fundraising walks for cancer, finishing 22nd out of 4,000 in one of them.
"I have a lot of energy," Brown admits. So much so, that when she manages to get six hours of sleep, she jokes, "I can hurt somebody."
More likely, help someone. Brown, a partner in the firm's employment and labor group, has spent countless hours over the years mentoring women of color.
"Paulette has taken me under her wing, and I'm better for it," says Erika D. Robinson, an attorney at Gregory, Doyle, Calhoun & Rogers, based near Atlanta. "Her story inspires young lawyers, especially women of color. It would be so easy to be compliant and comfortable, but she is always pushing the boundaries and always reaching back to help pull somebody up."
The Hon. Tiffany M. Williams, an administrative law judge in New Jersey, is also a mentee.
"She has a gracious touch when she is in difficult situations," says Williams. "She is like a Renaissance woman. She will be in the middle of a trial or getting ready to travel around the world, and here she comes with homemade lemon poppy bread with raspberry filling. Our mentoring sessions take place in her kitchen. That's where you see the essence of Paulette."
Pressure-cooker situations also reveal a lot about Brown. In 1994, as president of the National Bar Association, Brown was asked to lead a delegation to South Africa to monitor the country's first free and democratic election in which all races were allowed to vote—the one that resulted in the election of Nelson Mandela and toppled apartheid.
It was a tumultuous time. Prior to her trip, a worried friend offered Brown a bulletproof vest. But once assigned to the country's Eastern Cape, Brown quickly found that the biggest danger was the traffic.
She went to work looking for fraud and ensuring that the voting included people with special needs and prison inmates. "It was incredible," she says. "They rolled people up on gurneys with IVs in them to cast their ballots. And the long lines with people standing waiting to vote … it was amazing."
When one of her polling places ran out of ballots, she walked back to the town she'd just left, grabbed more ballots and ran back—a dash that took about an hour. "I don't even think I was under my own power," she says. "I was totally full of adrenaline."
Afterward, she shared a stage with Mandela and others during a victory celebration—even dancing the toyi-toyi, which was popularized during political protests.
"I was reminded of what it must have been like when African-Americans in the South were first given the opportunity to vote," Brown says, "and the hope that is associated with such an event."
The historic moment held special significance to Brown, whose upbringing in Baltimore involved a segregated elementary school education. "It was my normal," she says.
By the time she reached high school, her school was integrated. The students were fine, she remembers, but a guidance counselor made certain assumptions about her. He didn't think her first choice, Brown, was suitable for her. She wound up at Howard University, majoring in political science, but it was a choice she made on her terms. "I don't like people telling me what I can't do," she says.
For a time her ambition was to feed everyone and save the world, which, in those idealistic times, she thought would best be accomplished through social work. Then she heard her roommates talking about law school. When she arrived to pursue her J.D. at Seton Hall, she was one of the few African-Americans in her class. But she didn't feel like she was breaking ground. "I thought it was pathetic," she says.
Again, people made assumptions. The career counselor: "You want to be a public defender, right? Or work for Legal Services?" No. For Brown, it would be corporate law, focusing on employment and labor.
Her first job was in-house counsel at the country's then third-largest steel company, National Steel. This came during a time when organizations were trying to get their heads around ERISA, which established standards for pension plans in private industry and set rules on the federal income tax effects of transactions associated with employee benefit plans. She became an expert.
After a few more in-house roles with various Fortune 500 companies, she opened her own shop in 1984, focusing on employment, civil rights and products liability law. Her clients included Ford and Clorox.
"It was difficult because of all of the perceptions people had, generally none positive," Brown says of opening her firm. "That notwithstanding, it was a very good experience, particularly to be able to hire so many diverse attorneys."
She joined Edwards & Angell—which later evolved into Edwards Wildman—in 2005. She has successfully defended employers in cases alleging discrimination on the basis of national origin, sex, marital status, age, disability and race. She's also handled class action employment discrimination cases based on race and wage and hour claims, breach of contract cases and pro bono child custody work representing members of the U.S. military. And as the firm's chief diversity officer, she goes globetrotting to conduct training at the firm's 16 offices.
In one consolidated sexual harassment case, she won a blanket summary judgment in favor of an employer despite allegations of inappropriate comments made by the employer—including references to nude beaches. "People would come back from their weekends and talk about their experiences—everybody did it," says Brown. "The employees took the supervisor to be a friend." But when he reprimanded them for inadequate job performance, the resentment resulted in accusations of sexual harassment. "It was a tough case," she says. 
"She's surmounted a lot of hills and mountains to get where she is, for which I have nothing but admiration," says Paul Rowe of Greenbaum, Rowe, Smith & Davis' Woodbridge office, who has squared off against her in the past. "She is the only adversary who ever complimented me on my cufflinks. She is a real people person."
Some of the hills are still there. Only five years ago, the lawyer The National Law Journal called "one of the 50 most influential minority lawyers in America" arrived at a law firm for an arbitration meeting with her two clients. Upon arrival she was told, "Let us know when your attorney gets here."
For all her victories over stubborn doors, there was this one that wouldn't give. She joined a book club, missed meetings, and the other members let her go.
She recalls it with a delighted laugh. She's with a different group now, one with more relaxed rules.
"We do talk about books, even though our husbands don't think so," says Mary Washington-Nieves, a book club friend and a technology executive. "We leave no stone unturned. We are all alpha females and we'll be talking over each other. Paulette will tell you what she thinks—straight love with no chaser."
Telling it like it is isn't reserved for her pack of alpha females. Once, when a judge repeatedly shut her down during routine motions while allowing the opposing attorney to speak, she said, "I have my checkbook with me. You can fine me all you want, but I am going to talk." She did, without writing a single check.
This summer, when she takes over the ABA, she will do so at a time when a mere 7 percent of partners are people of color, with fewer than 2 percent of partners made up of women of color. Add to those figures the fact that the number of female associates is dropping.
"Paulette has always been an outspoken woman who believes that in order to make a difference you don't just talk the talk, you walk the walk—and she has," says Andrea McCoy Johnson, godmother to Brown's son and a retired executive assistant prosecutor for Essex County. "I believe her being at the table will mean more visibility for women of color."
She wants to focus in part on lighting a fire about the law in children, and hopes to meet with kids in Boys & Girls Clubs around the country as president of the ABA.
"There is no silver bullet," she says. "You have to think about retaining the people you already have and developing pipelines, which doesn't always mean in law school or college. It has to be at much lower levels where you give people the idea that things are possible.
"I believe people will rise to the bar."
Other Featured Articles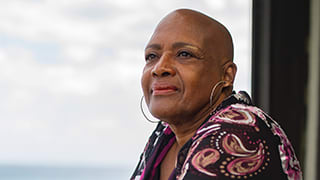 Second to None
To overcome racism, Elaine Johnson James' mother told her, she'd have to work harder than everybody else. She did. Featuring Elaine Johnson James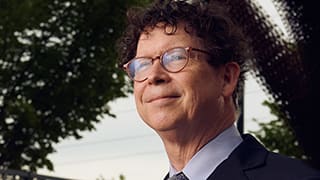 The Shakespeare Guy
The play's the thing for Donald Capparella Featuring Donald N. Capparella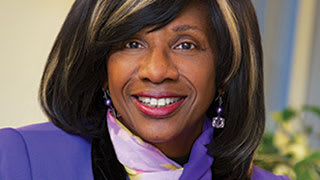 Q&A: Paulette Brown
We caught up with the American Bar Association president after her keynote speech at a recent Minnesota Black Women Legal Network event to talk about diversity and mentorship in the legal world