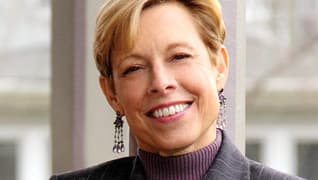 Photo by: Luigi Ciuffetelli
'The Blonde Blur'
Opposing counsel must move fast to keep pace with employment law innovator Nancy Erika Smith
The woman who has scored legal knockouts against such corporate giants as Mobil Oil and DuPont works from a surprisingly dainty-looking Queen Anne Victorian on a leafy street in Montclair. The shingles are pink, as is her office. The walls are decorated with portraits of groundbreaking women, from aviator Amelia Earhart to Shirley Chisholm, the African-American congresswoman from New York who ran for the Democratic nomination for president in 1972.
"I am inspired by great women," says Nancy Erika Smith. "It's appalling to me that women are still earning less than men in America in the 21st century."
Injustice appalls her, period. So when workers take on bosses they accuse of harassing, discriminating against them or wrongfully firing them, they want Smith.
"Our clients are so hurt," she says. "Their self-worth is tied up in what they do."
Ask Jack Seddon, who was up against the powerful DuPont. Seddon went to work as an operator for the chemical conglomerate's Chambers Works plant in Salem County two days after he graduated from high school in 1973. Thirty years later, he says, he was harassed into early retirement with a disability pension after he complained about unsafe procedures he believed could result in an explosion and notified the Occupational Safety and Health Administration.
"DuPont painted me as mentally unbalanced," Seddon says. "I had to endure three separate rounds of mental health testing."
Depressed and discouraged, Seddon called a random lawyer from the phone book.
"He told me I needed an attorney who specializes in employment law and that I should get the very best in New Jersey," he recalls. "He told me to call Nancy Erika Smith."
The case wasn't a sure shot, especially because Seddon had not been fired—he had voluntarily taken early retirement.
Smith and Neil Mullin, Smith's partner in law and life, came up with a novel strategy to argue the case under the Conscientious Employee Protection Act, which protects whistle-blowers from firing or other retaliation. That includes constructive termination, in which the employer makes working conditions so intolerable that the employee feels he has no recourse but to quit. Why not apply that principle to early retirement?
"No one had ever done that before," Seddon says. "It was a risk."
He recalls Smith's courtroom sparring.
"Nancy is very articulate. When she walks into court, she commands the room, but in a warm and personal way," he says. "Seeing her in action was the most moving thing I have ever witnessed."
In 2008, a jury returned a $1.2 million verdict against DuPont, plus more than $520,000 in legal fees. The award was reversed on appeal. In 2010, Smith took the case before the New Jersey Supreme Court and emerged victorious.
"Without Nancy, I would have lost everything," Seddon says.
Smith's argument in Seddon's case comes as no surprise to those who have been keeping tabs on her career.
She and Mullin are trailblazers in employment law, notching creative victories dating back to their entry into the practice area in the 1980s, when New Jersey's liberal-leaning courts helped fuel a groundswell of suits involving discrimination based on age, race, gender, sexual orientation or disabilities.
Smith, the youngest of three children and the only girl, grew up happy in Keyport.
From the beginning, she liked people. And they liked her back. In eighth grade, she was elected president of the student council. In high school, she was captain of the cheerleading team.
Her father, Jack Smith, was a vivacious Irishman, a bartender who opened a liquor store. He died when Smith was 15. Her mother, Madeline Parry, was deeply religious, determined and had a bright personality.
"My mom had an eighth-grade education and she ran that liquor store," Smith recalls.
Smith considers herself blessed. That is due, in part, to getting a quality, affordable education at state schools. Smith wasn't born with a silver spoon. She polished them as a waitress, earning enough money to pay tuition and keep a roof over her head.
"I am a product of government, of everyone pulling together to lift people up," she says.
Smith earned her social work degree at Montclair State University, and applied to Rutgers School of Law in Newark at the urging of a classmate.
"We were the lefties in class," she recalls. "He said, 'If you want to change the world, become a lawyer.'"
Smith was just 25 and eight months pregnant when she got her first big case, Slohoda v. United Parcel Service. Her client, Jon Slohoda, was a married UPS employee who was fired for cohabitating with a co-worker who was not his wife. Smith threw a punch no one expected—she argued that Slohoda was discriminated against on the basis of his marital status. If he wasn't married, she maintained, he could not have been terminated for adultery.
Smith lost in summary judgment, but won a plea for a retrial. "We tried it and the judge threw it out a second time," she explains. "And I won a second appeal." Before the case was headed back to court, UPS settled.
The suit resulted in two published appellate decisions and garnered national headlines highlighting love in the workplace.
Early on, Smith recognized the power and majesty of the jury system. "A jury trial is truly the only event in which an individual can face off against a corporate giant and get a fair fight," she says.
Still, going up against titans is a long, expensive process. There have been times when Smith and Mullin have maxed their line of credit to pay for expert witnesses and investigations. For the first 15 years they practiced together, they struggled to pay bills.
Their first big paycheck came in 1998, after a $10 million whistle-blower suit against Mobil Oil. The couple put their earnings toward a Victorian cottage built in 1896 in Longport, large enough for family gatherings.
Over the years, Smith has won such important decisions as a suit establishing the rights of students who have HIV-positive siblings to attend public school, as well as discrimination suits based on pregnancy, disability, age, gender and sexual orientation.
"The best lawyers put themselves in the shoes of their adversary, but Nancy takes that a step further and puts herself in the shoes of her clients, too," says Jack Voynick, a personal injury attorney with Renda & Voynick in Cedar Grove. "She is a very positive person with an endless well of energy."
Smith is just as devoted outside the courthouse. She is the driving force behind Wynona's House in Newark, a nonprofit organization that helps children who have been harmed by sexual abuse or other violence. She persuaded Voynick to serve on the board.
"If not for her, Wynona's House would not be in existence," he says. "She single-handedly put together the government funding and private donations to get it running."
Working with those less fortunate is important to Smith, who is disturbed by the growing chasm between the haves and have-nots. "I have been very lucky in life, and I want everyone to get a fair shake," she says.
That philosophy drove Smith and Mullin to work on a pro bono case for almost two decades. Landano v. Rafferty involved Vincent Landano, a man accused of murdering a Newark police officer. After spending 13 years in prison, a federal judge released Landano in 1989 on grounds that the prosecution had withheld evidence. The case went up and down the appeals process in state and federal court, arriving in 1993 at the U.S. Supreme Court as a Freedom of Information Act issue. Smith played co-counsel to her husband. The justices reached a unanimous decision in favor of giving Landano access to FBI documents that would help his case. A jury found him not guilty in 1998.
"It was never about money," Smith says. "It was about getting an innocent man out of prison."
Landano worked at the couple's firm as a paralegal when he got out of prison and throughout his trial. He died in 2002.
"He was in [prison] 13 years, and we got him out for 13 years," says Smith. "He loved to take a road trip and get us something. That was his favorite job. He had a resilience and positivity and good humor that made everybody in the office happy."
Working together and living together, husband and wife find themselves talking about cases deep into the night.
"Nan is tough and brilliant, and we enjoy challenging each other," Mullin says. "Nan also is hilarious, full of life and love. She is a blonde blur, a woman who starts hanging hearts around the house for Valentine's Day as soon as she takes down the Christmas decorations."
At trial, Smith and Mullin switch off on cross-examination. They brainstorm strategies together.
"It's like one brain, at this point," says Smith.
Together, they have a blended family of five kids and eight grandchildren. The Jersey shore is their refuge. In summer, they run their practice from the beach house.
Smith works hard and she works long hours. But she feels she's struck a happy balance.
"We eat dinner every night with our family, except when we're on trial," she says. "I'm married to my soul mate, I love my work and I enjoy my life—and sometimes I get to make life better for somebody else."
Search attorney feature articles