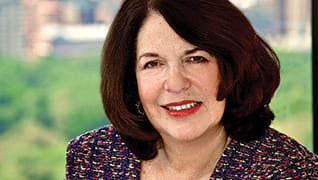 Photo by: Luigi Ciuffetelli
'A Real Inspiration'
Getting the deal done and keeping quiet about it, with Marcia L. Goldstein
Published in 2016 New York Metro Super Lawyers magazine
By Timothy Harper on September 21, 2016
During a safari trip to Africa in 2006, Marcia L. Goldstein, prominent corporate bankruptcy lawyer, and her friend/client Becky Roof, prominent corporate restructuring adviser, watched from a safe vantage point as a pride of lionesses stalked a wildebeest. One particular lioness was clearly in charge. She guided the others as they crept through the brown grass that matched their tawny fur. When they had surrounded their prey, the lead lioness led a series of snarling feints, staying clear of the wildebeest's sharp horns and flashing hooves. Eventually, they brought the wildebeest down. 
"I thought, 'That lead lioness, that's Marcia,'" Roof says. "That's exactly how she approaches the management of the cases she leads."
Over four decades, Goldstein has guided companies, both creditors and debtors, through restructurings and refinancings at Weil, Gotshal & Manges, a 1,400-lawyer firm that has one of the largest bankruptcy practice groups (more than 100 attorneys) in the world. Some of her clients were well-known brands that disappeared; others are still household names because she helped them survive.
Her cases, many of them Chapter 11 restructurings, have included Kodak, Nortel, Regal Cinemas, Washington Mutual, MF Global, Reader's Digest, Eurotunnel, Marvel Entertainment, Southland and Parmalat.
In the early 2000s, she helped contain the economic ripples from the WorldCom fraud. In 2007, it was the collapse of Iceland's largest bank, which presaged that period known in business and finance as the GFM—the Great Financial Meltdown—of 2007-09. Goldstein was particularly busy then. She represented General Growth, a huge Chicago-based real estate trust controlling scores of shopping malls across America, which was $30 billion in debt. She took it through Chapter 11, management changes, and then a complicated refinancing and investor process.
"Great result," she says. "Equity wasn't wiped out, the investors did really well, and all the creditors were paid in full. It was a classic use of Chapter 11."
More prominently, she was an adviser during the near-collapse of AIG, American Investment Group, the multinational insurance company with tens of millions of customers around the world. Economists feared that if the company collapsed, credit markets around the world would freeze and commerce worldwide would be crippled. 
Goldstein was in Shanghai when she got the 2 a.m. call to return to New York, where she faced an AIG boardroom full of grim-faced executives and lawyers. The question on the table: Was it better to take the company into bankruptcy or seek a controversial federal bailout loan that would keep it operating? She advised the latter. 
"To me that was a no-brainer," she says. "And I was right. Because the federal loan was restructured and satisfied, and the company not only exists but is doing well today." 
On the 27th floor of Weil's offices on Fifth Avenue in Manhattan, Goldstein's corner office has three big windows offering expansive views over Central Park, where hawks and falcons patrol the skies. On this particular afternoon, she has Puerto Rico on the mind. Not for a vacation, she says with a laugh. She's one of the lead attorneys trying to ease the U.S. territory out of financial crisis.
"Our client is island-wide, and committed long-term," she says. "The issues are interesting. In some instances they are constitutional. We have congressional action; we have Puerto Rican legislative action. It is a very interesting thing to work on because it's not standard. It's not something where we, or anyone, has a playbook."
And that's about as much as we get on Puerto Rico. The deeper into the conversation, the shorter her answers. Ditto the rest of her career. She'll tick off the names of big Chapter 11 filings and refinancings that have been in the news, but she won't talk particulars. And she definitely won't say anything about the clients she has kept out of the headlines.
"She is so respected," says Tim Coleman, a partner at PJT Partners, a public spinoff of The Blackstone Group, who has worked with Goldstein since 1982. "Whatever she does, she carries a certain amount of gravitas in the industry. She maintains the respect of her adversaries in every deal she's in."
He won't discuss the particulars, either, but he does emphasize how tough Goldstein can be, whether "taking it to" other lawyers or "getting aggressive" with politicians. At the same time, he says, Goldstein is good at making collaboration happen among groups of people with often opposing viewpoints and goals.
"It's hard to find aha moments," he says. "There is no one brilliant idea. Brilliance evolves. Creativity evolves. It's all extremely collaborative." 
Much of her behind-the-scenes work is crisis communications, advising companies and executives on what to say—and what not to say. "Every Chapter 11 is a crisis story, and the communications that a company makes are critical," she adds. "We make sure our clients don't forget about that. They can't just file for Chapter 11 and not have a strategy." 
When a client with operations around the world is going to file Chapter 11, Goldstein may help coordinate the timing of the announcement for when and how not only creditors and investors but also the company's employees find out.
"Marcia can see the end zone and lay out a strategy for everyone to get there," Roof says.
Marcia Landweber grew up in a working-class Jewish family in the Midwood section of Brooklyn, attending public schools and pretty much paying her own way through Cornell with scholarships, grants and summer jobs. She married Mark Goldstein when both were at Cornell Law, and she got the job at Weil in 1975 after he couldn't make a scheduled interview and she filled in for him. 
Weil had about 130 lawyers then, and only a handful of women. It was a transitional time, often awkward, but Goldstein had the good fortune to train under Harvey Miller, a legendary figure in business law for showing how bankruptcy could be used not merely to wrap up companies but to restructure and refinance complex corporations. "He appreciated the quality of my work," she says. "If you were purple, he would work with you. I hate to put it that way, but he clearly did not present a gender barrier. When you look at how the firm has grown to date, we have very successful women." 
She's passed it on. She has been a mentor both informally and formally, advising women on business development and career management in workshops. "I think men are natural promoters; women sometimes need more coaching [in promoting themselves]," she says. 
She's done that, too. Several years ago, a lawyer from a competing firm wrote a blog post for The Wall Street Journal in which he concluded that bankruptcy law would always be a male-dominated field because it is so intense and time-consuming. Goldstein and four other bankruptcy partners at Weil fired back. Their responding post pointed out that the five of them had nine children in total and still managed to serve in leadership positions at Weil. Goldstein, a lead author, says the post has been a great tool for recruiting new associates. 
"Marcia has always been a real inspiration," says Ronit Berkovich, who came in from maternity leave to help write the post. "She demonstrated to me early in my career that it was possible to be an extremely successful attorney, raise good kids, and be a genuinely decent and down-to-earth person. With her as a role model, I chose to stick with big law."
A former client recalls seeing Goldstein, as a young lawyer, landing in San Diego in the early 1980s. He bounded off the plane carrying one small satchel. She struggled down the metal runway ladder carrying a big suitcase, one of those huge, heavy partner litigation bags—this was before rolling bags—while on crutches with a broken ankle. 
"I knew then she was really tough," the client says.
One of the most satisfying aspects of the work for Goldstein is getting under the hood, so to speak: learning a company's language and culture and priorities and goals. "As a restructuring lawyer, we learn so much about the companies we work with. We get involved in finding solutions for each company and its unique business problems." 
When she retires from Weil—and at age 64 that won't be for a while—she likes the idea of becoming more involved with company management and strategy, perhaps as an adviser or board member. She's also looking forward to traveling, playing golf and spending more time with Mark, a retired Weil partner-turned-writer and professor, and their son, Jacob, who is studying for his MBA at Harvard. 
Roof remembers a big court proceeding to which Goldstein brought Jacob, then in middle school, because he needed to do a math project with real-life applications. She introduced Jacob to the judge and the other lawyers, and then had him help run the Excel model for the potential sale of a company's assets.
"She never assumed she couldn't do something," Roof says. "She just went ahead and did it." 
Search attorney feature articles
Helpful links
Other featured articles
After cancer, Scott Lundberg became Iron Man 
Discovery with Aundrea Stone Hanna
One of the nation's longest-tenured lawyers looks back
View more articles featuring lawyers
Find top lawyers with confidence
The Super Lawyers patented selection process is peer influenced and research driven, selecting the top 5% of attorneys to the Super Lawyers lists each year. We know lawyers and make it easy to connect with them.
Find a lawyer near you