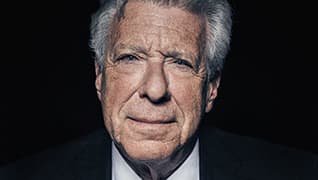 Photo by: Luke Copping
All Out of Bubblegum
Ed Menkin knows his clients want a lawyer "who is bold, who is self-confident, and who is ready to kick some ass"
Published in 2017 Upstate New York Super Lawyers magazine
By Matt Chandler on August 14, 2017
The first thing likely to catch the eye of a visitor to Syracuse criminal defense attorney Edward Menkin's office is a mug shot hanging on the wall. It's the face of former Panamanian dictator Manuel Noriega, framed alongside a Spanish newspaper, signed simply, "Too [sic] Ed, Noriega." 
Menkin, dressed in a gray suit and black shirt, leans back in his chair and puts his feet up on his desk, a smile crossing his face as he launches into a colorful and lengthy account of how the wall-hanging came to be. 
"It's the late 1980s, and I'm representing this guy named Greg," he begins. As Menkin tells it, his client made a side living moving large amounts of cocaine into Central New York, and was facing 25 years in prison. As he weaves his way through the narrative, it's easy to see how Menkin can charm the heck out of a jury. But in this case, he hoped to never see one. 
"I've got him sitting in my office on Friday afternoon, and the trial is set for Monday," he recalls. "The DA is offering 8 1/3, and I'm trying to convince him to take the deal." 
Unable to break through to his client, Menkin glanced over to an issue of Newsweek sitting atop the day's mail. On the cover was the mug shot of Noriega. The dictator had just been extradited to the United States to stand trial for cocaine trafficking. 
"I pointed to the magazine and said to my client, 'He's basically the president of Panama, and they got him. Does this picture tell you anything?'" His client's response: "Yeah. Prices are about to go up." 
Menkin eventually secured a plea deal for his client that resulted in a considerably shorter prison sentence, for which he was transferred to Miami. Years later, a letter arrived from that Miami-Dade correctional facility.
"[Greg] tells me that he has been serving as an informant and is being held in the high-security wing," Menkin says. "He then goes on to tell me his mother has been sending him Oreo cookies, and one of the prisoners he plays basketball with likes Oreos, so he did a little negotiating." 
Inside the envelope was a newspaper, and Menkin saw, just below a photo of tennis player Steffi Graf, the signature of inmate No. 38699-079: Manuel Antonio Noriega. "Can you believe that?" Menkin says, slapping the desk. "True story." 
Menkin is an accomplished storyteller, thanks in part to his days in the classroom. The Bronx native intended to be a college professor—on the wall opposite Noriega hangs a Ph.D. in English literature from Syracuse University. 
A first-generation American, born to Russian immigrants, the importance of a good education was emphasized in the Menkin house. His eyes twinkle when the conversation turns to family. Menkin's office is a shrine to those he loves: from his parents to Laurie, his wife of 40 years; to his two sons and a daughter, to his grandson, Aiden. The centerpiece is a family photo taken in 1910 that shows several generations of ancestors. 
"They had the classic immigrant story," he says. "Three of my relatives came over around 1904, penniless, and they worked, and then brought the whole family over."
It's easy to imagine him in a courtroom mesmerizing a jury with this story. But before he was delivering impassioned closing arguments, he was lecturing students as an elementary school teacher in New York City; and later, in the SUNY system, as an assistant professor of English. Menkin's office still bears the signs of his first love—like an oversized dictionary and a print of "Shakespeare and His Friends." It's easy to pick up on a passion for language, too—he's got a lot to say.
"I'm in love with myself," he says. "I know that, and I get it out there up front." Menkin insists every ounce of bravado and confidence that exudes from him is necessary for his clients. 
"When your client has the next 20 years of their life in front of them and faces some terrible criminal charge that could potentially destroy them, they want an attorney who is bold, who is self-confident, and who is ready to kick some ass," he says. 
So what compelled a young professor with a bright future in academia to change course? 
"There wasn't enough drama," he says. "While I was teaching, I was subpoenaed to appear in court, and I just immediately related to it as a theatrical production. That was a seminal moment." The man who wrote his doctoral dissertation on Shakespeare had found his stage.  
At Syracuse University College of Law, Menkin became friends with fellow student Bill Fitzpatrick. They participated in moot court together. "I could tell right away he was a very talented guy," Fitzpatrick says. "We formed a friendship that has lasted more than 40 years." 
Fitzpatrick, who was a year ahead of Menkin, went on to play a significant role in shaping his friend's career. 
"I recruited Eddie to join the DA's office, and he tried a bunch of cases here before he went out on his own," says Fitzpatrick, who has served as the district attorney for Onondaga County since 1992. "He's meticulous. His mind operates in a superior manner, and he can usually see things before the other side does."  
That's why, in 1992, when Fitzpatrick needed to recuse himself from the trial of Walid Daniel, accused of murdering his wife, Fitzpatrick reached out to Menkin to step in as a special prosecutor. 
"It was a very tough, very circumstantial case, and the only person I would let touch it was Eddie," Fitzpatrick recalls. "He got the conviction, and I always like to remind him he was a better prosecutor than a defense lawyer." 
Despite his success in the DA's office, Menkin was drawn to the defense side because it allowed him to fight for the underdog and work alone. 
"I'm a get-along guy—as long as you do it my way," says the sole practitioner. 
One of Menkin's ways? Navigating the often-tumultuous relationship between prosecutor and defense attorney, which he's done many times, particularly against Fitzpatrick. 
At the forefront of their many battles was the 2014 trial of Menkin's client, Ronald Meadow, charged with his wife's murder. The twist: It was a cold case. Menkin's client was brought to trial 29 years after his wife's death, when, in 2013, tech advances allowed decades-old DNA material found under her fingernails to be tested. Menkin says it was one of the more challenging trials of his career.
"Dealing with Fitz is always a monumental challenge because he's such a talented attorney," he says. "But our friendship is certainly compartmentalized when we enter the arena." 
Menkin says the Meadow case was difficult because much of the proof lay in forensic analysis of evidence that was nearly 30 years old. 
"These are sciences and technologies that have only recently come into significance," he says. "But the reality is, the discovery you get from the original investigation is without any of that sophisticated stuff—it's reconstruction of reconstruction." 
Though Fitzpatrick bested Menkin, Menkin says the court got it wrong. 
"The judge in the case was Tony Aloi—he is a great guy," Menkin says. "But he kept overruling my significant objections."
After the verdict, Menkin approached the bench to shake the hand of the judge, a long-time friend.  
"He says to me, 'You did a great job, Fast Eddie,' and I said to him, 'You screwed this case up.' He sort of laughed, then said, 'Well, if it comes back, it'll be in front of somebody else.' He was about to retire, and in fact it did come back." 
(Menkin's courtroom humor proved prophetic: In 2016, the appellate court overturned the conviction, citing judicial error on the same evidentiary grounds Menkin objected to during trial. The case returned to trial in late June 2017.) 
For Menkin, it's clear his work is more than a paycheck. Consider a slideshow of photos on his computer. Sandwiched between images of his grandson is a shot of a younger Menkin in court as his client is being handcuffed and led away. It's a case where he feels justice wasn't served, and the image remains front and center years later as a reminder of what he's fighting for.
"I'm meeting people at the lowest point in their lives, and they need to know they are going to be treated fairly by the system—that as their attorney, I'm going to stand up and push back," he says. 
Menkin shows little patience for people who question his character based on his work. It's the one time the otherwise genial attorney furrows his brow and raises his voice. 
"Guilty is not up to me, guilty is up to the jury," he says. "It's my job to keep them to their obligation to prove my client guilty beyond a reasonable doubt. That's my job."
Empathy for his clients has served him well over the last 40 years, even in instances where the case didn't go their way. 
"I'll never forget my first murder trial. It was a double homicide where a guy beat his girlfriend to death, abducted their 5-year-old child who witnessed it, and then killed the boy. It was a devastating, awful crime," Menkin says. "But I'll never forget him turning to me, shaking my hand, and saying, 'Thank you Mr. Menkin, I know you worked as hard as you could and I appreciate it.'" 
Without missing a beat, Menkin eases the conversation from a brutal double-murder back to Noriega. Both, he says, show the human side of his clients. 
"I tend to love my clients, and they tend to appreciate my empathy for their plight, because they can sense it is genuine," he says. "If I am able to feel their pain and articulate it in a counter-offensive way, it fuels my passion for the work."
Defendants charged with murder, rape, drug dealing and an assortment of other violent crimes have darkened Menkin's doorstep. But there's one type of crime he won't touch. 
"My mother was killed by a drunk driver," Menkin says, his eyes shifting to the photos on the wall. "So Eddie doesn't do DWIs."  
Menkin says he lawyered on a learning curve.
"I had more fire as a young man, or at least it was hotter, but the energy I have now is more artfully burning," Menkin says of his evolution as a lawyer. "I'll observe some misconduct my adversary is engaging in and, 20 years ago, I would leap in and start slashing away. Today, my reaction would be, 'Spare me . . . get over it.'"
The approach has earned him praise from colleagues and adversaries. Dan French, senior vice president and general counsel at Syracuse University, partner at Barclay Damon and a former U.S. attorney, calls Menkin, "a lawyer's lawyer." 
"The thing about Eddie is that he's excellent on his feet. He's one of those attorneys who has great instincts and he is always willing to advocate for his clients, almost without bounds," French says. "I've presented cases with Eddie and, as a U.S. attorney, I prosecuted cases where Eddie was the defense attorney, so I've seen him from both sides. He has the unique ability to agree to disagree—vigorously—without ever making it personal."
It's just after 5 o'clock on a Tuesday, but already the Dinosaur Bar-B-Que is bustling. The air is thick with the smell of smoked meat as Menkin weaves his way past the happy hour patrons at the bar, pausing to allow a server carrying two platters to pass. 
"This is the place you've got to eat when you come to Syracuse," he says, reaching out to greet a colleague. In a back-corner table, Menkin settles in and takes a brief glance at a menu he knows well. 
"In this job, 'winning' is a relative concept," Menkin says between bites of a hoisin sesame chicken wing. "You've got to measure success against a template of some harsh realities." 
Among them: The vast majority of his clients either plead guilty under a deal or are convicted at trial. The acquittal is a rare occurrence, though Menkin says he has earned more than his fair share. 
"There is an emotional cost to you, and it's a really high price to pay," he says. "Particularly when you are a sole practitioner, you need to keep a balance in your life because an enormous amount of you is left on the floor after one of these battles." 
At 73, with a grandson to dote on and his golf clubs nearby, balance is on his mind. He's lightened his workload but won't talk retirement. His legacy, though? He'll talk about that.
"Like most people, I want to be liked," he says with a sly grin. "But how do I want to be remembered? Nice guy, very good lawyer; a witty guy who you don't want to fuck with."
---
The Bar and The Bard
The guy who penned the line, "The first thing we do, let's kill all the lawyers," has a fan in Ed Menkin. 
"Shakespeare has been a meaningful part of my intellectual life, and my very favorite character is Falstaff," Menkin says. "Although he doesn't have much to do with the law—far from it—he has everything to do with how exciting and full life can be lived if you push against boundaries. Without the joy and excitement of pushing boundaries, practicing law is a stale piece of business."
The Bard had a thing for references to lawyers and law. Check out a few below:
I have neither the scholar's melancholy, which is emulation, nor the musician's, which is fantastical, nor the courtier's, which is proud, nor the soldier's, which is ambitious, nor the lawyer's, which is politic …
  — As You Like It
… When law can do no right,
Let it be lawful that law bar no wrong:
Law cannot give my child his kingdom here,
For he that holds his kingdom holds the law.
  — King John
Help, master, help! here's a fish hangs in the net,
like a poor man's right in the law …
  — Pericles
Crack the lawyer's voice,
That he may never more false title plead,
Nor sound his quillets shrilly. 
  — Timon of Athens
A pound of that same merchant's flesh is thine:
The court awards it, and the law doth give it.
  — The Merchant of Venice
And do as adversaries do in law,
Strive mightily, but eat and drink as friends.
  — The Taming of the Shrew
Search attorney feature articles
Helpful links
Other featured articles
How Tara Knight and Hugh Keefe became Connecticut's criminal law power couple
The passion and decorum of J. Bernard Alexander III
Jim Schwebel is in the business of rebuilding lives
View more articles featuring lawyers
Find top lawyers with confidence
The Super Lawyers patented selection process is peer influenced and research driven, selecting the top 5% of attorneys to the Super Lawyers lists each year. We know lawyers and make it easy to connect with them.
Find a lawyer near you