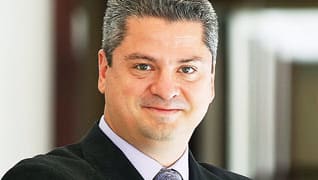 Photo by: Michael Paras
Avanti, Sempre Avanti
Michael J. Amoruso is known as a listener even though he was born with bilateral hearing loss; he's known for seeing solutions even though he's legally blind
Published in 2013 New York Metro Super Lawyers magazine
By Lisa Armstrong on September 13, 2013
In 1994, a month after he started at the Vincent A. DeIorio Law Firm in Westchester, Michael J. Amoruso, a recent graduate from Boston College Law School, who was contemplating a mergers and acquisition practice, worked pro bono on a special needs case to help a disabled woman whose parents had spent much of the $3 million she'd won in a malpractice case.
"That one case made me realize what I wanted to do," says Amoruso, 44. "It brought home what I go through."
Amoruso, who runs Amoruso & Amoruso with his wife, Sreelekha, in Rye Brook, N.Y., was born with bilateral hearing loss; he hears only one-third of the letters in the alphabet. He has also gradually lost his vision. Now legally blind, he uses a guide dog, has a hearing aid and relies on computer software to either enlarge documents or read them aloud.
As a result, Amoruso is uniquely qualified to handle elder law and special needs cases because he knows firsthand the discrimination that the disabled face. He says he has often been underestimated—by teachers and potential employers—and he perseveres by keeping in mind an Italian family motto: Avanti, sempre avanti. Forward, always forward.
No one noticed Amoruso's hearing loss until he was in kindergarten.
"We knew his speech was missing certain sounds, but you think if you keep giving him little lessons, it'll get better," says Amoruso's mother, Marie.
Then one day, she had a conversation with one of Amoruso's classmates. "Does Michael have a disease?" she remembers the boy asking. "Because he talks funny."
Throughout his time in elementary school, Amoruso faced discrimination as a result of his hearing loss—not just from teasing schoolmates but from the school administration. He was placed in remedial classes. Teachers told Amoruso's parents he would never read beyond a fourth-grade level.
Nevertheless, in seventh grade he asked his parents if he could take the entrance exam for Iona Grammar School, a private school in New Rochelle. Seventy children were taking the exam for one open spot.
"I walked into the exam room and knew I was out of my element," says Amoruso.
As he was taking the exam, though, he noticed that the proctor, Brother Dillon, kept walking back and forth, focusing on his responses to the questions. When the exam was over, Brother Dillon asked, "If we said you could come here next week, would you?" A few days later, his parents received a phone call from the principal saying they wanted him at the school, and he could start immediately.
"What [Brother Dillon] noticed was that, though I was in the seventh grade, I had the vocabulary of a 6-year-old because I couldn't hear," says Amoruso. "Yet my IQ was way up here."
At Iona Grammar School, teachers gave Amoruso extra work to help him catch up to his peers. He had to read a book a week and learn 50 vocabulary words each night.
"It was a full day of work after school," says Amoruso. "I was tired, there were tears coming down my face, but my mother was there the whole time getting me through it."
Brother Dillon also encouraged Amoruso to join the debate team. Amoruso excelled at sports, especially baseball and golf, and worked at the local course in return for green time during the summer.
"On summer afternoons, I ended up playing with senior citizens," says Amoruso. "And the joy I got from hearing their stories. I was learning a lot about life. I'm sure that has something to do with how my own life was molded."
Then more bad news. His parents wanted to buy him a new pair of glasses during his senior year at Boston College, and after the eye exam, the ophthalmologist told him that he had lost a significant amount of peripheral vision. Later, when he was diagnosed with a genetic disorder called Usher syndrome, he learned that this was linked to his hearing loss, but at the time he only knew what the doctor told him: By his 40s or 50s, he would be completely blind. He says he cried for about five minutes, then went to the golf course and putted for about three hours.
"I looked up at the sunset," says Amoruso. "I allowed myself to experience the beauty of the sunset. Perhaps I was convincing myself, 'Implant this in your brain, because one day you won't be able to experience this.' Whatever it was, it was a peaceful feeling."
"He said he communicated with God," says Amoruso's father, Donald, "and said if this is what it is, it is, but I am not going to let it stop me. That has been his attitude right to this day."
After law school, where he met his wife, Sreelekha, he went job hunting. Firm after firm turned him down.
"There were so many attorneys who, in the face of the Americans with Disabilities Act, said to me, 'I don't see how a blind person could be a lawyer,' stone-faced, just like that," says Amoruso. "I interviewed at every name-brand law firm in Manhattan, every name-brand firm in Boston. They would always say, 'We really admire your story,' but no one wanted me."
"Even when he has every door slammed in his face, and it would be understandable to have a pity party, he doesn't know how. That's not how he copes," says Sreelekha.
Eventually, Holly Benedict, then head of development at The Lighthouse (now Lighthouse International), an organization for the vision-impaired, referred Amoruso to a retired judge, Vincent DeIorio, whose small firm focused on construction cases. DeIorio did not need another attorney. But he gave Amoruso a chance.
"Michael was certainly a bright guy," says DeIorio. "His disability was no impediment."
Because the firm was small, Amoruso was able to learn the business side of things from DeIorio: how to get clients and manage staff.  This was good preparation for when, in 2001, shortly after the birth of his first child, Amoruso decided to open his own practice.
DeIorio rented space to Amoruso in his office, and the Amorusos built their business through networking at bar association functions. Now, 80 percent of their business comes from the Internet and word-of-mouth referrals. They currently handle more than 600 cases at a time.
One of those cases involved Joan Keane, who was referred to Amoruso by a relative in 2008. She had been caring for her paraplegic husband in their home, but recognized that she would not be able to continue doing so as she got older.
It took a year and a half to find the right facility, where Keane's husband could get the care he needed and she would be able to see him every day. Amoruso made calls to facilities himself and encouraged Keane not to settle.
"Mike treated me as if I was the only client," says Keane, 70. "He listened to my needs, came up with solutions, and always encouraged me that there was light at the end of the tunnel. 'You're going to be all right,' he'd say. 'Have faith.'"
It is this ability to listen that sets Amoruso apart.
"He has more empathy as a result of his own personal issues, and is more receptive, patient and understanding of people's problems," says DeIorio. "When someone is willing to sit and listen, and then find a way to move forward, you've got to love a guy like that."
The Amorusos have purposely kept their practice small, with just the two of them in the New York office, and a third attorney, Howard Krooks, who splits time between New York and Florida.
"Most people at [Michael's] level don't even meet with clients; they send associates in," says Sreelekha. "But he wants to maintain this personal interaction."
Amoruso charges a flat rate for services rather than billing hourly. The biggest reward, he says, is not the money but the hugs he gets from grateful clients. It's ensuring that the plans he creates serve his clients and their families, even in death.
"It's painful when a client dies," Amoruso says. "This could be a morbid practice in some ways, but it also teaches us how to live."
Search attorney feature articles
Helpful links
Other featured articles
Family attorney and novelist Christine Whitehead sees herself in her characters
Andrés Correa believes that's an ideal worth striving for
Genevieve Jenkins came to housing law through her work on South Africa's Constitutional Court
View more articles featuring lawyers
Find top lawyers with confidence
The Super Lawyers patented selection process is peer influenced and research driven, selecting the top 5% of attorneys to the Super Lawyers lists each year. We know lawyers and make it easy to connect with them.
Find a lawyer near you