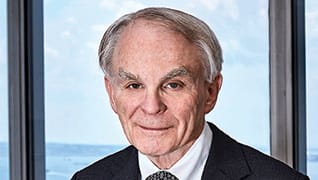 Photo by: Luigi Ciuffetelli
Banking on Rodge
H. Rodgin Cohen looks back at the Great Recession—and guesses where the next banking crisis might come from
Published in 2018 New York Metro Super Lawyers magazine
By Timothy Harper on September 13, 2018
It was another crisis weekend in what had become a crisis year—2008, the year the subprime mortgage market tanked, the housing bubble burst, and the big banks, along with the world economy, teetered on the edge of collapse.
On this particular Saturday in mid-September, the titans of Wall Street—dozens of bankers, lawyers and government regulators—gathered at the Federal Reserve building in downtown Manhattan to try to find a way to save Lehman Brothers, one of Wall Street's long-venerated institutions. Lehman needed billions in emergency infusions of cash by the start of business Monday. Discussions centered on Lehman's possible acquisition. If Lehman fell into bankruptcy over its bad bets on the U.S. housing boom, it was feared other major institutions would follow. And nobody knew where it would stop. 
One lawyer, slight and soft-spoken, was involved in every suggestion and scenario: H. Rodgin Cohen, who represented Lehman. How could this loan be structured? What would that investment look like? What was legal? What did Cohen think?
For more than 25 years, Cohen had been called the most influential lawyer in American banking. In his mid-60s and chairman of the prestigious white-shoe firm Sullivan & Cromwell, Cohen represented at least 17 financial institutions during the crisis—including Bear Stearns that spring. He helped them deal with the threats and consequences of the overheated housing market, the risks of new financial instruments, and liquidity problems. When things started melting, he suggested new ways to apply old rules and proposed unprecedented partnerships among competitors. 
"During the Bear Stearns crisis, the question was: Could the Federal Reserve provide support?" Cohen recalls. "We were able to go back and look at an amendment of the Federal Reserve Act in the early 1990s that had not been adopted for this purpose but actually gave the Fed enough latitude, if they were prepared to take it—which they did—to provide the assistance to prevent Bear from failing."
How did he find that obscure amendment that saved Bear Stearns?
"Well, I had the advantage," Cohen says. "We had helped put in the amendment."
He remembered it, in other words, because he wrote it.
With Lehman, though, there would be no bailout. Money from South Korea fell through. No other bank would invest in Lehman without U.S. government financial guarantees, and the government would not prop up Lehman for fear its debts were so deep that it would collapse anyway. Lehman was not too big to fail. On Sunday, Cohen and the other lawyers and bankers went home, and that night Lehman Brothers filed for bankruptcy. 
There are many names for this period: the global financial meltdown, the financial crisis of 2008, the Great Recession. Cohen calls it simply "the near catastrophe." For him, it was a months-long maelstrom of blurred workweeks and working weekends; late-night, last-minute boardroom meetings and frantic phone calls. 
In his corner office with expansive views of New York Harbor 30 floors below, Cohen is cordial but not exactly a quote machine. He says it was, in his view, a mistake to let Lehman Brothers fail and wipe out its investors. Another government mistake, he says, was the failure to provide financial support for homeowners who lost their houses. 
When a visitor tells Cohen about a Midwestern tea party enthusiast who now has a profane refrain for banks, he grimaces in recognition. 
"The real mistake was not doing more to help homeowners," he says. "There just wasn't the political will to do that, which I think is very unfortunate. To use your phrase, if the homeowner had been helped, he wouldn't be saying 'Fuck the banks.'"
His own biggest mistake, he says, was not anticipating that the Bank of England might have difficulty with the British bank Barclays' proposal to bail out Lehman. For what he did right, Cohen doesn't mention his much-heralded role in saving AIG; instead, he mentions playing a significant role in the transaction between liquidity-strapped Morgan Stanley and Japan's giant MUFG bank, a Sullivan & Cromwell client.
"MUFG was prepared to step up, but there was skepticism in the U.S. government as to whether they would actually take such a plunge," Cohen says. "The bank itself was concerned that it not put the money in and have the government still close Morgan Stanley and wipe the new money out."
Cohen was the middle man, getting the Japanese to invest, and getting the U.S. government to let Morgan Stanley survive: "I was trying to act as an intermediary and build confidence in both sides." 
His efforts worked: MUFG kicked in $9 billion and 10 years later Morgan Stanley is thriving. 
"I am convinced that in 2008, without Rodge, the world economy would have collapsed and we would have had another Great Depression," says Stanley Farrar, a retired Sullivan & Cromwell partner.
"He is uniquely able to provide guidance on business challenges and opportunities utilizing a rare blend of substantive knowledge and impeccable judgment," says Paul Harris, general counsel of KeyCorp. "And he does all this in a low-key fashion." 
In his office, Cohen warns that he might have to take a phone call. Someone in trouble? Yes, he murmurs, someone in trouble. Later, when an assistant signals from the doorway, he asks, "Is it Allen?" She nods. Cohen steps out for a few minutes. When he returns, he acknowledges that the call came from Allen Parker, Wells Fargo's general counsel; but that's all he'll say.  
The next day, Wells Fargo agrees to pay $1 billion in government fines for various wrongdoings. 
"He's the best listener I have ever dealt with," Parker says in a separate phone call. "He doesn't listen until he can break in with his ideas. He listens to help you make your ideas better."
Cohen grew up in Charleston, West Virginia, in the 1940s and '50s, part of a close extended family. His father ran a chain of drugstores, and his mother was a teacher until she stayed home to take care of Rodgin and his younger brother, Alan, now a prominent Philadelphia pediatrician. "I was a totally failed jock," Cohen remembers. "I lacked coordination. Stature and coordination. … I spent lots of time in the library."
In 10th grade, his folks sent him to Deerfield Academy, an elite Massachusetts boarding school, where he developed a love of literature and theater. At Harvard in the early 1960s, he immersed himself in a wide-ranging liberal arts education. "I so much enjoyed my educational experience," Cohen says. "I thought law school was probably the closest to the continuation of a liberal arts education." The Vietnam War, however, was ramping up, and when he graduated from Harvard Law in 1968 he was promptly drafted and assigned to infantry training.
The day before the end of basic training, he got new orders. The army electronics command at Fort Monmouth in New Jersey was plucking law graduates out of basic training and using them in place of higher-priced civilian lawyers. Instead of the jungles, Cohen spent two years practicing law.
Mustered out in 1970, he started at Sullivan & Cromwell, where he was surprised to find himself assigned to the firm's small-banking practice. He protested that he had studied zero banking in college or law school. "You'll learn," he was told.
He did. He found a home in the arcane rules and fulfillment in getting around the seemingly ironbound law. He was soon supervising loan deals and mergers and acquisitions. "We were always given a lot of responsibility," he says. Rivals often found him a step ahead. One remembers Cohen appearing at a big meeting in 1989 toting a portable fax machine so he could share documents with his clients in real time.
Cohen's stature rose markedly in the higher echelons of law, banking and government when he helped broker the 1981 release of 52 American hostages held in Iran for 444 days by participating in the design of a plan to unfreeze the nearly $8 billion in Iranian assets held in U.S. banks. No doubt the groundwork for his work during the global financial meltdown was laid in the mid-1980s when Continental Illinois failed and Cohen helped arrange an unprecedented federal rescue. That was the largest bank failure in history until Washington Mutual collapsed in 2008; in that one, Cohen represented the purchaser, JPMorgan Chase. A 1989 New York Times headline called him "Counselor Banks Call in a Crisis."
"What makes him so valuable," says Charles Tuggle, general counsel of First Horizon National Corporation, "is that his advice synthesizes legal, regulatory and industry knowledge and trends and insights about the political environment, key policymakers and an understanding of our company, all filtered through seasoned judgment."
Greg Baer, CEO of the Bank Policy Institute, says Cohen's quiet connections are invaluable: "It seems that every time I call him on an issue, he is standing in the hall of a federal building, having just emerged from the office of a senior government official with authority over the relevant area."
Today, at age 74, legendary in legal circles but little known beyond banking and Wall Street, Cohen has some thoughts about the future. He expects a more balanced regulatory approach, as well as new rules for bitcoin and other cryptocurrencies. 
He doesn't foresee another global financial meltdown—at least not the same way—because post-GFM capital safeguards require banks to maintain much higher capital cushions. "Right now the banks are so much stronger financially than they were in 2008," he says. "However you measure it—capital, capital ratios, liquidity—they could withstand a lot more, and there would be a lot more confidence in the world at large that the banks could stand it."
He offers a primer on banking—yes, safeguards are important, but so is the ability to save, borrow and invest. "Banks are supposed to take risks," he says. "There has to be a balance."
But there are dangers. "To me, the most likely cause of another crisis is a very successful and comprehensive cyberattack," Cohen says. "You can have a fortress balance sheet, but if nobody can get their money …" His voice trails off. 
Cohen sees himself practicing a few more years, maybe more. "If I thought I'd lost even a half step, I'm not sure I'd continue doing it," he says. He's got no interest in writing a book. He's always done a lot of pro bono work, including appellate work, and that might be the last part of law he'd give up.
"Rodge has been a spectacular trustee of Rockefeller University," says Richard Lifton, the school's president. "I rely on his sage counsel and clear, dispassionate assessment of complex issues. Everyone listens very acutely whenever he has something to say." 
In retirement, Cohen imagines he and his wife, Barbara, will spend more time with their children, Sarah, 36, a social worker, and Jonathan, 27, who works in American Express' entertainment division. There will be more travel, particularly to Hawaii and Italy, and more reading. (Two biographies of Joseph Conrad, his favorite novelist, recently landed on his nightstand.) He and Barbara will go to the theater 40 times a year instead of 20, and hear more live music. When we talked, they had just been to the Philharmonic and a Rosanne Cash concert, and were about to go hear Rufus Wainwright.
Cohen especially looks forward to more long walks with his dogs along the Croton Aqueduct. His voice softens when talking about his two boxers. "They're both rescue girls," he says. The older dog is Bacall, after Lauren. The younger, Tupelo.
"It's the Van Morrison song," Cohen says. "But also Tupelo is supposedly the sweetest type of honey, and she is a very sweet girl."
---
Cohen's three reasons to practice banking law
1. "You have a real opportunity for creativity: coming up with new ideas; enabling people to do things in different or totally new ways."
2. "You deal with some very significant issues and problems. It's never routine, always different."
3. "Most importantly, you meet a lot of fascinating people."
Search attorney feature articles