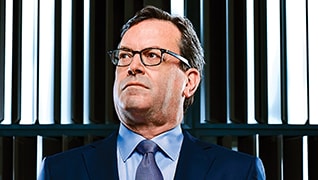 Photo by: Brad Trent
Barry Berke Sees the Bullets
The famed litigator on trial prep, controlling the witness, and those impeachment hearings
Published in 2021 New York Metro Super Lawyers magazine
By Timothy Harper on September 30, 2021
Should you ever have the misfortune to be cross-examined by Barry Berke, expect him to be unfailingly polite and deferential. He will address you as "sir" or "ma'am." His tone and body language will remain neutral and calm. No sarcasm, no looming over the witness stand, no sad headshaking toward the jury.
Then he will proceed, question by question, to peel off your hide.
Berke has long had a rep in rarefied boardrooms and courtrooms as an attorney with an enviable record defending individuals and corporations accused of serious white-collar crimes. But it was his role as a prosecutor in the two impeachment proceedings against Donald Trump that raised Berke's public profile.
Taking a leave of absence as co-chair of litigation for Kramer Levin Naftalis & Frankel, Berke acted as special counsel to the House Judiciary Committee in the first impeachment of then-President Trump—for abuse of power and obstruction of Congress while allegedly attempting to coerce Ukraine officials to investigate Joe Biden. On both counts, a narrow majority of senators voted to acquit the president. 
In Trump's second impeachment, for inciting followers to breach the U.S. Capitol on Jan. 6, 2021, the Judiciary Committee asked Berke to serve as chief prosecution counsel. The case was again given little chance of reaching the two-thirds vote threshold for success, although 57 senators, including seven Republicans, voted guilty.
Back in New York, on a sunny spring morning in Bryant Park, in the shadow of the New York Public Library, Berke, 57, talks about how both impeachments were important and necessary. The first, he believes, kept Trump from committing further abuse of power, and the second proved how Trump spurred the Jan. 6 violence.
"It truly was the honor of my career," he adds, "both times, not only to hold the president accountable, but to defend the rule of law and to defend democracy."
Berke grew up in Palm Beach Gardens, Florida, to parents who ran separate businesses: father, linen supply; mother, interior design. He spent time on the water, scuba diving and water-skiing, and held many part-time jobs, including flipping burgers and painting trailers. "It really taught me how to deal with all sorts of people," Berke says. "How to think through problems in a very practical way." In high school, he played basketball, and at 6 feet, 4 inches was usually matched against the bigger players. The scouting report on him, he says, would describe a scrappy player with a decent jump shot and a tendency to use his full complement of fouls.
After Duke and Harvard Law, Berke clerked for a federal judge, then stepped off the established path toward white-collar criminal defense. Instead of serving as a prosecutor, he joined the federal public defender's office. "I was told by a number of people it was career suicide," he says.
During his four years with the office, Berke tried 19 cases in U.S. District Court, where the conviction rate is more than 90%. When he left, his colleagues gave him a plaque bearing his record: 11-5-3; 11 acquittals, five convictions, three hung juries.
One case hinged on when the defendant punched in and out of work. The prosecutors weren't familiar with time clocks, while Berke, who had punched more than a few, showed how they misunderstood the timing. That helped him question the prosecution's entire case and win a not-guilty verdict. "It was a springboard for us to argue other questions," Berke says. 
Berke joined Kramer Levin's white-collar criminal defense practice alongside Gary Naftalis, who saw that Berke had a feel for trial work. "And a real gift for discrediting hostile witnesses," Naftalis recalls. "He knows how to go for the jugular."
Headline-grabbing cases, boldfaced-name clients and complicated legal issues followed—not just trials but arbitration and behind-the-scenes negotiations to avoid charges. In one, Berke became an expert in rare double-eagle gold coins. In another, he helped CBS withhold a $120 million golden parachute from former CEO Les Moonves, who was fired for alleged sexual harassment. He also helped New York Mayor Bill de Blasio avoid campaign finance violations.
"I've worked literally with hundreds of lawyers, and I don't know a better lawyer than Barry Berke," de Blasio says. "Barry doesn't second-guess himself. He doesn't make things more complex than they have to be. He has tremendous confidence in setting a path and sticking to it."
Berke also thinks more defense attorneys should be ready to go to trial. "One of the challenges of our criminal justice system is that there are so few trials," he says. "Trials are good for the system. Agents, arresting officers know that their conduct will be tested at a trial, and they have to do things the right way."
One of Berke's best-known cases involved former S.A.C. Capital hedge fund manager Michael Steinberg, convicted in 2013 and sentenced to 3 ½ years in prison in what federal regulators called the biggest insider trading case in Wall Street history. 
"Barry was strongly advocating that we focus on the future and preserve our rights for a proper appeal," Steinberg says. "And he ended up being right." The conviction, aided by a favorable court decision that redefined insider trading, was overturned in 2015. 
"He is one of the best trial lawyers I have ever seen," says Antonia Apps, the assistant U.S. attorney who prosecuted Steinberg. She says Berke is unusual in the way he plunges into the minutiae instead of delegating it to junior attorneys.
Chatting in Bryant Park, Berke talks about how trial preparation can be like a superpower: "when you can see the bullets," he says. At the same time, he quotes Mike Tyson: "Everyone has a plan until they get punched in the mouth."
Berke felt such a punch in 2011 when a co-defendant in a big fraud case flipped just before trial, agreeing to become the star witness against Berke's client and four other defendants. Berke needed to show that his client, an experienced financial consultant, had been lured into the tax fraud by the star witness.
So he did what any good lawyer would do: He went to the upscale haberdashery Paul Stuart and bought a red silk handkerchief. Then he told the courtroom that when he put the red handkerchief in his breast pocket, he was no longer Barry Berke the lawyer but Barry Berke the Florida real estate developer, and the star witness would pitch the tax scheme to him in the same way he would to any client. That pitch wound up showing the jury just how convincing the man was, and how easily Berke's client could have been misled. While the other four defendants were convicted, Berke's client was cleared, and the "red hankie" cross-examination became the talk of the New York Bar.
"He never thinks about doing what everybody else would do," says Kramer Levin partner Paul Schoeman. "He's always trying to invent something to address the specific challenge of the case, and not just recycle things other people do."
Schoeman says Berke's reputation for stellar cross-examination is well deserved. "It's a combination of meticulous preparation, perfect technique and a killer instinct. Barry knows how to structure a cross-examination and set up the witness for the knockout punch where the witness doesn't see it coming."
"The trick in a cross-examination is how to control the witness," Berke says.
Which brings us to Corey Lewandowski. Berke's questioning of the former Trump campaign manager in the inquiry stage of the first impeachment hearing was technically not a cross-examination—you can view the entire half-hour on YouTube, as millions have—but it still wowed the critics and lit up social media.
"Every lawyer and law student must watch this segment of the hearing," tweeted Jennifer Taub, a law professor at Western New England University.
James Fallows, national correspondent for The Atlantic, said watching Berke instead of the usual committee members "is like watching an NBA player compared with high schoolers."
The headline to Jennifer Rubin's opinion piece in The Washington Post simply stated: "It was chaos, and then a real lawyer showed up." 
A career defense attorney is not the obvious choice to prosecute a president, but as Berke says, "It was an unusual time. There was an intersection between white-collar criminal law and presidential conduct."
Berke and Norman Eisen, an ethics lawyer in the Obama White House, actually began documenting Trump's possible crimes—finance abuse, Russian collusion, obstruction of justice—before the 2018 midterm elections. After the Democrats took back the House of Representatives, they were hired by the House Judiciary Committee as advisers. During this time, Berke spent months commuting—the Monday 6:30 a.m. train to D.C. and the 4:30 p.m. Friday train back to New York—and didn't see much of his wife, Alison, a fitness adviser, and their four kids, ages 10 to 22. 
Berke did not expect Lewandowski to be an easy impeachment witness. "Up to that point he was disdainful of the entire process," Berke says. "It made me angry, the way he showed so little respect for members of Congress."
Berke pursued a "tight" inquiry. He never gave Lewandowski space to stray far from yes or no—no chance to pontificate. When Lewandowski said he couldn't remember something, or replied inaccurately, Berke quoted Lewandowski's previous statements, or even more damning, played videos of Lewandowski being interviewed. More than once, Lewandowski admitted he had made false public statements.
Berke's pacing was impeccable. His final question, right at the 30-minute limit, elicited an admission from Lewandowski that the Mueller report was correct about Trump trying to stifle the investigation into Ukraine coercion. 
"One of the cardinal mistakes as a trial lawyer is to ask one question too many," says Naftalis. Too often, he adds, lawyers squander points with repetitive questions; they bore the jury, irritate the judge and give the witness a chance to wriggle out of an admission. Berke didn't, and his performance earned him 20,000 new Twitter followers overnight—no doubt disappointed, he says, that he is not a particularly active or entertaining tweeter. "I was surprised at how much attention it got," Berke says. 
It was no surprise, though, that the House Judiciary Committee then tapped him as chief counsel for the Senate trial in the second impeachment, on charges of inciting the Jan. 6 insurrection.
Berke coached the House managers—the nine members of Congress actually presenting the case against Trump before the Senate—to treat the case like a criminal prosecution, presenting hard evidence rather than political speeches.
Some of the House managers were experienced trial lawyers: Eric Swalwell of California and Stacey Plaskett of the Virgin Islands were both prosecutors before being elected to Congress. "Others had not been in a courtroom in a long time," Berke says. "We were just struck by how little was understood regarding the extent of the criminality that could lie behind the conduct." His mantra to them was that he wasn't interested in political theater. "I don't want to look good losing," he told the House managers more than once. "I like winning."
"He helped all nine impeachment managers polish their presentations and then make sure our overall case was airtight, well coordinated and compelling," says Jamie Raskin, the Maryland Democrat and lead house manager.
"Everybody was an incredible team player," Berke adds. 
The trial at the Capitol—the scene of the crime—presented vivid videos of Trump's statements and the Capitol breach to the 100 senators acting as jurors. 
"It was like a medieval battle," Berke says. "It was important that we re-create the extent of the violence as well as how close the violent mob came to harming Vice President Pence, the speaker and the joint session of the House and Senate."
Berke insists he gave little thought to the historical implications of his impeachment work, even when front and center on national TV, saying he remained focused on doing his job and winning. And though they came 10 votes shy of the two-thirds majority needed to convict, the 57 guilty votes were the most ever in a presidential impeachment. Berke says most of the 43 senators voting to acquit said it was because Trump had already left office.
"There was virtually no one who said, 'Oh, I don't think they proved the case,'" he says. 
Back in New York, Berke is contemplating a post-pandemic "family forgiveness tour" for Alison and the kids. And he's happily back at Kramer Levin with a mix of old and new clients, from CBS to a cryptocurrency company to law firms hiring him to handle their own legal disputes. "A nice compliment," he says.
Picking up his briefcase in the park, heading back to the office, Berke notes that he has led half of the four presidential impeachments in American history. "The two impeachments were my first time serving as a prosecutor," he says. "I hope the need never arises again."
---
Impeachments of U.S. Presidents
Year
President
Article
Vote
%
1868
Johnson
II, III, XI
35-19
35-19
35-19
64.8
64.8
64.8
1998-99
Clinton
I and II

45-55
50-50

45
50
2019-20
Trump
I and II
48-52
47-53
48
47
2021
Trump
n/a
57-43
57
Search attorney feature articles