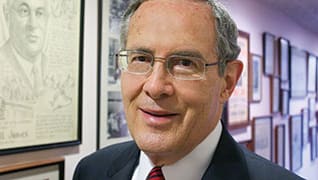 Photo by: Paul O'Hanlon
Bearing His Name
How E. Stewart Jones Jr. deals with a powerful legacy
Published in 2014 Upstate New York Super Lawyers magazine
By David Levine on August 11, 2014
The stately town homes that line the streets of downtown Troy rival those of the finer neighborhoods in Manhattan and Brooklyn, and the Jones Building, which rises up in all its 19th-century self-possession, is no different. Its formal foyer leads to the reception desk of E. Stewart Jones Law Firm, where three generations of Jones men have practiced law. Abbott Jones founded the firm in 1898 and went on to serve as city court judge and Rensselaer County district attorney. His son, E. Stewart Jones Sr., became a legend in the capital region and a nationally known litigator. When his son, E. Stewart Jones Jr., strides into the book-lined conference room, dressed in his customary blue suit and rep tie, the air is suffused with the gravity and confidence of the toniest white-shoe law firms in the land.
So it's surprising to see how easy it is to get Jones to cry.
Some attorneys follow their parents into law, but few carry a name that is also a brand. That weight can be oppressive.
"I was driven to not embarrass my father," he says, tearing up. "To match or someday surpass him. And to reach a level that would make him proud and entitle me to bear his name."
To many, he's done that—and more. "Stu is the best trial attorney I think this area has produced," says Steve Coffey of O'Connell & Aronowitz, another son of a lawyer who grew up with Jones on Troy's east side. "It's his preparation, his presence, his passion about his work. He is a very skilled questioner. He has tremendous control of the courtroom—as all great trial lawyers do."
Jones is the only New York lawyer outside New York City to be elected to the four most exclusive national organizations honoring trial lawyers: the International Academy of Trial Lawyers, The Inner Circle of Advocates, the International Society of Barristers and the American College of Trial Lawyers. His law firm has recovered more than $100 million in personal injury cases, and he has been involved in many of the highest-profile criminal cases in the region, including the recent acquittal on federal fraud charges of former state Senate Majority Leader Joseph L. Bruno. Jones delivered the closing argument in the trial.
At 72, he has no interest in slowing down. "I have too many long-standing commitments to the organizations I support," he says. "I also love what I'm doing. I don't know what else I would do."
Jones was born three days before the attack on Pearl Harbor. He and boyhood pals Coffey and Tom O'Connor—another successful lawyer now with Napierski, VanDenburgh, Napierski & O'Connor—describe their childhood as something out of a 1950s TV series. The boys went to the local Catholic school by day and played sandlot sports the rest of the time.
"We all lived within a few blocks of each other, our fathers were attorneys and colleagues, the moms were all saints who made our lives wonderful," O'Connor says. "We all rooted for different teams. Stu loved Al Kaline, I loved Mickey Mantle, the Coffey boys all had different teams, and there was considerable controversy over who was the best."
Jones' leadership skills were apparent from an early age. "He was good to the younger kids," Coffey says, remembering one afternoon, playing ball on a strip of land called the Point. "A kid everyone was afraid of came by looking to start a fight. Stu stood up against this kid. He stood up for all of us. That was the way he was, the way he carried himself."
Jones' father's job was a mystery. "I knew he was a lawyer," Jones says, "but I had no idea how prominent he was until one morning my mother showed me a headline in the newspaper." It was about a notable case with which his father was involved. Jones Jr. was 10 or 11.
The idyllic childhood ended when, in eighth grade, his parents announced they were divorcing. "[My father] was incapable of fidelity, which is true of many famous and successful men—another hero of mine, JFK, being an example," Jones says. "My mother never held it against my father. She welcomed him to the house and never showed any antagonism. He supported us, and came to our athletic events and academic events, but my mother was the glue. I was certain I would never allow [divorce] to happen to me."
Another blow came when, instead of going to La Salle Institute with his friends, his parents told him he was headed to Albany Academy.
"Albany was almost a foreign land back then," Jones says. "[But] I met people and had opportunities I would not otherwise have had." He played on the football, hockey and baseball teams, and met his wife-to-be, Penny, on a blind date. He then attended Williams College, where he majored in American history and literature and had, as he euphemistically puts it, "wonderful social experiences." But he still had no idea what he wanted to do with his life.
The Vietnam War took care of that. "The spring of my senior year, my father said, 'You have to make decision: law school or the draft,'" he says. "So I went to Albany Law."
The wonderful social experiences diminished even as the 1960s flowered. "I was straitlaced, focused on law school and fully immersed in the legend of Stewart Jones [Sr.]. I think it was an incentive. It drove me." He says his father never pressured him. "He helped me by leaving me alone and supporting me. All the pressure was self-induced."
After passing the bar in 1966 and serving a year in the National Guard, Jones, with his father's help, joined the DA's office under the legendary Con Cholakis. "In the beginning, I think he didn't know what the hell to do with me," Jones says. "He never said this, but I think he was concerned because he did not want to embarrass my father. 'Should I let him grow and develop or protect him so he doesn't embarrass himself?' He decided to let me have at it, to learn by doing, to learn from my mistakes. He let me try a murder case in 1969. I tried virtually every kind of case you could and really cut my teeth with all that criminal experience. By the time I came out of the DA's office, I had more trial experience than any contemporary of mine. I tried more cases than [my father] ever dreamed of trying."
In 1970, he joined his father's firm; the two Joneses worked their first big case together two years later. The son of a prominent Troy industrialist was accused of a series of rapes and attempted rapes. The trial was held before Judge John Clyne, "Maximum John," as he was known. "He was the most famous criminal court judge in New York, and the case made headlines every day," Jones says. It led to a hung jury. "That really launched my criminal defense career."
His criminal caseload was so heavy during this period, he says, he had his own calendar in the courts. "In one eight-week period, I had three cases in three different jurisdictions: Albany, Saratoga and Kingston," he says. "That was the kind of life I led."
His father slowly eased away from the practice, and in 1983 Jones Jr. took over. The workload stayed high, and the wins piled up. Michael J. Murphy, now a shareholder with Carter Conboy, clerked at Jones' office while at Albany Law School. "He treated us with the greatest respect," Murphy remembers. "He saw it as a mentoring relationship." At the same time, Jones was all business. "He would on occasion send everyone in the office to Daisy Baker's and pay for beers, but I don't remember that he ever joined us. … He is a serious man."
Jones also made good on his vow to be engaged with his family. "I was home every night for dinner, but often I was at the dining room table until 2, 3, 4 in the morning. A lot of women would not have put up with the schedule I had, but Penny was fully supportive," he says. They raised three children—Christopher, now 41, Brady, 39, and Erin, 35—and began to give more to the causes they believed in: education, the arts, the church, and just about anything to do with Troy. But in 1997, another cause suddenly became important to him.
Cancer.
That summer, Penny was diagnosed with ovarian cancer. She was 55. Jones went with her for treatments in Boston—including a five-week stem cell transplant procedure at Dana-Farber Cancer Institute—but she died in 2000. "I don't think you ever move past it," he says. "You never get out of your mind how much she would have loved to have been part of all this: to be around for the kids and the grandkids."
Jones wears his heart on his sleeve, and he's been known to move juries, judges and entire courtrooms to tears, too. If trials are theater, Jones has all the attributes of a consummate actor. He is tall, solid, and moves with the easy grace of an athlete. He wears stylish glasses and, always, the dark blue suit. Then there's the voice, a rich and resonant baritone with just enough gravel to suggest a second career as a radio announcer. All of that and more helped Jones set numerous awards records: the first $1 million verdict in Schenectady County; the first $1 million medical malpractice verdict in the region. "At one time I held the record in five counties: Albany, Schenectady, Rensselaer, Saratoga and Warren," he says.
But it's not all theater. "Trials in large measure are an exercise in impression-creation and maintaining credibility," he says. "If you are not more credible than your adversary, you are not going to win. What lawyers forget is that the one witness who is always on display to the jury is the lawyer. He is always there. So credibility is the most important part of the trial."
His relationship with the jury was learned over time. "When I started trying cases, I thought the case would take care of itself, and I was always on the right side, particularly in civil cases," he says. "I have come to recognize that jurors make decisions not only on facts, but on a whole array of considerations and factors. I am more sensitive to the psychology of presentation and impression, the way in which I act or react, the language I use."
He never uses notes. "My memory is a genetic gift," he says. "My father always said, 'If you don't know your case well enough to talk without notes, get an adjournment.' I can talk for two or three hours if the case demands that, but today the attention span of jurors is 20 minutes and, 'What's next?'"
That's not the only change in the field. "There are fewer opportunities to be a trial lawyer now," he laments. "Insurance companies have fallen in love with mediation, so you don't get a lot of trial experience anymore. When someone says they are a litigator today, that means they are taking depositions. I love the courtroom. It's exhilarating, exhausting, stressful, but I love it. It's an on-your-feet endeavor. In civil cases there are not a lot of surprises, but when a criminal trial starts you are learning on your feet, and you need to be incredibly nimble and quick.
"But at the end of the day it's about the client," he adds, "so regardless of my preferences I have to make a decision that's in the best interest of the client. More often than not today, that's settling."
With a half-century of experience, he still thinks he can do better. "I still too often allow my emotional view of the consequences of harm done to an individual to exercise disproportionate influence to take the case," he admits. "There are terrible harms for which there are justly no remedies. Things just happen with no fault involved. I spent too much time trying to find a degree of fault when justice doesn't allow that." This is true during cross-examinations as well—particularly of expert witnesses whom he feels are being evasive. "I don't think it helps the lawyer to raise his or her voice or express anger in front of a jury unless it's truly called for, and waiting for that moment sometimes requires patience I don't have," he says.
Jones remarried in 2008, and he and his wife, Kimberly, dote on four grandchildren. Together, they give away much of their earnings. "It's hard to find a cancer organization we don't support," Jones says.
Jake Dumesnil, the firm's former director of marketing and development, says that Jones' charitable donations are like those of a small financial institution that is required to give back. "It's refreshing to work for someone who supports the community for the right reasons," he says.
Asked to sum up his career, Jones begins to choke up again. "I have had quite a lot of luck and opportunity," he says. "You take the opportunity of being my father's son, of benefiting from my mother's care for me, her life and example—a lot of other lawyers with the same chances I had would have done just as well." He pauses, continues. "Many never lived up to their predecessors. They weren't able to deal with it. Thank God I went in the other direction. It's seizing and maximizing opportunity. I have done that."
There will, however, be no fourth-generation Jones attorney; none of his children followed him into law. What's more: "He never named any of his kids after himself," Coffey says. "What does that tell you?"
Search attorney feature articles