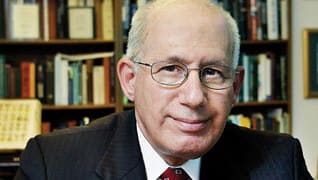 Photo by: Michael Paras
Dan's Law
At the intersection of law, history and literature, you'll find Daniel Kornstein
Published in 2012 New York — Metro Super Lawyers magazine
By Ray Phillips on September 20, 2012
"This isn't even half of them," says Daniel Kornstein of the several hundred books of law, history, fiction, biography and literary studies that fill his Manhattan office, making it seem the cozy warren of an English professor more than the workplace of a busy lawyer.
It happens that Kornstein is both: an essayist and author of seven books as well as a successful civil litigator.
The founder of Kornstein Veisz Wexler & Pollard, Kornstein is, to paraphrase Flaubert, a "lawyer with a little of the poet inside." His interests range from privacy and libel law to the history of American trial lawyers and the ways in which the law inspires literature. "The desire to do justice," Kornstein believes, "may, in the final analysis, be a poetic yearning or sensibility."
His name has long been associated with high-profile First Amendment cases, such as representing actress Vanessa Redgrave in her suit against the Boston Symphony Orchestra after she was dropped from a scheduled engagement because of her political views. (A three-week jury trial ended in substantial damages against the BSO for breach of contract.)
In 1987, Kornstein handled the difficult defense of Fatal Vision author Joe McGinniss in a suit brought by convicted murderer Jeffrey MacDonald, an Army officer who killed his wife and two small children and blamed their deaths on drug-crazed intruders. MacDonald had agreed contractually to give the author exclusive access to his criminal defense team in return for McGinniss respecting the "integrity" of MacDonald's story. But when Fatal Vision was published, MacDonald charged that McGinniss had violated the contract by feigning a belief in MacDonald's innocence only to write that he concurred with his conviction. (A seven-week jury trial in which Kornstein defended McGinniss ended in a hung jury and a settlement.)
Kornstein also successfully represented Harvey Keitel in a child custody suit; defended The Monkees in a breach of contract dispute; aided actor Wilford Brimley in a look-alike, sound-alike case against Hardee's restaurants; and obtained early dismissal of a suit that charged King Michael of Romania with absconding with $500 million worth of art belonging to the Romanian people.
"Dan is easygoing, which enables him to work well with celebrity clients, some of whom can be difficult," says Elliot Brown, a New York entertainment attorney and longtime friend. "But he's very assertive on behalf of his clients and convincing in court, and he's also savvy enough to know when to press ahead and when to settle."
Brown also calls Kornstein "a bit of a rare breed, not unlike a 19th-century lawyer who would quote Cicero in an opening argument."
Few subjects appear off-limits to Kornstein's curiosity. His literary ruminations, which often appear in the New York Law Journal, range from the ethical implications of professional wrestling to the importance of the disturbing novel American Psycho to the question of whether the term "shyster" is anti-Semitic. He's long been fascinated with the numerous allusions to legal principles in the works of William Shakespeare, and he has taken part in mock criminal trials based on Shakespeare's Hamlet and The Merchant of Venice.
"Dan is a complete lawyer," says Jack Fuller, the former editor-in-chief and president of the Chicago Tribune, "a lawyer not only as a master of technique, but also a lawyer as philosopher, as historian, as humanist. His prodigious writing and the great range of his subjects are not something apart from the way he practices law; they are products of the same expansive view of what law means and whence it draws its strength."
Raised in the Bronx, Kornstein attended the City College of New York (CCNY), the once tuition-free public university that was the beloved educational incubator of generations of immigrant and working-class New Yorkers, including Kornstein's father.
"I am a second-generation CCNY grad," Kornstein says proudly. He rides past the CCNY campus each day en route to work in the city from his home in Westchester. "For a few seconds on each train trip, I see Shepard Hall with its tower standing tall and its American flag snapping in the wind. To me it's an evocative sight, stirring memories much as did Proust's madeleine."
After CCNY, Kornstein went to Yale Law School in the fall of 1968. He and his classmates balanced coursework with concerns about the draft. The suspense ended for Kornstein when he was drafted after his first year. "I didn't go to Vietnam, but to a place far more dangerous," he jokes. "Fort Hood, Texas."
That was his first lucky break. His second was being assigned to a JAG unit prosecuting an American serviceman accused of taking part in the massacre of Vietnamese civilians at My Lai on March 16, 1968.
"I'd only been in law school a year," Kornstein says, "and here I was writing briefs in the prosecution of Sgt. David Mitchell, one of the men in [Lt. William] Calley's platoon." Mitchell was acquitted, and Calley, who alone of all the My Lai defendants drew any sentence, was eventually pardoned by President Nixon. "Combat in war is not a normal experience, and the beasts of war can and will come out. We need more citizen-soldiers."
The moral crises of the Vietnam era, and the My Lai case, helped develop Kornstein's conviction that lawyers "represent civilization at the ramparts" and that the position is one of implied social responsibility.
"I had been fortunate," he says. "College was free, and then I went to law school on the GI Bill. How could I take such benefits and not accept some responsibility? I thought I had to give society something back for its investment."
One of Kornstein's first books, Thinking Under Fire, chronicles the careers of some of the most gifted trial lawyers in the nation's history, such as James Otis, the colonial attorney who fought for an individual's right to be secure from unwarranted search and seizure; John Adams, who alone stepped forward to defend the hated British soldiers who'd fired upon and killed civilians in the Boston Massacre; and Earl Rogers, the early 20th century Los Angeles defense attorney whose ingenious cross-examinations often turned the tables on murder prosecutions, and who became the inspiration for Perry Mason.
One attorney whose use of language Kornstein particularly admires is Abraham Lincoln. "When I was a young associate at Paul Weiss," he recalls, "Ted Sorensen, the former adviser to President John F. Kennedy, was a partner. I had read his book Kennedy, in which he described how the incoming president-elect, in anticipation of his inaugural speech, asked Sorensen to research what rhetorical devices had made the Gettysburg Address a success. Sorensen reported back that Lincoln's famous speech derived its power and eloquence from its use of short phrases and its overall brevity. But that didn't sound right to me."
Kornstein sent Sorensen a note suggesting that the Gettysburg Address actually gains its elegance primarily from Lincoln's use of biblical cadence and repetition ("of the people, by the people, for the people"). "When we met in the hall a few days later, Sorensen barely smiled. He said, 'I read your memo. It's longer than the Gettysburg Address.'"
Brown, with Kornstein at Paul Weiss, remembers it as "a wonderful atmosphere," in which young associates could learn from some of the best legal minds in the country. Even so, Kornstein left the firm in 1975. A few years later, he hung out his own shingle.
"I was 29 years old," he says. "The truth is not enough people do it. More should. In my case, of course, New York City is the financial and business center of the world. But if you're a good lawyer anywhere, you'll get clients."
Given Kornstein's interest in what makes good lawyers, it's hardly surprising he has concerns about legal education. "Law students don't absorb enough legal history or know who our great lawyers and orators were," he says. "They master the process of law but often do not know the history of great lawyers like Louis Brandeis, Robert Jackson, or Thurgood Marshall. What is important is not just the life stories of such figures, but what motivated their legal reasoning, how they strategized and used creative ideas to achieve their objectives. There's much to learn there."
He insists that creativity and the literary imagination are nowhere better seen than in the construction of a compelling legal brief. Brushing aside the objection that most lawyers are far too busy to write artfully composed briefs—an excuse he calls "a myth out of law school all-nighter culture"—he proposes that legal arguments can and should be compelling narratives. "Start with your 'Call me Ishmael' line," he says, "then marshal your facts and develop your argument to convince a judge. Be flexible about where to place the stress; sometimes it won't be logical."
Too many students, he fears, also neglect to fully explore the law's career options. "They stop their education at 21. They forget that law school is a kind of buffet, with many things to choose from. I tell students: 'Don't make decisions too early. Don't decide what kind of law you'll practice. Take all the courses and then see what happens. What affinity do you have? Tax law? Examining a hostile witness? What motivates you?' Ideally, it should be something you'd do even if no one paid you for it."
For Kornstein, that something is a good fight over a constitutional issue. In 2005, such a battle presented itself when Rachel Ehrenfeld, director of the American Center for Democracy, contacted Kornstein after Saudi billionaire banker Khalid bin Mahfouz sued her for defamation because her recent book, Funding Evil: How Terrorism is Financed and How to Stop It, implicated Mahfouz and his family in aiding international terrorism.
Mahfouz had brought his suit against Ehrenfeld in England because in British courts there is a lower standard for libel plaintiffs: The burden is on the defendant to substantiate a statement. In the United States, the plaintiff must show that the statement was made, as Kornstein explains, "with knowledge that it was false or with reckless disregard as to its truth or falsity."
"I was aware that Mahfouz was using the British libel terrorism laws to silence his critics, and that he had threatened and/or sued more than 20 authors and publishers," Ehrenfeld recalls. She adds that all who were threatened, "retracted, apologized and some paid fines."
Kornstein, whom she had met several years before at a dinner party, advised her not to subject herself to the British legal process. "He warned me that what lay ahead would not be a picnic, that I would be a target," she says. "But he wanted to challenge it. Like me, Dan sensed that this was not just another case but something with broad implications for literary freedom." When Ehrenfeld failed to appear in England to defend herself, a default judgment was issued against her for $230,000 and a demand that she publicly apologize.
In 2007, Kornstein brought a suit in federal court in New York on her behalf, seeking a declaratory judgment that Mahfouz's default judgment was meaningless and unenforceable in the U.S. The case was dismissed, however, when the court ruled that it did not have jurisdiction over the British libel plaintiff.
But New York State Assemblyman Rory Lancman read an article about Ehrenfeld's case, and worked with Kornstein and others to draft legislation that declared, as the New York Law Journal explains, that "a defamation judgment won outside the United States would only have jurisdiction in New York if a New York court recognized that the foreign court had granted at least as much protection of freedom of speech and press as would be provided by both the U.S. and New York Constitutions."
The resulting bill, the Libel Terrorism Protection Act, widely known as "Rachel's Law," passed the New York Legislature by unanimous vote in 2008. Other states followed New York's example, and Ehrenfeld then took the lead in promoting the legislation to Congress, testifying before a Congressional subcommittee. The federal bill, the Securing the Protection of our Enduring and Established Constitutional Heritage (SPEECH) Act, received rare bipartisan support and President Obama signed it into law in 2010. Like the legislation Kornstein helped draft for New York, it guarantees that American courts will not "recognize or enforce a foreign judgment for defamation" unless that nation observes protections similar to ours. "A Victory for Writing" The New York Times declared in a July 2010 editorial.
Kornstein calls the Ehrenfeld case a perfect storm of trends. "There was national security, of course," he says, "and the heightened concern about terrorism after 9/11. But another factor was the spread of the Internet, which means that an essay or book published in New York is published instantly everywhere. In this context, libel forum-shopping was a threat to the free flow of literature, of speech itself. It could be abused to silence scientific opinion, for example. In the end it was a situation ripe for answers and reforms, and thankfully enough people saw this need."
"He's a super mensch," Ehrenfeld says of her lawyer. "Because of him we have an important new legal safeguard. Even the English are now reconsidering their courts' approach to this matter."
"Other lawyers might have sought attention from this achievement," she adds. "Dan did not. He was content to work behind the scenes. Really, all things being equal, they should call it 'Dan's Law.'"
Search attorney feature articles