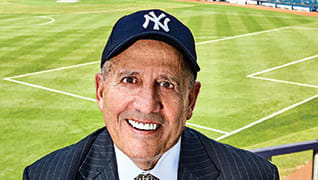 Photo by: Luigi Ciuffetelli
East Side Story
David Paget survived Lower East Side gangs to become New York's go-to environmental lawyer
Published in 2017 New York Metro Super Lawyers magazine
By Timothy Harper on September 20, 2017
Environmental lawyer David Paget has written his name on the city—once, literally.
At New Yankee Stadium, he says, there's a now-hidden girder "that I signed along with about 3,000 construction workers. So when I go there with my grandkids, it's 'Grandpa, where's your signature?' 'Well, you'd have to remove …'"
Paget's firm, Sive, Paget & Riesel, is the oldest environmental law boutique in America, a 27-lawyer throwback amid the global megafirms in the steel and glass forest of Manhattan. It's credited with helping create dozens of New York City landmarks: the redevelopment of 42nd Street and Governors Island; Battery Park City; Brooklyn Bridge Park; Atlantic Yards, including the Barclays Center, and many others (see sidebar on page 27). His current cases include the new $4 billion Tappan Zee Bridge, and Pier 55, a public park pier with performing arts venues in Chelsea.
This is how Paget describes his process: A developer comes in with a plan, and Paget decides what needs to be reviewed, who needs to approve it, and in what order. Is an EIS (environmental impact statement) needed? Or can the project get by with a less rigorous EA (environmental assessment)? What are the considerations? Traffic? Air or water quality? Noise? Safety? Land use? Community character? Will more housing be needed? Or schools? Or day care?
"He's a master—one of the very few—at helping clients who are seeking to build large projects navigate through the arcane New York environmental approval process, and the often ensuing litigation," says Michael Gerrard, a renowned Columbia Law School professor, who, over four decades, has been involved in several cases with and against Paget.
Nothing is ever simple in environmental law. In his 15th-floor office, high over Lexington and East 50th Street, Paget points to an environmental impact statement on his desk. It's a foot tall, more than 8,000 pages. He pulls out a legal pad and begins scribbling the four key aspects he must balance in any case: legal, technical, political and public relations. Then he lists an alphabet soup of federal, state and city agencies, from CDOT to DEC to FWS. "It's a study in federalism," he says.
Paget was born in 1939 and grew up in a series of public housing projects—the Lillian Wald Houses—on the Lower East Side. His father was an Austrian immigrant who worked in the receiving department at Gimbels. Neither of his parents was educated beyond the sixth grade. 
The neighborhood back then was a center of gang activity, including the Sportsmen and the Dragons. When the Jets and Sharks are mentioned, Paget shakes his head. 
"No, no," he says. "It wasn't West Side Story. It was East Side Story."
He recalls being shot at and held at knifepoint. In the latter incident, he was permitted to pass only because, he says, "I was deeply involved in a unique boys club on the Lower East Side, which was called the Boys Brotherhood Republic."
Begun by a Chicago tobacco salesman named Jack Robbins in 1914, the after-school club was imported to New York at the tail end of the Great Depression as a way to keep kids off the streets and out of gangs. It was overseen by an adult, Ralph Hittman ("Just an unsung hero," Paget says), but generally it was a self-governing club that elected peer officers to keep everyone in line and impart a sense of responsibility. "If you threw a ping-pong racket, if you expectorated where you shouldn't have, you were brought up on charges," he says. 
At 17, young David, a good basketball player and a better student, served a year as judge, in part because he was a talker, and in part because he had read a biography of Clarence Darrow. At one point the club's star basketball player committed some long-forgotten offense. Paget suspended him, the team lost the championship game, but the other members supported his decision. The rules applied to everyone equally. It was then that Paget began to think about the law as a career. 
Paget's mother, however, chiding him in Yiddish, pushed him to study engineering at City College. "I hated it," he says. "Endured it for two and a half years because I couldn't summon the courage to say to my mother, 'This isn't for me.' But finally I did, and City College was very resourceful. They allowed me to take the credits I had in engineering and apply that to a liberal arts degree. I may be the only one who ever graduated with a pre-patent-law degree."
At NYU he made law review—which came with free housing—and graduated in 1964. He spent 2 ½ years at Kaye Scholer before realizing a big firm wasn't for him. So he joined Robert Morgenthau's U.S. attorney's office. "I [was] in court regularly," he says. "I liked the contest of wills, skills, wit and intellect." He still does. When was he last in court? "Two days ago." 
In 1973 Paget joined the small 10-year-old firm Winer, Neuberger and Sive, and was soon helping partner David Sive, who was, according to The Wall Street Journal, "The Father of Environmental Law."
"David wanted to be relieved of the commercial component of his workload so that he could devote himself entirely to the practice of environmental law," Paget says. "I was going to be the person to relieve him of that. I would do the commercial and he would do the environmental."
It was a successful pairing of opposites. Sive, who died in 2014, was an enthusiastic outdoorsman: a co-founder of the Natural Resources Defense Council and Friends of the Earth, and a leader of the Sierra Club, which he often represented. Paget, in contrast, rarely represents plaintiffs, and is more likely to play platform tennis than hike in the woods. And he quickly became the go-to lawyer for government agencies and private developers coping with the myriad and often conflicting city, state and federal environmental rules and regulations covering big New York construction projects, especially on the waterfronts.
"There's so much respect and admiration for David," says Madelyn Wils, president and CEO of the Hudson River Park Trust, the public benefit corporation that Paget helped to transform several miles of decaying Manhattan waterfront into a much-acclaimed ribbon of recreation. "When you say David Paget is your lawyer, there is a sense of confidence—and relief." 
Even so, in The City That Never Stops Complaining, big projects inevitably wind up in court. During the fierce local opposition to the Atlantic Yards project in 2006, neighborhood foes sued to keep Paget from representing the Empire State Development Corp., the state agency overseeing the project, because he had previously represented Forest City Ratner Companies, the private developer. A judge agreed, citing "an appearance of impropriety," and barred Paget from the case. The state appealed, the decision was reversed, but by then Paget had stepped aside. He had been vindicated but it was a low point in his career. 
"I was crestfallen," he says. "How could you be other than that?"
Crestfallen. Throughout the conversation, Paget casually drops similarly expressive words—interregnum, languish, morose, interlocutor—and credits his extensive vocabulary to an older couple in the Lower East Side who took an interest in him and introduced him to art, literature, theater, and a love of language. "As for my vocabulary paying litigation or professional dividends: I can only say that legal writing and expression is frequently mechanistic and riddled with legal clichés, and I have labored to avoid same. In saying that, I recognize that the line between the florid and the distinctive is a very subjective one."
Paget has never had a project scuttled by a court order, but that streak is in jeopardy with Pier 55, the proposed $200 million waterfront park pier that is being funded largely by the husband-and-wife team of entertainment mogul Barry Diller and fashion designer Diane von Furstenberg. A federal judge in March revoked the project's federal permit and ordered a new environmental review. Paget says he can't talk much about the project other than to say, "The redesigned project has been approved by all of the regulatory agencies, and we are confident that it will survive or overcome any legal challenge."
While he doesn't talk much about his celebrity clients, he does mention that first meeting with George Steinbrenner, the late Yankees owner, on the Yankee Stadium project. "I'm being asked to explain the labyrinth of reviews that are going to have to be traversed," he says. "I guess it was sleep-inducing. He closes his eyes. And what do you do when someone closes his eyes? You stop. And he, with a start, 'What are you doing? Why'd you do that? What's going on?'"
Paget also met weekly with Donald Trump while working on the Riverside South apartment towers near Lincoln Center. What was the future president like? "Demanding," Paget says. "Insistent on getting what he wanted. Possessed of a quality I've not seen in others—a sense that he could literally will into being that which he wanted."
Trump has been quoted more than once praising Paget. But that's not unusual among Paget's clients or colleagues. Lisa Bebchick, a litigation partner at Ropes & Gray, says he is one of the best lawyers to work with, period: "He is always open and desires to hear opposing views and is wonderfully collaborative."
That extends to his firm. "One of the more remarkable things about David is the team he has built around him," Bebchick continues. "They are among the most talented young lawyers and contemporaries with whom I have worked, and I know it is no coincidence. … I see how he takes opportunities to teach them and gives them opportunities to learn."
Fittingly, this environmental firm has its own unique environment. On the day of the interview, the receptionist is wearing jeans. Paget himself wears casual trousers and a soft plaid shirt suitable for a Catskills cabin.
Paget says the firm, with only 16 partners, has no managing partners or executive committee. "This is a special place: collegial, with a democratic quality," Paget says.
And he wants to keep it that way. "David and his colleagues would be welcomed with open arms into any major law firm in New York City," says Bryan Cave partner Kevin Healy, a former general counsel for New York City Department of Environmental Protection. "They have decided to continue practicing in the small firm that he and his partners have nurtured into a first-tier environmental boutique."
Paget is 78 now with no plans to retire, but his personal life changed profoundly when his wife, Fay, died in January. They met when they were kids, 16 and 14, on the Lower East Side, and married when he was in law school. For 54 years, they traveled the world, collected glass art, and raised two children who became lawyers. In her absence, Paget's four grandchildren have become his focus. "I go to soccer games with them, go to the movies, cheer the Rangers on," he says. "We're crazy hockey fans."
He still remembers the day he met Fay. It was a Jewish holiday, and Paget was playing a version of marbles with almonds and walnuts when she walked by with younger siblings in tow.
"Being a wise guy," Paget says, "and because she was rather attractive, I said, 'Do you have any nuts for me?' … I then proceeded to improve my accuracy. I won a bunch of nuts. On the way back, I presented her with my bountiful collection of successful nut throwing. 
"How it progresses from there," he adds, "I'm not quite sure." 
Search attorney feature articles