Flash Forward
Joyce Haag on Eastman Kodak's transformation from film to digital
Published in Corporate Counsel Edition - January 2010 magazine on December 7, 2009
Updated on May 27, 2022
When Joyce Haag joined Eastman Kodak in 1981, photography meant 35 mm film. The company, including its legal department, enjoyed a conservative business approach—one that allowed ample time to "thoroughly research and discuss any decisions," she recalls. Furthermore, its products could last for years and didn't require constant upgrades.
That all changed when the digital camera inundated the photography market about six years ago. The revolution led to massive restructuring at Kodak, as it downscaled its traditional photographic business and created a new line of digital products. "First, as a company we did a tremendous amount of downsizing," says Haag, now general counsel and senior vice president. "We tried to be fair and not disproportionately disadvantage certain groups out of the employee population." The legal department was largely spared—making up only 60 of the 30,000 layoffs. Haag now oversees 150 attorneys and support staff, the majority of which are based at the company's Rochester, N.Y., headquarters.
The transition also meant rebranding: selling assets, shutting down facilities and patenting new technologies. "Every one of these changes involved legal issues that can potentially lead to liabilities if not handled properly," she says.
Kodak now rolls out new cameras every six months. "This requires every area of the company to move faster and make decisions with less complete information," she continues. "The legal department needs to prepare contracts faster and review marketing materials faster."
With all these rapid changes, it helps that Haag is good with numbers; she studied mathematics at Mount Holyoke College before graduating from Cornell Law School in 1975. From there she moved back to her native Rochester, joining Boylan Brown and advising clients on the newly introduced Employee Retirement Income Security Act.
Four years later, Kodak sought her out to advise on its own employee benefit plans. Haag's work quickly expanded to include executive compensation planning, and later, she was elected corporate secretary. In 2002, she participated in the launch of Kodak's technology licensing program, and in 2003, the naming of the company's first chief governance officer. "We were one of the first companies to create the position of chief governance officer," she says, explaining that although the concept of corporate governance is now commonplace, Kodak recognized it as a growing trend as early as the 1990s. Haag also initiated many, also now ubiquitous, good business practices—including the annual election of all directors, and a director's code of conduct.
Her office handles, among many things, the legal side of real estate transactions, tax disputes, equity and debt investments, and all manner of litigation. Haag also advises daily on mergers and acquisitions and corporate direction. Although she enjoys all aspects of her job, at times she would prefer to focus on "real law work," she says. "A lawyer wants to deal with a specific problem, do the research, get the answer and give advice."
When asked what she's most proud of, Haag cites her staff. "Hopefully I am not going to die at my desk, but I will move out sometime," she says. "I think the best thing to do for a company is to make sure someone is well qualified to step into your chair and not miss a beat."
Other Featured Articles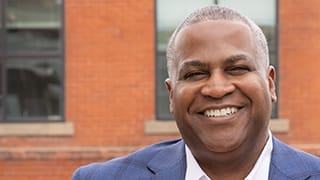 A Desire to Serve
Brian Newby has worked in the governor's office, spent three decades at his law firm, and retired from the Air Force with two stars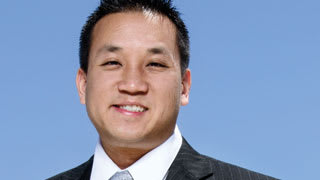 My Lawyer, the Doctor
A funny thing happened on the way to Bryan Wahl's J.D.; he got an M.D. Featuring Bryan W. Wahl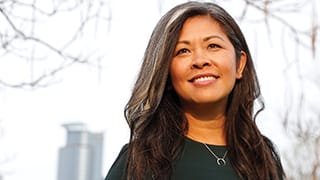 'You're Not Gonna Wear Us Down'
Employment litigator Rachhana Srey rises to every challenge Featuring Rachhana T. Srey