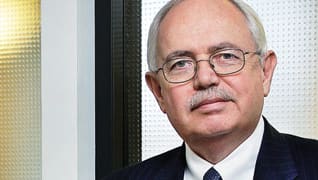 Photo by: Michael Paras
IP Man
J. Christopher Jensen talks Muppets, the Internet, and freeing a man on death row
Published in 2012 New York — Metro Super Lawyers magazine
By Nyssa Gesch on September 20, 2012
There were no eyewitnesses to the murder of Dorothy Edwards of Greenwood, S.C. The 75-year-old widow's body, stabbed more than 50 times, was found in her bedroom closet on Jan. 18, 1982, by her neighbor, who pointed his finger at her handyman, Edward Lee Elmore. Within three days, the 23-year-old was arrested and charged with rape and first-degree murder. Fewer than 90 days later, after an eight-day trial in early April, Elmore was sentenced to death.
During the next five years he would be tried twice more, and each time he would be sentenced to death. Elmore would spend nearly 30 years on death row. When he was freed, it was in part because of the work of an intellectual property attorney who had no real background in criminal law before Elmore's case.
J. Christopher Jensen grew up in Idaho and Utah, the son of a pharmacist, with little idea of what attorneys did.
Starting at Columbia University in 1965, he was in the same class as Mark Rudd, a leader in the 1968 campus revolt. "I wasn't directly involved in the protests, but I did get caught up in it," Jensen says. "I was on the Columbia campus when the New York City police were called out and students were beaten over the head for protesting. That was a galvanizing event for all of us who were there at that time. … From that, I decided, rather at kind of the last moment, that I wanted to go to law school to see if I could use the law as a way of pursuing those social causes."
After graduating from NYU Law School in 1973, he joined Suburban Action Institute, a civil rights organization set up by former staff members of the National Committee Against Discrimination in Housing. "The focus of the lawsuits [we filed]," he says, "was mostly on exclusionary zoning practices that made it difficult or impossible for there to be any new low-income housing constructed, and also which had an effect on segregating people racially within those suburban communities."
A year later, when an opposing assistant U.S. Attorney asked Jensen if he might become an assistant U.S. attorney himself, Jensen decided the time was right. "I viewed that as, really, an extension of the public interest work that I had been doing," he says. "Because what can be more public interest than representing the public of the United States?"
The position appealed to him in other ways, too. "Unlike law firms, where you could be an associate years and years and years and years and never be given an opportunity to do your own trial work, in the U.S. attorney's office, very early on they handed me a file and said, 'Go try this case,'" says Jensen.
Within a few years, Jensen was promoted to chief of the civil division. But with a growing family at home, Jensen made a move to the private sector in 1980, joining intellectual property firm Cowan Liebowitz & Latman, initially to handle commercial litigation. He came up to speed quickly on intellectual property with fascinating cases.
"In those years, my law firm represented Jim Henson and the Muppets at the peak of their popularity," Jensen says. "So we had many cases going against people who were making Miss Piggy dolls or whatever without having permission."
Then the world changed.
"Shortly after I joined the firm, the computer era came," Jensen says. "Intellectual property law prior to that time was a little bit of neglected backwater in the legal profession, and most of the work was done by smaller intellectual property law boutique firms. … When the Internet came, in the late '80s, going into the '90s, all of a sudden intellectual property became the most important thing that this country had to sell."
Jensen spent several years bringing lawsuits for the Recording Industry Association of America against students in the New York area who were illegally downloading or sharing copyrighted music. He's worked for book publishers; he's taken on trademark cases for fashion and cosmetic companies, including Estée Lauder. "Some lawyers like the grind of the litigation, but they don't particularly like the trial part of it. I'm the opposite. I like to consider myself not an intellectual property lawyer, but a trial lawyer who does a lot of intellectual property litigation and trial work," Jensen says.
After making partner in 1982, Jensen started taking on pro bono cases around 1990. "I was interested early on in trying to see if I could be involved with some pro bono matters," he says. "I wanted to do something that had some larger social impact."
In the early 1990s, Jensen got involved with the ABA's Death Penalty Representation project, where he met John Blume, who was then head of the South Carolina Death Penalty Resource Center, part of a network of resource centers that provided opportunities for attorneys to take on pro bono cases. Months later, Jensen received a call from Blume, asking if he was still interested in helping out on death penalty cases. He had one available.
"My first reaction [to the Elmore case] was that this would be a very, very difficult case to win because Mr. Elmore had been convicted twice and sentenced to death three times by three different juries," Jensen says. "There also appeared to be an overwhelming amount of circumstantial evidence pointing to his involvement in this terrible crime. I thought that I was being asked to handle this case because no one else wanted to waste their time in this losing effort."
After meeting Elmore in prison and examining the evidence in Greenwood, however, Jensen says, "I also quickly learned that John Blume and Diana Holt had not given up on Eddie's case at all, and that they were expecting my absolute best effort."
Elmore's first criminal trial, in 1982, resulted in his conviction and death sentence, but the Supreme Court of South Carolina ordered a new trial after claims of improper influence by the judge. "The 1984 trial was also a very brief trial, [and] was essentially just a replay of the 1982 trial, using virtually the identical evidence, which Mr. Elmore's two defense attorneys stipulated to, and he was convicted and sentenced to death again," says Jensen. "That conviction was set aside based on a case that went to the United States Supreme Court, Skipper v. South Carolina, in which the United States Supreme Court found that the penalty phase was unconstitutional under the South Carolina procedures as they existed at that time. So every death penalty case in South Carolina was reversed and sent back for a new trial—but just on the question of whether or not to impose death."
The result of the third trial, in 1987, was no different.
For the majority of the Elmore case, Jensen worked with co-counsel Diana Holt, a staff attorney for the Center, taking depositions of those involved in the previous criminal trials and doing additional investigation in preparation for Elmore's 1995 post-conviction case. "We had a wonderful group of expert witnesses testify that the state's evidence was suspect and not to be believed, and we thought we were going to prevail," Jensen says. "But we didn't."
The subsequent appeal to the state Supreme Court was unsuccessful. But while the appeal was pending, the U.S. Supreme Court took on Atkins v. Virginia, deciding in 2002 that executing persons with mental disabilities was a violation of the Eighth Amendment. Because Elmore had only a fifth-grade education and an IQ around 70, Jensen and Holt decided to apply to have Elmore's death sentence vacated. In February 2010, Elmore was resentenced to life in prison.
That wasn't the end of the case, either. Seven months later, Jensen went to the 4th U.S. Circuit Court of Appeals. "Late November of last year, the Fourth Circuit issued a very lengthy opinion in which they found, based on, really, the evidence that we had put forward in 1995 at this post-conviction trial, that they believed there were serious questions about whether or not Mr. Elmore was innocent, that they believed there were serious questions about whether or not this evidence had been tampered with or planted by the police," Jensen says. "They ordered a new trial. Primarily the case was decided on the grounds that his two [original] trial lawyers … had done a very poor job and they had not given him effective assistance of counsel. So based on that, the Fourth Circuit—and this came as a huge surprise, a delightful surprise to us—threw out his conviction entirely and ordered the state to either give him a new trial or to set him free."
After a period of negotiation with the state, Elmore submitted an Alford plea, in which a defendant could plead guilty without admitting guilt. "Based on that plea, the judge ordered his immediate release from prison, so after 30 years on death row … he was released," Jensen says. "I was able to walk him out the front door of the courthouse on March 2nd of this year in Greenwood, South Carolina, as a free man. It's the most satisfying thing I've ever done as a lawyer."
Holt, who spent 19 years on Elmore's case, praises Jensen's legal instincts. "One, his true, true belief in justice," she says. "He also has a manner about him when he is examining witnesses or arguing to the court that probably the top 3 percent of lawyers have. [It] invites you to talk to him, invites you to let him know the answers to the questions he's asking. And it does not put witnesses off. He can be combative if he wants to, but he doesn't need to."
Jensen has put those skills to work in other pro bono cases, too. In Barkley v. United Homes, Jensen helped South Brooklyn Legal Services with its case against a Brooklyn developer who bought dilapidated properties in low-income neighborhoods and sold them for twice what he had paid after covering up terrible housing conditions with new carpet or paint.
"You would show up at a closing; they would provide you with a lawyer who really wasn't looking out for your interests; you would sign the papers; you'd move into the house," says Jensen. "The first time it rained, the basement would fill with raw sewage or you would find holes in the walls and floors, and then you'd realize that the house you had purchased was really only worth about half of what you paid for it."
A three-week trial in May 2011 resulted in more than $1 million for the plaintiffs. "One of the other lawyers I worked with said that it was considered to be one of the first cases of its kind where a jury returned a verdict against this kind of housing scheme," Jensen says. "The case, by the way, is still being appealed, so it's not over yet."
Meghan Faux, the lead attorney for South Brooklyn Legal Services in the case, worked closely with Jensen. "His instincts are exceptional," Faux says. "He has a really good sense of how to take complicated information and communicate it very clearly and concisely to the judge and the jury, and that was invaluable for us when we were moving forward with litigation. He was very calm and confident in the courtroom and outside of the courtroom but still had this passion, this belief in our case that comes through.
"That mixture of being able to be passionate but also measured in the courtroom," she says, "is a great combination of skills."
After work, you can find Jensen mostly in one of two places. "Mayor Giuliani is once reported to have said that he prays in two churches: Yankee Stadium and the Metropolitan Opera House," Jensen says. "I pray in those same two churches."
His two children are both lawyers: Heather works as a copyright attorney and is deputy general counsel for Ithaka, a nonprofit that publishes academic content; Meredith is a tax attorney at PricewaterhouseCoopers in New York. For the past eight years, Jensen has also been an active member of the Federal Bar Council Inn of Court, which connects younger, less experienced attorneys to more experienced attorneys.
"The greatest thing about working with Chris was not just what an exceptional lawyer he is but how he is able to help younger lawyers become excellent litigators," says Faux. "He has this ability to not just do the case himself but translate the skills in an understandable way, so that young lawyers can step forward and take the case on themselves. That's not an easy thing to do for skilled trial litigators. … Very few lawyers have the ability to mentor other lawyers like he does."
Adds Jensen: "I always take great satisfaction from winning a case or from getting a good settlement for a client. But, you know, to walk a guy out the front door of a courthouse as a free man after 30 years on death row—it doesn't get any better that that."
Search attorney feature articles