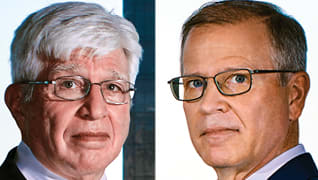 Photo by: Brad Trent
'It's a Fraud, It's All a Fraud'
Ira Lee Sorkin and Marc Litt on the Bernie Madoff case
Published in 2021 New York Metro Super Lawyers magazine
By Nancy Rommelmann on September 30, 2021
Though Americans love going big, no one wants "Architect of Largest Ponzi Scheme in History" as their epitaph. But that was The New York Times obituary headline for Bernie Madoff last April.
For decades, Madoff's brokerage firm, Bernard L. Madoff Investment Securities, seemed to regularly outperform the S&P 500, offering investors annual returns of 50%—and, with at least one client, 550%.
It all came crashing down in December 2008. If the financial devastation was calculable—investors had been defrauded of $64.8 billion on investments of $19.5 billion—the emotional hit was not. Robbing investors of both money and trust left innumerable people bewildered and bereft. Courtroom scenes included hysterical former clients, two of whom died by suicide—as did Madoff's son Mark. He and his brother Andrew worked alongside their father but evidently knew nothing of the fraud. Indeed, after Madoff confessed his misdeeds, his sons were the ones who exposed him to authorities. Mark hanged himself in 2010; Andrew died of lymphoma in 2014.
"He had his advisory business—which was the fraud—on the 17th floor, and the broker-dealer market-making trading on the 19th floor," says Madoff's defense counsel, Ira Lee Sorkin, a partner at Mintz and Gold, who'd known Madoff for 25 years. "No one on the 19th floor was permitted to go to the 17th floor, including his two sons. The 19th floor was basically the boys and his brother, Peter, while the fraud was conducted out of the 17th floor and the boys were not permitted to play a role. … The boys wanted the name changed from Bernard Madoff Securities to Madoff Securities, but he refused. And I think what caused him to refuse was that he knew it was going to end someday and he was trying to protect his boys. That's my view."
Sorkin, along with Marc Litt, then with the U.S. Attorney's Office for the Southern District of New York and part of the team that prosecuted Madoff, recently spoke with Super Lawyers about the famous case: how they got involved and the reverberations we feel today. 
Where were you when you found out what Madoff had done?
Sorkin: I was visiting my granddaughter's nursery school, sitting on one of those chairs for a two-and-a-half-year-old where your knees come up to your head. The teacher says, "We're going to talk about a farm: What sound does the cow make?" and in between the moo moos and the quack quacks and the oink oinks, the cellphone rings. I pick up in the classroom. "Hi, it's Bernie. I'm handcuffed to a chair at FBI headquarters and I need your help." 
Litt: I was at the Paul Weiss holiday party. There were several people there, former alums of Paul Weiss, and some of them were at the SEC. There was this chatter about some big case going on that involved lawyers from Paul Weiss. It was a securities fraud case. I was standing there talking to some friends and they asked, "How do you get cases assigned to you?" At that moment, my BlackBerry buzzed and it was an email from the chief of the securities unit saying, "I think I have a case you might be interested in." I wrote back, "Does it involve Marty Flumenbaum?"—he was a partner at Paul Weiss—and the guy wrote back, "How did you know?"
Sorkin: I ran out of the classroom and said, "Is the FBI agent who arrested you there? Put them on." I said [to the agent], "No more talking. He's got counsel, that's it!" Unfortunately, when he was arrested that morning, the agents went to his apartment and asked, "Is there an innocent explanation?" And he said, "No, it's a fraud, it's all a fraud." So they brought him down to FBI headquarters and he confessed for several hours. By the time he reached me, he'd already admitted responsibility.
Litt: [Mark Madoff's] father-in-law was Marty London, who is a partner at Paul Weiss, and he put them in touch with Marty Flumenbaum, who is former SDNY from the '80s. I think he advised the sons that they had exposure at this point because they were aware of this ongoing crime and took it to the SEC. … I think it was Andy Calamari [then associate director of enforcement for the Securities and Exchange Commission in New York] who called the head of the SDNY fraud unit and said, "I think I've got a Ponzi scheme for you guys. It's $50 billion." They said, "Fifty million?" and Calamari said, "No, no, billion."
In terms of the scheme, who knew what when?
Litt: I'd certainly heard stories over the years, whether during the investigation or later, with people saying, "My relative was interested and I told them to stay away." It's really the basic story: If it sounds too good to be true, it generally is.
Sorkin: You always questioned how he got double-digit returns. There were some people out there who didn't believe that he could make these returns legitimately. But people kept giving them money, giving them money. The way it all blew up was during the financial crisis in 2008; investors wanted redemptions. He had nothing to do with the mortgage crisis—zero, right? But he was hit with a $7 billion—that's billion with a "B"—redemption request because the market was tanking. He scrounged around and was able to raise a measly $250 million. 
Madoff had four whale investors willing to float him money in previous times of crisis, and according to the book Madoff Speaks, this left him susceptible to extortion and blackmail. "I was at their mercy," he said. But what of the tens of thousands of more prosaic investors? What attracted them and why did they believe the unbelievable returns for so long?
Litt: I don't know what the statistics are, but most Ponzi schemes are months to a couple of years, maybe. You don't go decades just by virtue of how they work. You need a supply of investors willing to keep feeding the scheme—to keep being the Peter that's being robbed to pay Paul. You either need to be able to forestall people from wanting to take their money out, or you need to be able to attract money on a regular basis to keep bringing the money in for those who want to take money out. It's very rare to be able to dupe people on either end of that money flow for decades.
Sorkin: He was a guy who didn't solicit clients, right? People came to him, pleading at times, "Please take my money and invest for me!" Because his reputation was extraordinary. People believed that where the market was returning single digits, he was returning double digits. He had the view "Don't ask me how I'm doing it. If you ask me how I'm generating these returns, you're out." 
Why did Madoff's case never go to trial?
Sorkin: He had fully confessed. The FBI and SEC had sealed his premises, changed the locks, grabbed all the computers, all the papers, there was really nothing to defend him on. I think his decision—not to go to trial—was dictated for the most part by protecting his wife and his sons. His wife was under enormous pressure. She couldn't leave her apartment without scores or reporters and cameras following her. She couldn't walk and buy a cup of coffee or some soup. She couldn't get on a subway. And I think he did not want her to go through this. He didn't want his boys to go through this. And so the decision was made early on that he was going to plead guilty. 
He was sentenced to 150 years. At the time, he was about 72. We did an actuarial examination and learned that his life expectancy was 84 years old. We asked the judge to sentence him to 12 years so at least he might see the light of day. That fell on deaf ears. The courtroom was loaded with people who were screaming and yelling at him—how they lost their savings and children's education and disability for injured parents and all this. And I believe the judge had made up his mind: He was going to send him the maximum.
Litt: The sentencing of Madoff was important for a number of reasons. It provided some relief to victims. It sent a strong message to society. And it treated Madoff and his crimes as the extraordinary outliers they represented. Had he not received the maximum possible punishment, white-collar defendants being sentenced for crimes involving losses that were infinitesimal compared with Madoff's scheme would have compared the size of their crime to that of Madoff's and argued for proportionately shorter sentences. If Madoff got 12 years, as he requested, what would someone who committed a $20 million securities fraud receive?
What was it like being part of a case with worldwide media coverage?
Litt: The day after Madoff was arrested, I was on the train platform and I looked to the left and there's somebody with The Wall Street Journal and Madoff was the banner headline. And to the right was somebody with The New York Times and it was the banner headline. And I thought, "OK, that's unusual."
Sorkin: I received a few deaths threats. I received emails from people that were extraordinarily antisemitic: "You no-good Jew bastard kike, you should rot in hell, along with your client." One guy wrote, "My deepest regret is that the entire Sorkin family did not die in the Nazi death camps." Then there were emails from people who just did not understand the role of a defense lawyer. They didn't understand our job was to give him the best defense, a vigorous defense, instead of "How can you represent a crook?"
Litt: Usually when you investigate such cases, maybe it's the U.S. attorney's office plus the SEC and you coordinate. It's a little more complicated when it's everybody from the federal reserve to a magistrate judge in France to the authorities in the UK to the Massachusetts [Securities Division]. Everybody had an interest, so a lot of time and energy was spent dealing with that unusual scenario. I think to date, 80 cents or more on the dollar have been returned to victims. Victims have not gotten what their account statements said, the phony gains that they obviously relied on, but unlike most such cases, where you might get 10 cents on the dollar, they've gotten north of 80.
With all the notoriety, did you wonder who'd play you in the movie? 
Litt: As a Boston native, I would have thought Matt Damon an excellent choice.
Sorkin: There were two movies that were made, one with Richard Dreyfus and one with Robert DeNiro. The DeNiro movie is far superior. It's not entirely accurate, but it captures what happened. As for who played me, they had just some guy standing there. They cut out a lot of the lawyer stuff.
Will we see another Bernie Madoff-type scandal in our lifetime?
Litt: There will always be Ponzi schemes. There are perpetrators, and there are people prone to being victims, and they tend to meet over time. The factors that led to Madoff's ability to carry this out for so long, and over such geographic scope, are a pretty rare confluence of circumstances. The odds that something this big could go for this long I think are pretty low.
Sorkin: I've been doing this both as a former prosecutor and defense lawyer, and people, they weigh the risk/reward. Why do people trade on inside information? Why do people commit stock manipulation? Why do politicians take bribes? It's risk/reward. I think with Madoff, he found great success. And I think with the power, the success, the adulation, he believed it was worth the risk. At the end of the day, he couldn't get out.
Search attorney feature articles