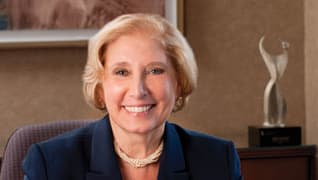 Photo by: Bob Wagoner
Leading By Example
Ann E. Evanko solves employment law problems and mentors the next generation
Published in 2011 Upstate New York Super Lawyers magazine
By Stan Sinberg on August 22, 2011
Of the many awards and honors Ann E. Evanko has received over the years, one hangs prominently on the wall in her downtown Buffalo office. Given to her after years of service as president of the YWCA of Western New York, it's not a traditional certificate but an etching of a young woman. Hidden in the strands of her hair are sketches of women of all ages, from infants to the elderly, symbolizing the interdependence of generations. 
"It reminds me of the wisdom of the women who have come before me, inspiring me to create a legacy for the next generation of women," Evanko says of the piece.
In her more than 30 years practicing law, Evanko has made her own mark in the legal world, serving as a court-appointed mediator of complex business, commercial and employment disputes, in addition to co-founding and serving as president of various civic organizations that focus on empowering women.
In 2008, nearly three decades after she joined Hurwitz & Fine as its first female associate in 1979, Evanko became president of the firm and in 2009 was named managing shareholder. She acknowledges that a female head of a law firm is a rarity. Still, it was a perfect fit for Evanko. The 5-foot-3-inch, 61-year-old attorney, who comes across as professional, pleasant and assured, says matter-of-factly, "I worked hard for this, I believe I have the respect of the lawyers in the firm, and it seemed like a natural outcome."
Evanko grew up spending summers in a pre-Civil War farmhouse in rural Arkwright, a small town about 1 ½ hours from Buffalo. Each week, her mother took Evanko and her sister and brothers to the library to check out five books apiece. "She instilled in all of us the belief that we could do whatever our hearts desired and set our own course if we had a proper education," Evanko says.
Evanko planned to pursue teaching when she entered the State University of New York at Oswego, but the abundance of required chemistry and math courses dissuaded her. Instead, due to the avid mentoring of noted expert Tsuyoshi Hasegawa, she majored in Russian and Soviet studies.
Though she didn't enjoy math, she did like her math tutor, Timothy Schulz, whom she first met at a clambake. They married—after she graduated college. "That was my mother's minimum requirement for marriage," she says with a laugh. Evanko swears that for a time growing up, she believed a college degree was an actual prerequisite for getting hitched.
After receiving her master's degree in history and taking a grant-writing job with the Office of Economic Opportunity, Evanko was still in search of a career. Intrigued by the legal profession's research and writing components, she walked into the University at Buffalo and asked about taking the law exam. "I never learned that girls weren't supposed to grow up to be lawyers," she says. She didn't prep for the exam, but took the test and passed.
During her third year at the University at Buffalo Law School, she clerked at a civil law firm, and following her graduation, she accepted an offer at Hurwitz & Fine, where she had been referred to by a law school friend who clerked there. He told her she would love working there. "He said that I would be able to rise to my fullest potential because they did not seem like a firm that differentiated between men and women, and were only interested in capable lawyers," Evanko says. She appreciated that philosophy, which still guides the firm today.
"I met Ann almost the first day of law school," says Dan Kohane, who referred her, "and recognized her as someone exceptional right from the start." He still works with her and says that in her role as president, "Ann is innovative, futuristic and leads by example and with kindness."
Initially, Evanko mainly handled business and litigation matters, but eventually her practice migrated to employment law. "Many of my business clients needed advice and counsel in employment [matters]," she says.
Evanko spends part of her practice training clients about risk prevention. She encourages them to put policies in place and to properly train employees so that issues such as sexual harassment and discrimination don't come up, and so that any issues are handled quickly. She advocates a straightforward complaint mechanism: making clear what conduct is unacceptable, informing employees whom to contact with their problems, and informing supervisors of what actions to take.
Evanko credits her background in litigation for making her an effective business and employment lawyer. "I can see, if you don't fix the problem over here, where that is going to lead to," she says.  
In a high-profile sexual harassment case several years ago, Evanko opposed Ginger Schröder, an employment attorney at Schröder, Joseph & Associates. "In working through the issues, Ginger and I successfully resolved the case in a way that minimized the trauma for the young woman, and minimized adverse publicity for the high-profile business and its owners," Evanko says. "Had this been approached differently, it could have been an expensive, drawn-out and ugly case. Lawsuits do not always need to go to trial to reach the right result. Sometimes the nature of the case and the objectives of the parties dictate a different approach."
"These kind of cases can be fairly traumatic for the party involved," says Schröder. "But Ann did an amazing job being sensitive and supportive of the client while being very forceful on their behalf. She is a consummate litigator."
Office romances that have unraveled are another source of harassment complaints, particularly when one of the parties is in a supervisory position. For that reason, Evanko says, some companies, typically large ones, have what she calls a "sweetheart contract" in which couples approach HR and declare that they're involved and that neither party can be in a supervisory position over the other. Evanko believes it's not always that effective for companies to have policies to this effect, but for some, it can deter problems when office romances go bad. "No one should be supervised by someone who is in an intimate relationship with another," she says. "It causes a lot of problems not only for the two involved but for others who perceive favoritism."
Technology creates its own issues for employers. "The Internet and social media also create more opportunities for mischief and potential discipline," Evanko says. "Employees still don't get that they cannot access gambling or porn sites, for instance." Employment law is always evolving, and Evanko says that immediate access to employment laws and commentary through the Internet for employees means that they are more likely to know their rights, as well as aggressively pursue claims.
Some companies have policies allowing them to monitor all employee emails—personal or professional—sent or received at work, which the employees often don't realize or forget, and usually resent, especially when they get called on the carpet for racist or abusive emails. "Considering the cost and time invested in training someone, it's better to issue a reprimand, have clear policies in effect and make sure it doesn't happen again," Evanko says. "This, of course, varies depending on the seriousness of the offense." To prevent offhand email correspondences from being monitored or misconstrued, Evanko offers a simple remedy: "Employees need to think through carefully what they say 'in print,' as it can never be deleted—it can always be discovered with proper forensics."
In recent years, Evanko's practice has evolved to include mediation, which is a required step in any federal employment case before it goes to trial. "I'm a natural for mediation," Evanko says. "My style of leadership is collaborative: discerning what the interests and needs are of both parties and fashioning a resolution that works well for both sides."
Mediation, she says, often involves a lot of prep work beforehand and crafting a successful resolution involves gaining everyone's trust. "It's not always about money," Evanko says. "Sometimes the party just wants an apology, or recognition that the company did something wrong." She pauses. "You'd be surprised how many people won't apologize."
The mediation skills carry over to her position as firm president, a promotion she was able to announce the same day she received the prestigious 2008 Athena Award given by the Western New York Women's Fund and the Buffalo Niagara Partnership for her support in helping female professionals reach their goals. "It was very exciting and meaningful to announce this in the midst of colleagues, friends and community leaders who share a strong commitment to helping women succeed," she says.
Evanko still finds time to volunteer within the community. "It's part and parcel of who I am," she says, crediting her mother with instilling this value. The civic organizations she supports all have a common theme: "helping women to grow and be self-sufficient," she says, which, she stresses "is a necessary foundation for building strong families and strong communities."
Evanko is a founding member of the Western New York Chapter of the Women's Bar Association of the State of New York. She is also past president of the local YWCA, and was instrumental in bringing the YWCA Public Policy Committee to western New York in 1991. The institute trains young women on how to enter politics, run a campaign and get votes, and has incubated a host of women judges and legislators.
Asked how she spends her leisure time, Evanko laughs at the thought, but says that she likes to read, collect antiques (particularly vases), garden and cook. And every Sunday she conjures up a big dinner for the family—for which her three sons return to the roost—on a table replete with linens, candles and the "good" glassware.  
No matter how busy her schedule gets, Evanko is committed to giving back where she can, sharing her support and teaching a value that has helped her in the hopes that it will help others. "Self-sufficiency is part of my fabric; it's the way I was I raised," she says. "Being self-sufficient allows you to pursue your dreams on your terms. I have seen too many barriers to women, whether domestic violence, poverty, lack of skills or lack of education, but these same women thrive when given the opportunity."
The opportunities she provides through her community work echoes her day-to-day work. "I love the challenge of creating a solution to a problem that a client faces," Evanko says. "It is my job to guide them in the right approach to the right result. … Being sensitive and responsive to their needs is essential, so whether it is in a legal, business or volunteer context, the role of lawyer as an advocate is essentially the same. The same skills work in all aspects of life in helping others."
Search attorney feature articles