Online Conduct Unbecoming
Carrie Goldberg is still fighting psychos, stalkers, pervs and trolls—and Amazon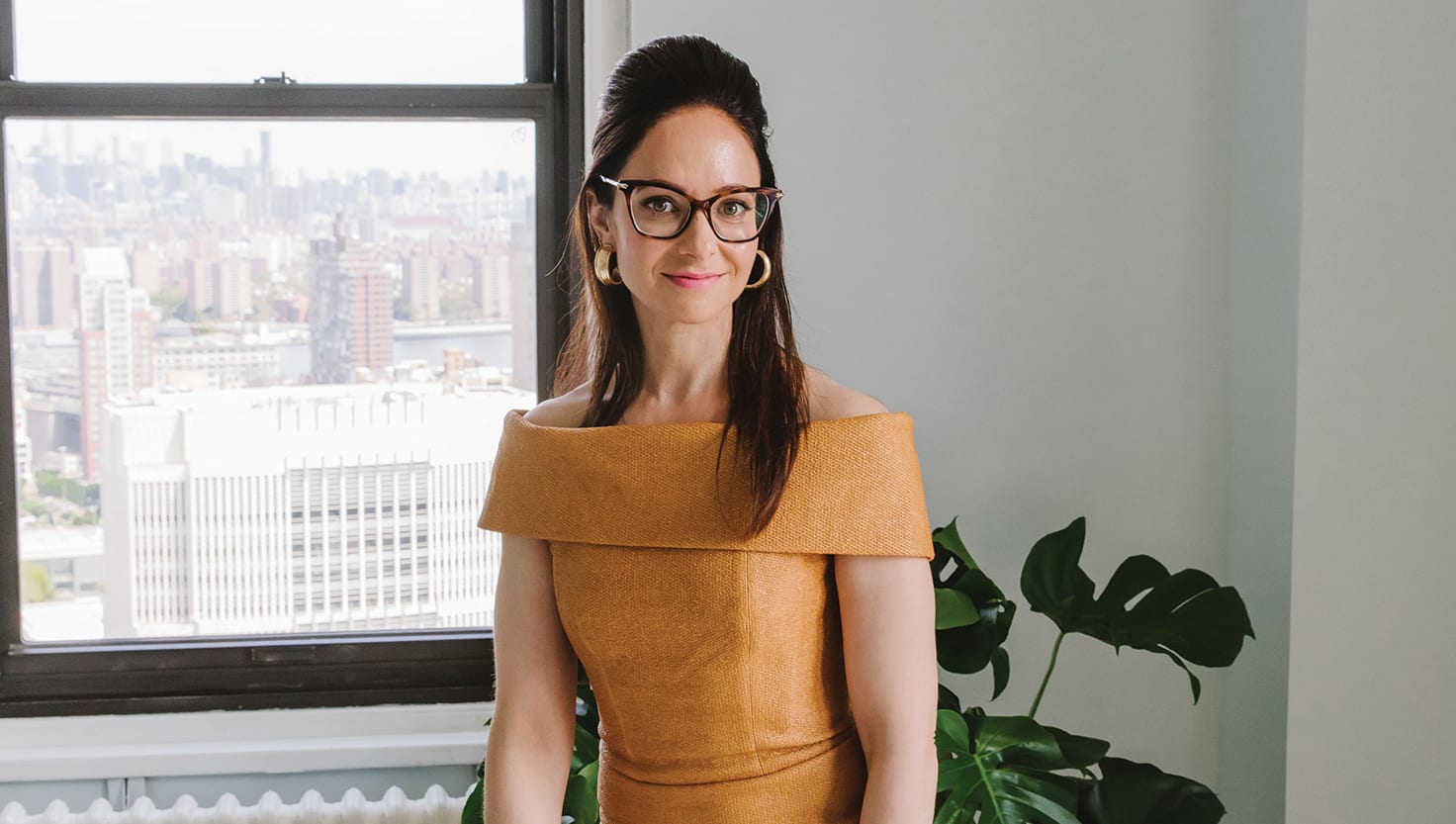 Published in 2023 New York Metro Super Lawyers magazine
By Nancy Rommelmann on September 25, 2023
Step out of the elevator at Carrie Goldberg's Brooklyn Heights office and you are met with a big gold C encircling a gold G, a logo so stylish—part disco, part Sex and the City—it could be the opening shot of a movie.
"Come, come, you want a Diet Coke?" asks Goldberg, looking glam in a slate-blue shawl coat and matching nail polish. A miniature Australian shepherd yaps until Goldberg assures him it's OK, whereupon he curls up by a conference room window that offers a quadrillion-dollar skyline view.
It is here that Goldberg provides counsel for clients in agonizing situations. "It's a big responsibility talking to people about their nightmares," says Goldberg. "And then I'm tasked with this job to somehow convert this tragedy into a legal strategy."
Goldberg grew up in Aberdeen, Washington, home of Kurt Cobain—you will get a Nirvana reference or two chatting with her—and graduated from Brooklyn Law School in 2006. She started her eponymous law firm eight years later, with the goal of helping clients navigate "sextortion," or the unauthorized release of sexual images. A typical case involved a woman—and it was nearly always a woman—who'd been photographed or filmed in a sexually explicit situation. Sometimes women had voluntarily shared the photos; sometimes they were taken without their consent; but always the images had been shared online, which meant that they'd eventually, inevitably, be seen by millions of people.
"When I started the firm, the general attitude was that if they didn't want it to be leaked—which was presented as this very foreseeable thing—then they shouldn't have taken a picture in the first place," says Goldberg. "That was the victim-blaming attitude we were fighting against in the popular media. And then in August and September of that year, there was a big leak of celebrity images, and some very wholesome people became the victims of non-consensual pornography, like Jennifer Lawrence and Emma Watson."
What happened from there, to both stars and regular people, can range from personal and professional embarrassment to threats against their lives. A 2016 profile of Goldberg in The New Yorker mentioned a man who created fake Craigslist ads about his ex-wife, including one that read, "Rape Me and My Children." As the article notes, "Fifty men showed up at the condominium where the woman lived with her children; some tried to break in." One of Goldberg's early cases involved an 11-year-old girl who'd been coerced into providing a nude image to a man in his 30s, who then used that image to blackmail her into sending additional images for three years.
While threatening the leakers with legal action could slow or stop their campaigns, it did nothing to get the images offline. Petitioning sites like Pornhub to take down the images was always a losing game, both because Pornhub could claim it had no control over what users posted, and because an image uploaded onto one site could be copied and propagated to an unknowable number of other sites, ad infinitum.
Realizing going after every copycat site was a never-ending game of Whac-A-Mole, Goldberg decided to go after the search engines. "I was like, 'We can be dealing with the one-off cases, but what about the fact that these big websites are publishing thousands of pictures of women and making money off of it?'" she says. "Google, one of the biggest companies in the country, is also helping to ruin people's reputations. No one would know that a person's images were on these websites unless you Googled their name. And then Google would provide all the links to these really sketchy websites, where the offenders would incorporate the victim's name into the headline, so that then they'd become searchable terms."
Goldberg and others fighting sextortion met with some early success. By 2015, several search engines, including Google, agreed to "de-index" revenge porn, meaning the person's name would not show up in connection with the images. It was a good start, although it couldn't keep up with technology and the persistence of people intent on disseminating the images. Sometimes, too, the perpetrators leaned on the First Amendment, claiming the images were speech and therefore protected.
"That was an argument when I represented Congresswoman Katie Hill," says Goldberg, of the California Democrat. "Her nude images were accessed, without her authorization, from her computer. They were sent to so-called journalists, who then shared them with Daily Mail, who published them 22 times."
Hill resigned her seat in Congress within the year, and in 2021 she and Goldberg sued Daily Mail for publishing the photos. The judge dismissed the case, ordering Hill to pay $220,000 to Daily Mail and other media. "The judge went almost as far as to say, 'No, this is protected speech,'" recalls Goldberg, then asks: "What kind of speech am I expressing? That's more like conduct. That's closer to me punching you in the face."
Most of Goldberg's clients do not have the name recognition of a Katie Hill. Some are still in elementary or middle school. "One of my cases was representing an eighth grader who had acquiesced to this boy who kept asking for pictures of her topless," says Goldberg.
In a move that will shock no one, the boy shared it with the class. From there, the girl's picture flew around the world. It was not until five months later that a family friend saw the photo and called the girl's parents.
The girl herself had been trying for months to get sites to take down her picture. It was this case that persuaded Goldberg to test a theory she had: Why not make the tech companies liable for a bad product?
"The platforms are products, and they should be treated no differently than an airplane or a baby crib," she says. "When you develop a product, you have to think about the ways it's going to be misused. And when they told me that they couldn't because they didn't have the technology, I said, 'Now I know that I should be suing you as a defective product.'"
This strategy brought accusations that Goldberg was trying to skirt Section 230 of the Communications Decency Act, which in 1996 established that online service providers cannot be held liable for content provided by their users. "And it's like, 'Yeah, I am.' But it's also logical," she says. "And in my heart I just freaking…" Goldberg pauses. "I just know it's right."
An ongoing case involves a website that gained popularity during the pandemic. Visitors to Sanctioned Suicide, many of whom were young, were given guidance on how to take their own lives, as well as a platform onto which to live-post their deaths. Several parents turned to Goldberg, terrified their children would follow through, or heartbroken that they had. Among the things Goldberg found on Sanctioned Suicide was "lots and lots of talk" of sodium nitrite powder, sometimes mistaken for curing salt, and available on Amazon, whose algorithm Goldberg recalls also recommended an anti-vomit pill and a small scale to weigh the powder.
"Sodium nitrite starves the blood of oxygen. And the blood becomes really gooey very quickly," says Goldberg. "After a lot of excruciating gagging and seizures and vomiting and diarrhea, you ultimately lose consciousness and are dead in about twenty minutes. It's a very violent way to die. And it cost $20 on Amazon. And Prime delivers."
The parents who contacted Goldberg had been going through Amazon customer service, trying to get the product taken down. Some resorted to leaving negative reviews along the lines of, "THIS KILLED MY NIECE, PLEASE TAKE THIS OFF THE MARKET. THIS IS ONLY USED FOR SUICIDE." A woman whose 27-year-old son killed himself with sodium nitrite—and who'd alerted not only Amazon but the police and the FDA—eventually hired Goldberg to try to get the product removed from the site.
Despite the mounting deaths and anguished parents, and Goldberg telling the retail behemoth, "there are another 299,999,000 products that you guys sell. You're only making 2.39 cents' revenue from each sale, so you'll be OK,'" Amazon dragged its feet for 18 months. Finally in October 2022, it listed the specific product as "currently unavailable," albeit with no assurances it would not be sold in the future.
"A lot of these people changed their mind while they were dying. They were pleading for their life," she says. "They called 911. They screamed and told their parents. They have to be vindicated."
The case has been referred to the Department of Justice. "Last week," she adds, "we got California and the United States to both introduce [bills banning] high-concentration sodium nitrite sold to households. … We hope more states follow through."
As devastating as these cases are, they're where Goldberg wants to be.
"These are the cases that I much prefer over anything else. And the best way I can change things is by suing," says Goldberg, offering a copy of her 2019 book, Nobody's Victim: Fighting Psychos, Stalkers, Pervs, and Trolls. "It's a little superpower that lawyers have. We can hold the biggest company in the history of the universe responsible if they've done something bad to our client. And that's a huge power."
Search attorney feature articles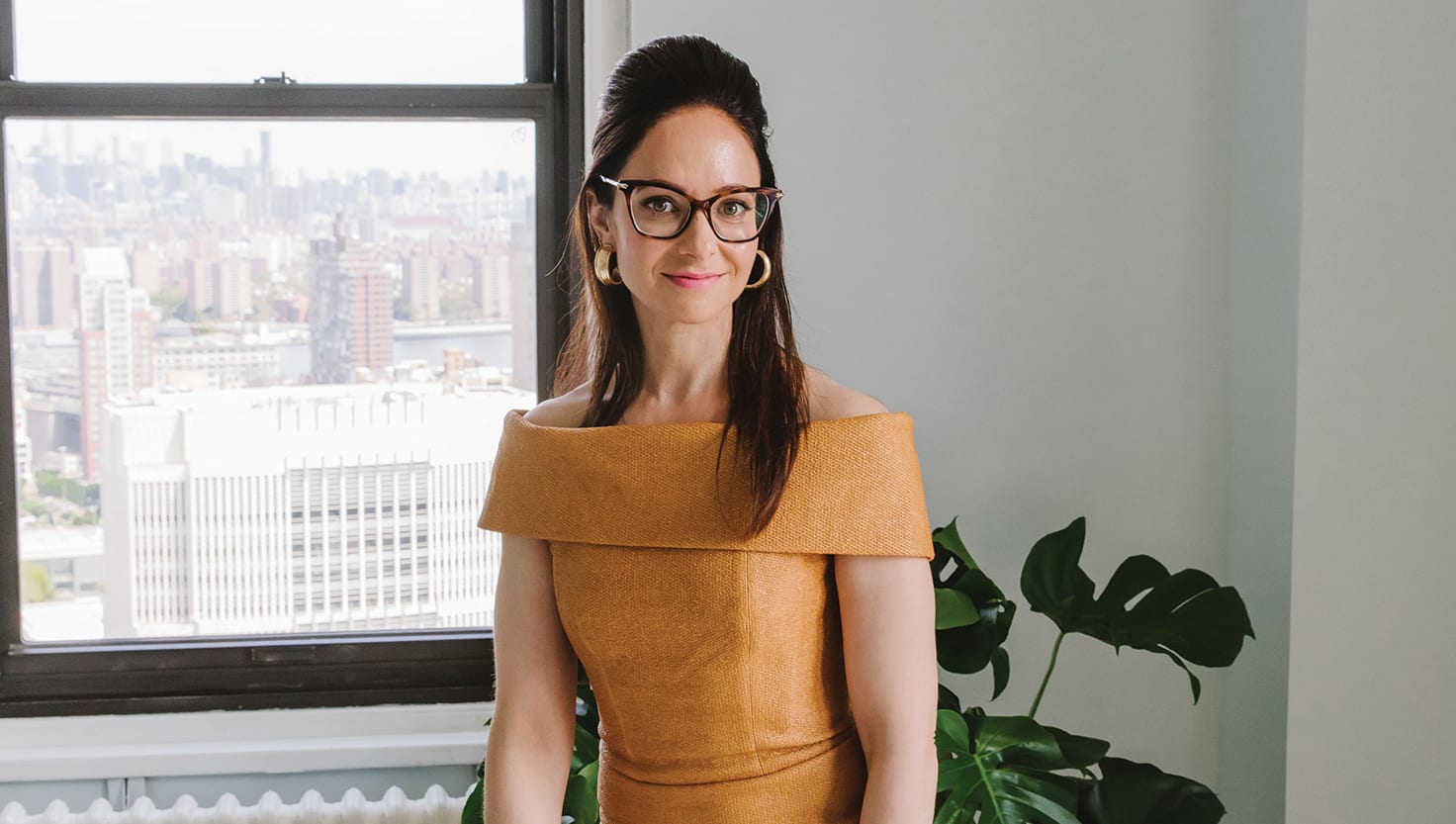 Featured lawyers
Helpful links
Other featured articles
Greg Howison raises grass-fed beef—but it's not on his dinner plate
Employment lawyer Diane King takes on big companies like Lockheed Martin
Stuart Singer fought a 17-year battle to guarantee health care for Florida's poorest children
View more articles featuring lawyers
Find top lawyers with confidence
The Super Lawyers patented selection process is peer influenced and research driven, selecting the top 5% of attorneys to the Super Lawyers lists each year. We know lawyers and make it easy to connect with them.
Find a lawyer near you