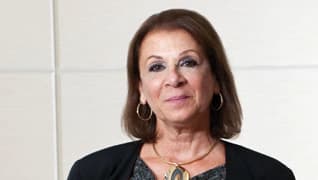 Photo by: 85 Photo
Protector of The Catcher in the Rye
Marcia Paul doesn't relish being center of attention, but her clients, including J.D. Salinger, Mel Brooks and Dustin Hoffman, often put her there
Published in 2011 New York Metro Super Lawyers magazine
By Nick DiUlio on September 20, 2011
Marcia Paul thought it one of the cleverer ad campaigns she'd seen in recent years. In autumn 1997, on the sides of city buses, New York Magazine ran an ad with its logo and the caption: "Possibly the only good thing in New York Rudy hasn't taken credit for."
Not everyone laughed.
"Rudy [Giuliani] wasn't pleased with the signs," Paul says. "So he ordered the Metropolitan Transportation Authority to take them off the buses. And that's when the magazine asked me to file an injunction that would require the MTA to put the signs back up."
Paul is telling the story from her 27th floor office at Davis Wright Tremaine, where, behind her desk, a wide window offers a panoramic view of the Hudson River. Since she began practicing law in 1972, Paul has represented hundreds of clients, including J.D. Salinger, Mel Brooks and Dustin Hoffman, on copyright, trademark, libel and advertising matters. She has tried cases in state and federal courts and before various arbitral tribunals.
Asked to recall a favorite, though, and it's the bus ads that come to mind.
What followed was one of the fastest cases Paul has handled. On the Tuesday before Thanksgiving, she filed the papers. Judge Shira A. Scheindlin of federal District Court in Manhattan scheduled a preliminary injunction hearing for that Friday. Paul spent all of Thanksgiving Day going to five different holiday dinners at the homes of five witnesses to prepare them for the upcoming hearing. "Just popping around from one person's house to another," she says. "All day."
By Sunday, Judge Scheindlin issued a 50-page preliminary injunction stating that New York Magazine was likely to prove the violation of its civil rights. The ruling was appealed. On the following Tuesday, Paul was in court arguing whether or not the injunction should be stayed. Ten days after that, she had fully briefed and argued the appeal.
"You try to be as objective as possible at the start of a case, but that one had me outraged from the get-go," Paul says. "I was outraged that Rudy would just order the MTA to take the signs down. I mean, come on! They were funny. Besides, we were so clearly on the right side of the law that I don't know how he thought he could justify his order."
Eventually, Paul had her argument affirmed on appeal and the ads were back on the sides of buses as quickly as they had been taken down.
Long before she began representing clients like New York Magazine, Paul had trouble making judges believe she was even a lawyer.
"There were times when I would go down to the courtroom and the judge would ask me when the lawyer would be showing up," says Paul, 62. "He thought I was a secretary the lawyer had sent down, and I sometimes had a difficult time convincing them, 'No, your honor. I am the lawyer.'"
She pauses. "It was a different time."
She grew up an only child in Forest Hills, Queens. Her mother was the deputy clerk of the old City Court, precursor to the current New York City Civil Court. Even though her mother had a law degree—which she obtained for the sake of career advancement—the senior Mrs. Paul never practiced.
"I was very lucky to have been raised by parents who fully expected me to be a successful professional," says Paul, whose father worked as a manager for the Army Pictorial Center in Long Island City, a facility that made training, recruiting, and promotional films and radio broadcasts for the Department of the Army. "I went through the stage of wanting to be a ballerina and such, but I think I knew pretty early on that I wanted to be a lawyer."
Paul made short order of her schooling, skipping a year of junior high and skipping a year of undergraduate study at Barnard College before enrolling at Columbia Law School in 1969. "I just wanted to get straight through and be out in the world as a lawyer," she says.
At 23, Paul started practicing on Wall Street at Sullivan & Cromwell. Realizing she wanted to focus primarily on First Amendment law, she moved, after four years, to Greenbaum, Wolff & Ernst, the pre-eminent First Amendment firm at the time. Greenbaum Wolff also focused heavily on entertainment (now media) law, and Paul gravitated to the discipline, which allowed her to remain tapped into what she calls her "1960s, knee-jerk liberal" ethos—fighting for rights of expression and the sanctity of intellectual property—while keeping her stimulated by its intellectual rigor and nuance.
"It exceeded my expectations," she says. "I found it fun to be involved with issues and cases that were the kinds of things you could read about every day in the paper. Not because of the publicity of it, but because of the substance of it. Besides, it allowed me to have some great cocktail-party conversations."
Paul crosses her legs and leans back in her chair, recalling the tale with the same wry spirit—two parts confidence, one part self-consciousness—that tints most stories she tells. It's a great irony that Paul's high-profile success clashes so distinctly with her overall self-deprecation and understatement.
"I'm not good at being the center of attention," she says. "I'm happy to be the center of attention on behalf of a client. But when it's me? I don't think so."
Michelena Hallie, who now serves as in-house counsel for MTV, has known Paul for 26 years, and was mentored by Paul at Kay Collyer & Boose in the late '80s. While Hallie calls Paul "a hard-nosed, brilliant litigator in the courtroom—one of the best I've ever seen," she's quick to add,  "There is a warmth and humanity and generosity of her time, particularly with younger people she mentors and works with. She doesn't often talk about this because it's so naturally a part of her DNA that she probably doesn't recognize it as a strength in herself. She just doesn't bring attention to herself like that."
The same can't be said for most of her clients. Consider Mel Brooks, whom Paul represented in the late 1970s in a case that involved royalty accountings for his movie The Twelve Chairs.
"You could have sold tickets to that deposition," recalls Paul with a broad smile. "It was hilarious. You just couldn't get [Brooks] to answer a question straight. Mel Brooks is Mel Brooks, whether on screen or in a deposition."
Paul's clients have included some other big names—Franklin Delano Roosevelt Jr., Ms. magazine, the estate of J.R.R. Tolkien, BBC Worldwide, Simon & Schuster, Miramax, and NBC, just to name a few—but she doesn't talk easily about them. But with them? Another story.
"Marcia's got a vast amount of experience representing high-profile businesses and clients," says Hallie. "So she's able to get through the B.S. and be able to talk honestly with her clients about their litigation without being in awe of who she's talking to. I think that's why so many of these clients rely on her so heavily. They already have enough people to kiss their asses. They don't need their lawyers to do it, too."
Then there is perhaps Paul's most notable client: J.D. Salinger. Twice she represented the famous and reclusive author, who died in January 2010, and on both occasions it was not in her typical role as a defendant's lawyer but as a plaintiff's lawyer.
The first case, Salinger v. Random House, came about in 1986 after British author and poet Ian Hamilton wrote a biography of Salinger, J.D. Salinger: A Writing Life, that contained several lengthy quotations from letters Salinger had written during World War II. Paul argued on Salinger's behalf that the letters, which Hamilton read at various university libraries during the course of his research, were unpublished, and therefore Hamilton's use of them infringed Salinger's copyright.
"Letters count as unpublished works, and there is a key distinction between owning the physical copy of a letter and owning the contents of the letter itself," says Paul, who relishes the nuances of this sort of case. "Just because you wrote down your innermost thoughts and sent them to me does not count as publication. I may own the physical piece of paper, but I can't reproduce it, display it or distribute it."
When Hamilton's book was finally published in 1988, it was retitled In Search of J.D. Salinger and described the experience of trying to write the original book.
Twenty-one years later, in 2009, Salinger came to Paul again. This time a Swedish joke-book writer, Fredrik Colting, had written a so-called sequel to Salinger's most famous work, The Catcher in the Rye, called 60 Years Later: Coming Through the Rye, which featured what Paul calls "fake Salingerese" along with many of the primary characters from Salinger's original novel, including a protagonist named "Mr. C." Salinger sued.
Again Paul found herself in intellectually rich territory, and the questions swirling around the suit were as fascinating as they were challenging. What constitutes fair use? What is the difference between parody and infringement? And how does a court determine whether a work is transformative rather than infringing?
"It was very interesting stuff," says Paul, who first represented Salinger because one of her partners, Andy Boose, was counsel for Salinger's longtime literary agency, Harold Ober Associates.
Regarding why she took the cases, Paul says, "In both cases—having read both books—it was absolutely clear to me that they were not fair uses under our copyright law for very different reasons, but clearly not fair uses nonetheless. In other words, it was fact specific—the facts clearly supported the claims, in my view, and didn't risk creating bad law."
In the end, Judge Deborah Batts ruled, in a preliminary injunction on July 1, 2009, that Salinger was likely to succeed in proving that Coming Through the Rye did not constitute fair use, and that the novel "contains no reasonably discernable rejoinder or specific criticism of any character or theme of Catcher." She also ruled that the book couldn't be published in the United States.
Today's media landscape is, of course, different from the one Paul first encountered in the early '70s. Content is developed, sold and distributed in previously unimaginable ways, and the Internet has thrown copyright and intellectual property law into evolutionary hyperdrive.
"The law doesn't change as fast as the technology, so you are constantly trying to work the law in a way to adapt it to changing technologies," says Paul. "It's a challenge, but it's an intellectual challenge. An interesting challenge."
This, says longtime friend and colleague Hallie, all comes back to Paul's inherent hunger for litigation.
"She loves being a litigator," says Hallie. "Not only is she never bored of it, but she lives and breathes it, and I think that's because she's always interested in learning. Everything."
Search attorney feature articles
Helpful links
Other featured articles
Attorneys tell their stories of immigrating to the U.S.
The passion and decorum of J. Bernard Alexander III
Family attorney Justin Crozier was an Army mental health specialist
View more articles featuring lawyers
Find top lawyers with confidence
The Super Lawyers patented selection process is peer influenced and research driven, selecting the top 5% of attorneys to the Super Lawyers lists each year. We know lawyers and make it easy to connect with them.
Find a lawyer near you