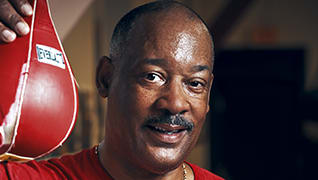 Photo by: Luke Copping
Still Bringing It
John Elmore doesn't recount glory days. He keeps living them
Published in 2019 Upstate New York Super Lawyers magazine
By Matt Chandler on August 15, 2019
At first glance, the three-story brick building tucked away in a neighborhood on Buffalo's gritty East Side appears to be abandoned, another in a long line of derelict properties dotting the landscape of this Rust Belt city. For the most part, it is empty, save for a makeshift gym tucked away on the top floor. 
It is here that Buffalo attorney John Elmore spends two nights a week, working with young kids, many from unenviable backgrounds in need of the discipline that comes with boxing and the inspiration that comes from mentorship. 
Elmore, a personal injury attorney and partner at Law Offices of Steve Boyd and John Elmore, arrives at the gym after a full day at the office. He trades in his dress shirt and tie for a T-shirt and running pants. 
"I fought in the Golden Gloves when I was 16," he says, sitting on the steps of the run-down building, recounting his brief career as an amateur boxer. Shortly after reaching the semifinals of the Golden Gloves in the 1970s, Elmore's trainer, Larry Twitty, was diagnosed with Hodgkin's disease and passed away. "That ended it for me," he says. 
Tall and fit, save for graying hair, he looks ready to step into the boxing ring tonight and take it to an opponent. 
"Most men over 40, they think about when they used to be able to bring it," he says. "They live vicariously through the lives of others. Not me. I come here at 62, still bringing it. Not fantasizing about bringing it, but bringing it." 
As Elmore climbs the stairs through the dark, empty building, the unmistakable sound of gloves cracking a heavy bag punctuates the stillness. As he steps into the gym, Elmore smiles when he sees his kids waiting. 
"This isn't a place where we are trying to reform criminals, or where you're going to find drug dealers or shooters," he says. "This place is a safe haven for these kids." 
Terry Williams runs the Bomb Squad Academy Center where Elmore lends his advice on boxing—and life—to young people. A veteran of the United States Army and a former competitive boxer himself, Williams started the program as a way to reach local kids.
"These kids need structure and they need mentors, and that's why I appreciate John coming down and giving back," he says.
As Williams talks about the importance of the program, Elmore is in his element—red boxing gloves laced up and ready, he's instructing his group on how to protect themselves in the ring. 
"This is more than just boxing," Williams continues. "When they see John come in and talk to them, and encourage them, they go to school and they want to be somebody." 
Williams says Elmore connects with every kid he encounters. 
"He's got a drill he does with them, and he dogs them out, but they love it and they need it," Williams says. "Then he sits back and talks to them about life." 
Taking a break from his proteges, Elmore steps to the heavy bag and unloads a barrage of punches. His footwork and power bely his age. Sweat cascades down his brow. 
Elmore's foray into becoming a boxing mentor, referee and judge came about almost by accident. 
"St. John's Church has a boxing program, and the pastor wanted me to come there and do some legal work," he says. "Some kids were working out in the gym, and I started hitting the bag." 
The rest, as they say, is history. 
"When I was 53, they actually asked me if I would come fight an exhibition match to help raise money for the kids to go to nationals," Elmore says. "I was fighting a 19-year-old kid, and these people on the East Side saw this lawyer, and they didn't realize that I had some skills. We had a great three-round exhibition match, and I've been involved ever since." 
Elmore says lacing up the gloves after a 10-hour day at the office doesn't feel like an obligation. "I'm at the point in my career and my life where I don't go anywhere or do anything I don't want to do. I'm here because I want to be here, and I love it." 
Elmore is paired off with two boys, practicing footwork and technique. One of them, 13-year-old Kardale Norwood, has been coming to the club for about two months. What has he learned from Coach John?
"Focus and enthusiasm," he says. "It's fun having him as a teacher, but you have to put in your best effort or he'll get on you." He smiles. 
Elmore's office, located in a converted residential property just off Main Street in Williamsville, a suburb of Buffalo, is sparsely decorated, save for his framed degrees and a few commendations for community service. Not ostentatious, he credits his humble character to his parents and a strong upbringing in Olean, New York, where he got his first exposure to billable hours.
"I used to caddie for some lawyers at the country club on Saturday mornings," he recalls. "I'd get $4 for carrying their bag for 18 holes."  
After earning his undergraduate degree from Mansfield University, Elmore, interested in the law, says making the leap to law school proved to be a challenge. 
"I didn't have really good guidance or a mentor to understand the process of taking the prep courses, or where to apply," he says. 
So rather than practice law, Elmore decided he would enforce it first. He passed the state police exam and became a trooper. Even as he began his career, he intended to return to school for his JD. "I thought it'd be a stepping stone, a chance to make some connections," he says.
In just two years on the job, Elmore experienced things he says will linger for a lifetime.
New to the force, Elmore was dispatched to a domestic call. 
"When I arrived, a man with blood on his shirt handed me a knife and said, 'What you are looking for is in the other room,'" Elmore says. "He had stabbed his wife and toddler and killed them both. That was a growing-up-fast experience for me." 
There was a tide shift in his life, thanks in part to a group of Hare Krishnas protesting at the New York State Fair in Syracuse. Elmore was assigned to the fairgrounds to maintain a peaceful protest. There he met a Syracuse University law school professor, Tom Maroney, who was running the AG's Syracuse Regional Office.  
Maroney was impressed with Elmore's undergraduate GPA and his position with the state police. He decided to mentor him, a process that began with an important connection.
"He introduced me to the first African American lawyer I had ever met, Paul Richardson," Elmore says. 
The three met for lunch, and they created a roadmap to take the young trooper from the barracks to the bar. 
The following September, he was enrolled at Syracuse with a full academic scholarship.
His first job was at the Manhattan District Attorney's office, working alongside a group of attorneys that included Gov. Andrew Cuomo, former Gov. Eliot Spitzer and Elmore's office mate, Dan Rather Jr. 
"That's where the action was," he says of the 300-attorney office. "It is also, in my opinion, the best prosecuting office in the United States." 
He says his time there was a crash course on how to be an attorney. 
"I got to watch some of the best lawyers in the country in these high-profile trials, and it gave me the opportunity to get great training and learn very fast on the job," he says.
After three years in Manhattan, followed by a stint in the New York State Office of the Attorney General, Elmore transitioned to private practice, beginning in criminal defense. Even on the other side, he never forgot what he learned at the DA's office. 
"[Then-Manhattan DA] Robert Morgenthau instilled in all of us the values that we represented all of the people, including defendants," he says. "We were taught to treat everyone fairly. Our duty was to serve justice, not to get convictions like notches on a gunslinger's belt." 
For Elmore, that meant looking at every case objectively, and fighting hard. 
"Being a criminal defense lawyer is very important work," he says. "You make sure the police are doing their job; you make sure the prosecutor is doing their job; you make sure innocent people don't get convicted; and you protect the Constitution." 
But the grind took its toll, particularly in 1998, when Elmore served as co-counsel in the defense of Buffalo teen Jonathan Parker, accused of shooting two police officers, killing one. The DA sought the death penalty. 
"Your entire life, 24 hours a day, is living and breathing this case and trying to keep the government from killing your client," Elmore says. 
Not to mention the complex circumstances: Elmore, the former police officer, was defending a man accused of murdering a police officer. Elmore, the African American attorney, was defending an African American teen facing the death penalty. It was, the judge warned him, as close to a lose-lose as he could get. 
"Judge John Rogowski asked me to take the case because he felt I'd be the right person. But he said, 'If you take the case, it will change your life,'" Elmore remembers. "'You're a former police officer; the police officers will hate you. You're also a prominent African American attorney; if the jury votes to execute your client, the African American community will turn on you.'" 
The jury spared his client, and while Elmore says he felt the animosity of the police for years afterward, he doesn't regret taking the case. 
"That case was a life-changing experience," he says. "Mentally, I felt drained. I wasn't happy or relieved. I just felt emotionless for a very, very long time. I loved what I was doing, until I didn't anymore."
Now he represents accident victims, born in part of a tragic personal story. On a family vacation in Barbados with wife, Gwendolyn, and two children, a cabbie, driving recklessly, killed his wife. 
"She was the love of my life," Elmore says. Devasted and receiving little help from local attorneys, he dug in the way he knew best. "I ended up learning Barbadian law and handling much of the civil case myself," he says. On the criminal side, "The police department didn't really investigate, and I had to provide a lot of the evidence to them, so they would make an arrest." 
In the end, the driver was sentenced to seven years in prison, and Elmore reached a settlement with the cab company for his children. The experience forever changed how he handles personal injury cases. 
"When I represent people," he says, "I can feel their pain. It makes me want to call them frequently, to keep them updated and to let them know that I care, and that I am fighting for them." 
Few people in the Buffalo legal community know Elmore like Erie County District Attorney John Flynn does. 
Flynn, an oft-opponent, has not only presided over Elmore's trials as a judge, but he was also his law partner for several years. He says the Elmore the public sees is the real deal. 
"The passion he has for the law equates to his belief that the law exists to help people," Flynn says. "He has a love for his fellow man and he believes in helping people out."
Flynn says no matter the role he has seen Elmore in through the years, his commitment to his clients, and to his community, has never wavered. 
"His love of people drives him with his clients and his cases," Flynn says. "It's also why he works so hard in the community with the youth boxing, with the Bar Association, the Minority Bar and with his church. Those endeavors occur on his off time, and that speaks to his incredible character."  
"I plan on practicing law as long as I'm physically able to do so," Elmore says. "I have a daughter who is a lawyer, and I love mentoring her and teaching her.  I guess if I get to a point where I am physically unable to practice, I'll get to live vicariously through watching her." 
His best advice to her or anyone entering the profession is sobering, but critical.
"It takes a lifetime to earn a good reputation," he says, "and one momentary lapse to lose it all."
In 2004, Elmore wrote a book that addressed inequality in the justice system. While Fighting For Your Life: The African-American Criminal Justice Survival Guide offers legal advice, it also offers a dose of mentorship: One chapter is dedicated to teaching readers how to dress and act in court. 
"Some people, without mentors, or who might come from single-parent houses, they don't know these basic things," he says. "The educational system and the social services system fail a certain segment of our society."  
Fifteen years later, Elmore still sees tremendous work to be done. 
"The incarceration rate for African American males has increased significantly since I wrote the book," he says. He points to bail-reform initiatives and police body cameras as positive steps, but small ones.
"The system is creating a permanent black underclass," he says. "This prison industrial complex is causing generational poverty, it is separating men from their families, and it is causing children to be raised in poverty."
Search attorney feature articles