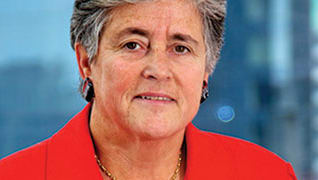 Photo by: Luigi Ciuffetelli
The Dean of the Employment Bar
Betsy Plevan's career has been based on finding the right fit: for her, for her clients and for a generation of female lawyers
Published in 2015 New York Metro Super Lawyers magazine
By Timothy Harper on September 11, 2015
It was 1974 and Bettina Plevan, all of 27 and a young mother not long out of law school, had landed an interview at Proskauer Rose Goetz & Mendelsohn. Since 1875, the firm had been known for its high-quality work, but it wasn't a "white shoe firm" dependent on Wall Street and banks; it was known, she says, as a "Jewish firm" because of the diversity of its lawyers, clients and practice. It was so progressive it already had several women associates and even a woman partner.
During the interview, senior partner George Gallantz reviewed Plevan's experience, including her four years as an associate for a prestigious Seattle firm, and then asked, out of the blue, "Do you like basketball?"
Plevan is barely 5-foot-1 but grew up scrappy and quick, playing hoops and baseball on Long Island with the boys. She thought to herself, "This firm might be a good fit for me."
A good fit has always been important to Plevan.
Bettina "Betsy" Barasch's young life centered on her family's department store in middle-class Freeport, Long Island, which opened its doors in 1902. Her father and uncle ran the store when she was a kid, and she and her older brother Stephen, now an accountant in Wisconsin, grew up working there, helping others find the right fit. It was valuable training.
"That was a service mentality, and I am in a service profession," she says. "The mindset was dealing with people in a positive way. I think there's a little bit of an analogy in client relationships—having the experience and ability to deal effectively with people."
Her father, Bill Barasch, encouraged her to play sports with the boys, including sandlot baseball. He died suddenly when she was 13. That's when her mother, Tina, who had always been active in Democratic politics and local civic issues, began working full time at the store. "That influenced me about having a career, and how that was a good thing for a woman to do," Plevan says.
In high school, her uncle died without a will, and a girlfriend claimed she had been his common-law wife. Betsy watched closely as lawyers negotiated a settlement. "I found it fascinating," she recalls.
She majored in history at Wellesley—Diane Sawyer was a classmate, and Hillary Rodham was two years behind—and took political science courses to help prepare for law school. In late 1964, a couple of Wellesley classmates invited her on a triple blind date with three Harvard undergrads. One of the guys had the keys to the Harvard chemistry lab, and amid the Bunsen burners the three couples slow-danced to 45s on a hi-fi. When her date suggested a swap, the other guy, Ken Plevan, agreed.
He found her conversation no-nonsense and career-oriented. She told him she was going to law school, and said maybe he should, too. In 1967, after his first year at Harvard Law, and as she was heading for Boston University School of Law, they married.
Plevan excelled in law school. "It appealed to the way my mind worked analytically," she says. "It was practical as well as intellectually stimulating."
To avoid the draft, Ken joined the Reserve Officers' Training Corps, and when he was assigned to active duty at an Air Force base near Seattle, Plevan followed. Seattle's legal scene was dominated by three big firms in 1970. None had ever hired a woman. But Plevan heard that one of the firms, Bogle & Gates, founded by Bill Gates' grandfather, might be open to the idea. She was right.
"I knew it was really important that I do a good job so that women were not labeled in any negative way—that this experiment was a good one for the firm," she remembers. She was thrown into commercial litigation: depositions, court appearances, assisting at trials, appellate briefs. Two years later, the firm hired a second woman. Two years after that, Ken finished his ROTC commitment and the family, now with son William, headed back to New York.
Gallantz's question about basketball, it turns out, wasn't just small talk. Proskauer was one of the pre-eminent firms for sports law, and Gallantz wanted her on his team handling Robertson v. NBA, the antitrust suit filed by Oscar Robertson and other National Basketball Association players to block the merger with the American Basketball Association.
Her husband couldn't believe it. A huge Knicks fan, he was toiling away at routine legal chores at Skadden Arps while his wife flew around the country taking depositions from NBA players and owners. "Life is unfair," he groaned.
After the NBA-ABA merger went through in 1976—David Stern, who later became the longtime commissioner of the NBA, was a Proskauer partner and one of her mentors—Plevan gravitated toward labor and employment litigation. She became an authority on the Employee Retirement Income Security Act of 1974, representing pension funds sued for allegedly misusing assets. "I liked it because it involves people," she says.
She liked building relationships, whether among large corporations or small professional-services organizations. She worked with a lot of law firms, and found, inevitably, that sometimes lawyers make challenging clients. "You are working with a lot of very smart people who are not afraid to question your judgment," she says.
But law firms kept returning. "Betsy is the consummate counselor and advocate," says Audrey Strauss, now executive vice president, chief legal officer and secretary at Alcoa, but previously a partner at Fried, Frank, Harris, Shriver & Jacobson, where she hired Plevan to advise on firm management issues. "She has been the dean of the employment bar in New York for longer than we can remember, and for good reason. No one does it better."
"Tenacious, smart, crafty, aggressive and thoughtful," adds David Sanford, chairman of the firm Sanford Heisler Kimpel. "She also reveals a soft touch of humanity at the right moments—cutting through a tense situation in order to stitch together a compromise resolution no one is happy with, but which becomes the basis for a stable negotiated deal."
In part because of her work on a landmark 1986 U.S. Supreme Court case establishing some forms of sexual harassment as civil rights violations, Plevan has become an authority, as attorney and adviser, on sexual harassment issues. In 1980, Plevan became Proskauer's fourth female partner. She created a female partners' group, became involved in the firm's management—eventually serving on its executive committee—and was the first chair for the newly formed New York City Bar Association Committee on Women in the Profession. She launched the committee's 1995 landmark study of women in law, "Glass Ceilings and Open Doors."
As a "birth mother" of the report, Plevan was asked that year to add a comment for the Fordham Law Review. In conversation, she tends to talk matter-of-factly about everything and duck nothing, and that's apparent in her writing as well. More needed to be done in terms of gender and family issues, she wrote in the law review, adding, "We must also recognize, however, that the law has become a very demanding profession and that many of those demands are created by the clients we service, not the firm's executive committee. Lawyers who want to reach the highest professional levels in that environment will need to be flexible enough to be able to satisfy those demands."
Younger associates loved working for her—in part because she was considerate and efficient. In the morning, she handed out assignments; at 7 p.m., she left the office; at 10 p.m., she resumed work at home. The next morning, her comments would be waiting for associates when they came in.
"She never tortured us with fake deadlines," says Marina Lowy, one of a number of Proskauer associates who went on to corporate jobs and then hired Plevan as outside counsel. "She worked so hard, but she also said, 'You can come talk to me confidentially,' and she would listen." Lowy, now senior associate general counsel for Mount Sinai Health System, adds, "She makes you feel like you're her only client, her number-one client."
"I worked for her, too," says Elizabeth Hook, director and associate general counsel at Citigroup. "She's got an enormous amount of energy, more than any other human being I've ever met. Betsy is always focused."
Hook and other associates say Plevan didn't compartmentalize, trying to keep job and family separate. Instead, when she took a call from one of her sons, no matter how pressured at work, she shifted gears instantly. "And this was at a time where people didn't talk about work-life balance," Lowy says. "She was kind of a pioneer in that regard."
"I learned so much watching her with her family," Hook says. "Such a loving mom."
Plevan, still at Proskauer, and her husband, still at Skadden, spend as much time as they can with their son William, a rabbi, and his family. Their 10-year-old grandson loves to sleep over at their place on the Upper East Side and bounce in the waves with them at their house at Lido Beach on Long Island. (Their younger son, Jeff, who had learning disabilities, died of a heart attack in 2013 at age 36. "We are still dealing with that," Plevan says.)
In recent years, she and her husband have taken up cycling and have made extended bike trips through Morocco, Austria and Italy. France is next. "We will, at some point, slow down," she says. "But I don't know when."
Search attorney feature articles
Helpful links
Other featured articles
The problematic past (stolen antiquities) and problematic future (AI) of art law
Michelle O'Neil is on the cutting edge of LGBTQ+ family law
M&A attorney Brian J. McCarthy leads on mergers involving Disney, Pixar and Lucasfilm
View more articles featuring lawyers
Find top lawyers with confidence
The Super Lawyers patented selection process is peer influenced and research driven, selecting the top 5% of attorneys to the Super Lawyers lists each year. We know lawyers and make it easy to connect with them.
Find a lawyer near you