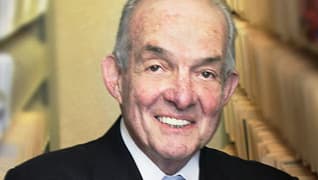 Photo by: Michael Paras
The Former Outcast
Why personal injury attorney Marvin Salenger identifies with his clients
Published in 2012 New York — Metro Super Lawyers magazine
By Aimée Groth on September 20, 2012
While in grade school, Marvin Salenger of Brownsville, Brooklyn, was diagnosed with acute rheumatic fever, a debilitating, inflammatory disease that leads to painful swelling of the joints. The isolation he suffered was nearly as bad as the disease itself.
"In those days people didn't know much about rheumatic fever," says Salenger, of Salenger, Sack, Kimmel & Bavaro in Long Island. "No one visited me because they were all afraid their children were going to get it."
This was no two-week ordeal. It took years to recover. Salenger was forced to drop out of P.S. 184, and from fourth to sixth grade he worked with a tutor to avoid falling behind.
"My mother was a saint," he adds. "She massaged my joints with cocoa butter every four hours, 24 hours a day. When I did have to go to the hospital, she would put me on her back and carry me up the subway—with great difficulty."
Salenger was a shy kid, and the fever didn't help. When he returned to school in seventh grade, it was excruciating. "I didn't have a date, or any friends, or anything like that. I just plodded along. Then in high school I started becoming a little better. But I was an outcast."
Which is why, he says, he identifies so strongly with his clients, such as the Colombian immigrant whose leg was torn off in a car accident; or the construction foreman who was rendered paraplegic after falling several stories.
It's also why he regularly brings in multimillion-dollar personal injury and medical malpractice verdicts.
"When he gets up in front of a jury, he's tough, but he's extremely effective," says Raymond J. Furey, an attorney with Furey, Kerley, Walsh, Matera and Cinquemani, who has faced off against Salenger in medical malpractice cases for 25 years. "He's able to disarm anybody."
Salenger has no childhood memories of his father. One day he just moved to the Bronx, "the other end of the world from where we were," says Salenger, who was raised by his mother, older sister and brother. They were poor. His mother was an immigrant from Poland. "She could barely speak English," Salenger says. "She was a homemaker and she was always ill. There was never a day I remember that she wasn't ill."
His sister worked, and his grandfather helped support the family, but there was no money to spare, not even for a bar mitzvah. After graduating from high school, Salenger decided to become a toll collector for the Bridge & Tunnel Authority. "I was leaving on a Saturday morning to take the [civil service] test, and my brother says, 'Where are you going?' I told him, 'I'm going to take this test.' And he says, 'No. No brother of mine is going to be a toll collector. You're going to go to college.' I said, 'That's crazy.'"
It wasn't. During the day, Salenger worked in the Garment Center at M. Lowenstein & Sons, and at night he attended Brooklyn College. Six months from graduation, his bosses wanted to promote him, but the promotion would take him away from his studies.
"I asked my boss, 'Could the promotion wait a little bit of time?'" Salenger remembers. "And he said, 'Make your choice between M. Lowenstein's & Sons and graduating college.' And I'll never forget this. I said, 'Mr. Weinstock, your kid is going to Brown [University] so why can't I go to college?' And he said, 'You're fired.'"
As a result, as soon as he graduated, he got an emergency teaching license and volunteered for an inner-city school in East New York. "I wanted to change the world," he says.
Turns out he hated teaching. His wife, a teacher in Brooklyn, pushed him toward law school even though he protested he wasn't smart enough. She pushed him through law school, too. "Every Saturday, every Sunday she made me go to a library to study," he says. "During the week, I would return at 10 or 11 p.m. and she would make dinner for me."
He landed a job with an attorney that paid $50 a week. "The day I was admitted [to the bar]," he says, "I tried my first case." It was against Hertz Rent-A-Car. "As I was trying the case, the judge took a liking to me. He called me up and said they're offering [to settle the case] for about $500," he recalls. "He told me, 'You're doing great, don't settle the case.' And I lost it."
That wasn't the only time he got burned early in his career. He once represented a woman in a domestic violence case who was married to, he says, a "very, very wealthy guy." His opposition was legendary matrimonial lawyer Raoul Felder.
"Raoul certainly doesn't remember this case, but I remember it distinctly," says Salenger. "I said to myself, 'My God, if I beat Felder my career is made.' You couldn't work any harder than I worked on the case. I'd be taking calls from my client at 3 o'clock in the morning. It was crazy.
"Shortly before the trial, the woman called and said, 'You're fired; I'm hiring someone else.' I was devastated. I saw my whole career go up in flames. In hindsight, it was the luckiest thing that ever happened. At that point I said I'd never handle a matrimonial case again."
Instead, to build up his portfolio, he says he decided to "prowl around the civil courthouse at 111 Centre Street begging people to let me try cases."
Everything changed when he met
Robert "Bobby" Sack. The two attorneys hit it
off and formed Salenger Sack in 1985.
Generally, Sack prepares the cases for trial and Salenger handles the litigation.
"Bob is the greatest 'inside guy' in the history of law," Salenger says. "I just get the cases to try. So he has a much tougher job than me. He has to prepare the case and give it to me, and by the time I get it it's reduced to a notebook, and I know there's nothing left for me to do but read the notebook."
About 10 years into his career, he represented a Hispanic man who claimed he fell on the sidewalk; the city offered a hefty settlement but Salenger pushed back: "My words to the client were, 'Don't take it. I'm getting you a Cadillac.' And I lost that case. I still wake up at night remembering my arrogance."
Since then, he's fought worse forms of arrogance. In 1994, John Padilla, an immigrant from Honduras, witnessed a car accident involving an unmarked NYPD vehicle that ran a red light. When he tried to report what he'd seen to another officer on the scene, he was ignored and then threatened. He insisted. "I come from a country where there's no freedom," he said. "I'm going to give you my name."
"They beat him up," Salenger says. "He lost sight in his eye." Sack and Salenger got Padilla $8.2 million.
Salenger sees the ways luck deals its hand every day. There was the foreman of a scaffolding company who fell backward down a stairwell and became quadriplegic, while his two co-workers, who were also on the makeshift scaffold, were more or less unharmed. "He had a wife he was separated from, and two kids. He was petrified that he had no one to take care of him." Salenger landed a settlement of $13 million.
Salenger's adversaries say he has an amazing way with juries. Furey recalls a med-mal case in which a potential juror had one son-in-law in school and another who was disabled. In any other situation, says Furey, the man would have recused himself. "But Marvin, after a minute and a half, connected with the man, who ultimately became a juror. He's able to disarm anyone."
In another high-stakes trial, Furey says, "My client was a doctor, who was very anxious and afraid of going to court. Marvin first started cross-examining him in a very aggressive fashion. But then a third of the way through, he kicked it down, and my client got more comfortable. Instead of fighting Marvin, he started offering things up. Of course I didn't like that. But not every attorney has that ability to completely switch gears in the middle of a cross-examination."
Not all of Salenger's cases go to court. Some are dealt with in mediation. When that happens, Sack does the talking.
"Bob goes in with his usual pitch," Salenger says. "He always tells the mediator on the other side, 'Marvin is not allowed to speak after the introduction. He's not allowed to negotiate, and he's not allowed to talk.'"
Adds Sack: "People refer to us as good cop, bad cop. As a tag team, we really have a lot of success."
Salenger is driven to change the lives of his clients. Earlier this month he represented a Nassau County police officer who was injured on the job and had to undergo a back operation. "His kids were 2, 5 and 7, and he said to me, 'Can you imagine not being able to pick up your 2-year-old for the rest of your life?' He walks around like a Frankenstein. We won that case. The verdict was $1.5 million."
He's in court four or five times a week. Sometimes he's even better than his clients want him to be. After a jury delivered a multimillion-dollar verdict to a truck driver whose knee was torn off in a gruesome accident, the client disappeared. "The guy called and said, 'I'm in Colombia.'" He was afraid someone was going to kidnap his family if anyone found out how much money he won. "We hear from him periodically," Salenger adds, "but he was doing it for self-preservation."
Salenger Sack is filled with longtime hires, including nine attorneys who work out of both the Long Island and Manhattan offices. Salenger makes a point to mentor young attorneys and law clerks, such as Joe Gulino, 22, who met senior partner Joe Bavaro while he was a bag boy at a country club. He now interns for the firm.
"It's changed my whole life," says Gulino. "Aside from my parents, Marvin is without a doubt the biggest influence I've ever had in my life. Not even in regards to law. Just in how to be a good person."
Salenger says his biggest win was persuading his wife to marry him. He's grateful for a full docket but also for the simple pleasures in life. "I'm an early riser, so on Saturdays and Sundays I go to Starbucks and read trial notebooks for a couple of hours," he says. "But I go in at 7 a.m., and I'm home usually by 10 a.m. The rest of the weekend I'll play golf with my wife and friends. On Saturday evenings, sometimes we'll go to the theater in the city. On Sundays, we'll go see a movie.
"Tomorrow I start another case—so I'll go home, have dinner with my wife and I'll start reading the file."
He still lingers around the courtroom after trials. "I'll watch another lawyer operate and see if he or she is doing something that I think is good and can emulate," he says. "After 40 years, I still do it."
Search attorney feature articles