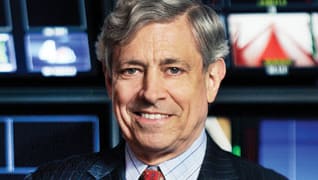 Photo by: Michael Paras
The Internet Frontier
NBCUniversal's Rick Cotton works to combat Internet piracy and protect content
Published in Super Lawyers Business Edition 2012 magazine
By Timothy Harper on August 15, 2012
For much of his long and varied career in law, business and government, Rick Cotton has been behind the scenes. He's typically not the general leading the troops. Instead, he's the top aide who quietly makes sure the general knows when, where and how to lead the troops.
But now Cotton, executive vice president and general counsel at NBCUniversal Inc., has stepped to the forefront of one of the most important legal battles of the 21st century—the battle over ownership of Internet content. The stakes are high not only for artists and corporations, but, Cotton believes, for the future of the U.S. economy as well.
To some techies and torrent users, he's a man whose efforts may limit the free and open spirit of the Internet, and prevent people from sharing the popular bounty—movies, TV shows, music and more—of the digital revolution. Adweek called him "tech's public enemy No. 1" in May 2011.
To others, Cotton is the righteous protector of intellectual property, defending artists from thieves. "Rick Cotton, in addition to being a knowledgeable and distinguished attorney, has been a great champion of the fight against digital piracy and counterfeiting," says U.S. Rep. Lamar Smith, a Texas Republican and a leader in the battle against online piracy. "He has helped our economy by working with businesses and lawmakers to improve and expand access to technology while protecting intellectual property rights."
"Rick is a determined, dedicated leader in the fight to protect American creativity and innovation from the blight of digital theft," adds Jay D. Roth, national executive director of the Directors Guild of America. "He's committed to the issue, incredibly knowledgeable and eloquent about the harm digital theft causes across many industries, and altogether someone we're fortunate to have on our side."
Cotton, now 68, grew up on the South Side of Chicago in a family of liberal Democrats who lived and breathed public issues. "Dinner was always watching the evening news," he says. What network? Cotton laughs. "It must have been NBC," he says. "Huntley-Brinkley."
His father was a labor union lawyer and his mother a PTA activist. In high school, Cotton was moved by President Kennedy's 1961 inaugural "Ask not" speech and knew he wanted a career involving public policy. He considered journalism.
That's the direction he seemed to be heading. He edited his high school student newspaper, then began working on The Harvard Crimson as a freshman sportswriter and ended up its president as a senior. He interviewed many of the leading figures of the day, including Martin Luther King Jr. and Robert F. Kennedy. The Harvard campus roiled amid the civil rights movement of the 1960s, the Cuban missile crisis, the Kennedy assassination, and the drug controversy involving Professor Timothy "Turn on, tune in, drop out" Leary. In 1963, Harvard began granting degrees to women at Radcliffe College, and, before he graduated in 1965, Cotton wrote a parting editorial noting the "final and complete surrender" to co-education amongst other changes for his graduating class.
He applied to law schools but deferred for a year and returned to Chicago to work as a general assignment reporter for Newsweek. He liked the work, but after that year, when it came down to a choice—going to Vietnam as a reporter for Newsweek or going to law school—he chose law school. "Instead of reporting on others, I wanted to be the one doing things," he says.
He defected from Harvard to Yale Law School for its emphasis on public policy and public service. He devoted himself to public interest law and served as executive editor of The Yale Law Journal. "I never thought I'd be a corporate lawyer," he says. He didn't even take classes in corporate law or tax. After graduating cum laude in 1969, he served clerkships with two legendary jurists: Judge J. Skelly Wright of the U.S. Court of Appeals and Supreme Court Justice William Brennan. He then spent several years practicing legal aid and public interest law, first in New Hampshire, then in California, where he worked for the Natural Resources Defense Council, taught law at the University of California at Berkeley and volunteered for Gov. Jerry Brown's 1976 presidential campaign. In 1977, he joined the Carter administration as deputy executive secretary of the Department of Health, Education and Welfare under Joseph Califano. In 1978, he moved up to become Califano's executive secretary.
In that job, Cotton saw what it takes to balance competing interests—of Congress, regulators, media, lobbyists, bureaucrats—and how to influence all of those constituencies to achieve a goal. Faced with risk-averse bureaucrats—including lawyers—Cotton learned to quickly resolve internal disagreements that can paralyze organizations. He found that putting a "short fuse" on projects yielded results, especially in campaigns against smoking and in favor of desegregating higher education. "The worst thing you can do for an organization is not make a decision," he says.
In 1980, Cotton went to the Department of Energy as special counsel and then, after the Reagan victory swept the Democrats out of office, joined Califano in private practice for six years. Itching to get out from behind the scenes and do something himself, in late 1986 he became president and CEO of a Washington D.C.-based management firm, HCX Inc., that concentrated on holding down health care costs. He was interested when he was invited to interview for the job of corporate counsel at NBC, but not certain about moving to New York. He agreed to take a meeting with then-CEO Bob Wright. They hit it off, and Wright convinced Cotton that the job offered the chance to influence public policy and to be involved in an interesting business facing huge challenges driven by new technology. Cotton joined NBC as general counsel in 1989, supervising about three dozen in-house attorneys. Over the next 11 years,  NBC expanded from a single broadcast network to include CNBC, MSNBC and 10 additional TV stations.
In 2000, interested in getting back into news and looking for international experience, Cotton raised his hand to become president and managing director of CNBC Europe. In moving to Europe, Cotton was exporting a product, CNBC's U.S. financial news report, which was a runaway success in America for its coverage of real time market trades and marketing moving news. Before 2000, CNBC's success in Europe was not the same as in America, as its reports focused on features and profiles rather than the markets. It was one of many cultural gaps he encountered. "It opens your eyes to how U.S.-centric most American businesses are," Cotton says of his experience in Europe. "For me, it was a huge education."
During his four years in London, he expanded CNBC Europe and opened up new co-ventures for CNBC in Turkey, Italy and Dubai. He watched from afar as NBC merged with Vivendi Universal Entertainment in 2004 to create NBCUniversal—to become not only a content company and cable network company with two TV networks, but also a movie and theme-park company. Cotton was asked to return as general counsel to help manage the integration of the two companies.
Unlike many corporate lawyers, Cotton believes strongly in keeping work in-house. He reorganized his team into specialties, as the number of lawyers has increased from the 35 to 40 when he first joined NBC, to more than 200 today. He oversees the policy direction of a half-dozen professional lobbyists.
While creating a new in-house culture, Cotton faced significant new external legal challenges. Before 1995, the old NBC had been a delivery company, distributing entertainment created by others. The new NBCUniversal was both content distributor and creator, producing movies and TV programs at a time when demand for content was exploding across the Internet.
At the same time, new technology made it easier than ever to steal content. A new consumer ethos developed: Why pay for anything you can get online for free? Piracy of copyrighted material was once a small, clumsy business. Now, instead of peddling poorly copied CDs and DVDs, the pirates could steal and sell first-run movies and TV shows, with just a few clicks of a mouse
"It was a whole set of new challenges," Cotton says. "The strategic focus of the company at that point really had shifted to being a content company. Rights issues and intellectual property issues had really come to the fore. Very quickly I became very interested in the anti-piracy initiatives and the IP protection issues that are key to any company that is dependent on content production."
Movies, TV shows and other forms of entertainment are protected by copyright, he points out, because it often takes years for the creators to reap the rewards. Movies appear in theaters, then on DVDs, then on television. TV shows appear on networks, then in re-runs, then on DVDs. "The value resides in rights and in the ownership of the content and then ultimately in terms of the fairly long-tail monetization, the driving of revenue through different windows," Cotton says. "That's the nature of the business."
If content is stolen, he warns, the business model fails. Artists who lose their compensation can lose their financial incentive to create more content. He thinks rules are needed, whether set by government or by the Internet infrastructure, to protect creators in general and the U.S. economy in particular. "We don't aspire to be a low-cost manufacturing economy," he says. "The entire 21st century is going to be built on a knowledge economy." He says the government needs to protect the things that America is good at: creativity, innovation and technical invention. "Those are the skills that drive the American economy."
He doesn't criticize Wikipedia or other websites that went blank last January 12 to protest the SOPA (Stop Online Piracy) bill that was before Congress. He acknowledges that the protest derailed SOPA, but it got many more people talking and thinking about Internet piracy. On one hand, consumers said they wanted free content. On the other hand, they were hearing that Internet piracy costs American companies $100 billion a year.
On many points, Cotton agrees with the technology community activists. Yes, there should be easy access to all published content. But he wants what he calls "a few speed bumps" on the superhighway. For example, he cites "Lazy Sunday," the digital short aired on Saturday Night Live in 2005. Copied without NBC's permission onto YouTube, the video was one of the first to go viral. Millions saw "Lazy Sunday" on YouTube, but NBC and its advertisers got no immediate benefit. In contrast, when YouTube had stricter technology in place and it was more difficult for NBC videos to be copied onto YouTube, Tina Fey's 2008 SNL skits about Sarah Palin got even wider viewership online—and 98 percent of those online views were on NBC.com or Hulu.com, which is partly owned by NBC. The benefit of creating the content stayed with the creator, instead of being diluted by YouTube. In response to those who talk about the "free" and "sharing" spirit of the Internet, Cotton points out that YouTube makes money from posting videos it doesn't own—a mere year and a half after "Lazy Sunday" went viral, YouTube was sold to Google for $1.6 billion.
He says YouTube and other media companies will continue to develop filtering systems and put digital "fingerprints" on original content that make it harder to upload infringing content onto YouTube. He believes the public prefers original content, especially if the quality is better. He believes, because of the success of the iTunes model, most consumers are willing to pay reasonable fees.
The Internet is young, Cotton notes, and the world needs to make some decisions: When is it permissible to use or distribute work created by someone else? How should compensation be determined? What are the penalties for breaking the rules? "Over time, does anyone have any doubt that the rule of law will come to the Internet?" Cotton says. "I don't."
Cotton didn't look to become the point man for the creative and business community on the future of Internet content, but it turns out he is well-suited to it. He has an easy manner, crisp yet cordial, that helps him connect with people. As chairman of the U.S. Chamber of Commerce's Coalition Against Counterfeiting and Piracy, he has forged solid links with labor organizations, including the AFL-CIO Unions, which is concerned over piracy-driven job losses in the American entertainment industry.
"Many of the industry's accomplishments are due in great part to Rick's tireless efforts—ranging from testifying before the United States Congress to overseeing negotiations, uniting a broad array of folks who generally don't see eye-to-eye," says Catherine Goode, vice president of Gephardt Government Affairs, the lobbying firm headed by former Democratic House Majority Leader Richard Gephardt. "Rick brings not only a deep technical understanding of the issues to the process, he also has a keen ability to keep everyone at the table, working together."
In stepping to the forefront, Cotton has also become an ally of, and sounding board for, other leading corporate lawyers, including some competitors. "Rick is not only a terrific lawyer, but an extraordinary leader," says Michael Fricklas, executive vice president, secretary and general counsel for Viacom. "Many of us turn to Rick for good advice, first-rate analysis, clear communication and genuinely good judgment."
Cotton has institutionalized pro bono work among his NBC lawyers, who provide legal assistance to a range of clients and causes. Cotton also chairs the Dean's Council at NYU's Robert F. Wagner School of Public Service, a school dedicated to creating a global talent pipeline for public service. "Rick embodies that reality—with deep integrity, intelligence and an appreciation for the nuanced complexity of cross-sector work," says Ellen Schall, dean of the school.
Away from the office, Cotton is an avid tennis player both at his weekend home in Connecticut and near his apartment on "the boring Upper East Side," as it is dubbed by his children Rachel, 30, a lawyer, and Jon, 28, a producer of web-based content for a cable TV network. Cotton recently celebrated his first anniversary with his second wife Elizabeth Weinberg Smith, an assistant commissioner with the New York City Department of Parks and Recreation.
He acknowledges that the criticism from the tech community stings, but says he has a thick skin. Besides, his goal was always to be involved in helping to shape public policy, and there are few issues larger than the future of the Internet. "I like to talk about these issues," he says. "These issues need talking about."
Search attorney feature articles
Helpful links
Other featured articles
Jo Ellen Whitney has been entering dishes in the Iowa State Fair for 20 years—and she has no intention of stopping
Jim Bartimus relies on his memory, work ethic and med school training
Why Natalie Weatherford only takes sex abuse cases
View more articles featuring lawyers
Find top lawyers with confidence
The Super Lawyers patented selection process is peer influenced and research driven, selecting the top 5% of attorneys to the Super Lawyers lists each year. We know lawyers and make it easy to connect with them.
Find a lawyer near you