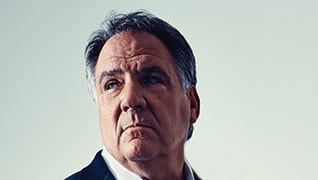 Photo by: Luke Copping
The Kids Are All Right
Personal injury lawyer Jim Scime came out on the other side of trauma and helps his clients do the same
Published in 2018 Upstate New York Super Lawyers magazine
By Matt Chandler on August 13, 2018
As the lunch crowd filters out of Eddie Brady's Tavern, a small Irish pub located a few blocks from the offices of Lipsitz Green Scime Cambria in Buffalo, Jim Scime settles into a seat on the sidewalk patio. His Italian sausage sandwich will have to wait—Scime is as busy as a groom in a reception line as he greets near everyone who passes the table by name. 
A gentleman in a crisp white shirt and tie calls out, "Hey, J.T.S.!" and stops for a quick chat. Soon the bar's namesake appears at the table—he and Scime played football against one another in high school.
Over lunch, Scime reflects on the changes he has seen over a four-decade career in personal injury law, and the biggest challenges he faces as a litigator. 
"These cases require expert witnesses and they can be very expensive," he says. "We have a lot of solo practitioners that send us work. They're difficult for a solo practitioner to fund." 
Beyond the cost, Scime says understanding how to select the perfect expert for trial is crucial. 
"Even the most basic case is going to require some sort of expert witness," he says. "Research, referrals, having seen experts testify in other cases—there's any number of ways we come across the right expert for the right case. They need to be good communicators, as well as having expertise in their particular field." 
The complexity of cases that see trial is increasing—plain and simple, they're hard. But Scime has seen harder.
He was well into his career and doing a solid job of balancing his personal injury practice, a partner-level position at Lipsitz Green Scime Cambria, and the art of being a hands-on dad.
But in 1998, his wife, Linda, was diagnosed with brain cancer and died in 2000. Scime was suddenly a single dad with three kids: Lauren was a freshman in college, Anna a senior in high school and Dan just 10 years old. 
"She died a little less than a year and a half after she was diagnosed so, in a sense, it was a long time coming," Scime says. "The one thing cancer gives you is a chance to get used to what's going on, so we were able to prepare."
Scime says he never considered stepping away from his practice, or even taking a lengthy break following Linda's death. 
"For better or worse, being a lawyer defines you," says Scime, who dug into his work after his wife's death while finding the balance in being a single dad. He drew strength from many people during that difficult time—particularly his clients.
"They inspire me," Scime says. "I've seen people who have gone through things you can't even imagine, and they manage to pick themselves up and go on. How could I do less?" 
Eighteen years after coming out on the other side of his own tragedy, Scime now manages a caseload of them.
"I get to meet and represent really extraordinary people who have been through hell," he says. "I tell my clients, the bad part has already happened, and there is nothing I am going to do, or the court or the jury will do, that can undo what has happened. The good thing is, they have faced the worst. And if you do your job right, and if you are fortunate, you get the chance to make their situation better." 
While he may work in a business in which bravado and ego can be critical weapons, he is, by all accounts, humble and workmanlike. Maybe because he credits his career to nothing more than "dumb luck."
"It wasn't like [growing up] I had some burning desire to be a lawyer," he says.
School came easy for Scime, even amid his daydreaming about the future—a high school and college catcher, Scime was going to make it to the Big Show.
But after he finished his English degree at University at Buffalo and Major League Baseball didn't come knocking on his door, "I started to think about what comes next," he says. He had a brother-in-law who had just graduated from law school, and thought, "Why not?" It was that simple.
What came next came quickly: After graduating from Capital University Law School, and before he was even admitted to practice, he got a gig at the D.A.'s office. 
"If you want to be a litigator, there are so few places you can go and actually try cases at such a young age," he says. "I was 24 years old, and I was lucky enough that there was some movement [in the D.A.'s office], and I got the chance to work at the felony trial level early on." 
His prosecutorial work ran the gamut from traveling to town courts to handle everything from minor issues to robberies and homicides. At one point, Scime was assigned to prosecute a homicide case and found himself opposite prominent defense attorney Paul Cambria. 
"We did battle throughout the preliminary hearings, motion practice and hearings, and ultimately, the case resolved with a manslaughter plea," he says. A few months later Scime's phone rang. It was Cambria. He wanted to know if Scime planned to stay in criminal law. 
"I told him I wanted to stay in trial law," Scime recalls. "He said he had an opening with his partner Carl Green [in the personal injury practice group] and invited me over for an interview."
That was 1980. Nearly four decades later, Scime is still there, as a litigator and member of the firm's management committee. "One of the blessings of doing this for a living is I can keep doing it as long as the brain works," he says. 
Those who have tried a case with or against Scime will tell you the brain is doing just fine. Joe Matteliano has done both. He met Scime in 1977, when both men worked for the Erie County District Attorney's Office, where they shared an office and worked as trial partners.  
"Jim tried cases back then against some of the best defense lawyers in Buffalo," Matteliano says. "He went toe-to-toe against them and did a great job." 
He says Scime doesn't come across as a stereotypical trial attorney.
"He's a quiet guy, sort of slow-talking, and that might make people underestimate him," Matteliano says. "But in the courtroom, his talents are released." 
These days, Matteliano is seeing Scime's trial skills from the other side of the courtroom. He is currently defending a product manufacturer in a case where Scime is representing the plaintiff. It's a complex matter Matteliano believes will go to trial, and if it does, he knows what he's up against. 
"There are people who practice and you know they are cutthroat, and you have to watch everything," he says. "With Jim, what you see is what you get, and if he tells you he is going to do something, he does it. He is very smart, and very stealthy, but he is a man of his word." 
Back in 2000, when Scime had to usher his children through the worst time in their young lives, it was his son Dan he spent most of his time with. 
"The girls were in college then, and living outside of the house. Because of his age, I spent even more time with my son," he says. The two entered the time-honored tradition of father and son bonding over baseball. Despite his bustling practice, he didn't miss a single pitch of his son's games.
"I don't think he ever missed a baseball game," says Dan. "We did a lot of driving to baseball tournaments in Pennsylvania, Ohio, Georgia, and a big part of those car trips was talking baseball, but also talking life." 
It was during those long car rides that the younger Scime first had a sense he wanted to follow in his father's footsteps. 
"There were a lot of conference calls on those trips, and I would sit quietly and listen, only hearing one side of the conversation," Dan says. "After the call was over, I would ask him about what he was doing, and he would tell me about the serious nature of the injuries suffered by the people he was representing, and what he was doing to try to help them. It was pretty inspiring." 
Now a first-year associate in Skadden Arps' Chicago office, Dan regularly checks in with dad about his work, drawing inspiration and encouragement. 
"I think what he does is incredibly important, and it's impressive to see how passionate he still is after 40 years of practicing," says Dan. "He feels a level of responsibility and empathy toward his clients that is uncommon." 
Neither of his sisters went into the law: Lauren is a painter and Anna is a filmmaker.
Scime eventually remarried, and now finds himself in a familiar position—back on the baseball diamond, spending the twilight summer hours coaching a couple of Little Leaguers with "SCIME" on the back of their jerseys. Those boys are his 10- and 12-year-old sons with wife, Courtney, also an attorney.  
It was a dramatic change for Scime, but one he embraced.
"The best part of my life has been having kids," he says. "I cannot imagine my life without them. A lot of what I do and I don't do in life is based upon how I want my kids to see their dad." 
The pressure in leading a team into battle in a multimillion-dollar products liability case can be immense so, for Scime, family is the counterbalance. Theater is another joy—he is a longtime season ticket holder at historic Shea's Performing Arts Center. (He settles on South Pacific as his favorite show.) Or you might find him simply unwinding at home in Snyder, just outside of Buffalo, enjoying a movie or two. 
He's not shy about calling himself a movie buff, with taste that ranges from the classic to the offbeat. A guest to his office might be surprised that Scime—dressed in gray slacks and a crisp blue Oxford shirt with half a dozen ties hanging from the back of his door—quotes the '90s classic Wayne's World with ease. "I'm a good guy to have a beer with," he says. "I like laughing. But I also put my nose to the grindstone for my clients."
Up next for Scime is digging into the product manufacturer case against Matteliano. 
"You're always learning something when you are dealing with these types of cases, and I've been fortunate to have so many interesting and important kinds of cases to work on," he says. "I've learned a lot about so many different subjects, including engineering; I've learned so much about medicine and construction safety." 
He says the adrenaline from the competition and the analysis and strategy that goes into prepping a complex case are the law's siren calls, but the crux of it all for him is simple.
"The benefit of doing OK in my career is you can help your kids chase their dreams," he says. "Whatever they are."
Search attorney feature articles