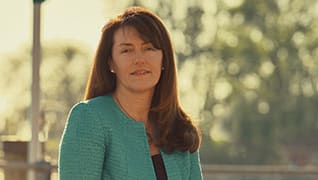 Photo by: Luke Copping
The Sweet, Not The Bitter
Kathleen Sweet reflects on her father, her practice and that nomination to the federal bench
Published in 2020 Upstate New York Super Lawyers magazine
By Matt Chandler on September 2, 2020
It is an unseasonably warm Tuesday afternoon in April as attorney Kathleen Sweet strolls the Buffalo Waterfront. The lake is unusually quiet, the calm waters empty save for a few stray kayakers navigating down the Niagara River toward Lake Erie. The path that winds along the shores of the lake is a popular route for joggers, bikers and walkers; but today, it's nearly empty. 
Sweet, a medical malpractice attorney who represents doctors and hospitals across upstate New York, would typically be in her office across the water at Gibson McAskill & Crosby, buried in client meetings, depositions and trial prep. But in the midst of COVID-19, Sweet's world, like most others', is anything but normal. 
"It's been so disorienting," she says from behind a cloth mask. "For over 25 years, I've been part of an on-site practice. I'm used to collaborating and interacting with people in an interpersonal setting, as opposed to sending emails or scheduling a Zoom conference."
Despite a learning curve, Sweet says she's adjusting to the new normal. Gone (for now) are the in-person, critical connections required when the future of a doctor rests in your palms; they've been replaced with, she says, "an avalanche of emails." For an attorney who has built a career on connecting with people—clients, colleagues or juries—quarantine has forced her to rethink everything. 
"There are those who don't think there is much lost in a remote or virtual deposition, and they can be a suitable substitute for an in-person deposition," she says. "I disagree. In a two-dimension screen-to-screen experience, you lose a lot—both strategically, and in your ability to appreciate nuance in a witness that you may only see in person." 
Such challenges were difficult, but it was nothing compared to what the veteran defense attorney faced a few weeks later. 
On May 10, David Sweet, Kathleen's father and role model, died at the age of 90.
He was an attorney, too, and proud that his daughter followed in his footsteps, though, she adds, "my practice couldn't be more different than his. He was a business and corporate attorney. He and my grandfather invested in downtown office buildings, and he managed those buildings for the last 40 years." 
The law gave father and daughter a lifelong connection. 
"He was exceptional," she says. "He was brilliant. He was loving … he was a gentleman." 
Barely a week removed from his passing, Sweet sits in a park in the center of the city that was so important to him. 
"He loved to talk about my cases," Sweet says, a smile crinkling her eyes. "Ninety-nine times out of 100 he'd say, 'That sounds like one you ought to settle, kiddo.'" 
Raised in Clarence by her lawyer dad and educator mother, Sweet played many sports growing up, but was exceptional at basketball. She quickly developed into a star player at Clarence High School. By her senior year, Sweet had offers to play D-1 ball.
Ultimately, she decided on Boston College. It was, she figured, the best of all worlds: Besides athletics, BC offered strong academics. 
Despite an injury her sophomore year, Sweet finished her career at Boston College as one of the all-time greats in the women's basketball program. Though she downplays her accomplishments, saying "that was a long time ago," she helped lead her team to the 1987 Big East Championship Game, which they lost to Villanova. In 2004, Sweet was inducted into the Boston College Varsity Club Athletic Hall of Fame. 
"I loved Boston, and I never envisioned coming back to Buffalo," Sweet says. 
But circumstances changed. 
After Sweet's third year of law school, she took the bar and accepted a clerkship at the New York State Supreme Court Appellate Division in Rochester. Then she returned to Damon Morey, where she was a summer associate the year prior, "for a couple of reasons: My clerkship experience was more marketable in New York; and my mother had been diagnosed with breast cancer, and I wanted to be close to her."
Like many young attorneys, Sweet's practice was born from opportunity. "The lead trial attorney in the medical malpractice defense group at Damon Morey, Carmen Tarantino, was looking to fill a position," she says. "I really, really enjoyed it, and there was almost immediate courtroom experience." 
She calls Tarantino a "tremendous mentor" and credits him with bringing her along and teaching her the fine art of med-mal defense. 
"He would approach every new case as if the claim was meritless and taught me to put the plaintiff's to their proof, no matter what," she says. Tarantino also drilled home the importance of the smallest details often being critical in med-mal defense work. 
"We turned over every stone and we took nothing for chance," Sweet says. "He taught me that you don't just investigate the plaintiff's side of the case, you have to investigate your own side too, and you don't stop until you've answered every question you can come up with." 
One of Tarantino's best pieces of advice: understand the jury. 
"At trial, no matter how confident we were about our case, you have to have a healthy respect for the fact that juries are uncertain entities to rely on," she says. "No matter how strong you think your case is, you can lose." 
Part of understanding the jury was knowing when to leave, too. 
"After a verdict, I do not hang around to talk to the jury," she says. "You might hear things that are flattering, and then you might try to do that the next time and you've got six different people. I wouldn't want to be disproportionately influenced from a single juror in a single case because there are so many unique situations in every case." 
Sweet followed Tarantino when he opened his own firm; she later joined Gibson, McCaskill & Crosby, where she remains today.
Few people know Sweet as well as veteran med-mal attorney Michael Roach. A partner at Connors in Buffalo, Roach goes back a quarter century with Sweet, and figures the two have worked hundreds of cases together as co-counsel. 
"Kathleen has a tremendous work ethic and intellectual capacity," he says. "Her knowledge of medicine instills great confidence in the physicians she works with. They know she is going to be able to present their case in the most effective manner possible, and in a way that lay jurors can understand."
Laraine Kelley, a plaintiff's attorney at Buffalo-based Lipsitz Green Scime Cambria, has squared off so many times against Sweet she calls her "a constant in my work life." But Kelley has a great appreciation for her colleagues' passion and courtroom chops.
"As an adversary, I think of Kathleen as a person of integrity, a person who works very hard on behalf of the doctors she represents," Kelley says. "I think her clients have always known that, because I have talked to doctors about that. They know she is a person who has their best interests at heart." 
To borrow a phrase from the political arena, Sweet has managed to build a bipartisan career, earning the respect of both friends and foes. As with many things in her life, she credits her parents. 
"They taught me to take the work you are doing very seriously, but not take yourself too seriously," she says. "I don't see myself as all that smart, but I do believe I work as hard or harder than a lot of people, and I think that has created a lot of opportunities."
One such opportunity came in spring 2016, when then-President Barack Obama nominated her to serve on the U.S. District Court to fill the vacancy left by retiring Judge William Skretny. 
A committee working on behalf of New York senior Sen. Chuck Schumer interviewed potential candidates, including Sweet, in summer 2014. She made the short list, and the next summer, she sat for an interview with Sen. Schumer. Through she calls the process "an honor," Sweet knew from the beginning that, given the political tides, her nomination was complicated. 
"I was thrilled to be considered, and I looked forward to it if it came to pass," she says.  
Sweet had a groundswell of support in the legal community for her nomination—beginning with former New York Congressman John LaFalce, who was the first to approach Sweet about a potential nomination. If secured, she would have been Buffalo's first woman federal judge.
Nearly two years later, after an exhaustive round of background checks and paperwork, Sweet flew to Washington, D.C., for a hearing with the Senate Judiciary Committee. 
"It was very professional, a very civic-minded process," she says of her meeting on Capitol Hill. "There was no acrimony whatsoever." 
Following the one-day hearing, the committee voted unanimously to approve her nomination to the bench. 
"With every step that was cleared, it was even more exciting," she says. "I would indulge myself with thinking about being a judge, but even then, I was tethered to reality and there was a chance it wouldn't happen."
Sweet says her biggest challenge was balancing the pressure and demands of the nomination process with her caseload at the firm. She credits her colleagues with making the process manageable. 
"I'm sure it was a burden on my fellow attorneys at the firm and the staff, because there were many times when there was always another form to complete, another person to talk to," she says. "They were all so supportive of the process. Two of my partners even traveled to Washington to be at the hearing."  
With the election of President Trump in 2016, Sweet's nomination sat in limbo. "Elections have consequences, so I wasn't naïve to the fact that a Republican president could very well decide not to renominate me, so that wasn't a shock," she says. 
In 2018, the White House nominated a Republican-backed attorney to replace Sweet. 
As she sits in Niagara Square discussing the federal appointment that eluded her, the Robert H. Jackson United States Federal Courthouse stands over her shoulder, casting a shadow in the midafternoon sun. It is where she would have likely spent the remainder of her legal career, had things skewed different. It's the perfect setting to reflect on the emotions that come with getting so close, yet ultimately being denied one of the rarest appointments an attorney can receive. 
"It was very disappointing," Sweet says. "But this is something I learned from my mom: You can only indulge a pity party for so long when you live a very fortunate life full of opportunity." 
Still, she wonders what kind of judge she might have been.
"I thought of it in the context of judges I have appeared before who I admire and trust rather than trying to plan some unique judicial philosophy," she says. "I just hoped to replicate some of those judges." 
In Western New York, the loss of Sweet's nomination was perceived as a death blow to the movement to have a woman on the federal bench. Though Sweet was aware of that push, it wasn't part of her agenda to serve. 
"I think diverse representation in all areas of public service is important. That being said, I think competence and qualifications are more important than appointing someone based on their gender or ethnic background," she says. "I'd like to think that if I wasn't qualified, it wouldn't have mattered that I was a woman." 
Sweet says the process was both humbling and satisfying. "Just as important as [President Obama's] nomination was the Judiciary Committee's unanimous vote to put me forward for a vote of the full senate," she says. "In those highly divisive political times, my nomination was considered worthy."
---
Every Possession Counts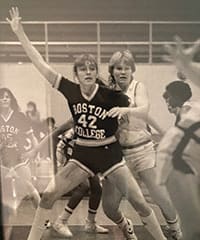 "It may sound pessimistic but it's really not—the thing sports, basketball games and even every possession of a game taught me is resilience to adversity. Failure is inevitable, so you can't get too high or too low when you're in a contest. That carries over every day to litigation and trial practice: Sometimes your opponent is just better than you; sometimes the facts or circumstances are stacked against you. Other times the referee makes meaningful mistakes, or you or one of your teammates screw up. You have to just keep going."
Photo: Sweet (No. 42) in the 1987 Big East Championship Game against Villanova.
Search attorney feature articles