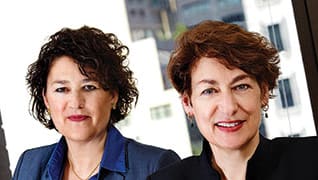 Photo by: Luigi Ciuffetelli
The Winning Ticket
Fran and Susan Hoffinger stick together in all kinds of weather
Published in 2018 New York Metro Super Lawyers magazine
By Ray Phillips on September 13, 2018
"We always got along," Fran Hoffinger says about her sister Susan. "I don't think we ever argued." 
Now they argue all the time—just not with each other.
The pair run The Hoffinger Firm, which focuses on criminal defense.
"The success of a small law firm like the Hoffingers' relies on collegiality," says tax controversy attorney Ellis Reemer, who has assisted both Fran and Susan in tax-related cases. "Having family members who are there for one another is especially important." 
"We each bring something different to the firm," adds Fran. "I started out in the criminal defense division at Legal Aid, defending indigent clients. Susan had a formative experience in the Manhattan DA's office."
As a former prosecutor who worked in the DA's asset forfeiture unit, trial division and, later, the frauds bureau, Susan says, "I [now] start every case by asking, 'What is the prosecutor thinking? How will he or she marshal the facts to try to prove the defendant guilty?' My objective is to reveal and drive home the weaknesses in the government's case, to establish reasonable doubt—to put the government's case on trial. One cannot overprepare. Knowing the facts and the law better than anyone else in the courtroom is the goal."
"You could not have worked in the DA's office without coming away with enormous and diverse experience," says Michael Miller, managing partner of Steptoe & Johnson's New York office. "Susan got that. Now that she's in private practice, she handles complex legal matters as well as anyone I know. She really gets the business underpinnings of a lot of financial white-collar cases." 
Legal Aid, says Fran, created a different kind of pressure. There were limited resources, and sometimes limited time to consult with the accused, which meant, she says, "some fly-by-the-seat-of-your-pants arraignments and court appearances," but she cherished the opportunity. "A big part of the learning process was watching and listening to other attorneys, which I did whenever I had the chance," she says. "One thing I learned was you have to put your own personality into the process—find your own voice—if you want to be credible and confident. That's your winning ticket." 
She found it. "She's an unrelenting advocate who is deliberate, plotting and smart," says real estate attorney Lucas A. Ferrara. "Fran is no pie-in-the-sky, 'let's talk theory' litigator. She's all about getting down to brass tacks. And brass knuckles, too, if you aren't careful." 
Sisterly détente may have prevailed in the Hoffinger home thanks in part to their late mother, Bunny, an artist, and their father, Jack, an attorney, both of whom stressed the importance of family, as well as college and a fulfilling career. 
Fran, who attended Cornell and Fordham Law, fixed on the law early as a result of overhearing her father practice his summations—"that, and I think I had an early sense of justice and doing right," she says. Four years younger, Susan was a standout on the Amherst women's tennis squad. "She was the athlete in the family, and very, very good," Fran says. 
Her will to win wound up carrying over to a different kind of court. "Being a trial attorney is all about competing in the courtroom to achieve justice," Susan says. "As a criminal defense attorney, one competes to protect the accused's fundamental rights, challenging the government to prove it has a convincing case."
The Hoffingers were part of the first big wave of women attorneys. Fran, who graduated from Fordham Law in 1984, recalls that at the time there were few women on the New York bench, few people of color and few if any openly LGBT individuals. 
"Now there are more and more women in criminal law, three women from New York City on the U.S. Supreme Court, and a far greater perception of balance in the judiciary," she says. "For people coming to court, it is important they see that the bench is representative of the city of New York. The bench looks like New York. I think it's helpful in making justice more relatable."
"Boys' club" behavior was somewhat common when she began, but she is hopeful that culture will continue to decline. Such things are today more readily deemed inappropriate, and "there are many more resources available if one wants to complain," Fran says. "Misogyny is not gone, but we've come a long way, and as time goes on, I believe that there will be continued improvement with regard to women in the legal sphere."
Connections Fran made with other female lawyers early in her career proved enduring. 
"Fran and I met when she was a public defender and I was an assistant DA in Manhattan," recalls Donna Henken of Legal Aid. "Our friendship was unlikely, but that we were two young women working in what was, at the time, a male-oriented field, led us to find that we had a great deal in common. We talked about work, criminal justice issues, relationships and eventually parenthood. I loved Fran's practical, no-nonsense approach to everything. I now represent adolescent clients in an intervention and diversion program at Legal Aid. When Fran represents a young person or has a case in family court, she often calls to be sure she understands the relevant case law and the culture of the agencies proceeding against her client."
Susan, a 1989 Columbia Law School grad, is aware of "the advantage I had of coming along when there were so many talented women before me." She also credits the eminent New York County DA Robert M. Morgenthau, for whom she worked eight years as an assistant district attorney, with promoting women staffers and attorneys in his office.
The Hoffingers' work with white-collar defendants—people often involved in the criminal justice system for the first time—poses singular challenges for defense counsel. 
"What clients are experiencing represents a sharp and precipitous fall," Susan explains. "Being charged with a crime often means public shame, the loss of prestige, an end to their work and their income, potential abandonment by friends and family, and of course the very real risk of losing their liberty." 
"Defendants can feel rudderless and frightened," Fran adds. "They need someone to steer them through, to hold their hand, as it were, in the hope of avoiding a criminal record and/or jail. But there's no denying the pain and personal devastation, because even if they are ultimately acquitted, their life and career have often been irreparably harmed."
In cases of domestic violence and elder abuse, Fran has represented victims as well as the accused. She notes that victims are often embarrassed and reluctant to come forward. At the same time, she adds, "there are also cases where one party raises false allegations of domestic violence to gain an advantage in the matrimonial litigation"—which Fran also handles on occasion. "The challenge is to determine what is real and what is not."
Susan, who has been involved in Title IX campus sexual-assault cases, believes colleges are ill-equipped to deal with the determination of facts and culpability. In 2011, the Obama administration mandated that all 7,000 U.S. colleges receiving federal aid investigate accusations of sexual assault using a lower standard of proof—a "preponderance of evidence" rather than "beyond a reasonable doubt." While the Trump DOJ rescinded that order, most schools have elected to continue it. This concerns Susan. "These cases are more appropriately investigated by experienced criminal prosecutors, not college administrators," Susan says. "Both the accuser and the accused in the college process suffer, with issues of blame and culpability being adjudicated by a patchwork process that denies the accused meaningful due process and rarely brings real justice or resolution for the accuser." 
Both have had high-profile cases. Susan won acquittal for Mitchel Alvo, director of asbestos abatement for the John Galt Corporation, in felony charges related to a 2007 fire at the Deutsche Bank at ground zero. In another prominent case, the sisters joined forces in defense of Vilma Bautista, onetime personal secretary to Imelda Marcos, the wife of former Philippines president Ferdinand Marcos. Bautista was accused of conspiracy in connection with four French Impressionist masterpieces, including two Monets, purchased by Imelda Marcos, some of which had hung in the Upper East Side townhouse where Imelda and Ferdinand frequently resided and entertained in the 1980s. In 1985, when he was driven from power, the Philippine government claimed the contents of the apartment, but the art vanished. In 2010, according to the indictment, Bautista, with the help of two of her nephews, sold "Le Bassin aux Nymphéas," a Monet water lily work from 1899, for $43 million. 
"We had a document with Imelda Marcos' signature on it authorizing the artwork to be sold by Vilma Bautista," Fran says. They point out that the criminal case against Bautista improperly relied on a Philippines decision in a civil trial against the Marcoses, in addition to the improper admission of other evidence, mostly pertaining to the Marcoses and not their client. 
In 2013, the Appellate Division reversed the conspiracy conviction, agreeing that the prosecution's use of the Philippine civil case against Bautista was improper. In December 2017, Bautista began serving a prison sentence on the remaining tax charges. 
Both Hoffingers are involved in women's legal organizations. Fran has served as co-chair of the Criminal Law Committee of the New York Women's Bar Association since 2013 and its Judiciary Committee since 2016; she was recently appointed to the Board of Directors. She has been involved in bringing attention to human trafficking, discrimination in the courts, domestic violence, issues facing women in prison, the closing of the city prison at Rikers Island, and efforts to pass the Equal Rights Amendment. Susan is a member of the Association of the Bar of the City of New York Criminal Advocacy Committee, which she recently chaired, as well as the Women in the Legal Profession White-Collar Crime subcommittee.
For the Hoffingers, the law is a family affair, and not just because father Jack is known for many important cases—including the acquittal of sculptor Carl Andre in a 1985 murder trial—and who continues to practice at The Hoffinger Firm. Older brother Adam is co-chair of the white-collar defense and government investigations group at Schulte Roth & Zabel in Washington, D.C. Fran's husband, Harvey Fishbein, is also a prominent criminal defense attorney. 
Fran and Susan are adamant that practicing law is a privilege. 
"It's encouraging to see young people passionate about the legal profession," Susan says. "Especially today, we see how important it is for lawyers to stand up for the Constitution, civil rights and the rule of law. I'm proud of lawyers like Sally Yates, Judge Ann Donnelly, Lee Gelernt and Barbara Underwood, to name a few. They remind us how critical great lawyers are to our country."
Search attorney feature articles