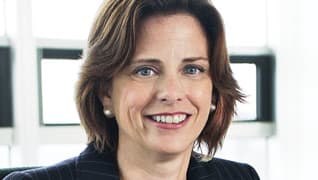 Photo by: Michael Paras
Torch, Passed
Susan Brune represents a new generation of trial lawyers
Published in 2012 New York — Metro Super Lawyers magazine
By Timothy Harper on September 20, 2012
On a business trip to London last year,
Susan Brune decided to see what trial law was like in the birthplace of common law. She wandered into the courts, found a trial in progress, took a seat.
In Britain, many cases, both civil and criminal, are prepared by solicitors, lawyers who represent clients directly but do not handle trials. For trials, the solicitor engages a barrister who goes to court with little direct client contact. In the trial she watched, it was obvious to Brune that the barrister didn't know as much about either the witness or the facts of the case as she expected. Both the U.S. and U.K. systems are based on English common law, but American trial law is so different.
Brune, a founding partner in the boutique Manhattan white-collar defense firm Brune & Richard, is part of the next generation of leading American trial lawyers. She's known for her involvement in just about every aspect of every case and for her close relationships with her clients. She defies the old stereotype of the big-city trial lawyer, the revered courtroom lion, born and bred to the law, cosseted by a giant law firm, and larger than life before a jury. She's just as likely to win a case by reading a million emails as by delivering an impassioned summation. She's an unassuming entrepreneur, a mother who balances work and home. Her path to the law was not direct.
"I was not one of those kids who grew up thinking I was going to be a lawyer," she says.
When Brune graduated from high school in Birmingham, Mich., in 1979, she was voted "class nonconformist," most likely for her look: mismatched thrift-store clothes and bracelets up her arms. It was the Madonna look before Madonna. When Brune moved to New York years later, Madonna was just beginning to hit, and that look was everywhere. "I stopped abruptly," she recalls, laughing.
She and her brother Matthew, now a commissioner with the New York City HIV/AIDS Services Administration, both went to the University of Michigan. She flirted with engineering but majored in history. She accepted a fellowship at Columbia University but soon learned she was not cut out to be a history professor. "It was not for me to write about things that had already happened," she says. "I wanted to be part of the flow of life, and not just looking back."
She considered journalism, decided to try law first and took a job as a paralegal at the prominent Manhattan firm Wachtell, Lipton, Rosen & Katz to see what she'd like. She liked it all.
By the time she entered Harvard Law in 1985 she was already impatient with being a student. "I knew what I wanted to do was be an actual on-my-feet lawyer," she recalls. She threw herself into clinical programs for tenants and indigent criminal defendants. Her summer jobs were with Davis, Markel & Edwards and Kramer Levin Naftalis & Frankel. Both firms showed her how to be a lawyer and run a law business. Her third year at Harvard, she worked two days a week at Davis Markel, often waking up at seven o'clock in Cambridge, jumping on a shuttle flight and getting to her desk in Manhattan by 9:30 a.m. She was drawn to criminal law because that was the fastest route to the courtroom.
After graduating in 1988, Brune clerked for two years for Whitman Knapp, the venerated federal court judge. "He was the perfect judge for me," she says. Knapp had her sit in on trials, and during recesses he analyzed lawyers' performances and strategies with her.
While clerking, she met her future husband, Carl "Chip" Loewenson, then an assistant U.S. attorney, and Judge Knapp presided at their wedding in 1991. By then, Loewenson had moved on to the Manhattan firm Morrison & Foerster, where he now heads the white-collar defense practice, and Brune had joined the U.S. attorney's office. She wanted to go to court, she liked criminal law and she was interested in public service.
"I believed in the operation of the jury system," she says. "So if there was a not-guilty verdict, that meant it was all part of the system." She lost only two cases in her seven years as a prosecutor.
One day, however, catching up over lunch, Brune and Harvard classmate Hillary Richard, a partner at a small Manhattan firm, reminisced over how they had once joked about starting their own firm. They looked at each other. One said, "Why not?" The other said, "Let's do it."
They found space at 26 Broadway with two offices, one with a better view than the other. Brune didn't care about the offices, so Richard took that one. Richard didn't care whose name came first, so the firm became Brune & Richard.
At first it was just the two of them, staying up all night, spreading files out on the carpet. Litigation poured in, they hired more lawyers, and the firm moved in 2004 to 80 Broad Street and then in 2010 to the entire 34th floor—25,000 square feet—at One Battery Park Plaza. All 20 of the firm's lawyers, including seven other partners, enjoy spectacular views of New York Harbor.
That view serves as a backdrop when prospective clients come to see Brune. Many come from the financial services industry, such as investment managers and advisers, who are accused of fraud. "I like speaking up for people," she says. "I like being an advocate."
But she doesn't represent everyone who comes in and admires her view. She needs to get to know her clients and size them up. She wants to make a connection and build a relationship. "It's important to have an actual, genuine liking for the person," she says. "That comes across, whether negotiating with a prosecutor or arguing in front of a jury."
Clients, in distress, often think they need to make major decisions quickly. Brune likes to slow things down, to gather more information. That's what bothered her about that trial in London. It was clear that the barrister had no relationship with the client and only a basic understanding of the case.
For a new client, her first job is usually to persuade prosecutors not to file charges. "The best victories are the ones I can't talk about," she says. "That's 80 percent of what I do." Some defense lawyers avoid meetings with prosecutors to discuss clients under investigation; they don't want to give prosecutors more ammunition. Brune seeks out those meetings. She makes PowerPoint presentations of arguments and evidence she would bring to trial—anything to persuade prosecutors not to file charges.
"She is very careful and thorough, which might not sound very exciting; but if you aren't careful and thorough, you are not going to be in the top category of defense lawyers, which she is," says David Spears, a Manhattan defense attorney who has been both co-counsel and opposing counsel to Brune. "She is great on her feet in court, she has great judgment and instincts, and she is utterly tireless."
One of the clients who came into her office was Matthew Tannin, a Bear Stearns investment manager who, along with Ralph Cioffi, was charged with fraud and conspiracy after their hedge funds, once valued at $1.6 billion, collapsed in 2007 amid the subprime mortgage meltdown. They were accused of making misstatements about the prospects of funds when they knew the funds were collapsing.
Brune made a solid connection with Tannin right away. She did not think he had committed fraud. And it seemed like he had the strength of character to go to trial. She asked how he saw the case ending; he said he saw himself walking away from the courthouse a free man, holding hands with his wife.
Brune threw herself into the 12 million pages of discovery, many of them emails. She met several times with prosecutors, previewing her case, but charges were filed anyway. For more than a year, in preparing for the October 2009 trial in Brooklyn, Brune and her defense team went through the emails with Tannin so he could explain what he was thinking, moment by moment: why he and Cioffi said what they said, and did what they did.
When the trial began, Brune settled into her routine when trying a case. After each day's court session, instead of unwinding and debriefing with other defense lawyers—"inefficient," she says—she went home to her husband and kids: Henry, now 15, and twins George and Irene, 12. They had dinner and she went to bed early. She rose before 4 a.m., quietly prepared for the day in court, ate eggs—"Gotta have scrambled eggs," she says—and then meditated for 20 minutes. The morning mix of preparation, protein and peace gets her through arduous trials.
Throughout the month-long Tannin trial, prosecutors relied heavily on emails that might indicate fraud: money managers lying to clients. Brune responded by showing additional emails and other evidence giving a fuller, more nuanced picture. She made telling points by showing how hard the fund managers had worked—sometimes late in the night—to save their funds. The question loomed: Would these two guys have done that if they knew their funds were collapsing? After an extensive search, Brune hired R. Glenn Hubbard, dean of Columbia University Business School, as an expert witness—reportedly for a six-figure fee—to give jurors a broader context of the financial turmoil in 2007.
Brune's three-hour summation was notable for several reasons. One was her comprehensive review, relying on the same points—often in the same language—that the jury had been hearing since opening arguments. In closing, news reports said her voice went soft and quivered as she begged the jury: "Send Matt home to his family."
The jury deliberated a mere six hours—typically a bad sign for the defendant. But Brune says, "I was hopeful."
The jury found the defendants not guilty on all counts.
Other attorneys are taking note of Brune's effectiveness as a trial lawyer "not out of central casting," says Barry Berke, a Kramer Levin partner who represented Bear Stearns at the Tannin trial. He says Brune "captured the weaknesses" of the prosecution case, and her summation "moved the needle" to lock in acquittal.
"She has a real human touch," he says, "and I think jurors react to that. Her style of trying to connect and paint a picture for her clients is something that jurors relate to. She does an excellent job of humanizing her client and giving the jurors the other side of the picture."
Berke cites another difference between Brune and the trial-lawyer stereotype: "She's someone who comes to this not with a huge ego. It's never about her. She always has her client come to the surface."
Adds Richard, her law partner: "One of Susan Brune's defining characteristics is that ever since law school she's known what she wanted to do, what kind of lawyer she wanted to be. And that's what she has become."
Search attorney feature articles