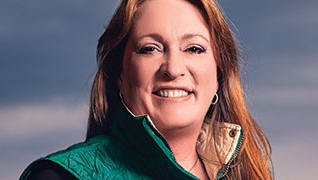 Photo by: Luke Copping
Waverly Pond
Farmer/attorney Ginger Schröder could give Henry David Thoreau a run for his (metaphoric) money
Published in 2015 Upstate New York Super Lawyers magazine
By Matt Chandler on August 14, 2015
"I don't go anywhere on this property without my own firepower," says Ginger Schröder. She reaches into the front pocket of her green nylon vest and pulls out a small, silver handgun, a Sig Sauer P238 Tribal. "If I see him, he's done."
The "he" in question is a cunning fox that has helped himself to the pick of her ducks and chickens. And the property is Waverly Pond, a picturesque paradise that began as a retirement plan Schröder set in motion several years ago.
To get there, Schröder zips her yellow BMW through the winding roads of Farmersville (Pop. 1,090), a rural farm community tucked away in Western New York's Cattaraugus County. It's 30 miles to the nearest hospital and feels about a million miles from Buffalo. Horse-drawn Amish buggies outnumber cars.
At 51, Schröder, a labor and employment attorney and founding partner at Schröder, Joseph & Associates, has built a thriving law practice, but she admits she no longer wants to be the workaholic she was in her 20s. Or, she wants to be a different kind of workaholic.
Initially, she was simply looking for a place to escape the city with her two Chesapeake Bay Retrievers, Bernie and Humphrey, when she found an 1,800-sq. ft. Amish-built cabin on three acres of farmland. She bought the property in 2009. Then, Schröder fell in love and married her husband, Mark Heberling, in 2013, and Waverly Pond went from a weekend getaway to a full-time obsession.
"The city was hard on my soul," Schröder says as she walks along the gravel road toward the horse barn where she keeps six rescue horses.
Inside the barn, Schröder checks on Dolley Madison, a 22-year-old Belgian rescue who has a case of thrush. Schröder's sister, Dotty, who retired to the farm from a nursing career downstate, passes by with two baskets brimming with chicken eggs, ready to be washed and taken to the farmer's market.
Though both women grew up around animals—their dad owned as many as 500 chickens on their childhood farm—neither had any real cultivation experience until Schröder bought Waverly Pond.
"I remember as a kid thinking, 'I can't wait to get out of here and go to the city,'" Schröder says. "But you get to a certain point in your life where [this kind of life] makes sense again."
She makes the trek into Buffalo several days a week, but it is here at Waverly that she feels most at home, surrounded by her animals, which number in the hundreds and include chickens, ducks, horses, dogs, guinea fowl and a charming three-legged cat named Orange Julius.
It's a far cry from the start of her career. Fresh out of law school at the State University of New York at Buffalo, Schröder landed a job at Dewey Ballantine, a white-shoe firm in New York City.
"I was doing tax litigation and I was working 2,700 hours a year," she says. "[It was] very soul-sucking."
Schröder turned down a position in Buffalo with Jaeckle Fleischmann & Mugel in favor of the Manhattan sparkle, but soon, she began to second-guess her decision.
"Dewey Ballantine would pay for a $50-$60 lunch to be delivered, as long as I didn't leave my desk," she recalls, adding that it was all part of keeping attorneys billing. It was a world a young Schröder knew she didn't want to be part of long term.
"About six months into my life in New York City, I thought to myself, 'I wonder if [Jaeckle Fleischmann] are still looking.'"
Soon after, the Manhattan skyline was in the rearview mirror.
It's a Thursday afternoon and Schröder is seated behind her mammoth desk on the second floor of a restored mansion that sits in the shadows of the burgeoning medical campus in downtown Buffalo.
The firm she founded with partner Linda Joseph 15 years ago is going strong. Schröder's fingerprints are all over the place, from Orion, the office cat who suns himself on the conference table, to the family-friendly flex scheduling her staff enjoys. Schröder left Jaeckle in the mid- 1990s to join Buchanan Ingersoll, then got the itch to strike out on her own.
"My partner, Linda, and I had started [Buchanan's] Buffalo office in 1995, and we ran it for five years," she says.  "But the economics of trying to run a Buffalo office for an Am Law 100 law firm that wanted to impose a significant cost structure on us, that we would have to pass on to our clients, ultimately led us to start our own firm."
"We do things differently here," Schröder says. "We didn't want to be bound to the traditional ways that a law firm worked." Schröder points to what she calls "inefficiencies" in the big law firms.
"Sometimes it's expected that you show up on Saturday mornings, even if you have nothing to do, because they expect 'face time.' That doesn't make sense," she says.  "It isn't good for your work-life balance."
Likewise, she encourages her staff to ditch the stuffy suits in favor of jeans, and, if the mood strikes you, to bring your dog to work.
Clients run the gamut from small mom-and-pop stores to four of the top 10 Fortune 500 companies—one of which employs more than a million people.
After 25 years of practice, Schröder says her work approach has evolved. For one, she can be more selective.
"I'm not going to do the work anymore that I don't like doing, and I'm not going to deal with high-maintenance clients who aren't appreciative of the work I do for them," she says, "because at the end of the day, there is something I'd actually like to be doing." 
"I think the diversity she brings to our firm makes for incredible client relationships," her partner, Joseph, says. "I don't know if everyone could handle all of the things she does, the way she does, but it works. She engenders tremendous client loyalty."
Schröder's first client, Jill Bond, is still a client. Bond, senior vice president, general counsel at global food giant Rich Products Corporation, often uses the firm to handle management-side labor issues. She says Schröder has "such a depth of knowledge. …  [She's] a great person to bounce things off of."
Bond adds that Schröder's transition to the country hasn't diminished her accessibility or effectiveness.
"It's funny, I knew her when she lived in the city and boasted about a six-minute commute," Bond says. "She is more balanced and happy now than she has ever been."
Finding that balance is key. In between cleaning the horse stalls, feeding the guinea fowl and awaiting the arrival of nearly three dozen ducklings, Schröder keeps an eye on her email, alternating between her kitchen table and the finished loft above her horse barn.
"It's hard work here, it can be very physical, but it's also very rewarding," she says.
"We're both country souls," husband Mark says. "She saw a vision, and together, we both work for the same goal."
Reaching those goals can be a 24-hour mission. With her chores done and all quiet on the legal front, Schröder readies to travel the 15 miles to the nearest grocery store. While she produces much of her own food, including carrots, potatoes, eggs and chickens, she isn't totally self-sustaining. Then it's back to the farm where she will be entertaining her neighbors for dinner.
Before bed, Schröder checks to make sure her pager is on as she begins her 10 p.m. to 4 a.m. on-call shift as an EMT with the Franklinville Fire Department.
"When I was still living in the city and commuting out here, I began to realize how remote this area is and how far away help is," she says.
She responds to as many as 70 calls per year, assisting with car accidents, people injured on their farms and residents with a variety of medical emergencies.
Whether tending to the law or land, one aspect is the same: Schröder is in the minority. 
Female farmers are few, a truth accentuated by the farms surrounding her property. But Schröder says she feels accepted by her fellow farmers.
"We know them very well," she says of the Amish farm families. "The men of the families come by probably four times a week. And every time they come, you invite them in, they sit at your table, have coffee, have food, and then you talk business."
Business topics include operating a co-op milk house used by three families. Because of the Amish ban on electricity, Schröder leases a small plot of land where she owns the electric-powered machinery that allows the Amish to process their milk and keep it cold.
At the firm, which is a certified Women's Business Enterprise, Schröder again finds herself the exception to the rule. Despite numbers showing that law schools have been graduating close to equal numbers of men and women for the last decade or more, in Buffalo, says Schröder, that hasn't yet translated.
"You ask yourself why there are so few women in leadership roles, and you have to wonder: is it an issue where forces are working against women to not permit them to rise to those levels? Or is there a certain amount of self-selection going on?" Schröder says. "I think it is actually a combination of both."
With Waverly Pond growing and becoming a profitable business, and her law practice at a point where she can be selective, the future is malleable.
"I think I'm going to try to take seven or eight more years and then transition my practice to be out here more full time," she says.
Sitting on the porch of her rustic cabin under the shade of the honey locust trees while a gentle breeze flutters the wind chimes adorning the beams, it's easy to imagine that timeline getting sped up.
Search attorney feature articles