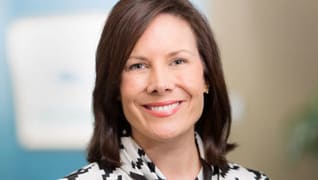 Photo by: Jeff Cravotta
A Voice Against Domestic Violence
Ashley Huffstetler Campbell strives to protect victims of abuse
Published in 2013 North Carolina Super Lawyers magazine
By Lauren Peck on January 18, 2013
In 2009, Ashley Huffstetler Campbell met a pro bono client who was a highly educated professional at a profitable, well-known corporation. She was accompanied by her two young children. The client was unlike her previous Legal Aid clients, but domestic violence doesn't discriminate.
"Battered women's syndrome is a real thing, and she was the most afflicted of anyone I ever saw," Campbell says.
In the latest event, the father of the client's children had attacked her and strangled their young son. The police got involved, alerted Social Services, and Social Services was now threatening to take the children away from their mother if she didn't get a protective order against the man.
That's not always an easy choice for victims. Even with Campbell's legal support, her client struggled with the decision to get a protective order.
 "She had been severely emotionally and physically abused for a long time," Campbell says, "and was emotionally unable to separate herself from her abuser. … It is very, very difficult for many people to understand—i.e., how could a woman not leave a man who was abusing her son—but it is a real issue for some women who have never known a loving and safe relationship."
Despite adoring her children, Campbell says, the client ended up dismissing the case and losing her children to Child Protective Services. "As their lawyer, you just talk about the pros and cons, but they ultimately make the call," Campbell says. "It was definitely hard … because I just thought her children were so precious, and I just realized that she wasn't able to protect them."
A year and a half later, after another incident, the woman obtained a protective order and got her children back. 
For seven years, Campbell has taken on these types of cases through the Project Together program at Raleigh's Legal Aid office, which pairs attorneys with clients seeking protective orders. She represents clients—mostly women—as they go through the tough process of testifying before a judge to secure permanent protection from an abuser. She typically litigates five cases a year, in addition to her daily complex business litigation work as a partner at Raleigh's Ragsdale Liggett. In 2008, she won Business Leader Media's Pro Bono Impact Award for her work with Project Together.
Campbell attended law school at the University of North Carolina intending to go into politics, spending summers working for then-Sen. John Edwards in Washington, D.C., and for a respected North Carolina lobbyist. However, when an attorney position opened up doing domestic violence and landlord-tenant work at the Legal Aid office in her hometown of Gastonia after she graduated in 2003, she jumped at the chance to make an impact in her community. Her interest was sparked, in part, by knowledge of domestic violence in a close family member's life.
"She was from a very small town; she was not college-educated; she had no support system," Campbell says. However, after getting a protective order against her spouse, the family member was able to overcome her situation, working hard as a single parent without child support to raise her children and send them to college. "I saw how she was really able to overcome what she had been through, so I have a real heart for people who are in that situation," says Campbell.
At Legal Aid, she was thrown into cases right away. "I did at least five domestic violence orders a week and sometimes more," Campbell says. "It was just an absolutely terrific learning experience."
Campbell quickly realized she loved litigation, and after a year and a half at Legal Aid, a stint as tax counsel for the House Finance Committee at the North Carolina General Assembly, and joining Ragsdale Liggett in 2005, her passion hasn't dimmed. "Once you've done [litigation] for a long time, you understand what the rules are, but the subject matter is almost always different," she says. "You're always learning something new, whether it's accounting rules or rules that govern how lawyers are supposed to practice."
Her firm frequently does work for Fidelity National Title Insurance Company, and in a recent successful jury trial, Campbell helped a family keep their home after a closing attorney did not pay off a lien on the house. She also helps businesses, or insurance companies who insure businesses, work out disputes in cases that can often take a year or more to resolve. She relishes the complexity of such cases. Her firm recently represented an insurance company that sued an accounting firm for malpractice, which culminated in a four-week jury trial, a case that the team worked on for seven years. It involved millions of documents and about 75 depositions.
"You really have to do a lot of case assessment and get really well-organized to make sure you understand all the issues," Campbell says. "I think that's fun."
Campbell's current caseload also includes helping a landlord develop contracts for his business and representing individuals, such as dentists and nurse practitioners, before North Carolina's licensing boards.
On the similarities of pro bono work and her day job, Campbell says, "It's the same in terms of pulling your evidence together … examining your witnesses, cross-examining the other party. I just apply the skills that I already have working as a litigator."
One difference? Meeting with her pro bono clients can be a challenge. "A lot of Legal Aid's clients don't have phones or they don't have a permanent residence and they don't have cars," she says. "They can't just drive to your office at 2 o'clock during the middle of the day to meet with you. A lot of times you've got to track them down and then meet with them after hours when they get off work or when the bus runs."
Her cases can be tough—she once visited a client in the hospital after she and her daughter were stabbed in front of her other children—but Campbell's clients' gratitude keep her moving. Campbell remembers receiving pictures drawn by the children of one of her clients. "[That client] just made me feel like I was really important to her because she had no one else to advocate for her," Campbell says.
Advocating has always been in Campbell's blood. Her mother was always involved in her community.
"It was just truly how I was raised," Campbell says, who has volunteered since she was a teen, including working as a candy striper and at the first home in North Carolina for those living with AIDS. "I really do believe that people, whether you're a lawyer or not, have an obligation to serve people in your community who are less fortunate than you."
Search attorney feature articles