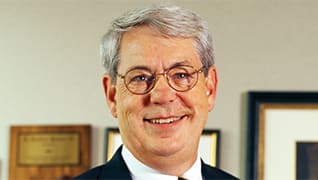 Photo by: Larry Marcus
Both Candid and Kind
J.Norfleet Pruden III, a fourth-generation lawyer from Edenton, is Charlotte's favorite son
Published in 2006 North Carolina Super Lawyers magazine
By Kassandra Kania on January 23, 2006
A framed black-and-white photograph hangs in the small 42nd-floor office of J. Norfleet Pruden III. The photo shows a well-dressed, distinguished gentleman wearing a top hat and seated at a desk, every square inch of which is covered in large books. "That's my great-grandfather," Pruden says, before adding with a smile, "His desk was about as cluttered as mine." A computer has replaced the large volumes of books needed in his greatgrandfather's day, but much of the remaining space on Pruden's desk is occupied by stacks of papers and smaller books.
Pruden's background in the law runs deep — his father, grandfather and great-grandfather were all lawyers, and he shares his name with two of them — so it's odd to hear him describe the law as something he "fell into." Yet, despite his lineage, he grew up without any real sense of what it meant to be a lawyer. When he was 8 years old, his 53-year-old father died of throat cancer, leaving his mother to raise him and his sister alone. By then his grandfather and greatgrandfather were long gone.
Pruden's forebears had all been small-town solo practitioners in Edenton, N.C., who were involved in all facets of the law, and the family law office, rented since Pruden's great-grandfather's time, was only a block from his house. "I would go down there when my mother wanted to get rid of me and play on the typewriter," he recalls.
"The office looked out on the courthouse, and in a small town, that's where all the action is," says Pruden. From this vantage point, Pruden had a front-row seat for viewing all the comings and goings. "In a small town, lawyers were community leaders," he says. "That's the feeling I had of what being a lawyer was all about."
While it was difficult to lose a father at such a young age, in his closely knit community people were quick to take him under their wings. In his father's absence, George Holmes, the priest at St. Paul's Episcopal Church, helped raise him. "He had nine children, so one more was probably no big deal," says Pruden. Holmes included Pruden in family events, such as camping trips. He also gave Pruden his first job, which was mowing the grass in the gravestone-filled churchyard. "The only way to mow it was to take a small lawnmower and mow between the gravestones," Pruden remembers. "In eastern North Carolina, where it's humid and grass-growing conditions are great, you might start on a Monday and work an eight-hour day, and by the end of the week, you'd be back where you started." Great practice for a man destined to go into law.
Pruden attended the University of North Carolina at Chapel Hill and gave some thought to being a history teacher or a journalist. After graduating in 1970, he expected to serve in the Vietnam War, but then the draft ended. Like many his age, Pruden faced uncertainty about his future. That's when he fell into the law, attending law school at the University of Virginia, where his great-grandfather once studied. "I think the family history had something to do with my decision," says Pruden. "There was some expectation that if you were a Pruden you were a lawyer."
And he became a good one. For the last five years he's been ranked in The Best Lawyers in America. Last year, Pruden was number one in Business North Carolina magazine's "Legal Elite" issue; this year he is the top point-getter in North Carolina Super Lawyers.
Yet, during the interview, there is no trace of the frenzy you'd expect surrounding a lawyer with such credentials. Pruden is relaxed, his demeanor calm. He ignores his ringing phone in order to give his visitor his full and undivided attention. How he conducts the interview is how he conducts his practice. "You think business transactions are driven by numbers," he says, "but they're really driven by something very personal and subjective."
"He's the consummate corporate lawyer," says Gene Pridgen, Pruden's longtime friend and co-managing partner of Kennedy Covington. "He is both candid and kind. He'll tell you what he really thinks, but he's kind in the way he approaches issues. A lot of people can be candid, and a lot of people can be kind, but not everyone is both."
When Pruden arrived at Kennedy Covington, he didn't have much business training. But the firm already had a trial lawyer, and it didn't need another real estate lawyer, so Pruden was assigned business law. Now he chairs the department.
"He inspires confidence," Pridgen adds, "and he's very knowledgeable about corporate law."
There's no mistaking the excitement in Pruden's voice when he talks about his work. "I love the ongoing representation of clients in different businesses and being part of the lifecycle of a business," he says. "Being a good business lawyer means understanding how different businesses operate." Pruden's clients have given him an inside look at a diverse range of companies: a publishing house, a gold mine, a steakhouse chain, and a furniture tassel and fringe manufacturer, to name a few. "Off-the-wall businesses are the most interesting," he says. When he represented a salt company, he found the process of mining salt fascinating. "They drill a hole in the ground and shoot water down the hole to dissolve the salt," says Pruden. "Then they suck it back up again so they develop all sorts of caverns through the use of the drill."
In the late '70s, Pruden worked on a particularly memorable transaction in response to the Arab oil embargo. Conflict in the Middle East led to a huge gas shortage, and the U.S. government tried to find alternative sources of energy. Pruden worked on a project in North Carolina to convert peat into methanol. "The idea was to provide incentives for private industry to develop new energy sources through guaranteed government loans," Pruden explains. However, when energy prices decreased again, companies lost interest in the project and it was shelved. Pruden was uncertain why the project was killed but surmises that with the new Reagan administration came a shift in focus. It was the lawn-mowing in the churchyard cemetery all over again.
"It's always disappointing to work on a project that doesn't happen," says Pruden. Fortunately he thrives on the process as well as the end result. And his temperament is such that he seeks conciliatory solutions. Alex Holmes saw this talent when he selected Pruden to serve as independent counsel for the committee related to examining liquidity options for SciQuest, a software company in Research Triangle Park that went private last year. Holmes was director and chairman of the committee.
"It was not an adversarial approach to working with them at all," Holmes remembers. "[Pruden] found a way to smooth over the rough spots so everyone felt it was a win-win situation." Indeed, the transaction was completed with no lawsuits, which, according to Holmes, is almost unheard of. "Pruden has a very easy manner about him in terms of giving people that confidence that they're doing things right," Holmes says.
Pruden also advocates giving back to the profession. "You can't be part of the community if you're holed up in your office and you close the door," he says. "You have to connect with other lawyers and share ideas." He has done so by contributing much of his time and energy to the North Carolina Bar Association. From 2002 to 2003, he served as the 108th president in the organization's history. His great-grandfather, William Dossey Pruden, was the sixth.
Now a fifth-generation Pruden is tackling North Carolina law. In 2004, Pruden's son was admitted to the bar. "I was so excited I cried," Pruden admits. More surprising is his son's name: Matt. "I threw out the idea of naming him James Norfleet Pruden IV when he was born," says Pruden, partly because his wife put her foot down. Three Norfleets was enough.
Pruden is equally proud of his daughter, Haines, who is a pastry chef, and of his adopted city. "Every time there's an opportunity to encourage people to come to Charlotte, or promote Charlotte, or project Charlotte's image in front of other lawyers, he does so," says Allan Head, executive director for the North Carolina Bar Association.
Pruden still has an aunt and uncle in Edenton and he visits his hometown about once a year. The building that housed the law office of his father, his grandfather and his great-grandfather, and where he used to play on the typewriter, still stands. One time he saw the building's landlady in church and she corralled him. "If you decide to come back to Edenton," she said, "the office will be available. I always tell the tenants: 'If Norfleet Pruden comes back to Edenton you'll have to move out and make room for him.'"
Search attorney feature articles
Helpful links
Other featured articles
Greg Westfall repurposes photos into bold pops of color
Discovery with Sheila Thobani
Jack Swerling is less fearsome than his courtroom moniker 'Mr. Murder'
View more articles featuring lawyers
Find top lawyers with confidence
The Super Lawyers patented selection process is peer influenced and research driven, selecting the top 5% of attorneys to the Super Lawyers lists each year. We know lawyers and make it easy to connect with them.
Find a lawyer near you