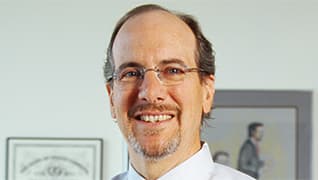 Photo by: Larry Marcus
Dead Man Walking Free
Alan Gell was wrongfully convicted and sat on death row for nine years; Jim Cooney set him free
Published in 2006 North Carolina Super Lawyers magazine
By Jen Pilla Taylor on January 23, 2006
James P. Cooney III did not have time for Alan Gell's case.
It was September 2000 and the Charlotte litigator was transitioning to a new law firm, Womble Carlyle Sandridge & Rice, with four death penalty cases already on his plate; so when a young associate named Mary Pollard asked him to help her win an appeal for a Bertie County man on death row, the best Cooney could offer was encouragement and advice.
"I told her, 'I'm really glad you're working on this case. Now go get 'em, tiger,'" he recalls with a laugh.
A few months later, he found an unexpected notation on his calendar: a meeting at his firm's Raleigh office with Pollard, scheduled by his longtime assistant Barbara Smith. When he asked her about it, she told him, "You need to go to Raleigh and listen to this associate and help her with this," Cooney remembers, before adding, "It was the women in my life once again conspiring to make me do the right thing."
Cooney may have needed that extra nudge to help defend Gell, but he has his own strong moral compass. He has spent his career representing clients of two of the largest law firms in the state while harnessing the firms' significant resources to help indigent death penalty defendants.
"Like very few lawyers I know, Jim has used his singular legal skills to do the things he really believes in," says Charlie Tompkins, a veteran civil litigator whom Cooney regards as his mentor. "He has represented some enormously unappealing and unattractive clients, and he has done it as a matter of principle."
Cooney opposes the death penalty, though he recognizes that the state's constitution allows it. "I've always felt that if we're going to have a death penalty, then I have an obligation to see that it's done correctly."
Gell's case had not been done correctly. He was sentenced to death for the murder of Allen Ray Jenkins largely on the testimony of two girls who had contradicted their own statements. Worse, prosecutors had not disclosed the statements of several witnesses, who said they saw Jenkins alive after the date Gell allegedly killed him.
Pinning down the date of Jenkins' death was key to Gell's defense. In 1995, Gell, a small-time drug dealer, had been out of town on April 4 and 5. Upon his return he was jailed for car theft until after Jenkins' body was found April 14. As a result, the only day Gell could have committed the murder was April 3. To bolster the existing witness statements, Cooney and Pollard began gathering forensic evidence that definitively put Jenkins' time of death after April 3.
Cooney, whose father has a Ph.D. in public health and whose grandfather was a radiologist, is no stranger to science, but even this science was new to him. A mechanical engineer estimated the likely room temperature where Jenkins' corpse lay undiscovered; that temperature data was then used to determine the pace at which his body would have deteriorated. Had he been killed on April 3, the evidence indicated, the condition of the body would have been much worse.
At the same time an entomologist studied pictures of Jenkins' corpse and determined that the development of maggot larvae indicated Jenkins died no more than six days before he was discovered. The strength of this new evidence caused the state's medical examiner to revise her original opinion. Jenkins had probably been killed on April 8 or 9, while Gell was in jail.
On Dec. 9, 2002, a Superior Court judge granted Gell a new trial on the grounds that the prosecution had withheld exculpatory evidence from the defense. It was the first time a North Carolina superior court judge had overturned a death sentence solely on the basis of lawyers' arguments, without hearing any witness testimony.
Partly in preparation for the physical demands of what he knew would be a lengthy retrial, Cooney — an athlete in college at Duke University and in high school in suburban Chicago — began exercising again. There would be no half-measures here either. He'd wake up at 4:30 a.m., five or six days a week, and work out for two hours at his neighborhood YMCA — a routine he continues today. (He has competed in more than 20 triathlons since then.)
He and Pollard also added some muscle to their defense team by bringing on Joe Cheshire, a well-known Raleigh defense attorney. The trio was dubbed the "dream team" by newspapers at the retrial, which was held in the tiny town of Windsor, nearly 250 miles east of Charlotte.
In the end, Womble Carlyle spent as much as $150,000 on out-of-pocket expenses and donated as much as $750,000 in attorney and paralegal time to exonerating Gell. Cooney still chokes up when he talks about Feb. 18, 2004, the day a jury acquitted Gell after two and a half hours of deliberation. "I walked out of the courthouse with Alan and watched him take his first breath of fresh air [in nine years] as a free man," Cooney remembers. "Then I got in my car and drove six and a half hours home and hugged my wife for the first time in three weeks."
Cooney's wife, Betsy, says it's not unusual for her husband to fully devote himself to a case. "Jim can get so wrapped up when he's working. It's like he goes into his own little room," she says. "Sometimes I feel like it's my job to knock on the door and say, 'Come on out and join the rest of us for a while.'"
Like many people who grew up in the '60s and '70s, Cooney says he always saw the law as a way to make a difference. A summer internship at Washington, D.C.'s Arnold & Porter, founded by famed civil rights lawyer and Supreme Court justice Abe Fortas, convinced Cooney he could work for a big firm and still do pro bono cases.
After a clerkship with the Fourth Circuit Court of Appeals, he and his wife moved with their two daughters (a third would come later) to Charlotte in 1983, where he joined Kennedy Covington Lobdell & Hickman.
Cooney, a practicing Catholic, travels the state in his free time giving PowerPoint presentations on what he sees as the state's flawed death penalty system. While attacking this system, he defends the much-maligned software program — which he also used to great effect in arguing for Gell's retrial and winning his acquittal.
"People don't know how to use PowerPoint properly. They just fill it full of bullet points," he says with a smile. "I like to make it dance."
Pollard, who has since left Womble Carlyle to work for the Center for Death Penalty Litigation, says it's not the PowerPoint software but the way Cooney uses it that makes him persuasive. "The PowerPoint is just a tool, but it's not the focus. With Jim the focus is the conversation. Jim is like your favorite professor in college — the guy who made economics very understandable."
Cooney says he works on knowing the facts of a case cold, so that he never makes a misstatement to the jury, even inadvertently.
"Jury work is simple: The first liar will lose," says Cooney. "A jury is the ultimate truth detector. You've got these 12 people coming together, and between the 12 of them, they will pick up on a lie."
It's an approach he uses for both paying and non-paying clients. "Sometimes [practicing law] is a great way to pay the mortgage and sometimes it's a crusade, and when it is, it's great," he says. "But you have to believe in what you're doing — whether it's [defending] an innocent man on death row or a doctor who just made an honest mistake."
Not all of Cooney's cases have been as morally or legally obvious as Gell's. Some of Cooney's clients have committed appalling crimes. Chief among them: Henry Louis Wallace, who confessed on tape to killing 10 women and who remains on death row today. Tompkins says working on bleak cases such as Wallace's helped Cooney hone his trial skills.
"That's like getting up every morning and going to court and running into a brick wall every day for four months," says Tompkins of Wallace's 1996 trial. After failing to suppress Wallace's confession, in which he revealed ghastly details, Cooney and the defense team tried arguments based on Wallace's mental illness. But the jury was not persuaded, convicting Wallace of all nine murders in which he was charged.
Another difficult circumstance arose for Cooney in 1993, when he was defending Allen Gaines, who was convicted of first-degree murder in the shooting death of a Charlotte police officer. While the jury deliberated Gaines' sentence, two young patrol officers were shot and killed in the line of duty. The city boiled over in outrage. Under that inflammatory shadow, the jury still chose life in prison, rather than the death penalty, for Gaines.
Law enforcement was furious. Yet when four members of the Charlotte police department were sued for malicious prosecution in 1997, they chose Cooney, along with Tompkins, to defend them. Murder charges against Charlotte doctor Ed Friedland, who had been accused of killing his wife, had been dropped after a key pathologist's opinion was ruled inadmissible, and Friedland sued two homicide detectives, their sergeant and the deputy police chief. After four years of discovery, Cooney took 40 depositions, 12,000 pages of testimony and 10,000 pages of exhibits and distilled them into a 65-page motion for summary judgment that was ultimately granted. "It is the best piece of legal work I have seen in my 44 years of law practice," says Tompkins.
Cooney also scored an unpopular victory in 1994, when he won a new sentencing hearing for Fred Coffey, who was to be executed for smothering a 10-year-old Charlotte girl. Coffey received life in prison, where he remains today. Cooney says people failed to consider the horrific abuse that Coffey suffered as a child. "He was warped into what he is," says Cooney. "It's not that he shouldn't be punished, and he is being punished. But when you take a look at everything that happened to this man, he never had a chance."
While willing to take on such tough cases, Cooney — who has an X-ray reader and skeleton model in his office — is also in the state's upper echelon of medical malpractice attorneys. He has argued many times on the opposite side of plaintiff 's attorney and former presidential candidate John Edwards, whom Cooney warmly refers to as "Johnny."
"He was not the best at any given thing — direct exams, closing arguments," says Cooney, who contributed to Edwards' presidential campaign. "But he did everything very, very well, from soup to nuts."
Cooney has suffered some hard losses, too. He fought for 13 years to save the life of John Noland, who was convicted of killing his estranged wife's father and sister. An artist's courtroom rendering of Cooney arguing on Noland's behalf hangs at eye level behind Cooney's desk. Noland was executed in 1998. In audio archives kept by the state corrections department, Cooney gives his reaction moments after witnessing Noland die by lethal injection: "I am convinced that sometime in the future we are going to look back on this and think this was nothing but deliberate, premeditated, calculated madness."
The case Cooney did not have time for is still very much a part of his life. Months after he was released from prison, Alan Gell spent a weekend at Cooney's southeast Charlotte home so they could travel together to Asheville, where Cooney received a state bar award for his pro bono work. The family took Gell to a Japanese steakhouse — where he tasted sushi for the first time — and later they watched the inspiring prison movie The Shawshank Redemption, which just happened to be on TV that night. Gell, who attends Martin County Community College and speaks to groups around the state in support of a two-year death penalty moratorium, says Cooney told him he feels responsible for him. Cooney often gives Gell advice on building a life after nearly nine years behind bars.
"I was unlucky that I was put on death row, but I was really lucky that I had Jim representing me," Gell says. "Knowing that Jim is out there, expecting me to do good, makes me work that much harder."
Cooney continues to split his time between his pro bono and private clients, as well as sifting through more requests for help. Since Gell's well-publicized acquittal, Cooney estimates that at least 150 inmates have contacted his office. He says he considers them all.
"But I haven't found another Alan Gell," he says. "Yet."
Search attorney feature articles