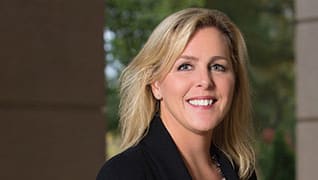 Photo by: Jeff Cravotta
Dude, You Are So Dead
And other thoughts from no-nonsense litigator Sara Lincoln
Published in 2018 North Carolina Super Lawyers magazine
By Susan Shackelford on January 25, 2018
Last fall, when Charlotte attorney Sara Lincoln traveled to Montreal to be inducted into the American College of Trial Lawyers, she was overwhelmed. First, because of the incredible honor. Second, because of what she saw. There were over 1,000 people in the ballroom, and nearly all of them were old men. "I couldn't believe it," she says.
After 24 years as a lawyer and eight years at a women-helmed law firm, Lincoln knows female trial lawyers are the minority. The ACTL says just 7 percent of the group's nearly 5,800 fellows are women. But seeing the numbers play out in real life is a different story.
"I'm usually the only woman in the room. It happens all the time," Lincoln says. "I told some of the people there, 'Y'all have a bit of a problem; do you know this? Do you not see how homogeneous you are?' They said, 'Yeah, we know, we understand, and we are working on it.'"
So is she.
Lincoln still runs into male attorneys who call her "the lady lawyer" or think they can physically intimidate her. They don't know whom they're dealing with. Imposing at 6 feet in heels, Lincoln has a lively wit, deep fearlessness and fierce commitment to her clients.
A male witness at a deposition once saw her wheel in her briefcase and asked if she was the court reporter. Smiling, she thought, "Dude, you are so dead." 
Opposing counsel in a medical malpractice case became so upset on one occasion that he said, "Let's step outside." Though he was tall and broad-shouldered, she quickly stood and replied, "OK, let's go." He didn't budge. 
Lincoln was trying another med-mal case and objected when opposing counsel presented a portion of a video that was supposed to be redacted. The opposing attorney, who had already been having technical difficulties with the video, became incensed when the judge told him he couldn't play the portion in question. "He was angry, angry, angry," she says. "He didn't like a 'girl' beating him."
When the attorney asked to meet with Lincoln, they went to a conference room that had a glass wall. "He yelled and raised his hand at me," Lincoln recalls. "When I moved to leave, he blocked the door. That shook me. He was a big guy. I was in an enclosed space with no place to go." She verbally unleashed on him. "'If you don't let me out of here, I will take this chair and throw the fucking thing out the window, and not regret it,'" she remembers saying. 
He moved out of the way. He also lost the case.
Lincoln's niche is medical malpractice defense, representing primarily large, privately owned medical practices in Charlotte. She and Tricia Derr opened Lincoln Derr in 2009 after working together at Womble Carlyle in Charlotte.
Frustrated at the difficulty of making equity partner in a large-firm setting, and at the dearth of minorities and women in such positions at big firms in general, they brought the majority of the firm's med-mal work in Charlotte with them, and haven't looked back. 
It was their Thelma & Louise moment—with a happy ending. "[We called it] jumping off the cliff," Lincoln says. "Our ethics rules do not allow us to call our clients and ask them in advance if they would come with us if we left our existing firm. It turned out that all of our clients came with us, and the transition ultimately was pretty seamless, but getting to the edge and jumping was very unsettling."
They have since expanded the firm into other areas of civil law and brought seven other attorneys on board, but are still looking to expand.
In adding associates, they seek not only demographic diversity but economic diversity. 
Lincoln comes from middle-class parents who double-mortgaged their home to send her and her older sister to undergraduate school; Derr's working-class family is made up of a Korean mother and Hispanic father. Considering their roots, both partners work to encourage women and minorities, either serving on committees and attending conferences, and by simply being accessible. 
"We see diversity as a gift," says Derr. "If you're not considering a variety of perceptions, you're not being very smart."
The firm occupies nearly 10,000 square feet in the Capitol Towers complex in Charlotte's affluent SouthPark area. A quick look reveals a stark contrast with most law offices: little paper. From the start, the firm "pushed to be paperless," Lincoln says, storing its documents on the cloud. That practice was so new when the firm started in 2009 that the Bar hadn't yet taken a position on cloud storage, but Lincoln wanted it because it's cheaper, more secure and more efficient than traditional filing methods, she says. 
It also allows for easy access to documents in the courtroom. Operating her iPad Pro, she displays PowerPoint presentations to support her opening and closing arguments and to examine witnesses. It works to her advantage, says Chip Holmes with Parker Poe in Charlotte. "She keeps the jury engaged and interested in what she wants them to focus on." 
Holmes has worked alongside Lincoln for many years as they represented different parties being sued by the same plaintiff. "One thing that has always struck me is her ability to map the case and to execute her strategy from the beginning," he says. "When a lot of other lawyers are learning their case, Sara is refining hers."
At trial, she is rarely, if ever, surprised, he says. "She is that good with anticipating, through preparation, what is likely to happen." Holmes remembers Lincoln reluctantly letting a physician's partner testify at trial because people close to the case wanted it, despite her reservations. And, as Lincoln thought might happen, the testimony "kind of hurt the case," but she was ready and "handled it beautifully and diplomatically," Holmes says. The case settled on the eve of the jury verdict with a favorable result for her client.
Opposing attorneys cite Lincoln's preparation and trial skills as well. "She practices at the highest level in both—that's a powerful combination," says Mark Holt of Holt Sherlin in Raleigh. 
"She also is a realist," says Randall Phillips of Charles G. Monnett III & Associates in Charlotte. "We end up trying some cases, and we end up getting some resolved. She is realistic in her assessment of a case, and that's the mark of a good lawyer, no matter what side you're on."
Lincoln takes a case to trial only if she thinks she can win, she says. "Trials are supposed to be about finding the truth, and I believe they are. Some of my colleagues are cynical about this. I am not. I believe in our jury system, and I think that juries do their best to get it right."
Like many attorneys, Lincoln and Derr didn't learn how to try cases in law school. "We spent hours in the courtroom watching lawyers try cases and emulating what we thought worked," Lincoln says. 
Being a self-starter is in her DNA. She taught herself how to ride a bike and how to read before going to school (with a little help from her sister). Lincoln's mother was a powerful example of initiative. Janet M. Rich ran her own child-care business for 11 years and, when Sara was in high school, she returned to school to become a physician's assistant at 40. 
The family lived in Rochester, New York, where Lincoln was the second of three children and outspoken. "That mouth was going to get her somewhere—whether in jail or in the courtroom," her mother says. Lincoln attended East High School, a tough public school where she held her own despite being a minority white student, getting beaten up the first week of school and being exposed to guns, drugs and fights. 
"It takes a lot to frighten me," Lincoln says.
The top pitcher on the school's fast-pitch softball team, she likely would have pursued a college scholarship if she hadn't blown out her knee her senior year. 
Lincoln wanted to attend a women's college because it was a family tradition, and to become more serious about academics. "It was like a self-exile from boys," she says. Her choice was Wheaton College in Norton, Massachusetts, located "in the middle of nowhere." When the school began admitting men while Lincoln was there, she wasn't happy. "She wanted [the two men in her class] to graduate separately from the women," her mother recalls. "She has always been very much an advocate for women and what women can do."
Lincoln majored in psychology at Wheaton, but it was a half-credit torts class taken on a whim that changed her life. Her teacher, Jay Goodman, a practicing attorney, wrote on her exam, "'If you can get an 'A' from me, then you can go to law school anywhere,'" she recalls. She got an A. She took the school's other two half-credit law classes (family and criminal) and graduated cum laude in 1990.
At the University of Akron, she made law review and graduated magna cum laude in May 1993. Unable to land a job in a weak economy, she hung out her own shingle, sharing office space with two attorneys for whom she had clerked while in law school. "I helped them at a low hourly rate and they fed me small cases," she says.
She worked on her first medical malpractice cases in 1996, at what today is Hedrick Gardner. "I liked it from the beginning," she says. "They are the cases that get tried, and I love being in the courtroom. I knew I didn't want to do transactional work. I'm a people person."
Once she joined Kennedy Covington in 1999, she did med-mal exclusively. Eighteen months later, she joined Womble Carlyle when her boss, Jim Cooney, made the move. When it looked like Cooney was going to receive a judicial appointment, that's when she and Derr took the plunge. They have complementary skills. "Sara is logical and methodical, the drill sergeant; and I'm creative, the wanderer—it's yin and yang," Derr says.
Shortly thereafter, they received a big test in a wrongful death case. They had never tried a case together, and nationally respected attorneys James Ferguson and Luke Largess represented the plaintiff. The case turned on using expert witnesses and explaining complicated medical issues to jurors, most of whom had only a high school education. 
When the jury found in favor of Lincoln and Derr's client, family members of the deceased were so upset they made threats in the courtroom and deputies walked the attorneys out to Lincoln's car. Later, when the emotion of the moment had subsided, Lincoln and Derr knew the verdict demonstrated they could do more than just tangle with top attorneys: They could win. 
Outside her work, Lincoln says she is "addicted" to Flywheel spin class and calls the beach "my happy place." "I could walk for hours looking for wildlife," she says. 
In Charlotte, Lincoln looks forward to getting back to golf once her daughters are older. She's a soccer mom to 17-year-old Brooke. She was the same with 19-year-old Mikayla, now a sophomore at UNC Chapel Hill. Neither daughter appears to be interested in law, but mom leaves the door open. "They both argue like a lawyer already," she says.
As for herself? "The only thing I could think of doing for a living other than what I am doing now would be to work for a Court TV-like show and comment on high-profile trials," she says. "I am a complete trial geek. I think I would be outstanding."
Search attorney feature articles