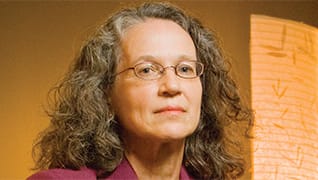 Photo by: Alex Maness
Hard Driver
Elizabeth Kuniholm fights for victims of abuse
Published in 2008 North Carolina Super Lawyers magazine
By Lori K. Tate on January 21, 2008
Susan Bennett was afraid to go to the grocery store. A divorced mother of three, the Apex woman managed to make it to work and back every day, but her teenage daughter had to take care of everything else. At 38, she had shrunken away from everything and everybody in her life. She was falling apart.
Bennett's mental decline began in February 1995, after Cary doctor Wally Evans allegedly assaulted her during a physical. She called the North Carolina Board of Medical Examiners, the American Medical Association, and her insurance company, BlueCross BlueShield, but all they did was take down her name and number. "I thought, 'I'm just going to have to live with this,'" Bennett says. "Then, one day, I just about had a nervous breakdown."
The breaking point came when Bennett's 17-year-old daughter, Lisa, needed a doctor and asked about her mom's physician. "I lost it. … That's when I had to take action. The thought that my daughter might go through exactly what I went through," says Bennett. "I couldn't live with it anymore. I just couldn't live with what he did and him just walking the streets and still doing this to other people."
Bennett called the district attorney's office in Raleigh, and was referred to a trial lawyer named Elizabeth Kuniholm. Soon she began to feel better. "It was from beginning to end about helping us, getting us through it," says Bennett. "If it wasn't for Liz, I would not be who I am today."
Sitting in the conference room of the law firm she founded in 1991, 60-year-old Kuniholm has a slender frame and brown, natural curls peppered with gray. Her calm, pleasant temperament makes people feel comfortable. That comes in handy when prospective clients come to her with stories of abuse and negligence that they wouldn't even share with their best friends. The four-attorney practice at Kuniholm Law Firm focuses on medical malpractice, personal injury, sexual abuse and foster care litigation, so counseling is a big part of the job.
"Most of the people who come to me and have a complaint in malpractice situations want to understand what happened and whether it was preventable. In cases involving abuse, the victim usually wants accountability for the abuser and anyone else who could have prevented it," says Kuniholm. "There are some [cases] where bringing a lawsuit is not a helpful thing."
In those cases where litigation can bring justice, Kuniholm—known for her compassion and deep grasp of the law—is a star. In 2006, she and Chapel Hill attorney Robert Epting won $20 million for a domestic violence victim in Orange County, N.C. It was one of the state's largest verdicts and settlements that year.
In her latest uphill battle, Kuniholm is challenging the constitutionality of lethal injection in North Carolina on behalf of death row inmate James Campbell. "Even unpopular people deserve representation," says Kuniholm. "I believe that if North Carolina is going to have the death penalty, then it needs to be administered in a constitutional way."
Kuniholm is devoted to the rights of women and children. She has adamantly opposed efforts by the North Carolina Legislature and Congress to limit rewards for personal injury victims. She has advocated at the legislature for sexual abuse victims. She served on the Medical Malpractice Study Committee and the Birth-Related Neurological Impairment Study Commission of the North Carolina General Assembly and is currently on the advisory board of the National Crime Victim Bar Association. She traveled in 1995 to Beijing to represent the North Carolina Council for Women at the NGO Forum at the United Nations Fourth World Conference for Women.
"She is very determined and very tough underneath a warm, kind, gentle exterior," says Dickson Phillips, the former federal court of appeals judge for the 4th Circuit, for whom Kuniholm clerked after graduating from law school at Duke in 1980. "She is a very—in the best sense of the word—tough person and that makes for a good trial lawyer. … She's a hard driver when hard driving is necessary."
Kuniholm's advocacy goes back a long way. At 15, she moved to Durham when her father, a Yale professor, took a job as the head of Duke's physics department. The civil rights movement was in full swing. "It was kind of a shock. … It was before the Civil Rights Act was passed, and it was before Kennedy was assassinated," says Kuniholm. "I had moved from a community that was fairly multi-racial and multi-ethnic, and I'd had African-American teachers."
After graduating from Durham High School, Kuniholm earned a degree in history from Duke in 1970 and taught first grade in eastern North Carolina. Working with children who had problems, she considered going to graduate school for special education but delayed those plans when she gave birth to her two children.
"When my children were 3 and 5, I changed my focus and became interested in the legal side of things," recalls Kuniholm. "I got really interested in the rights of children and the rights of mental patients. I did a lot of reading about that and decided that I wanted to approach the problems from the legal side.
"I think that civil justice can be a way to change people's behavior," she continues. "Most people believe that people should be responsible for what they do, and many of the people that we represent have been abused or harmed because of institutions or organizations that have a responsibility for taking care of safety and don't do what they should."
In the Evans case, that's exactly what happened. Bennett wasn't the first to come to Kuniholm to complain about the Cary family-practice doctor, who, it was later discovered, was in a physician treatment program for substance abuse and mental health problems. Two other victims had come to her separately to tell their stories. Kuniholm told the first woman that it would be a difficult case because it would just be her word against his.
When a second woman showed up in her office a year and a half later to complain about Evans, Kuniholm recognized a pattern and called the first victim back. Soon Raleigh's News & Observer wrote about the lawsuit, and Kuniholm received approximately 65 calls from women who had also experienced sexual misconduct. "Most of them called and said, 'I want you to know that those women are telling the truth because it happened to me,'" says Kuniholm.
Kuniholm and associate Toni Benham ended up representing 15 women against Evans. Six cases were selected to go to trial first. Although Evans quit his practice just days after the first lawsuit was filed in July 1995 and surrendered his medical license within six months, the case was the quintessential David versus Goliath battle, involving HMOs and giant medical corporations. According to news reports, BlueCross BlueShield and Maxicare were two of the big guns involved.
"I think Liz thrives on and does really well in the situations where she's the underdog or she feels as if she's fighting for the underdog," says Benham.
In 1999, a jury found Evans liable in all six cases and awarded the plaintiffs a total of $1.2 million. All of the cases, including the first six, were eventually resolved out of court in 2000 for an undisclosed amount. Bennett's was one of the cases resolved without a trial.
For her efforts, Kuniholm received the Steven J. Sharp Public Service Award from the Association of Trial Lawyers of America and the Walter Clark Award from the North Carolina Academy of Trial Lawyers in 2000. "I always believed in the case, and I always thought that the truth would come out and be recognized," says Kuniholm. "I was grateful for my clients that they could be vindicated."
For Bennett, that meant a chance to start over. "This made me who I am today because I was a very timid person, very scared of everything" before the suit, she says. These days, Bennett works as a contract negotiator for water and wastewater treatment plants. When she's not at the office, she's out playing golf, her newest hobby.
Three years ago, when she remarried, Kuniholm was a guest at the wedding. "She was just like part of the family," says Bennett. "It was like I had arrived. I'm not afraid anymore. It was important for her to see that I was going on with my life."
Search attorney feature articles
Helpful links
Other featured articles
Andrés Correa believes that's an ideal worth striving for
Kentucky attorney Rob Bilott is a warrior in the battle against PFAS
M&A attorney Brian J. McCarthy leads on mergers involving Disney, Pixar and Lucasfilm
View more articles featuring lawyers
Find top lawyers with confidence
The Super Lawyers patented selection process is peer influenced and research driven, selecting the top 5% of attorneys to the Super Lawyers lists each year. We know lawyers and make it easy to connect with them.
Find a lawyer near you