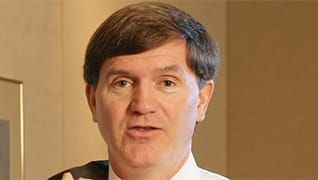 Photo by: Carole Moore
It's All in the Details
Mark Merritt, who seems as rock-solid as the boulders dotting the Smokey Mountains, says his vigilance for details lies at the heart of his success
Published in 2007 North Carolina Super Lawyers magazine
By Carole Moore on January 22, 2007
The corner office of Charlotte attorney Mark Merritt, of Robinson Bradshaw & Hinson, features a bank of windows with a view most would find distracting. With the spires of a 300-year-old church rising directly below, the city stretches almost to the horizon, like a giant Monopoly board bristling with hotels and houses. In the background, mountains frame the view.
"On a clear day, you can see Grandfather Mountain," Merritt says, pointing to the famous peak with its great jutting rocks and swinging bridge.
Like Grandfather Mountain, Merritt is also rock-steady. Considered one of the best—and busiest—lawyers in the state, he represents a wide variety of clients and specializes in litigation.
A past president of the Mecklenburg County Bar, Merritt is known for his straightforward character and meticulous attention to detail. He readily admits to "sweating the small stuff " when it comes to his law practice, but it's not a matter of being nit-picky. For Merritt, there's no aspect of law too minute or arcane to escape his notice.
"I look at it as an intellectually challenging case puzzle," Merritt says. "[Meticulous preparation] helps you move forward with a case, eliminate risks, lose the emotional baggage and anticipate curve balls."
From the Virginia Law Review to Charlotte
Jim Cooney of Womble Carlyle Sandridge & Rice has known Merritt since they were both on the Virginia Law Review at the University of Virginia. An undergraduate Morehead Scholar at The University of North Carolina who matriculated as Phi Beta Kappa, Merritt served as the Review's editor in chief.
"Even as a 24-year-old, he was incredibly well-organized and knew how to get people to do what he wanted them to, and stay on task," Cooney says of his longtime friend.
Merritt's organizational skills serve him well in his chosen profession. He readily admits he believes the devil is in the details and that getting to know the client is key to a case's successful denouement. "Spending time with clients, checking to make sure their recollections are accurate—you play the cards you're dealt," he says. "The facts can't change."
Merritt routinely puts together case chronologies and performs key document analyses. "The 20 most important documents, the 50 most important documents—it's pretty critical that they fit together," he says. Not only do his pretrial methods minimize surprises, but Merritt believes being better prepared steers cases to more successful resolutions.
"Resolutions." That's Merritt's word. He doesn't say "win a case" or "lose a case" because to him, practicing law is not a contest or sporting event. It's a matter of finding the best resolution for his clients—no matter what the issue.
Quiet Confidence
Keith Smith, now general counsel to the Charlotte-Mecklenburg Hospital Authority, was once employed at Robinson Bradshaw & Hinson, where he often sought Merritt's excellent editing skills to help whip his own work into shape—even though they specialized in different legal arenas.
Smith and Merritt have also worked together in conjunction with hospital authority businesses. Smith says Merritt possesses a "quiet confidence" that clients quickly pick up on.
"He will do a lot of hard work to really, really understand the client's problem," Smith says. Once Merritt feels he has arrived at the heart of the matter, he formulates his legal approach, which Smith characterizes as "well thought out."
Merritt practices in the areas of securities, intellectual property and real estate litigation, as well as antitrust and trade regulation. He regularly takes complicated cases involving government agencies—and wins. Merritt has fought for the rights of landowners to receive just compensation during condemnation proceedings under eminent domain. He's successfully represented companies accused of insider trading violations by the U.S. Securities and Exchange Commission and helped one corporate client recover nearly $36 million in illegal taxes charged by the state of North Carolina.
When fighting against the government, Merritt says representation is imperative. "The government has extraordinary resources and pressures it can bring to bear on those without counsel," he says.
An Environmental Victory
In one highly publicized case, Merritt helped Duke University preserve one of its most valued assets: the Blackwood Division of the Duke Forest, a pristine area used for many different types of research, including a National Aeronautics and Space Administration (NASA) calibration site.
Researchers from Duke and other institutions use Blackwood to conduct environmental research, including the study of global warming and the effects of carbon dioxide. Duke officials were both stunned and dismayed when Orange County announced its plans to put a solidwaste landfill within Blackwood's boundaries. The solution: Duke gave both the U.S. Department of Energy and NASA research easements, which barred the county from condemning and taking the land.
"My job is to come up with solutions that make sense," Merritt explains, "not to just always go off and file a lawsuit."
Problem Solver
His personal philosophy is simple: He believes it's important for an attorney to pay attention to all aspects of life—not simply the practice of law. He tries not to neglect his or his loved ones' spiritual and physical needs. Otherwise, "lawyers flame out," he says.
Merritt has successfully tempered his own work ethic with both service to the community and devotion to his family. He currently serves as a North Carolina State Bar counselor and remains active in his local bar association. He's also taught Sunday school in his church for about 18 years.
Merritt loves golf, but admits he's no threat to Tiger Woods. "I'm a really bad golfer," he concedes. But he likes to play with both friends and his 12-year-old son, Jay. Merritt, who married Lindsay, his high school sweetheart, has two other children—Alex, 19, and Elizabeth, 15.
He attributes much of his success to his observance of the Golden Rule, even in his legal practice. Merritt believes coming off as mean, overbearing or difficult to get along with constitutes a mistake. "Looking back, I have no regrets on how I've treated people," he says.
"When my kids ask what I do, I tell them 'I solve problems,'" Merritt says.
His clients are obviously pleased with the results. Smith, who has known Merritt since 1991, says, "As someone who is responsible for looking for outside counsel to represent my organization, when I have an important litigative matter, Mark is my go-to person."
Cooney, his friend from law school, agrees that a case placed in Merritt's hands is one that will be well-handled.
"He is so steady—like a rock," he says. "You can count on him."
Search attorney feature articles