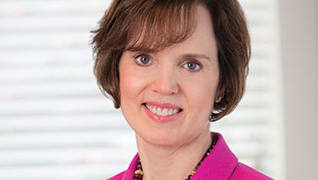 Photo by: Jeff Cravotta
Jobs Are Like Weather
They can wipe you out. Employment attorney Meg Maloney fights to fix the damage.
Published in 2014 North Carolina Super Lawyers magazine
By Michael Kobre on January 17, 2014
Meg Maloney likes to stir up change. As an associate at the firm Moore & Van Allen from the mid-'80s to mid-'90s, she helped develop the first written maternity and paternity leave and part-time work policy of any North Carolina law firm. Afterward, the policy was published statewide, and other firms soon began adopting their own versions. She also persuaded Moore & Van Allen to stop holding firm events at the Charlotte City Club, at a time when the club banned women from an entire floor and employed a wait staff that was exclusively African-American. 
After years at the big firms, and a stint as in-house counsel for First Union Corp., she founded her own three-woman practice in 2008, focusing on employment and labor law. Her colleagues at Maloney Law & Associates are Tamara L. Huckert and Audrey C. Page. She had known Huckert for many years when they decided to venture and build a firm together; she describes their relationship as an effortless give-and-take. Page joined the firm after Maloney met her for lunch and saw a spark. All of the women agree their office should be a welcoming place, since the clients they serve are often feeling unwelcome in the world. It's employment and labor law, after all.
"Look around the room," Maloney says, while sitting at a long wooden table in what was once a screened-in porch in the 1920s house that Maloney has made into an office in the Elizabeth area. "This is not your typical lawyer's conference room," she says. Light spills in from the large windows and Gemma the office dog, a Chinese crested with a long, soft coat, lies at Maloney's feet. "It's a room where people feel comfortable and safe."
Dressed in a blazer, jeans and open-toed sandals, Maloney speaks slowly, as if weighing each word. Her employment and labor practice ranges from wrongful termination to the repercussions facing employees who act as whistle-blowers. 
Maloney was raised near Defiance, Ohio in the small town of Sherwood, which "didn't even have a stoplight, just a blinking yellow light," she says.  Maloney left Sherwood for college after applying to only one school: Northwestern. "I was from such a small town. I didn't know better," she says. 
At Northwestern she had to prove herself. One memory that stands out: when she requested that the chairman of the math department admit her to a precalculus class. He asked about her high school record. She'd had exactly one year each of algebra and geometry. He yelled at her, "Who let you into this school?" His condescension made her more determined. Maloney assured him that if he let her into the class she'd either get an A or an F. She was not going to "run away and cower," she says. She made the A.
Maloney came to realize that she wanted to become a lawyer. She sees it as a career choice consistent with her character. She likes helping people and problem-solving, she says, "or just sticking up for things. I like the intricacies of people and organizations."
As a student at Duke University School of Law, she says she was initially "one of those quiet students." When she had to participate in moot court, she was so nervous at first that she couldn't even remember what happened in her round. "Apparently," she says, "the guy keeping time was more worried about me fainting than keeping time." 
Yet Maloney learned to steady herself for those moot court proceedings, and discovered she had a talent for answering the judges' questions. And for argument, she won top honors among second- and third-year students in the moot court competition. She came to see herself as outspoken, not timid.
After graduation from Duke in 1985, she wasn't sure where she belonged. "What law firm will I fit into as an outspoken young woman from the Midwest?" she asked herself. With the help of Willis Whichard—a towering figure in North Carolina law and politics, and later a state Supreme Court justice—she landed at Moore & Van Allen. Whichard had seen her performance in moot court, and recommended she stay in Charlotte.
After she'd been at Moore & Van Allen for several years, a large manufacturing company that conducted a great deal of business with the firm  requested that Maloney handle all of its employment cases. At this point, she was set on a career path. In 1996 that path would take her to the legal department of First Union, then the country's sixth-largest bank. First Union hired her as an in-house employment counsel. They were facing a class action, age discrimination suit from former employees of two different banks that they had purchased. The suit was settled out of court in 1997 when First Union agreed to pay the plaintiffs $58.5 million: a record age discrimination settlement at the time, but one that prevented First Union from having to make any admission of wrongdoing.
Maloney explains the essential strategy that guides her work, "It's inefficient to try a case because the same arguments you can make in trial you can make ahead of trial and reach a more efficient resolution, without using all the time and resources [of going to trial]." She believes in settling, if it can be done right. And in employment cases, people are taken out of work for long periods when a trial is set in motion. Business is disrupted as lives are disrupted.
At First Union, she ascended through the ranks to become senior vice president, and she worked with the bank's general counsel to adopt a policy requiring lawyers in the legal division to do pro bono work in the community. She also served on a diversity council in the capital markets division and legal division.
The executives in the capital markets division were known for "chewing up people who didn't work out," recalls Anna Sison, one of Maloney's former colleagues from First Union. As a member of the diversity council, Maloney "had no problem challenging the status quo in the room," Sison says. "She could call people out on things, but not in an angry way." Maloney made it clear that difficult issues could be raised without fear of retribution. "That emboldened other people," Sison recalls. Gay and lesbian employees, African-Americans and other women at the bank could now speak freely on topics they had only whispered about before.
First Union merged with Wachovia in 2001, and Maloney decided to return to private practice. These days she works with both large businesses and individual plaintiffs. "I try to solve the problem they came in with and do more with them," she says. "There's an equalizing effect in the workplace, whether you're dealing with senior executives or rank-and-file employees. You can tell they've been broken down by the experience they've been through."
So, for instance, when a client came in with such severe agoraphobia that she would show up 40 minutes early in the school car pool line to pick up her children in order to get away quickly and avoid interacting with other parents, Maloney offered to waive her consultation fee if the client agreed to listen to a series of tapes on breathing techniques to control anxiety—a process that ultimately resulted in the client's transformation. "By the time she walked back in here, her appearance had totally changed."
Such results are not unique for Maloney. "In one day," she explains, "I have helped negotiate a $3.3 million separation package for an executive at the same time I negotiated the return of a modem to the classroom of a handicapped teacher, who was dependent on the computer for lesson plans."
Practicing employment law in Charlotte, one of the country's critical banking centers, Maloney has witnessed the effects of the economic transformation that began with the financial crisis of 2008. "There's a kind of model now," Maloney says, "where laying off employees has become a way of managing companies [in financial crisis]. But it's not a good way to run your business. "
In such an environment—and at a time of increasing government regulation—Maloney has seen an increase in whistle-blower cases. Such cases might involve employees who regulate safety and compliance being denied the authority to do their jobs properly, or they might involve a company putting its sales function ahead of its compliance function with high-performing sales team members. Whistle-blower cases are among the most sensitive and confidential cases she handles, with some high-level litigation that can involve criminal investigations.
"The reality is, there is a lot of emotion, irrationality, and impracticality. There are usually really unfortunate circumstances when people meet here," says Maloney.
That is one reason why she chooses to meet those clients in what she calls "a room where people feel comfortable and safe." When Maloney decided to start her own firm, she didn't realize that an economic recession was about to hit, but she weathered the storm. As she told the Charlotte Business Journal, she spent a lot of non-billable hours locating the best consignment shops in town for furniture before she opened her office doors. Maloney explains one of the benefits of having her own firm is "to have the flexibility to choose who I represented under what terms."
With her long and diverse experience and an extensive network of contacts in law and business, the small firm became a powerhouse. "My personal philosophy is simply to make a difference," she says. That's why she not only represents companies, but advises them on effective practices. That's why she insists on helping individual clients in ways that go beyond traditional notions of advocacy or litigation, whether that help involves providing emotional support or a job lead. Maloney says she has seen clients transformed "from emotionally battered and withdrawn to confident and outgoing as a result of their relationship with us. They say things like 'Thank you for believing in me.'"
For Maloney, belief in people, in their need to make their case, is what drives her. "In life and in the practice of law, I believe we should try to place ourselves in the shoes of the other person, knowing that we can only do so imperfectly." Following her ethics of empathy, she doesn't pretend every case, has a perfect ending. "You don't get cases as you want to find them," Maloney says. "You get them as they are."
Search attorney feature articles