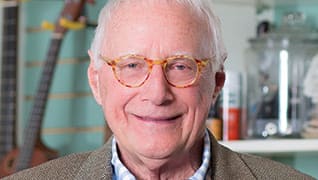 Photo by: Jeff Cravotta
'Our Atticus Finch'
How Morehead Scholar Wade Smith ushered in a new generation of criminal defense attorneys
Published in 2016 North Carolina Super Lawyers magazine
By Susan Shackelford on January 22, 2016
When Special Prosecutor Jim Blackburn found out his jury was laughing, he knew it was a bad sign. He was about to lose one of his biggest cases: a bribery case against North Carolina Lt. Gov. Jimmy Green.
The 1983 case was part of an FBI corruption investigation that had already indicted or convicted a judge, two state legislators, a county commissioner and a police chief. The jurors needed only two hours to acquit, and Blackburn could feel the glare of media cameras. He turned to an unlikely source: the lawyer for the other side. "Wade, what am I going to say to the press?" he asked.
Wade Smith began jotting down ideas. "I would have never asked anybody else," says Blackburn, who had gotten to know Smith several years earlier when they were on opposite sides in the Jeffrey MacDonald murder trial. "I said what Wade suggested, and everybody thought it was great. What makes Wade really good is he is a really great lawyer, but a better person."
Blackburn knows that on a deeper level. In the early 1990s, he hired Smith to represent him in his own criminal matter, one that eventually cost him his law license and sent him to jail for 3½ months for fraud, embezzlement, forgery and obstruction of justice related to funds at his law firm.
When Smith learned the facts of Blackburn's case, he recommended seeing a psychiatrist, and fessing up.
"Lots of lawyers would have said, 'Let's look at the statutes and see what the ramifications are'—he didn't. He advised me to plead guilty to everything," says Blackburn, now a motivational speaker. "He is good at looking after you."
Raleigh attorney Joe Cheshire V agrees.
Cheshire saw it when he and Smith defended Ann Miller Kontz, a former chemist who killed her husband with arsenic. They obtained an offer of less than death, but she didn't accept it. The duo resorted to good cop/bad cop. "You killed this sweet man who was the father of your daughter, and you think there's not a possibility someone is not going to put you to death?" Cheshire recalls saying. Smith countered with, "I understand all the stresses you went through—it's so human—and if you had it to do again, you never would." Kontz relented and was sentenced to 25 years. "It was Wade to be who he is: a gentle, kind human being who [could] embrace her into making this decision," Cheshire says.
Smith has been a role model for attorneys in the state, especially in Cheshire's generation. "Before Wade's time, criminal defense lawyers were not Morehead Scholars," says Cheshire. "They might be really smart, but for the most part, they were earthy fighters—back-slapping, Wild West kind of people. … Wade made it OK for people of significant intellect and courtesy to be criminal lawyers. He was kind of our Atticus Finch."
Roger Smith, Wade's brother and partner at Raleigh's Tharrington Smith, was also part of that generation that changed the perception of criminal lawyers, Cheshire notes. Three years younger than Wade and a Morehead Scholar himself, Roger has observed his brother closely.
"He spends more time getting ready to do something than actually doing it," Roger says. "He's thoughtful … not only with strategy, but in having a good sense of what you can and cannot do."
The brothers grew up in Albemarle in a close-knit family. Their father, Charlie B, and their mother, Ruth, met as weavers at a cotton mill. After marrying, Charlie B worked as a knitter of women's stockings and Ruth stayed home with the boys before becoming a stockings-pairer.
The family was heavily involved with North Albemarle Baptist Church, which had been founded in part by Charlie B's father, a Rockingham preacher.
"We listened to sermons Sunday after Sunday on redemption, salvation and forgiveness," Wade recalls. "These words were in our vocabulary [then], and now they are our jury arguments."
 Wade was a sponge for all things written and spoken at the church—whether it was Bible stories or the civic boosterism ad sponsored by Stanly Funeral Home printed on the fans in the pews, a jingle he can still recite. "My brother and I grew up loving words and were aware you could string [them] together to persuade people to do the thing you wanted them to do," Wade says.
In high school, both boys were star football players. At a statewide summer leadership program, Wade's peers elected him governor. "He was Mr. Everything: everything he did, he did well," says friend and retired broadcaster Woody "Voice of the Tar Heels" Durham.
Nearing graduation in 1956, Smith won the prestigious Morehead Scholarship, an all-expenses-paid grant to attend UNC Chapel Hill. He was also offered several football scholarships. He demurred because he wanted his studies to come first.
"We lived in this mill village, and didn't have running water when I was born," Smith says. "I never lacked for anything, but life was plain. My parents would always say, 'You know you're going to college.' I was a Mount Vesuvius of energy to do well for them." Nonetheless at UNC, he made the football team and played all four years before graduating with an English degree. Next he set his sights on law.
After graduating UNC School of Law, Smith clerked for North Carolina Supreme Court Justice Carlisle W. Higgins. He and fellow clerk Harold Tharrington joked about forming a firm. They did in 1964. About the same time, Smith signed on as assistant district attorney in Wake County, spending most of his time at the courthouse while Tharrington was at the firm.
"We answered the phones ourselves and did our own typing," Smith says, "but knock on wood three times, we never failed to pay our expenses."
The prosecutor job helped. It also immersed him in a world that would become his mainstay: trial court. He was District Attorney Buck Ransdell's only assistant and had about two weeks to observe Ransdell before trying cases on his own. "It was a wonderful experience," Smith says. "I fell out of the sky into a nest of fantastic lawyers. I couldn't wait to get on the [defense] and see if I could do the same thing."
On Smith's credenza in his glass corner office in the Wells Fargo Capitol Center is the 1983 bestseller Fatal Vision, written by Joe McGinniss about the Jeffrey MacDonald case. Smith confesses that even though he worked the case, he never read the whole thing. He became friends with McGinniss, now deceased, who believed MacDonald was guilty.
"I really liked [Joe] immensely. We disagreed on MacDonald, and we just didn't talk about it," Smith says. "I also disagreed with having a writer in our camp. It was terribly foolish. I was very troubled about [McGinniss' view on MacDonald]. On the one hand, I felt that we baked the cake … we invited him and we couldn't muzzle him. On the other, I guess it would have made more sense for him to [opt out] after he concluded Jeff was guilty. Because Joe became a friend, I was able to understand his point of view. His integrity was not for sale."
McGinniss wasn't the only one who thought MacDonald was guilty. The jury agreed. MacDonald is serving three life sentences for murdering his pregnant wife and two daughters. The trial attracted national attention in 1979. A former Green Beret, MacDonald was a doctor at Fort Bragg when his family was killed in their home in 1970. He insisted drug-crazed, hippie-like intruders murdered them and tried to kill him, too. A closed military hearing freed him and he received an honorable discharge, but his father-in-law agitated for nearly a decade for him to be charged in court.
When he was, the defense team's challenge was to establish reasonable doubt about who committed the murders, Smith says. But the jury didn't believe MacDonald's story.
"There were no eyewitnesses, and it was his word versus the physical evidence," Smith recalls. "If MacDonald had had North Carolina lawyers to begin with, we would not have let him tell his story to the grand jury. But he went around telling his story everywhere."
Smith became involved in the case when a Philadelphia lawyer representing MacDonald asked him to join the defense. Though MacDonald continues to appeal, Smith has not represented him since the early 1990s because of a conflict of interest from representing Blackburn, the U.S. attorney who originally prosecuted MacDonald.
In a more recent high-profile case, Smith's client, Collin Finnerty, and two other Duke University lacrosse players were charged with rape and eventually exonerated.
Stripper Crystal Gail Mangum accused the players of raping her at a team party. "But when we got the DNA samples back, there was not one shred of that woman's DNA on these boys," Smith says.
"The idea that someone could be callous enough to create a hoax that could put these men in prison for years was hard to come to terms with."
Inhumanity can take a toll. Smith counters it by painting, singing and playing banjo and fiddle, and pursuing his deep curiosity of the world.
"He is a Renaissance man," Cheshire says. "I go home and read light books. Wade goes home and studies the solar system."
Search attorney feature articles