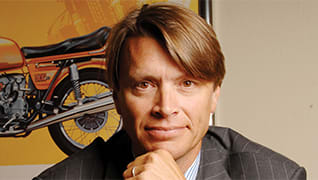 Photo by: Christopher Record
Renaissance Man
At 11 he could program a computer. He nearly became a doctor. So how did Charles Calkins end up in a law office?
Published in 2008 North Carolina Super Lawyers magazine
By Stephanie Stephens on January 21, 2008
Three large bicycles dominate the space in Charles Calkins' Winston-Salem office and offer a clue to his diverse interests. "I have not had any success in bicycling, which may be why it interests me," says the Kilpatrick Stockton attorney, who owns 12 bikes and three BMW motorcycles.
That's hard to believe. Calkins, who co-leads the firm's North Carolina patent practice, has played pretty much every sport out there at some point in his life. He was an intercollegiate tennis player. He has run more than 30 marathons, including five "Bostons." He has been nationally ranked as a windsurfer. He sails boats and flies planes. When he's not pedaling toward a USA Cycling Category 3 designation-he's currently a 4-he plays on the firm's soccer, basketball and softball teams.
"He's a Renaissance man," says Steven Gardner, a Kilpatrick Stockton partner. "Clients like him because he's a great lawyer and a pleasure to spend time with. Clients ask for Charles because he provides insights and suggestions that others do not. He combines his deep technical and legal knowledge with a business acumen that is unusual in a lawyer."
Calkins was born in Charleston, W.Va., in 1959 and grew up in St. Louis, Mo. By age 11, he could program a computer. "I started playing with them as a typical geek, and I had a knack for it," Calkins says. He has 14 computers at home, with 10 running at any time of the day.
"I wanted to be a doctor initially-I just played with computers," says Calkins, who earned his bachelor's of science in chemical engineering and life sciences from Massachusetts Institute of Technology in 1981. "I was more or less pre-med in college, then took the Medical College Admission Test during my junior year and thought, 'I don't really want to be in school another eight years.' I'd taken some elective courses dealing with the interface between technology and law, so I thought law school was an option."
He served in the Army and Navy ROTC programs as a way to pay for college. "Purely an economic decision," he says. Calkins graduated in 1984 from Boston University School of Law. After law school, to fulfill his service obligation, he worked as a patent attorney in the U.S. Army Corps of Engineers until 1988.
That year, he took a job in the Washington, D.C., office of intellectual property law firm Kenyon & Kenyon. He came to North Carolina in 1994 after his wife, Susan, was hired as a psychology professor at the University of North Carolina at Greensboro. "[My wife] wanted to move here, but initially, I wasn't sure," says Calkins. "It definitely worked out. There was a path here." A headhunter steered him to then-Petree Stockton, which was looking to start and grow a patent practice. "It seemed like an interesting position for me," he says. That firm merged with Kilpatrick & Cody in 1997.
Calkins' practice focuses on patent procurement, licensing, transactions and enforcement in the areas of life sciences, chemistry, medicine and computer software. He helps companies like General Electric Capital and Laboratory Corporation of America with licensing, mergers, acquisitions and equity investment due diligence.
In the landmark 2006 license agreement between Pfizer Inc. and TransTech Pharma for the development and commercialization of molecule compounds to treat Alzheimer's disease, Calkins was "intimately involved," says Adnan Mjalli, chairman, president and CEO of TransTech. "[Calkins is] a wonderful, honorable man, a brilliant thinker and strategist, who brings to the table a wealth of knowledge about intellectual property, and who's helped us build a robust patent strategy."
Says Calkins: "I can't know the technology the way the scientist, inventor or engineer who's living it daily does-but I have to act as the go-between, to describe the language in a way that a non-scientific person can understand it. Technology is sort of a foreign language."
If so, he is a translator par excellence, says the man who hired him. "Calkins was a fully qualified patent lawyer who could walk and talk and chew gum all at the same time. For a patent lawyer, that's saying a lot," says Kilpatrick Stockton partner George Little. He says Calkins is "the grandfather" of the firm's North Carolina patent group-the second largest after its Atlanta office.
There's a lot to be said for a sterling career that provides a "good meal and a roof over your head" at the end of the day, Calkins says. Not to mention a good bicycle. "I used to compete and want to again."
The finish line beckons-no doubt Calkins will cross it ahead of the pack.
Search attorney feature articles