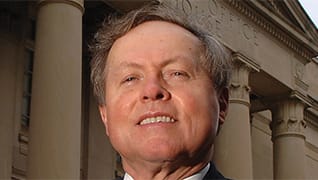 Photo by: Christopher Record
The Buddy System
How John "Buddy" Wester's disarming nature earned him a good name and the North Carolina Bar Association presidency
Published in 2010 North Carolina Super Lawyers magazine
By Susan Shackelford on January 28, 2010
It was the early 1990s, and federal Judge James B. McMillan had heard about all he needed to hear.
In 1984, he had found in favor of tens of thousands of people seeking disability payments from the government, in the class action suit initially known as Hyatt v. Heckler. He was so incensed at the government's violation of law that he had written his opinion using all capital letters. Now he was conducting a motion for enforcement hearing on the same case.
McMillan asked the Department of Justice attorney what he saw in the initial and subsequent rulings—including one by the U.S. Supreme Court—that permitted the government to ignore standards the court had laid out for granting disability payments. "What do you see?" the judge implored.
The government attorney responded with a rambling "I see this, I see that," and McMillan's face grew redder and redder.
He then turned to the plaintiff's attorney. "Well, counselor, what do you see?" McMillan inquired of John R. "Buddy" Wester.
"Your honor, I've been listening closely and taking notes," Wester replied,  "and a minute ago, I looked up and I believe I saw Elvis. And based on what my opponent said a few minutes ago, I believe he has seen him, too."
Laughter ensued, and McMillan seemed to relax. Wester, a corporate attorney who had signed onto the case as a pro bono project through Legal Services of Southern Piedmont, had once again said the right thing at the right time.
Wester's keen wit has helped earn him a reputation as one of North Carolina's top trial attorneys, and most recently, the North Carolina Bar Association presidency. At the nomination ceremony, he donned a stone-colored cotton suit in the mode of his fictional hero. "My assistant always says I'm waiting for a casting call for Atticus Finch," he says.
His corner office at Robinson, Bradshaw & Hinson in Charlotte —which he won by cutting cards with a colleague—is further evidence that he doesn't take himself too seriously. On the wall, a poster reads, "I could change the world if I could just find my car keys."
As an only child growing up in Rockingham, N.C., Wester was the son of a businessman who managed strip retail centers and a mother who volunteered in the community, most notably with the Presbyterian church. By the time he reached high school—and all of 5 feet 10 inches—he was a standout on the basketball and football teams, playing point guard and quarterback.
Jim Biggerstaff, an assistant football coach at the time, clearly remembers Wester. "He was always the youngest on the team but also the smartest on the team. He was the type of kid that knew what every player did on every play. If someone looked confused in the huddle, he would tell him what he was supposed to do."
Wester also excelled in high school debate, largely due to the lively discussions that took place around his family's dinner table. "You needed to be able to hold your own on politics, religion and current events," he says. "I would read widely. Ever since I was little, I loved to read."
His senior year, he won the prestigious Morehead-Cain Scholarship, an all-expenses-paid ride to the University of North Carolina at Chapel Hill. The first from Richmond County to receive the scholarship, Wester was the obvious nominee, says Jim Blount, an attorney who chaired the selection committee: "He was very outgoing, very smart and very ambitious."
He also had a mischievous side. The summer before college, Wester's parents enrolled him in an eight-week program at the Institute for American Studies in Paris. "I cut loose and wound up in remedial French at Chapel Hill," he says. "I was not socially mature at all, but my parents gave me running room. They were devoted to me and prized my own self-determination."
At UNC, Wester was active in the Phi Delta Theta fraternity and pondered law school as a possibility. "Mostly I was pondering—and participating in—the active recreational scene at UNC," he says.
After graduating in 1968, Wester satisfied his military obligation by entering the Army and basic training. He shifted to the Navy as an intelligence officer and completed active duty within a year, serving five more in the reserves. During that time, he entered Duke University Law School, edited the law review, earned membership in the Order of the Coif and graduated in 1972 with high honors.
Elvin "Jack" Latty, one of his Duke Law professors and a former dean, recommended Wester join Robinson, Bradshaw & Hinson. "Dean Latty was very proud of 'his students' at this firm," he says. "When I came here, Russell Robinson had already written the treatise on North Carolina corporation law, and it's now in its seventh printing."
Today Wester spends most of his time trying cases and arguing appeals over business disputes, securities regulations and employment issues. Two of his cases have reached the U.S. Supreme Court, and he estimates he's been to the 4th U.S. Circuit Court of Appeals more than 20 times.
His first Supreme Court trip came in 1982, when he defended Ford Motor Co. against the Equal Employment Opportunity Commission. "It was an intense feeling of apprehension and exhilaration," says Wester, who served as lead counsel. "You stand so close that you can almost reach out and touch the justices." The court decided in Ford's favor, establishing guidelines for cutting off employer liability in employment discrimination matters.
One of his most prominent cases revolved around politics. In 1985, 500 state employees sued then-Gov. Jim Martin and his cabinet secretaries, alleging that they were unfairly dismissed for political reasons. Half a dozen law firms represented Martin and his team, but Wester stood out as a lead counsel. "I believe it was the unanimous view of all those involved that Buddy was the person that could most effectively present the governor's case, and he did," says Eddie Speas, now general counsel to Gov. Beverly Perdue. "He is one of the best oral advocates I have ever heard. He is exceptionally good on his feet in the courtroom. It's not too strong to use the word eloquent."
The 4th U.S. Circuit Court of Appeals rejected the case as a class action and sent it back to the U.S. Eastern District Court, saying that the firings were presumed to be lawful. Judge Earl Britt dismissed the claims.
While that case solidified Wester's stance in North Carolina's legal elite, he says his most meaningful trial was the disabilities claims action he took before Judge McMillan. The case took nearly 20 years to resolve, but ultimately concluded with more than 150,000 North Carolinians earning the right to new hearings. Wester recalls how the government tried to shrink the Hyatt class of beneficiaries by tens of thousands and cut deals to end the litigation.
"These people were not getting their benefits while we were sparring," he says. "It's easy to get impassioned on this subject. I think any decent person would."
Search attorney feature articles