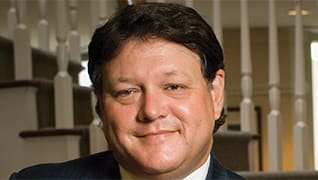 Photo by: Alex Maness
The Connector
Jim Phillips is the most plugged-in attorney in North Carolina
Published in 2008 North Carolina Super Lawyers magazine
By Jen Pilla Taylor on January 21, 2008
Few people understand inside baseball in North Carolina like Jim Phillips Jr. An avid St. Louis Cardinals fan since childhood, he helped lead the (ultimately unsuccessful) effort to win a major league baseball franchise for the Triad in 1998 and today owns a minority interest in the Grasshoppers, Greensboro's popular minor league team.
For the past two decades, he has also been a major player in state politics and education, serving as a key adviser to former Gov. Jim Hunt and as chairman of the state university system's governing board. Add a successful business litigation practice and lengthy record of public service to his home state, and it's not hard to see why Phillips has become known as the ultimate insider.
"He's got intelligence, good judgment, self-confidence, people skills and an impressive network of connections across the state," says attorney Marc Bishop, Phillips' longtime colleague at Brooks, Pierce, McLendon, Humphrey & Leonard in Greensboro. "I think it's that combination of things that makes him really stand out."
Phillips, 50, has been steeped in North Carolina politics since his childhood in Lexington, where his mother led the county children's services department and his father headed up the school transportation system and later the district office of U.S. Rep. Steve Neal. Both his grandfather and uncle served as state judges. As a child, though, Phillips was more interested in becoming a preacher. "It wasn't so much politics that interested me as it was people," says Phillips, a big man with the welcoming demeanor of a minister.
In 1978, at the University of North Carolina at Chapel Hill, friends convinced Phillips to run for student body president. It was his first and—so far—only experience as a candidate, and he won. He spent a one-year term grappling with the chancellor over how to spend student store revenue and organizing a Jimmy Buffett concert with an unexpected student-fee surplus. As a member of the university's board of trustees, he also got to rub elbows with some of the state's most prominent citizens.
These experiences catapulted him to a post-graduation position with Hunt—whom Phillips had served as a page while in high school—administering board and commission appointments. "It's because of that experience that—to this day—I feel like I could visit any county in North Carolina and know people," he says.
After two years Phillips left Hunt's administration to get his law degree at Wake Forest, his mother's alma mater. He considered jobs in Atlanta and New York, but went with Greensboro powerhouse Brooks Pierce—in part because he felt it would allow him the freedom to be a public servant as well as a lawyer. "I really enjoy the practice of law—the intellectual exercise of it," says Phillips. "But I wouldn't have been happy at a place that would not have allowed me to participate in the life of this state."
It also meant a chance to work as second chair to prominent litigator Jim Williams in one of the most celebrated cases in North Carolina's legal history: the PTL scandal.
In the mid-1980s, televangelist Jim Bakker and his PTL (Praise the Lord) associates sold tens of thousands of $1,000 "lifetime partnerships," which entitled buyers to an annual three-night stay at PTL's Heritage USA theme park, just south of Charlotte. But only one 500-room hotel was ever built there, and an investigation into PTL's finances—set into motion by revelations of Bakker's sexual relationship with church secretary Jessica Hahn—revealed that Bakker kept millions for himself.
For three years, Phillips and Williams prepared a defense for PTL's accounting firm, Deloitte & Touche, against whom PTL investors had filed a $757 million class action claim. Phillips participated in the depositions of Bakker, his then-wife Tammy Faye Bakker, PTL Vice President Richard Dortch and Hahn. Most of the depositions took place in average-sized law firm conference rooms. Not Hahn's. "We had to rent out the ballroom of the Adam's Mark Hotel because every lawyer who had ever touched this case wanted to be there," Phillips says with a laugh.
After a three-month civil fraud trial, the verdict came just days before Christmas 1990. While Bakker was found liable, Deloitte & Touche was exonerated.
"He was a pretty young lawyer to be working on such a high-profile case," says Williams. "And other than the fact that I thought he was going to hyperventilate while we were waiting for the judge to read the verdict, he did an excellent job. Williams adds: "He's the whole package—personality, intellect, passion for what he's doing. … But also, he cares, and that's frequently what sets people apart."
Life stayed interesting. In the summer of 1991, Hunt, after serving two consecutive gubernatorial terms from 1977 to 1985, prepared another run for the office against Republican Jim Gardner, then the lieutenant governor. Hunt wanted Phillips to be his campaign finance director. With no fundraising experience, Phillips accepted. It led to more traveling across the state, more connections.
Hunt won, and went on to serve another two terms as governor—from 1993 to 2001—with Phillips as his legislative counsel during his first term. Balancing this work while maintaining a private law practice meant long days for Phillips, who frequently works until 2 a.m. Phillips helped the governor push through a variety of reforms, including a state constitutional amendment that gave the governor the right to veto legislative bills. He also assisted in the passage of Hunt's Smart Start initiative, which has become a model for pre-kindergarten programs across the nation.
"I've been told that [if] you work for a governor once, you work for him forever," says Phillips, who calls Hunt a hero. "That has certainly been true for me and Gov. Hunt."
In 1997, Phillips got the chance to work on a topic very near to his heart: baseball. As a boy, he spent many summer evenings with his ear glued to a transistor radio, listening to KMOX 1120AM, which broadcast games out of St. Louis. Ever since the Cardinals beat the Yankees in the 1964 World Series, he's been hooked.
So when the opportunity arose to work with a group of area leaders to try to lure the Minnesota Twins to the Greensboro area, he jumped. Phillips saw the baseball franchise as a way to reinvigorate the Triad, which lagged behind Raleigh and Charlotte in economic growth. But voters in May 1998 overwhelmingly rejected a new tax to pay for a major league stadium.
"It was a big dream, but we had some good people behind it and we were very serious about it," says Phillips. "Looking back, we were probably used as a pawn by the Minnesota Twins. But I still think it was worth a shot."
Phillips fared better in 2000 when he worked for the passage of a $3.1 billion state university and community college bond referendum, which passed easily in all 100 North Carolina counties. "I think it said a lot about the relationship between the UNC system and the people of North Carolina," says Phillips, who was appointed to the UNC board of governors in 1997. "UNC is the most important institution in North Carolina. Throughout its history, it has been the leader in meeting the state's challenges, whether those were economic, social or intellectual."
As current board of governors chairman, Phillips is once again making connections across the state. He has hosted a series of 11 "listening forums" as part of the UNC Tomorrow initiative—a massive 18-month planning effort to grapple with anticipated growth. Thousands have come to talk about how the university
system can meet the needs of the state for the next 20 years.
"The response has been fantastic," says Phillips. "I think it just shows that UNC is a very, very public university with special obligations and resources that people truly value."
Phillips' own hero applauds him for this kind of work.
"Jim Phillips is one of the great lawyers in North Carolina, but he is an even greater public servant," says Gov. Hunt. "The entire University of North Carolina system is experiencing his exceptional leadership and our state has made more progress over the last two decades because he has been involved."
With his twin daughters now in college and a third in high school, would Phillips consider picking up Hunt's mantle and running for office himself?
"Who knows what the future will bring, but my ego doesn't demand it," says Phillips. "I really love what I do now—practicing law, being in court. I do enjoy working behind the scenes."
Search attorney feature articles