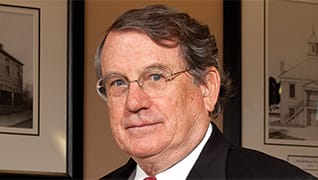 Photo by: Mitchell Kearney
The Fact Man
Family law attorney Rich Stephens keeps the details straight
Published in 2011 North Carolina Super Lawyers magazine
By Susan Shackelford on January 20, 2011
Rich Stephens' family didn't have a TV until he was 14. But once it arrived, it made a lasting imprint on the bright teenager in rural western North Carolina.
The Defenders, a Saturday night drama starring E.G. Marshall and Robert Reed, featured a father-and-son defense team that handled thorny and thought-provoking issues. The pair represented civil rights demonstrators, neo-Nazis, a school teacher fired for being an atheist, and even a man who performed abortions. The show, which aired from 1961 to 1965, won the Emmy for Outstanding Drama Series three years in a row.
"I loved that program," Stephens says. "It wasn't just a courtroom battle. It was about helping people get through tough times. That's what's always appealed to me about family law."
Stephens, 65, is among the top family lawyers in North Carolina. Focusing mainly on equitable distribution and support matters, the Dozier, Miller, Pollard & Murphy attorney is a past chair of the North Carolina Bar Association's Family Law Section and for two decades has delivered its lecture on settlement agreements at the biennial "Basics of Family Law" seminar. "The devil is in the details," says Stephens, who teaches young lawyers how to use checklists, forms and templates to ensure quality documents.
Yet, if it hadn't been for a fortuitous event during Stephens' senior year in high school, he might not even have gone to college, much less law school.
Stephens met Gov. Terry Sanford when he came to Burke County to make a speech on the importance of education. Second in his graduating class at Hildebran High, Stephens delivered the student address. Favorably impressed with the young orator, the governor wrote Stephens' family, noting that if he could ever be of help to let him know.
Little did the family realize they would soon need it.
College had always been the plan for Stephens, the youngest of eight children, though the family didn't have much money.  He would like to have earned a sports scholarship, but his skills didn't match his imagination. "In my head, I pitched complete World Series games—all no hitters with 17 to 18 Ks [strikeouts]. Doesn't everyone?" he says. "When I got older, reality set in as at some point I realized that I was not going to be 6'5" and able to dunk, throw a 100-mph fastball, and run a 9.3 100—yards, not meters—but I still loved to compete. I just wasn't all that good."
His family lived on a 25-acre farm in Connelly Springs, about 10 miles southeast of Morganton. They raised most of their food, and Stephens' dad, the main breadwinner for the family, worked in the card room of the Valdese Weave Mill.
When his father died suddenly of lung disease not long before Stephens was to go to the University of North Carolina at Chapel Hill, his mother secretly wrote Sanford. "Dear Governor, You remember Richard …,'" began the letter, written in pencil on tablet paper.
When Stephens interviewed with the student-aid director in Chapel Hill, the director informed him, "I got a note from the governor about you." Stephens learned he had a scholarship.
Though highly appreciative of the assistance, Stephens was glad he hadn't known about his mother's letter. "I would have been humiliated," he says. "No one in my family asks for help."
Stephens certainly didn't. As a teenager, he worked as a car hop at the "Chicken 'n the Basket." In college and law school, he held a variety of jobs to make ends meet. "He has an amazing work ethic," says his daughter Grace, 32.
After finishing at Chapel Hill with a political science degree in 1967, Stephens was accepted to law school at UNC and Duke but chose Columbia in New York. "I jumped at it," he says. "I was 21 years of age and had never been anywhere."
His time at Columbia was eye-opening. In the spring of 1968, one of the largest student demonstrations in the country erupted on campus. "I was not involved in the protests but was present when the 'bust' came," he recalls, noting that he didn't become radicalized like many of his classmates. "It was about 2 a.m. and the police, after making more than a thousand arrests, formed ranks in the middle of campus and charged the crowd. I ran like hell, like everyone else."
His time spent in classes was also enlightening. Stephens found he didn't like the esoteric language and abstract concepts he had to learn, but he stuck it out. "What kept me moving was fear of failure," he says. "I was self-supporting from the age of 14. I didn't have a financial support system to fall back on." He adds, "When I got a taste of actual practice, I loved it—helping people and interacting with other lawyers."
After graduation, Stephens went to work for Cansler Lockhart in Charlotte, where he'd interned. He spent four years there before joining trial lawyer Warren Stack for seven years. At both firms, the breadth of the law he practiced, ranging from business and real estate to personal injury and medical malpractice, gave him a good foundation for family law. "Every week I fall back on that general knowledge of law that I learned that first 10 years," he says.
Stephens' first introduction to family law came at Stack's firm. "It was the redheaded stepchild back then, looked down upon," Stephens says of family law. "But in 1981 when [state legislators] passed the equitable distribution statute, family law began involving real money." For the first time, divorcing couples had to fairly divide assets acquired during the marriage, regardless of whose name was on them.
With more money at stake, large Charlotte firms added family law practice groups, and, in 1982, Kennedy Covington (now K&L Gates) made Stephens the first attorney the firm brought in on the partner level.
Though most cases today are handled through mediation, early on Stephens regularly found himself in court. He generally represented well-heeled husbands and often faced Bill Diehl of James, McElroy & Diehl, who represented their wives.
"He's really a detailed guy—he knows all the facts," Diehl says. "My strong suit is that I scream, and am all loud. We're a nice foil for each other. I'm hollarin' and he's detailin', detailin', detailin'. I have a way of getting a lot of people upset. I've gotten to Rich a few times, but for the most part he out-cools me every time."
Fred Hicks of Katten Muchin Rosenman, too, has faced Stephens many times. "Probably the best thing about him is that he is absolutely trustworthy," Hicks says. "He's a straight-shooter. He doesn't cut corners. He doesn't mislead you. If he has something not favorable to his client, he addresses it."
Stephens moved to Dozier, Miller, Pollard & Murphy in early 2006 after more than 20 years at Kennedy Covington. "It's nice to be back in a small firm, similar to the way I started practicing," Stephens says. "You know everybody and you really are in charge of your own practice, whereas in a large firm, things tend to be managed for you [and] you get some pretty specific instructions on what to do. For example, what your hourly rates will be and whether you can charge off the bill or not. Whereas in a small firm, you're free to run your own practice, the way you want to."
He spends his free time with his family: wife Beth Henry, a retired attorney; and their children: Grace, and sons, Will, 24, and Hank, 21. And he still carries the love of sports he had as a child. He's held onto his treasured baseball card collection, which includes Sandy Koufax, Roberto Clemente and Gil Hodges.
In 2004, Grace gave her dad DVDs of all four seasons of The Defenders, which inspired his career. There had been no attorneys in his family, and he had never met a practicing lawyer until he was a law school intern. When he told his mother he was going to law school, she asked, "How can you become a lawyer and still be a Christian?"
Says Grace, "I know he prides himself on getting into law to help people. That sounds hokey, but in his case, it's actually true."
Search attorney feature articles