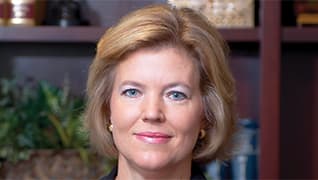 Photo by: Larry Marcus
The Quick Study
Leslie O'Toole's openness to new things led her to the courtroom
Published in 2006 North Carolina Super Lawyers magazine
By Lori K. Tate on January 23, 2006
In November 2004 British runner Paula Radcliffe won the New York City Marathon in two hours, 23 minutes and 10 seconds. Cary attorney Leslie O'Toole lagged slightly behind that time — she finished in four hours and 57 minutes. Although O'Toole didn't receive the press coverage Radcliffe did, she, like Rocky Balboa, was happy to go the distance.
O'Toole, 44, who runs four miles a day, five days a week, never had any intention of running a marathon; but Alex Hagan, a fellow partner at her law firm, Ellis & Winters, suggested she enter the lottery for a spot, and once she got it she felt guilty not using it. So she began training. Now she has an oval sticker on the back of her car: "26.2."
O'Toole's willingness to try new things has served her well. She doesn't see herself as a risk taker, but looking back on her life she admits to being open to new experiences — particularly those suggested by friends. If she hadn't been open to new experiences she wouldn't have run the NYC Marathon. If she hadn't been open to new experiences she wouldn't have gone to Brown University. If she hadn't been open to new experiences she wouldn't even be a lawyer.
O'Toole was born in Chicago, but because her father was a professor of Indian history, the family bounced around England and India before settling in Durham, N.C., in 1973 so he could teach at Duke. Leslie was 11. Five years later, at the age of 16, she graduated from high school (she'd skipped third grade) and began searching for a college.
A friend had done "the whole college tour thing with her parents," O'Toole remembers, and had told her, "I've decided I'm going to Yale, but you should go to Brown." Her friend never articulated why she thought Leslie would be a good fit for Brown, just that she would.
But it was a bad time for O'Toole's family. During her senior year of high school, her father lost both of his legs in a fire at their home, and she questioned whether she should move as far away as Rhode Island, to a campus she'd never visited; but her parents were adamant that she get on with her education.
"They've always encouraged me to try things that are challenging," she says. "Going off to college at a young age in a different part of the country under those circumstances. … It just gave me more confidence."
Her education there went beyond the usual Ivy League stuff. The whole time she worked for food services through a work/study program. By the time she was a senior she had worked her way up to shift supervisor.
"Obviously there were a lot of people at Brown who didn't have to work," she remembers. "[And] it's not like I had to walk 10 miles to school in the snow or anything like that. But I did work in an environment where there was a lot of wealth and privilege." Working in food services made her cognizant of how she treats other people, a trait that has largely defined who she is as an attorney. Her unassuming demeanor, and her respect for those around her, no matter what their status, make her approachable, even to strangers.
"In a courtroom she's very down to earth," says Tricia Kerner, a partner at Troutman Sanders and O'Toole's best friend since eighth grade. "She never talks down to the jury. She always talks with them. … She's so smart, but her intelligence doesn't separate her from other people."
What she majored in at Brown helped. Anthropology, she says, "gives you a broader perspective and understanding that people come to things with their own cultural backgrounds and biases. I think it helps day-to-day in law practice … being able to understand that everybody is coming into the process with a different perception of what's going on."
A minor in psychology led to a summer job as a data technician with Dr. James Blumenthal, a professor of medical psychology at Duke, which led to a full-time job as his research assistant after she graduated, married her college sweetheart Don O'Toole and moved back to Durham.
"She had maturity way beyond what we see for someone her age," recalls Blumenthal. "Certainly even in her freshman year at Brown, she had the maturity level of an advanced graduate student and the judgment of someone with far more training and experience.
"As they say, she was the total package," he continues. "She followed directions very well, but she also was creative. … If there was an obstacle, we'd together figure out how to get around it or she would figure out how to get around it and tell me."
While O'Toole worked with Blumenthal, her best friend, Kerner, started her first year of law school at the University of North Carolina at Chapel Hill. One day she invited O'Toole to sit in on a class to see if she liked it. "It's funny because I didn't like law school, but I knew Leslie would," says Kerner. "She has the mind for it."
"I went to — this is going to make me sound like such a nerd — civil procedure with her, and I just thought it was fascinating," recalls O'Toole. "Just the working through a problem, figuring out the issues, and the process of figuring out the considerations that get you to an answer. That's what I liked about all of law school. … That's just compatible to me with how my mind works … a step-by-step approach."
Still, she took a gamble. She didn't want to leave North Carolina, so she applied only to Chapel Hill's law school. "I thought, 'Well, if I get into Carolina, I'll go. If I don't, then it wasn't meant to be," she remembers. Not only did she get in but she won a Morehead Fellowship, which covered tuition and gave her a stipend. Law review and Order of the Coif followed. She had found her calling.
Unlike many attorneys, O'Toole has worked in one area of law from the beginning — litigation. The more she got into it the more she began focusing on product liability. Specifically, pharmaceutical drug and device product liability. Her most significant cases have involved breast implants, where she has represented the manufacturer.
Three of the breast implant cases went to trial. Two were in Florida and one was in New Mexico. "We won two and lost one," says O'Toole. "[Losing] is the worst feeling. It's horrible because you put your heart and soul into it. … All of these cases that I tried, helped to try, were away from home, so you're out of town for long periods of time. It's your sole focus, and it's just a terrible feeling."
In law school she clerked at what would become Smith Helms Mulliss & Moore, began working there in 1986 and then, in August 2000, along with 10 other lawyers, started the firm of Ellis & Winters.
"We wanted to do more of a boutique practice," O'Toole explains. "You know that large law-firm setting where the firm has a lot of different practice areas? We didn't feel like that was necessarily the best model for meeting our particular clients' needs." Ellis & Winters focuses on two areas of law — complex litigation and commercial real estate. "We just wanted to be in a smaller environment, less overhead, less bureaucracy."
Making the move was difficult, though. "We had a lot of good friends there [at Smith Helms], many of whom are still good friends," she says. "We left not knowing if our clients would necessarily come with us. There are all different kinds of models for law firms, and there's no clear way to know which is the best at any given time for any given market."
Clients came, and new ones followed. Six years later the firm has almost doubled in size, with 22 attorneys in offices in Cary and Greensboro. "It's worked out remarkably well," O'Toole says.
O'Toole's mentor, Dick Ellis, who concentrates on complex litigation, was impressed with O'Toole from the beginning. "She just needed time that we all need to get the experience, meet the people, have the different kinds of experiences that lawyers do as they mature, but she learned a lot quicker than I did," he says. "The practice of law is such a dynamic thing. You're dealing with different people, different fact situations, different clients, different opponents, different witnesses every day, and you have to live off-balance where you can always catch your balance in every different circumstance. It requires judgment, and it requires instincts and Leslie has them."
Ellis recalls one case that he worked on with O'Toole when she was a summer associate. They were representing an elevator repair company. "As we were riding over to talk to the repairman she said, 'I do not want to ride up and down on top of that elevator,'" he remembers. But that's exactly what they were asked to do. In order to see the mechanics of the elevator, they had to ride on top of the elevator through the elevator shaft.
"I thought [the repairman] was kidding but he wasn't," remembers O'Toole, who was wearing pumps that day. "I had no particular phobia or unusual fear of heights, but had never thought I would be stepping onto the top of an allegedly defective elevator."
"We must have ridden up and down inside that elevator shaft a dozen times," remembers Ellis, who adds that he learned two things that day. "I learned about elevators. … [And] I learned how courageous Leslie is."
Ellis says O'Toole handles herself with the same poise and equanimity in the courtroom. "If she's in turmoil, you'll never see it," he says.
O'Toole's poise and professionalism are what made her such an effective leader at Special Olympics North Carolina, where she has served on the board of directors since 2000; she's been chair since 2002.
"Leslie is very good at being the leader of an organization that carries a lot of emotion," says Keith Fishburne, president/CEO of Special Olympics North Carolina. "I have watched her deal with difficult situations … with upset volunteers or upset family members. … Leslie has always done [that] with professionalism and grace."
O'Toole realizes there are more men than women practicing in her area of law. "It's really true," she says. "The older you get, the fewer your peers. They drop off for motherhood or other areas of law — state government, in-house counsel for corporations." O'Toole has two children, Liam, 16, and Caitlin, 14, and she does everything she can to spend time with them, often mixing home and office. She took Caitlin to Hawaii and Liam to Quebec for law conferences; and when cheering on Caitlin's soccer team she occasionally has her office with her.
Technology, she says, "sometimes is a curse, but it's also a blessing because you can be checking your e-mail and answering calls from the soccer field. I like to have my attention focused on what my children are doing. But if you have a call you need to return or something, that doesn't necessarily prevent you from going to your children's events."
When asked where she sees herself in 10 years, O'Toole's mind goes directly to the courtroom. "My concern over the next 10 years for law practice generally is that there will be fewer and fewer jury trials," she says. "It's a concern from the standpoint of keeping your skills sharp as a trial lawyer, and a concern in terms of developing those skills in new lawyers. I think jury trials are a good way to resolve disputes. Some of our clients think they are better off without trials, and if that is true, then so be it, but I'd like to have a continuing opportunity to be in the courtroom."
More immediately, this June, O'Toole will become the president of the North Carolina Association of Defense Attorneys. "That's not small stuff," says Ellis, who is confident that O'Toole has great things ahead of her.
"I think she already is at the top of her profession, and she'll stay there. She'll gain a greater degree of visibility over the next 10, 15 years," says Ellis. "She'll take on responsibilities, speaking engagements, papers, that kind of thing everybody hates to do, but she'll do it and she does a great job and she will gain national attention. … She'll just keep doing that. It's in her blood."
Search attorney feature articles