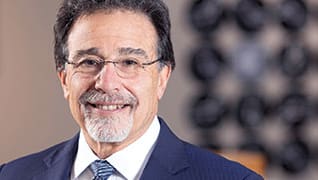 Photo by: Jeff Cravotta
The Reconstruction of David Rudolf
The verdict in the Michael Peterson case shook his very foundation. Now, thanks to Netflix, he's on a new mission: fixing the criminal justice system
Published in 2019 North Carolina Super Lawyers magazine
By Emma Way on January 24, 2019
Michael Peterson was on top of the world in 2001. He was a successful novelist and columnist, in love with his wife, had five children (two of his own, two he adopted, and one stepchild), and lived in a beautiful house in Durham. Peterson and his wife, Kathleen, liked to drink wine and talk deep into the night.
On the night of December 9, that all went away.
On a 911 recording, Peterson's voice wavers frantically. Fifteen steps. Or is it 20? "She fell down the stairs," he says between tears. "No, she's not conscious." His wife's body lays at the bottom of the stairs, blood pooling. "Please," he begs, three times. The call ends with a blaring dial tone, like a heart monitor flat-lining.
When help arrived, investigators saw the blood at the bottom of the stairway. That much blood? From a fall down the steps? Peterson became a suspect in the alleged murder of his wife.
"It just never made any sense," says David Rudolf, the attorney Peterson hired to represent him. 
At the first meeting between Rudolf, Peterson and investigator Ron Guerette, Rudolf says the trio discussed the night Kathleen died. "They were sitting around, enjoying life, enjoying each other, watching American Sweethearts," Rudolf says. "How do we go from that to this scene in the stairwell? What causes that? And I couldn't come up with anything. Nothing made any sense."
Only one thing made sense to Rudolf—Peterson didn't murder his wife.
"Perry Mason," in bold white lettering, lingers on the television screen as the criminal defense attorney, played by Raymond Burr, hands a paper to a judge. The judge hands it back. Mason smirks.
Rudolf saw that opening scene over and over as a child. "He was very noble and smart," Rudolf says of Mason. "He solved cases for his clients and proved they were innocent. That permeated my thinking of being a lawyer."
Rudolf grew up in an upper middle class, primarily Jewish enclave of Long Island. "I think we had one black student at our high school," he says.
Rudolf got into Rutgers with ease. He loved how different it was from Long Island—there were students from different socio-economic levels, believing in different Gods, speaking different languages. 
He graduated in 1971, the height of the Vietnam War. His draft number was high, however, so he kept his options open. In the end, he chose law.  
"Things started happening in the world that shaped me," says Rudolf. He remembers hearing about the students at Kent State University who were shot and killed by the Ohio National Guard during a protest against the U.S. military's bombings in Cambodia. "Are they really killing people like me just because we're protesting? That was really shocking," he says.
So when he enrolled at New York University School of Law, he did so with a social justice agenda—a cushy gig at a big law firm didn't interest him.
After graduating, Rudolf married his first wife and took a job as a public defender in the South Bronx, which got him inside a courtroom, helping folks without means facing serious problems. "I felt like I was actually making an impact," Rudolf says.
After his wife lost her job due to New York's mid-'70s fiscal crisis, she found work in Pittsfield, Massachusetts. Rudolf moved to join her. He worked at a small, private nonprofit that represented individuals in consumer disputes. "Somebody would come in and say, 'I bought this car last week, and I drove it for three days and the engine fell out.' So I'd ask, 'How much did you pay for it?' And they'd say, 'Well, I paid $150.'" Rudolf laughs when he recalls what he thought afterward: "Well, what the fuck did you expect?"
Going from serious felony charges in South Bronx courtrooms to small-scale disputes in Pittsfield was tough. "The work just didn't excite me," he says. "I spent a miserable six months [there]."
What did excite him was the potential to encourage a new class of public defenders. So he began considering teaching at a law school, an idea he had tooled with before but never got serious about. 
In 1978, UNC's law school hired him to start its first Criminal Law Clinic. He liked it but didn't love it. "It was like Groundhog Day. I'd get a new group of students in, and I'd cover the same things with them. … It was all new and interesting to them, but to me, it was just like a pilot saying, 'Thanks for flying with us.' You shake his hand once. But he shakes everyone's hands 120 times."
Rudolf headed back to firm life in 1982, hanging a shingle with Donald Beskind, a law professor at Duke. At Rudolf Widenhouse, he carved out a specialty in white-collar criminal defense and murder cases. 
"He's just a lawyer's lawyer. If I needed a lawyer, I'd call David," says Tharrington Smith's Wade Smith, a Raleigh-based criminal defense attorney. He and Rudolf worked on many cases together, most notably, North Carolina v. Phil Harvey, in which the two represented North Carolina-based Adam & Eve, a major player in the adult entertainment industry, in a First Amendment case in 1987. "He is an idealist," Smith says. "He is thoroughly devoted to the system of justice, and he's probably the best at preparing a case than any person I've ever seen."
Rudolf has worked countless high-profile cases, including the 2001 trial of former Carolina Panthers wide receiver Rae Carruth, who, prior to his October 2018 release, spent 17 years behind bars after being found guilty of conspiracy to murder his then-pregnant girlfriend, Cherica Adams.
Then Michael Peterson entered his life. 
Filmmaker Jean-Xavier de Lestrade and producer Allyson Luchak first heard of Rudolf from his involvement with the Carruth case. In a seedy motel in Durham in 2002, they pitched the idea of doing a documentary on Michael Peterson's trial to both Peterson and Rudolf. "I wasn't terribly eager at first," Rudolf says. "Mike wanted it." 
As a writer, Peterson was often critical of local government and feared that he'd pay for his comments in an unfair trial. He wanted the presence of the filmmakers to deter that potential.
Lestrade was fresh off an Academy Award win for his documentary Murder on a Sunday Morning, about a 15-year-old African-American boy who was wrongfully accused of murder in Florida. The French director wanted to do a film that shows the other side of the system—the murder trial of someone who has means to mount a defense.
Rudolf eventually agreed, hoping to shed light on the criminal justice system and what a defense attorney's job is. State prosecutors green lit it, too, so the cameras started rolling for The Staircase, which morphed into an eight-part series instead of a film. 
In episode eight, just before a verdict is reached in 2003, the scene is calm, almost jovial:
"Do you still get butterflies in your stomach?" a reporter asks Rudolf while the jury is deliberating. 
"Butterflies might not be quite the right word," Rudolf tells the reporter, "but I still feel anxious. I think I've gotten better at putting it out of my mind while I'm waiting, but when the knock comes at the door, and they say they've reached a verdict … butterflies would probably be an understatement." Rudolf smiles wide. "More like bats and birds and all kinds of things floating around."
The trial had gone well for Rudolf and his client. There had been obstacles, like Peterson's bisexual relationships despite being married, and the odd similarities between Kathleen's death and the decades-earlier death of Elizabeth Ratliff, a family friend of Peterson's (and the mother of Margaret and Martha Ratliff, who Peterson later adopted). But Rudolf says now, "We had good day after good day after good day." 
The murder weapon had always been a question mark during the trial, Rudolf recalls. The prosecution affirmed that Peterson had used a blow poke to beat Kathleen, but no one could find the device, until it was found in the garage, covered in cobwebs and dead bugs. "When we found the blow poke, we thought the case was over," Rudolf says. At that point, Rudolf says, the defense team thought, at worst, they'd have a hung jury.
After days of deliberation, the documentary shows 12 jurors filing into the Durham courthouse. Rudolf exhales. Rudolf and Peterson are expressionless as a first-degree murder conviction is read. They sit still as the cameras zoom in on Margaret and Martha, who shake as they silently cry.
As Peterson is ushered out of the courtroom, Rudolf shakes his head. 
Later, he tells the cameras, "It didn't just disappoint. It shook the foundations of my beliefs. It shook the foundations of my belief in the justice system. In human beings. In my own abilities. In my judgment. In my sense of reality … It didn't just surprise. It truly stunned me. It just blew me away emotionally and psychologically."
"When we got started, I thought, at best, it was a fifty-fifty case," Rudolf says today. "But the trial went so well for us … which is really unusual in a criminal case." Rudolf's belief in Peterson's innocence, coupled with his confidence that the jury would be able to see the reasonable doubt—"There was questionable forensic analysis and lack of a murder weapon or motive," he notes—made the guilty verdict reverberate all the more.
Rudolf admits he usually assumes his clients are not telling the full truth the first time they meet. "But something was different with Peterson from day one," he says. That's why Rudolf remained Peterson's attorney for 15 years, through multiple appeal attempts and even after Peterson couldn't pay him any longer. (Rudolf notes that in 2015, Mike Klinkosum stepped in to do some "good work" as lead counsel, until 2016.)
The Staircase filmmakers continued to follow Peterson's story, too. 
In 2011, Peterson was granted a new trial after Superior Court Judge Orlando Hudson ruled that a key prosecution witness, a former state crime lab blood analyst, had lied under oath in the original trial. Released on house arrest while awaiting a new trial, Peterson accepted an Alford Plea in 2017. He was sentenced to time served.
"One thing that I've noticed for years is he never took off his wedding ring," Rudolf says. "Not during the trial. And for eight years in prison, he never took off that ring. And since he's been out, he's never taken off that ring." Peterson still lives in Durham. 
Rudolf's first public interview after the 2003 verdict was with WTVD, an arrangement set up by reporter Sonya Pfeiffer. She had been covering the proceedings for months.
"I believe everyone was sure it was going to be a not-guilty verdict. Everyone," Pfeiffer says now. "There was not a person who sat through that trial—I believe the prosecution included—who thought that the jury was going to come back with 'guilty.'"
In the weeks and months after the interview, Pfeiffer and Rudolf continued to email. They became friends and grabbed dinner occasionally. Their friendship grew as Pfeiffer began attending law school at Chapel Hill while flying to Boston to report on weekends. Eventually their friendship became much more, and they married and became partners in Rudolf Widenhouse.
In the wake of the success of Making a Murderer, Netflix produced five new episodes and re-released The Staircase in 2017. The documentary miniseries now has a cult following. Message boards debate what really happened—some think it was an owl that attacked Kathleen. Some uphold that Michael is guilty.
Rudolf has never wavered. "I believed he was innocent," he says. "I really did, and I still do."
A bell echoes across the lobby of the Elder Gallery of Contemporary Art in Charlotte. Rows of white folding chairs fill the space—seats for Staircase junkies who have pressing questions for Rudolf and the producer and filmmaker.
But Rudolf is in the back of the room, socializing. "That bell ding is for you, too," says Pfeiffer, who's moderating the conversation, to her husband.
Rudolf takes his seat on one of four bar stools in the front as the guests chuckle. 
Rudolf and Pfeiffer are both new to the art world. In early 2017, the two dined with friends Janice and Larry Elder, then the owners of the gallery, at O-Ku in Charlotte's South End. Over sushi, Janice shared that the two were retiring and planned to sell the space. 
Pfeiffer, typically a well-spoken, fast talker, communicated with just a look to Rudolf. "We had a full conversation with our eyes," she says. Within two weeks, they had a handshake agreement; in a few months, they had a gallery. 
The space remains an art gallery at its core, but it also hosts important community events, like this panel, to continue discussions on a topic the couple is most passionate about—the criminal justice system. 
In The Staircase and today, Rudolf speaks without a filter. During filming, he ignored the cameras. He sighed and cussed and laughed. There was no such thing as over sharing, and Rudolf gives that same level of honesty to the Elder Gallery audience.
With this new platform, Rudolf is trying to better inform the public about how the criminal justice system functions—and malfunctions. He has a long list of flaws he'd like to see addressed. "Number one is the elimination of junk science and forensic science that goes beyond the appropriate bounds of science," he says. "Number two is trying to better balance the right of the free press to print what they want with the right of a defendant for a fair trial."
It's more than the Elder Gallery. Rudolf's travel itinerary has him crisscrossing the country and beyond in 2019. "The real significance of this documentary is it's given me a platform to talk about the real issues," he says. "[People] can learn from it and spread the word to friends and neighbors, and that's what you bring to the juries you end up sitting on."
Cheshire Parker's Joe Cheshire kept tabs on his friend's small-screen debut. "It's kind of like the OJ Simpson case," he says. "When people get to see a case up close and personal, it affects their feelings about the justice system. My hope is that people see it working, but they also see the flaws and the human feelings in it. And they understand we need to continue working on it."
Rudolf and Pfeiffer have an 8-year-old daughter, Zayne (Rudolf also has three adult sons), who's on the fence about her dad's newfound fame.
She remembers a day at school when the lunch lady, who's a big Staircase fan, recognized her last name and went fangirl. "I just said 'thanks' and walked away with my lunch tray," she says. "It was so embarrassing." Her parents being on TV is just "weird." 
"But I don't get under pressure," she says. To her dad, "You get under pressure. Mom says you get stressed."
Rudolf laughs. "You're giving away too much already."
---
Spoiler Alerts
As a lawyer in North Carolina, you might be asked about The Staircase. If you didn't watch the buzzy Netflix docuseries, here are some tidbits to keep you in the loop:
The Owl Theory 
Did an owl attack Kathleen Peterson? One theory says she was attacked while walking into her home. The owl dug its talons into her scalp and she ran inside to escape. Woozy from the wine she was drinking and panicked from the attack, she was presumably headed upstairs to tend to her wounds when she slipped and fell down the stairs, where Michael Peterson eventually found her. Autopsy reports showed microscopic owl feathers in Kathleen's hair, and "trident-patterned" wounds on her scalp that resembled claw marks. 
It's a Small (Netflix) World After All
Netflix struck viewership gold in 2015 with the first season of its true crime documentary Making a Murderer, about the Steven Avery murder case. Wisconsin defense lawyers Dean Strang and Jerry Buting were soon made household names. Buting shares a connection to The Staircase—he was once the law student of then-professor David Rudolf at UNC.
The Parody
If you'd rather read The Onion than The New York Times, you might enjoy season one of NBC's Trial & Error, starring John Lithgow as a poet/professor who maybe murdered his wife. Sound familiar? The show is a detailed parody of The Staircase—there's even an owl involved. At the 2017 Television Critics Association, the show's co-creator, Jeff Astrof, told reporters The Staircase was being talked about in writers' rooms across NBC. "I watched it with my wife—and at the time, I wish I had said John Lithgow for this story to work," he said. "[But instead] I said, 'If [Peterson] was played by Steve Carell, this would be the funniest comedy I've ever seen.'" 
Search attorney feature articles