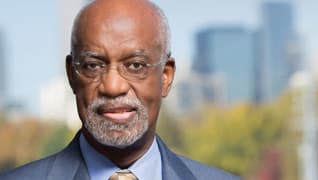 Photo by: Jeff Cravotta
The Seventh Black Lawyer in Charlotte
James E. Ferguson II is fearless for his clients
Published in 2013 North Carolina Super Lawyers magazine
By Susan Shackelford on January 18, 2013
James E. Ferguson II, an accomplished civil rights, criminal and medical malpractice attorney, president of the Charlotte-based firm Ferguson Stein Chambers Gresham & Sumter, has let one idea shape his more-than-40-year legal career: "Giving a voice to the voiceless," he says.
From seeking justice for the Wilmington 10 to establishing a trial advocacy program in South Africa, Ferguson has followed the example set by his parents, who, as he grew up on Blanton Street in Asheville, opened their doors to those who needed a kind word and a warm meal.
"At any given time in our household, there were other people around the dinner table," Ferguson recalls. "Often they were people shunned by others or going through a difficult time. Everyone was valued. It was clear to me that life was about doing for others, making the community better and learning to accept all human beings."
That sensibility hasn't gone unnoticed by others.
"He has a way of empathizing with people and connecting with them that a lot of people don't have," says North Carolina Superior Court Judge Yvonne Mims Evans, a former associate of Ferguson's. "I used to tease him that he never had a client that was guilty. No matter how bad the case sounded, he could find something that created a good defense and made the person come across as the nicest of nice people, to the point that people would think, 'Why are they prosecuting this person?'"
Ferguson has been recognized by the National Law Journal as one of the country's top 10 litigators, and has held chair or president positions at the National Institute for Trial Advocacy, the North Carolina Advocates for Justice (formerly the Academy of Trial Lawyers) and the North Carolina Association of Black Lawyers.
"Fergie" to his friends and colleagues, he is known for his kind, upbeat personality. Says Noell Tin, a criminal defense attorney and former Ferguson associate: "He has steel in his spine; even though, he is one of the nicest people you'll ever meet."
That steel is apparent in Ferguson's adroit cross-examination skills. "There are times when I have watched him do a cross, even on my witness, and I've thought I wished I had it on videotape," says Charlotte litigator Jim Cooney, who often opposes Ferguson in court. "He's so good at it, even on the fly with a witness he has not deposed. He just has a way of being able to take apart his themes and load them into a series of questions to lead the witness right down the path he wants."
In a 1990 medical malpractice case, Ferguson cross-examined a witness, a nursing administrator, about what happened during the hospital emergency in question. He handed her a blank form that hospital personnel fill out during or right after an emergency. Through questioning, he established that she was there, performed no role in the emergency, yet didn't take the time to fill out the form, even though it was her responsibility. "All she did was answer 'yes' for 25 minutes," Cooney says. "He destroyed a surprise witness with a blank piece of paper. He destroyed her credibility on recollection." Ferguson's client wound up with a $4 million verdict.
The youngest of seven children, Ferguson attended segregated schools in the late 1940s and the 1950s. His father, a railroad worker who held a second job at small printing company, had a sixth-grade education and taught himself to read. His mother, a domestic worker, had one year of education beyond high school. Yet all their children went to college, with five of them earning degrees.
Ferguson began thinking about law during his freshman year in high school, when several of his friends were wrongly accused of rape. "I recognized that it could have been me [who was accused of the crime]," says Ferguson, as he had been invited out with the friends that night the crime supposedly occurred, but he had declined.
Three years later, then a senior, Ferguson and other students at their all-black high school took the lead in moving their community toward racial equality as the civil rights movement gained momentum in the South. With no local black college to lead the way, they sought guidance elsewhere. "We got advice from two black lawyers in town, and that solidified my desire and intent to go into law," Ferguson says.
In 1960, he and about a dozen others at Stephens-Lee High formed the Asheville Student Committee On Racial Equality, known as "A-SCORE." Some parents wouldn't let their children participate for fear of reprisals, such as what happened to the Asheville jeweler who let the students meet in his shop. He ended up losing his business, says Ferguson, A-SCORE's co-founder and first president. "My parents never discouraged me," he says. "They could always see the larger purpose."
A-SCORE first negotiated desegregation of the lunch counter at the Kress five-and-dime store. Then over time, it worked to desegregate most of the public facilities in Asheville, including the public library and park, and successfully implored local Winn-Dixie and A&P stores to open hiring of grocery baggers to African-Americans.
A-SCORE also sought school equity. The white high school, Lee Edwards, "resembled a college campus, and we were in cramped quarters at the black high school," Ferguson says. Despite threats from their principal that they might not graduate, the students lobbied the school board and threatened a walkout, obtaining a commitment for a new building for the black high school.
Ferguson went on to become student body president at the North Carolina College at Durham (since 1969 known as North Carolina Central University), where he double majored in history and English, and minored in political science. He lived with his brother in New York while attending Columbia University for law school until his last year, after Ferguson was married.
During his last year, a chance meeting with civil rights lawyer Julius Chambers at the NAACP Legal Defense Fund's office in New York led to Ferguson taking a job with Chambers in Charlotte. In 1967, he became only the seventh black lawyer in the city. Ferguson worked out of a one-story walk-up with no heat or hot water in the downtown area. Fellow attorney Adam Stein, who shared a phone and a conference-room-table desk with Ferguson at the time, remembers him as a confident young lawyer.
"One day Chambers sent somebody back to talk to Fergie about a misdemeanor," Stein recalls. "I watched him put the client completely at ease and say, 'I'll meet you at the courthouse' at a particular time. I wasn't sure he knew where the courthouse was … and what he needed to do, but he was then as he is now—absolutely fearless that he can figure out what needs to be done for a client. I was amazed."
His fearlessness runs deeper. Civil rights cases in the late '60s and '70s were fraught with peril for a young black lawyer in North Carolina. "He started out going to cases in rural counties when the death penalty was determined in one proceeding," Cooney says. "He often defended black kids in front of all-white juries. He was able to win a lot of those cases. That's how good he was. He had a rare kind of courage."
"It used to be like going to enemy territory going to court," says Stein, who worked with Chambers and others from the firm, including Ferguson, on cases to desegregate the Charlotte-Mecklenburg schools, which resulted in violence against the firm. "I remember trying a case with him in Gaston County on the day that our offices were burned." It was February 1971, and they were representing two young black men in a retrial after Chambers appealed their conviction for burglary. According to Stein, during the trial, an older white superior court judge sat behind the attorneys, and could be heard telling a deputy how terrible he thought it was that that "nigger lawyer" [Ferguson] was practicing with that white lawyer [Stein]. "Fergie tried the hell out of that case," Stein says, and the defendants were convicted of breaking and entering and larceny rather than burglary, the latter of which carried a sentence of life in prison.
Ferguson was still a young lawyer, just five years out of law school, when he began representing the Wilmington 10: nine African-American men and one white woman  accused of arson and conspiracy in the wake of Wilmington school desegregation. He could identify with the young defendants based on his own high school experience. "When the [Wilmington] schools were desegregated, black students were bused to white schools and felt isolated in many ways," Ferguson says. "One white vigilante group, The Rights of White People, would ride through the community and fire gun shots to terrorize the community. The students were not going to be terrorized, so they took a stand. They sought to be heard. The arrests grew out of racial protests."
One prosecution witness connected the defendants to crimes and two others connected them to the place of the crime, and the Wilmington 10 were convicted and sentenced to a combined 282 years in prison. Eventually, the three witnesses recanted. They also noted something Ferguson had suspected all along: that the prosecution had provided them inducements, such as hotel stays, in exchange for their testimony. Such incentives, while legal, had not been shared with the defense, which was required. In 1981, nearly a decade after the initial trial, the U.S. Court of Appeals for the 4th Circuit overturned the convictions. Last spring Ferguson petitioned Gov. Beverly Perdue to receive pardons for the Wilmington 10, but as of late September 2012, the governor had not acted.
Ferguson is no stranger to such lengthy cases. In 1984, a black man named Darryl Hunt was accused of raping and murdering a white woman, Deborah Sykes, in Winston-Salem. Ferguson became involved after Hunt was convicted in 1984. Eighteen years old at the time of imprisonment, Hunt always maintained his innocence, to the point of rejecting a plea deal several years after he went to prison.
In 1994, scientific analysis similar to DNA testing proved Hunt wasn't the rapist, but the murder charge stood—even though all testimony initially indicated that both crimes were committed by the same person.
In 2004, Ferguson's co-counsel, Mark Rabil, requested DNA testing of all inmates in the Forsyth County Jail, and the results produced a "near hit," meaning that one inmate's DNA tested close to that of the killer's. The inmate happened to have a brother who was in custody and about to be released, and police decided to test his DNA. It was a perfect match. Hunt was then freed, 20 years after his incarceration, in 2004. "We had pointed out [early on] that this man should have been a suspect," Ferguson says.
Ferguson's passion for the law extends globally, and for the past 20 years, he has helped lawyers in South Africa develop their trial skills. In the 1980s, he and Ken Broun, then dean of the University of North Carolina School of Law, co-founded the country's first trial advocacy program, offered through the National Institute for Trial Advocacy. Apartheid was still law when they taught the first session in 1986, and Ferguson went on to teach in the program for many years.
"In 1986, there were no black judges, no top black lawyers and no black lawyers in government," he recalls. "We celebrated the program's 20th anniversary in 2006. On the highest court, there were three members who had either been teachers or students in the program, including the minister of justice, which is equivalent to our chief justice of the Supreme Court."
Despite turning 70 last October, Ferguson says he has no plans to retire. After getting a heart stent in the mid-1990s and turning back prostate cancer in the early 2000s, his health is good, he says. "As long as I feel like I can make a difference, I will continue."
Search attorney feature articles