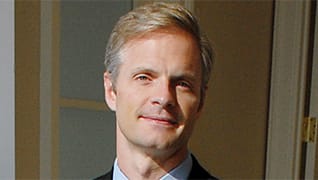 Photo by: Christopher Record
The Sleuth
Jack Cobb's detective work has earned him the trust of GOP heavy hitters (not to mention Bank of America)
Published in 2008 North Carolina Super Lawyers magazine
By Susan Shackelford on January 21, 2008
Jack Cobb braced himself. The Charlotte attorney knew viewing the Mississippi coastline a few months after Katrina would be tough. As the Mississippi Air National Guard Blackhawk helicopter flew low along the shore, he says, "It was like there had been a bunch of Lincoln Log homes and a kid had smashed them."
The image lingered with him as he led an investigation into the federal government's response to the storm in Mississippi, working on behalf of Senate Republicans. Cobb, a partner with Helms, Mulliss & Wicker, worked as a consultant from November 2005 through April 2006. He made trips to Washington and Mississippi, spending about two weeks in the Gulf Coast state. "It was unbelievable," he says. "It was not just community A or county B, it was the whole coast. It was more than I could imagine."
Among his findings: police, fire and other emergency departments could not communicate with each other. The Federal Emergency Management Agency bought hundreds of thousands of trailers that were never used. Supply trucks with food, water and ice never arrived or were never used. (Approximately 200 truckloads of ice went to Portland, Maine, by mistake.) Much of the billions that the federal government spent on recovery and building efforts went to waste.
In the end, Cobb's committee called for abolishing FEMA and replacing it with a new agency called the National Preparedness and Response Authority. Although Congress declined to do so, the report from Cobb's committee played a vital role in two hearings—one in Mississippi and one in Washington—which led to FEMA reform in 2006. Congress passed one of the committee's most significant recommendations: establishing regional strike teams to manage disaster recovery.
"Jack expertly distilled conflicting, sometimes biased perspectives down to the truth," says Michael Bopp, then-staff director and chief counsel to the Senate Committee on Homeland Security and Governmental Affairs.
It wasn't Cobb's first big assignment for the government. Just months after he joined Helms, Mulliss & Wicker in 1999, the Department of Justice sent him to the Republic of Georgia to examine how government corruption could be reined in by the Georgian parliament. Cobb proposed a code of ethics for members of parliament and beefed-up financial disclosure laws, plus strengthened enforcement of those laws.
He so impressed U.S. and Georgian officials with his recommendations and easy, professional style that he was invited back in 2000 to do more of the same. Cobb spent about 10 days each time in the capital of Tbilisi. "[The parliament] adopted many of his recommendations, and they said, 'This guy is great. We're glad you brought him over,'" says Peter Sprung, then a resident legal adviser at the United States' Georgian embassy. "His visits helped us solidify a close working relationship between the embassy and the Georgian parliament."
So how does a young lawyer from Charlotte wind up investigating the government's response to a hurricane and hobnobbing with foreign officials halfway across the world? Answer: Develop a reputation for investigatory prowess on Capitol Hill.
Cobb, 45, honed his skills while serving on the Senate Committee on Governmental Affairs (later renamed the Committee on Homeland Security and Governmental Affairs) from 1995 to 1999. Remember those overnights by major campaign donors in the White House's Lincoln Bedroom? Were they linked to contributions to Clinton-Gore in the 1996 presidential election? What about Secretary of Interior Bruce Babbitt? Did Democratic campaign contributions influence him to deny a casino gaming license? And what about Commerce Department employee John Huang, suspected of violating campaign finance laws and giving sensitive government information to the Chinese?
Cobb investigated all this and more, organizing committee hearings on the topics. Along the way he developed a reputation as an excellent interrogator. "He comes in a room and disarms the witness and to some extent opposing counsel by just starting out with pleasantries. … He has a genial, Southern nature and is very courteous," says Bopp. "Then when he starts with penetrating questions, I've never seen him do it in an adversarial way, raising his voice or temper. … Time and again, he lulls people into thinking everything is fine—'We're just having a conversation. I'm just a nice guy and I respect you, and you really ought to tell me the truth.'"
Case in point: Cobb's deposition of Paul Eckstein. A Wisconsin Indian tribe hired Eckstein, a former law partner of Babbitt's, to urge Babbitt to reconsider his denial of a gaming license for the tribe. The deposition revealed that, "Babbitt told [Eckstein] that the chief political operative at the White House had pressured the department, and Babbitt in particular, into turning down the application," Cobb says, because the new casino would have competed with an existing casino whose tribe had made contributions to administration officials.
"I was shocked when I read the transcript," Bopp says. "That led to a great hearing that Jack orchestrated."
At the 1997 Senate hearing, Cobb sat with Sen. Fred Thompson, then-chair of the Committee on Governmental Affairs. (A picture of them on the dais that day hangs in Cobb's office in uptown Charlotte.) Cobb queried Eckstein and helped Thompson prepare for his questioning of Babbitt. Babbitt denied the influence of campaign contributions, but an independent counsel was appointed to examine the matter, Cobb says. "Though Babbitt was never charged—it amounted to one guy's word against another's—the independent counsel certainly did not exonerate Babbitt," Cobb says. "I believed Eckstein, who had nothing to gain from any of this."
Asked about Thompson's run for the Republican presidential nomination, Cobb says he plans to work for him. "Senator Thompson is shrewd, commanding and also very approachable and 'real' in a way that people find refreshing," Cobb says. "I think he would make an excellent president."
Another picture in Cobb's office shows him being sworn in as a witness in the Huang hearing. This scenario contrasts with the Babbitt hearing, where Cobb was asking the questions. Now senators would hurl questions down at him. Staffers rarely testify in hearings, particularly contentious ones, Cobb says. He was called to testify because 35 witnesses—many of them fundraisers and political operatives—had pleaded the Fifth Amendment or fled the United States.
"Surreal" is how Cobb describes the experience. The hostile questioning came from the Democrats, he says. "Their primary complaint was that a staff member was summarizing contribution records, expense records, calendar entries and the like concerning a witness who was not there," Cobb says. "Mr. Huang wasn't there because he had pled the Fifth and refused to testify without a grant of immunity." In 1999, Huang pleaded guilty to violating campaign finance laws.
"[Cobb] stood up under withering cross-examination. I have been on the Hill 11 years and never seen senators grill someone like that," recalls Bopp, who worked with Cobb on the Huang case. "Jack's demeanor was the same—he was very calm, deliberate and confident. He didn't crack."
Cobb was born and raised in Charlotte, where he attended Charlotte Latin School. His father Jim, now retired, worked for the Charlotte firm Ruff, Bond, Cobb, Wade & Bethune, which was co-founded by Jim's maternal grandfather. Three diplomas from Davidson College adorn the walls at Cobb's office—his, his father's and his paternal grandfather's.
At Davidson, Cobb was a Phi Beta Kappa, magna cum laude history major with his eye on law school. He served as editor of the law review at the University of Virginia, where he met his wife, Kimberly, a fellow law student who was two years behind him. After he graduated in 1989, Cobb clerked for John D. Butzner Jr., a judge on the U.S. Court of Appeals, 4th Circuit, in Richmond, Va., and then worked for Robinson, Bradshaw & Hinson in Charlotte.
The couple married and moved to Washington after Kimberly graduated from law school. She rose to a leadership staffer position with former Florida Sen. Connie Mack. Cobb worked three years with Wilmer, Cutler & Pickering in D.C., before joining a subcommittee of the Senate Committee on Governmental Affairs. Soon he was named investigative counsel of the full committee.
Still, Cobb always thought he would wind up back home. "If you want to be a business lawyer," he says, "Charlotte is a great place to practice. The economy has a lot of sophisticated businesses, and a variety of businesses, anchored by the two big banks. It's a pretty neat place to be."
Besides, the couple felt North Carolina would be an easier place to raise children. After seven years in Washington, Cobb, his wife and their two children (they've since added a third) moved to Charlotte in 1999. He took a job as a litigator with Helms, Mulliss & Wicker and began putting his investigative expertise to work in the private sector, handling trade secrets, breach of contract and corporate governance disputes. The bulk of his work is litigation on behalf of Bank of America, ranging from big securities cases to confidentiality matters related to vendors and employees.
One case in particular has kept him busy the past few years. After the collapse of Italian dairy and food conglomerate Parmalat, company officials claimed more than a third of the company's assets were in a $4.9 billion Bank of America account of a Parmalat subsidiary in the Cayman Islands. But in late 2003, Bank of America said no such account existed. So Parmalat and some of its institutional investors and shareholders sued Bank of America. "There are 17 cases within the umbrella of the big case," says Cobb, who spent most of 2007 taking and defending depositions in New York, Chicago, London and San Francisco.
As with his work in Washington, Cobb is trying to sniff out the facts. "His experience on Capitol Hill makes him well suited for things that are complicated or sensitive," says Craig Baldauf, assistant general counsel in Bank of America's litigation group. "Jack is the first guy I think of when a case involves not just litigation, but someone who can survey the chessboard and strategize. … Jack [also] does a good job of cutting through everything and giving advice, and he doesn't worry about delivering a message the client doesn't want to hear."
But doesn't Cobb long for the excitement of the Hill? "At first, I missed the 'wow' factor of that, but actually working on cases for clients, small companies and large companies, really means something to the client," he says. "In the Senate, you hope you make a difference, but there's not somebody at the end of the day that says, 'Thank you.'"
Search attorney feature articles