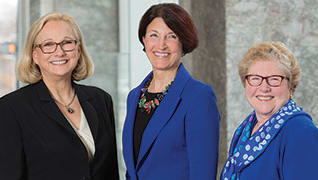 Photo by: Jeff Cravotta
'You're Just Here to Find a Husband'
An oral history of the first group of female attorneys in North Carolina in the 1970s
Published in 2015 North Carolina Super Lawyers magazine
By Kenna Simmons on January 21, 2015
Some were supported by their family; others had to secretly apply to law school. Some were inspired by trailblazers like Susie Sharp, the first female chief justice of a state supreme court. Some only realized they wanted to practice law after they got into law school.
Their stories are as different as their lives, but all share a common theme: the status as one of the first female attorneys—in the class, in the firm, in the room.
"When I first started, I would go to meetings and I would be the only woman there," remembers Elizabeth "Betty" Quick, a past president of the North Carolina Bar Association. "Now sometimes … there won't be any men there."
It all happened so fast. According to a Cornell Law Faculty Publications article, women went from only 4 percent of lawyers in 1970 to 12.4 percent in 1980. Women who couldn't help but stand out when they started practicing law started to blend in.
But the path wasn't easy. Here are their stories.
The road to law school wasn't always smooth.
Catharine Biggs Arrowood, Wake Forest University School of Law, 1976; partner, Parker Poe Adams & Bernstein; current president of the North Carolina Bar Association: My father was a lawyer. And my favorite TV show was Perry Mason. I actually have an autographed Raymond Burr picture that's sitting in my office. I could never get my dad to take me to court because my mother didn't think that was a proper place for a young lady. But finally … Susie Sharp came to my hometown to try a case. After much begging, my mother relented and my dad took me. I sat in that courtroom and watched her run court and thought, "This is what I want to do."
Carolyn Burnette Ingram, Wake Forest University School of Law, 1972; founding partner, Ingram & Ingram: I had an uncle who would always start out with a topic—maybe something of political interest, but always challenging—and he would make a statement and ask my opinion. Then he would give an opposite opinion and tell me that I needed to indicate to him how and why he might not be correct. To this day, we still talk about politics, history, government and the law. He was one of my role models.
Arlene Diosegy, Temple University School of Law, 1974; partner, Williams Mullen: I had a professor whom I asked for a reference. He said he wouldn't write one for me. I had gotten a good grade in his class. I could not believe those words were coming out of his mouth! What do you mean, you won't give me a recommendation to go to law school? His response was, "I don't think women have analytical-enough minds to be lawyers." I thought, "Well, I'll show him."
Arrowood: When I got to college, my family wanted me to become a teacher but I didn't like it, and I wasn't very good at it. I secretly applied to [law school at] Duke, Carolina and Wake Forest, got in all three, and then my dad said, "How are you going to pay for it?" I thought he'd be excited. So that's how I ended up at Wake Forest law school—they gave me a scholarship.
Once they got to law school, they loved it—even if they did stick out.
Diosegy: I sat down for one of my first classes in a very large lecture hall. We were all introducing ourselves before the professor arrived. A guy next to me said, "I have to tell you something: I resent that you're here. You're taking up the space of someone who wants to support his family and you're just here to find a husband." Fast forward three years and we were good friends. He apologized for the remark that first week.
Bonnie Weyher, University of North Carolina School of Law, 1977; founding attorney, Yates, McLamb & Weyher: Women were approximately 20 percent of my class. I never felt any of the professors treated any of the women differently. … I was pleasantly surprised about that. There had been women for years, but they were much fewer in number. We always claimed to be the first class to have women intramural sports teams. We had our own basketball team and softball team. We weren't very good, but we tried.
Ingram: When I started in the fall of 1969, there was one other woman. I did not feel any type of resentment [from the male students]; I did not hear any negative comments. The male students were very professional and treated me with courtesy and respect.
Arrowood: There were 10 or 11 women in my law school class. Although plenty of the men and professors did not want us there, I never felt intimidated or worried about it. There were several women in my class that were on the receiving end of some pretty harsh … I guess "hazing" is the right word. But it didn't happen to me. When I started looking for a job, that was a whole other story.
Finding a job or internship, at least in private practice, wasn't easy.
Diosegy: I decided to go back to my hometown and see if [the local firms] would hire somebody. I was a second-year student. Most of the time I couldn't get past the receptionist. But when I did, this one lawyer looked at me and looked at my resumé and said, "Well, it was nice talking to you, but we don't have a job for you this summer. And next summer, one of my partner's sons, he just got into law school and we're going to hire him. And the summer after that, there will probably be someone else we would hire before you." It was not a welcoming party.
Ingram: I had at least a couple of lawyers in interviews tell me they felt like they had to interview me, but they wanted me to understand that they could not hire me because their wives would not be comfortable with them having a female lawyer in the office.
Arrowood: A number of the lawyers I interviewed with were friends of my father's. I'll never forget one of them looked at me and said, "You know no jury will ever believe a girl. Why in the world do you think you can be an effective trial lawyer?" It made me mad.
Weyher: I did not get a single offer from any North Carolina firm. I went to New York and worked at a firm on Wall Street doing securities work for two years. Then I came back to North Carolina and I got several offers. I went to work for a firm called Young, Moore, Henderson & Alvis, and I was the first woman there. Back then there were very few jobs for women in law firms in North Carolina. Anybody who stayed probably worked for a public defender or district attorney or government jobs.
Ingram: I clerked for [U.S. District Court Chief] Judge Woodrow Jones. We had to travel all over the Western District. The judge believed in working and preparing, so every night he had the bailiff and me come into the judge's motel room. The bailiff always sat in either a chair or on the edge of the bed. The judge had a table with two chairs. He would sit in one and I would sit in the other. The drapes would be opened wide and we would work, maybe two, three hours, preparing for federal court the next day. He was such a gentleman and so conscious of trying to do the right thing.
It was an adjustment for some men—and some women—to see female attorneys in the courtroom.
Diosegy: [A big medical malpractice case] got scheduled when I was probably eight months pregnant. Courtroom protocol is that you stand up when you address the court. It was a grand process [for me] to stand up. Finally the judge said—Lord knows what they are going to call you, but I remember he called me "missy"—"You don't have to stand up anymore. And bailiff, you go get her a pillow for her legs." So the rest of the trial I had to sit there with my legs up on a pillow. We were victorious, and afterward the plaintiff's counsel came over to me and very vehemently proposed the idea that I had gotten pregnant just so I could appeal to the judge's interest, and the jury took pity on me and my client.
Susan Freya Olive, Duke University School of Law, 1977; managing partner, Olive & Olive: When I was pregnant with my first child, I was assisting in a first-degree murder case. I was supposed to be checking into the hospital to deliver that day. I asked the judge to continue the hearing. He was not going to get to it that day, because he had already announced he was going to a funeral that afternoon. … He refused to grant the motion to continue. The effect was we would stay there until he was ready to leave. He did not believe women should be attorneys. I wasn't about to prejudice my client. I figured, if I gave birth in the courtroom, I gave birth in the courtroom.
Elizabeth "Betty" Quick, University of North Carolina School of Law, 1974; first female partner, Womble Carlyle Sandridge & Rice: I did trust and estates work, so I would be appearing before the clerk of courts. The first couple of times they thought I was a paralegal. They wouldn't let me file documents. One turned around to me—and she was the assistant clerk of Superior Court—and said, "I'm sorry, this particular document needs to be signed by an attorney, not a paralegal." I stared at her, at a loss for words. Then I said very calmly, "I am an attorney." She was very embarrassed. From then on, she always treated me as if I were one of her best friends, with the greatest respect.
Olive: One of my clients, for whom we had quite a bit of success … got a call from a senior partner at another law firm who told him his company should be ashamed of having a woman as their attorney, that it didn't say good things for the company image. And that they needed to be represented by all men.
Then came the difficulty of balancing work and home life.
Weyher: My husband [who is also a lawyer] and I have four children. Sometimes it was chaotic. I can remember one time when we were in one trial together and it was lengthy. One of our runners from our law firm came into the courthouse and handed me a note. It said Alex [one of my twin sons] was sick and needed to be picked up at school. I asked to approach the bench and the judge told me to go ahead and pick him up. I got back to the courtroom, and I hadn't been there 30 minutes when the runner came in and handed me another note that said Christopher [the other twin] was sick and needed to be picked up. As soon as I was handed the note the judge looked me and said, "Go!" Judges are far more understanding now. I think that's a big change.
Diosegy: I am of the opinion that you never have a work-life balance. To try to strive for a work-life balance is difficult. Maybe at the end it will be balanced. There will be certain times you will have to be more focused on your family, whether you are having a child or have to take care of a parent. Then there are other times when you have professional obligations to your clients and you have to be there. You just go through your days, your weeks, your months hoping everything gets done. So I tell people not to think about it, but to strive for the work environment that is best for them.
Quick: I was already a partner when I had my children. I think it's different because you have already proven your worth. So it was a matter of talking to the management team and making it clear I would probably not be spending much weekend time there. And that I had to leave before 6 p.m. It never even entered our minds that my husband would be the one to cut back on the time commitment.
Arrowood: I never thought about it in terms of balance. You get up in the morning and you do what you gotta do. At one point, my daughter would get upset because I was going to school and helping with stuff, but I wasn't showing up with home-baked goods or homemade costumes. After some weeks of whining about that, I said, "I'll just quit and I'll be here every day when you get home from school." The next morning she came to me and said, "You know, Mother, I've thought about it and that's all right."
Weyher: [Women still] have work-life balance issues. When I speak to law students, that's often the first question I get asked: "How do you balance it all?"
As more women entered the profession, things changed for the better. In 2010, women made up 47 percent of law school students and 34 percent of all lawyers, according to the ABA. But there's room for progress.
Weyher: It's been a relatively quick change, where you've gone from [where] I was the only female attorney in a firm to now I have a firm and we're almost half women. … Probably the only area where women have not had as much success is in making it to equity partner. But I suspect over the next 10, 15 years that will change as well.
Olive: There is less overt discrimination, far fewer backroom jokes told openly, far less reluctance to refer cases to women or leave women out of professional discussions, or act as if those opinions didn't matter—all of which were not uncommon when I started practicing. There are still some instances of discrimination where the person of majority status—whether it's male or whether it's white—fails to stand up to their client and insist the client treat the attorneys on the other side with respect. I seldom see this directed at me anymore, but I have seen it directed at younger female attorneys. Those of us who are older need to speak up and say it's inappropriate even when it's not directed at us. In fact, especially when it's not directed at us.
Arrowood: When I started practicing law, the only women who went to law school were really sure that's what [they] wanted to do. I see a lot more women who have gone to law school because they're not sure what to do. And I see a lot of people go because they think they're going to make money. All of those are wrong reasons. You need to go to law school because you want to make a difference in your community, because you want to advocate for people, and because you passionately believe in fairness and justice. If you do not passionately believe those things, stay home.
Search attorney feature articles