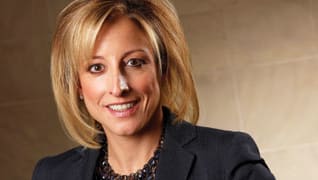 Photo by: Roger Mastroianni
A Caregiver's Friend
Former nurse Marilena DiSilvio's heart is with doctors, hospitals and care providers
Published in 2012 Ohio Super Lawyers magazine
By Amy White on December 16, 2011
Marilena DiSilvio gets up to close her office door during an interview, but her assistant asks her to leave it open. Everyone, it seems, wants to hear DiSilvio's stories. That's a good thing for any lawyer, but particularly for a medical malpractice litigator whose every case pits her against a patient with a heart-tugging tale.
"I'm a human being first and foremost," says the Reminger attorney, who is also a former nurse. "So the sympathy factor … it affects me. There have been times during depositions when every ounce of emotion is brought to the surface and I think, 'I really might cry at this moment because it's so compelling, and this person has gone through so much.' But at the end of the day, what I find is, most often, [a plaintiff's situation] is really not as a consequence of any caregiver negligence. The hardest thing to ever accept, for me and for juries, is that bad things can happen to good people. But sometimes they just do."
Storytelling wasn't always DiSilvio's forte—not in English, anyway. In the case of Marilena DiSilvio v. The English Language, DiSilvio initially lost. After her family moved in the early '70s from her father's small Italian fishing village on the Adriatic Sea to Philadelphia—where her maternal grandparents lived—they settled into a section of row homes in the Philadelphia suburbs. DiSilvio didn't speak a word of the language.
"The way my parents thought to teach me English was quite literally to put me in front of Sesame Street," she says. It didn't quite work, so DiSilvio—ever the problem-solver—took it upon herself to break the ice at school with a peace offering.
"In first grade, I apparently went to school with a lunch and a tablecloth—well, maybe a tablecloth, as I think we've embellished the story since it happened—because I wanted to make friends," DiSilvio says. "So I get all the food out, which was nothing short of some type of spaghetti, meatball, sausage combination that was carried in a big brown Acme bag, and I pull all this out … but still, nobody sat down with me."
She laughs. "It could have been the language [problem] or because, at the time, I still had the white embroidered 'Italy' socks, and those orthopedic-looking shoes. … I just burst into tears, crying uncontrollably, and by the grace of God, this wonderful woman by the name of Sister Mary Broderick came into our lives.
"She really took me under her wing. She was the person who taught me English and is probably most pivotal in my career, not only from a professional perspective, but also from an appreciation of what's important in life."
The appearance of Broderick was one of many fortuitous events in DiSilvio's life. "Fate. … It's amazing how many doors have opened and stayed opened, or if they closed, they reopened at some later juncture in my life," she says.
Her father, who was uneducated, stressed the importance of education for his children. "He wanted us to have everything he did not have," she says. "His life was particularly difficult. He went to work at a very young age and made it, I think, only to the third grade."
Though they settled in Bryn Mawr, Pa., DiSilvio considers her upbringing to be "very much 1970s Italy."
"We didn't have any real connection to the outside world, except Sister Mary," she says. "There were many cultural disconnects along the way." One of DiSilvio's earliest memories of culture clash is from 1974.
Her sister was born that year, on Christmas Day. "My father's parents had come from Italy for the impending birth of the first American in our family," DiSilvio says. "Christmas morning comes, Diana is born, and I wake up, and everyone had forgotten about Santa. So that's when I came to learn that there wasn't a Babbo Natale, which is what we call him; and to complicate things, my parents didn't want me to be shuffled back and forth to the hospital and to not have a home base. So they reasoned, 'OK, we'll take you to the convent [across the street],' and this I remember clear as a bell: My mother never used cans. Nothing came out of a can, ever. I'd never intellectualized that people take food out of a can and put it on a plate and eat it. So [the sisters] were opening cranberry sauce and they will tell you I had a look of terror on my face like, 'Am I expected to eat this?'"
As she approached college age, DiSilvio's father encouraged her to go to nursing school. Why? She laughs. "He had done a flagstone walk for someone who taught at the [University of] Penn School of Nursing," she says. "He found her to be a very bright and dynamic person, so he really encouraged that."
Indeed, DiSilvio was enamored with nursing, especially the neonatal intensive-care unit. After working for a time in a pediatric unit at The Children's Hospital of Philadelphia, she relocated to Rainbow Babies & Children's Hospital in Cleveland. "I loved every minute of working at [that] hospital," she says. "And I met a wonderful woman named Judy Hoechst, who, although not my formal preceptor, became a huge mentor to me." Hoechst was going through law school. Cue a door being opened.
"It wasn't because I didn't love nursing," says DiSilvio. "I loved those babies and I loved their families, but Judy introduced me to this new world. She [had] a good friend who had a practice, and who was quite an accomplished medical malpractice attorney in Cleveland, by the name of Eric Kennedy—actually, as life's full circle would have it, Eric is exactly two floors above me as we speak—who took me in as a nurse paralegal." Cue another door being opened.
DiSilvio was mentored by Kennedy at Weisman Kennedy & Berris, a plaintiff's firm. She stayed on with the firm for two years after taking her bar exam.
 "She likes the tumult, the competitive aspects," says Kennedy. "If you like what you're doing, and you're competitive and hardworking, you'll be successful. … You just have to be willing to work hard. She is."
In 1997, DiSilvio moved to Reminger, a defense firm. "My heart is truly with the defense of doctors, hospitals, nurses and care providers," she says. "The firm has supported and encouraged my professional success in unbelievable fashion. I have had the privilege of working under two managing partners [Stephen Walters and Mario Ciano] who support women and who promote professional success and the balance of family life.
"I think that there are very meritorious plaintiff's claims, so I don't want to disparage the plaintiff's bar by any stretch of the imagination … but my bent is with the caregivers, in large part because I was one, albeit for a short period of time, and because of what I saw during that time in terms of people giving their all to save lives."
Dr. Kristin Trump is one such doctor, in DiSilvio's opinion. In Moscarello v. S. Trump, M.D., Kelly Moscarello sued Trump after a home birth resulted in a brain-damaged child. "This is a case in which I thought [the verdict] was absolutely the right result, but could have been the wrong result because of sympathy," DiSilvio says. "This case has stayed with me because, during that case, there was an article in [a] magazine here about it, and about what the plaintiff understood that case to be about and what her claims were."
DiSilvio represented Trump, the family practitioner. She was not involved during the actual delivery, DiSilvio says. The claim was that Trump should have done more testing during the course of Moscarello's pregnancy.
"I have never believed more in the goodness of a physician and the care that she gave, not only to the mom, but to the whole family," says DiSilvio. "She had been so maligned in this article, and it devastated her. This woman was such a patient advocate. I wanted her to be vindicated not only for herself, but for her family.
"When that jury came back, I have never seen a person more grateful and more elated at the result. One of the jurors after trial actually went to her office to tell her what a good doctor she was."
DiSilvio thrives on the courtroom experience, and laments its decline in recent years. "In the past several years, I have maybe taken two cases to trial a year, which is not very many. People want to settle," she says. "There's been a huge emphasis on alternative dispute resolution and mediation, and on folks making compromises to resolve cases so that everyone can have some closure and/or predictability in the outcome. That has lessened the number of trials, and there have been fewer filings as a result of the tort reform that was enacted in Ohio. But I love being in the courtroom, watching the process unfold."
She is currently pitting her Kennedy-honed skills against Kennedy himself in a case involving an injured child. "I just was on the phone with her about a series of depositions I have to take on a case we'll be trying this year," he says. "Being on the other side [from] her is interesting. … There's a certain level of knowledge [about] her: her thoughts and her approach. It's familiar. I always find it to be a pleasant experience."
DiSilvio's family ties bind her as much as her work. She has her hands full with her sons, Alex and Sam, ages 8 and 9. "And I have an absolutely amazing, supportive, witty, charming, handsome husband who makes every day fabulous, and he is the rock of our household," she says. Husband David Young is a plaintiff's employment lawyer in solo practice. "We met … actually, when we both worked with Eric Kennedy; that's hilarious. I was a bit bossy, reviewed something David wrote, and made a lot of changes. He wasn't so happy."
Unfortunately, she's suffered the loss of two pivotal people in her life: her father and her sister, Diana. Her mother has relocated to Cleveland to live near DiSilvio. "If she could stir, I'd have her making polenta every day," DiSilvio says, laughing. She describes her parents as "amazingly intelligent, compassionate, terrific human beings who I think guided us the right way to make the right choices."
One of her choices is to spend time mentoring young lawyers. "Eric Kennedy said to me, and the words still ring in my ears, 'The one thing you have in this business is your reputation, so always be honest,'" she says. "I think that that philosophy absolutely drives me, and I hope I can communicate to young lawyers what was communicated to me. Deal with people honestly, and the results will come. Always treat folks with integrity and respect. Never compromise your integrity, and never do things by formula."
Search attorney feature articles