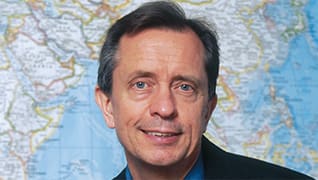 Photo by: Larry Marcus
A Fearless and Ferocious Fraud Fighter
Crime doesn't pay, but the criminals do — when Joseph Dehner goes after them
For those who have ever been cheated, swindled or duped out of money, Joseph Dehner is a superhero. No, he doesn't wear a fancy cape or swing from building to building with spider webs, but he does chase after the bad guys. And he does make them pay — and we're not just talking prison time here.
A partner at one of Cincinnati's top law firms, Frost Brown Todd, Dehner helped a group of 200 Dayton, Ohio, homeowners recoup $5 million they lost to a fraudulent title company in the mid-1990s. But he didn't just go after the title company. In order to get all of the homeowners' money back, he followed the dollar trail to the company's clearing broker, JB Oxford & Co., and won $3 million in damages. It was one of the first times a clearing broker was held liable for its client's fraudulent activities.
"Joe did a masterful job, and we now have returned more than 100 cents on the dollar to the rightful owners," says Stanley J. Cohen, the homeowners' court-appointed receiver. "Joe started this task in 1996, and has steadily — with precision and completeness — located the responsible people and companies. Through settlements, lawsuits [and] a securities arbitration, he recovered the lost funds."
Getting that money back was nothing short of heroic, considering the numbers. Of the estimated $660 billion lost to occupational fraud during 2003, the median recovery was about 20 percent of the original loss. That's according to the Association of Certified Fraud Examiners, which also found that almost 40 percent of fraud victims recovered nothing at all.
Dehner doesn't come across as a superhero. The 55-year-old has a calm, mild face, sandy brown hair, and an average build. While it's not surprising to learn he was a tennis champion in high school and college, he certainly doesn't look like a jock. In a modest, matter-of-fact voice, he tends to remove the drama from stories that others might play up for effect. "It's amazing what people do to each other," he says, reflecting on the fraud cases he's worked on over the years.
Examples of his fraud work include recovering more than $4 million for victims of a Ponzi scheme and pursuing multimillion-dollar claims for Russian and Ukrainian victims of international fraud. He clearly sympathizes with fraud victims, especially the homeowners for whom he helped recoup losses.
"All those poor people had no money to pay for a new furnace or a new roof " — the things they had originally borrowed money for from the title company. Winning back their money was one of his proudest professional moments, he says. "A lot of what lawyers do is about money. But when it's someone's life savings, it's really more satisfying. That's when money has a personal meaning."
The son of a stockbroker, Dehner grew up in Mt. Washington, an eastern neighborhood of Cincinnati. After attending Cincinnati's public schools throughout his childhood, he made the switch to the Ivy League: first Princeton University, where he graduated with a bachelor's degree in Soviet studies in 1970, and then Harvard Law School for a law degree in 1973. Dehner eventually returned to his hometown and married Noel Julnes, an Episcopal priest, in 1983.
Anyone who knows Dehner well notes his devotion and commitment to his family: wife Noel and 18-year-old twin daughters Holly and Sari. "He's a fabulous dad," Noel says, pointing to some of his actions over the years as evidence of his dedication to family: getting confirmed in the Episcopal Church, though he grew up Presbyterian; turning down offers for high-powered jobs in bigger cities to stay in Cincinnati; taking father-daughter trips to places such as London and church camp; and tirelessly supporting his wife's documentary film project, which included four trips to the former Soviet Union and premiered on public television in November.
"When people describe Joe's tennis playing to me," Noel says, "they use the words 'beautiful, consistent.' I see that in his work as a lawyer. His thought processes and legal moves are graceful and consistent, constantly moving things forward. He is also beautiful and consistent as a husband, friend and father."
Rafael Mancera echoes Noel's sentiments about Dehner's consistency in and out of the courtroom. He met Dehner nearly a decade ago at their daughters' soccer game, just after Mancera had moved to Cincinnati from London. The two were neighbors in the Cincinnati suburb of Terrace Park, and soon they became good friends.
"He's one of the most amazing friends I've ever had," Mancera says. He's also gotten to know Joe professionally, because Mancera works as a negotiator in mergers and acquisitions for Kendall International in Cincinnati. He describes Dehner as "quick," "responsive" and "amazingly bright and capable." In a case they both worked on, Mancera observed Dehner as "first-rate, protecting the interest of the client very well, and negotiating superbly with a very large California law firm."
Negotiating difficult cases in the complex realm of securities isn't easy, and Dehner's ability to succeed in that realm makes him stand out. Ross Tulman, an expert in securities and arbitration, has served as a witness in numerous cases on which Dehner worked — sometimes on Dehner's side, sometimes for the opposition. "I consider him one of the top securities/arbitration attorneys in the country," Tulman says. "He's one of the smartest guys I know, and one of the most thorough attorneys I know. He leaves no stone unturned."
Frost Brown Todd attorney Frederick McGavran has worked with Dehner since 1975. McGavran describes his colleague's reputation at the firm as "a daring, imaginative lawyer who represents his clients with intelligence and tenacity. [Dehner's] strengths are his intelligence, extremely broad knowledge of a number of areas of law and a remarkable ability to use his knowledge to craft imaginative solutions to seemingly impossible legal problems."
McGavran recalls a particular case from early in their careers that showed Dehner's true colors as an attorney.
"We were in the middle of trying our first big case: a six-weeks-long federal securities law case in federal district court," McGavran says. "Both of us were associates. The partner in charge was only attending parts of the trial due to other commitments. At one point, something [in the case] started to go wrong, and the partner unjustly blamed Joe. Instead of being thrown by this, [Joe] kept going as if nothing had happened and solved the problem." In the end, McGavran and Dehner prevailed on the case.
Perhaps his ability to cast off such setbacks is Dehner's real "superpower." His wife, Noel, attributes it to a special kind of vision. "He sees the path," she says. "He can let things go, because he doesn't have to win a trophy every day. He just says, 'How can we move things forward?'"
And away he goes.
Search attorney feature articles